Possibly one of the most wholesome board games to have ever been created, Calico combines the art of quilt designing with adorable cats. So whether you have a feline friend at home or wish that you did, it's the perfect game for cat lovers.
This guide covers all the key information you need to know about Calico. In it, I discuss the origins of the game, how to play, and how to win, as well as a few alternative board games you might like to try.
Calico is a particularly great game if you're looking for a way to while away the hours with pleasant company and a cup of hot cocoa. It isn't particularly competitive, focusing instead on creativity and fun.
Can you attract the cutest cats with your complex quilt pattern? Put your design skills to the test in Calico, and you'll soon find out!
So, without further ado, let's discuss the board game in a little more detail.
Calico: an Overview
In this tile-laying quilt-and-cat-themed board game, you score points by making groups of connected colors and patterns with the aim of attracting cats to your cozy creation.
Flatout Games released the game via Kickstarter – a global crowdfunding platform – in 2020. It was quickly picked up by AEG for a retail release and was met by widespread critical acclaim within the industry.
Here are some of the nominations and awards that Calico has received:
Diamond Climber Best Family Game (2020)

Diamond Climber Game of the Year (2020)

American Tabletop Awards Game of the Year (2020)

Golden Geek Best Solo Board Game Nominee (2020)
Calico has been praised for its colorful artwork and its simple, puzzle-based gameplay.
However, don't be fooled by the game's apparent simplicity! Beneath the surface, it's quite complex – there's certainly more than meets the eye, which is why it's often described as under-promising and over-delivering.
There's a lot of complexity going on in Calico; what often begins as a laid-back game soon demands your full attention and brainpower.
Design of the Game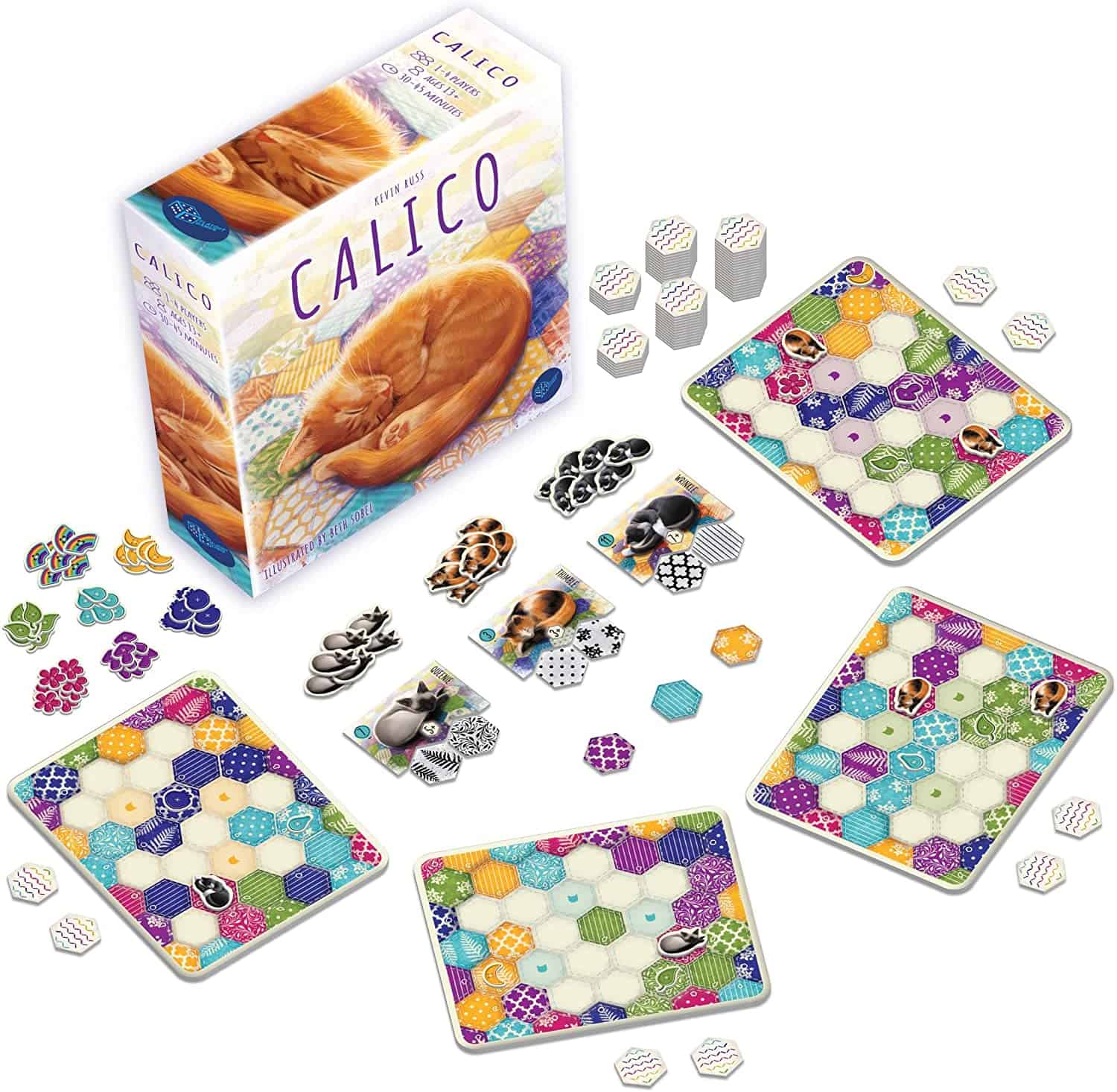 It's obvious that the game has been exceptionally well designed down to the very last detail, much like the board game Sleeping Gods.
The player boards are double-layered, so they're thick enough for the tiles to slot in without moving around or becoming damaged over time.
There are plenty of other details which also give the game a special feel. For example, the tiles come in a printed bag made of high-quality material, and there are stitching annotations on the patches.
In addition to all of this, the game comes with an easy-to-read instruction booklet that not only sets out the rules of the game but also includes information about the history of each cat that inspired the game's creator.
Beth Sobel's illustrations are stunning, steeped with a level of detail that makes the feline friends – Coconut, Leo, Millie, and the rest of the gang – even more realistic. You'll definitely want them on your quilt, that's for sure! But how do you attract them? Read on to find out.
The Aim of the Game
Calico concludes after each player has filled their quilt board with patch tiles. A score pad is used throughout the game to keep track of each player's design goal tiles, cat tokens, and button tokens. Once the scores have been added up, the person with the most points wins!
How to Play Calico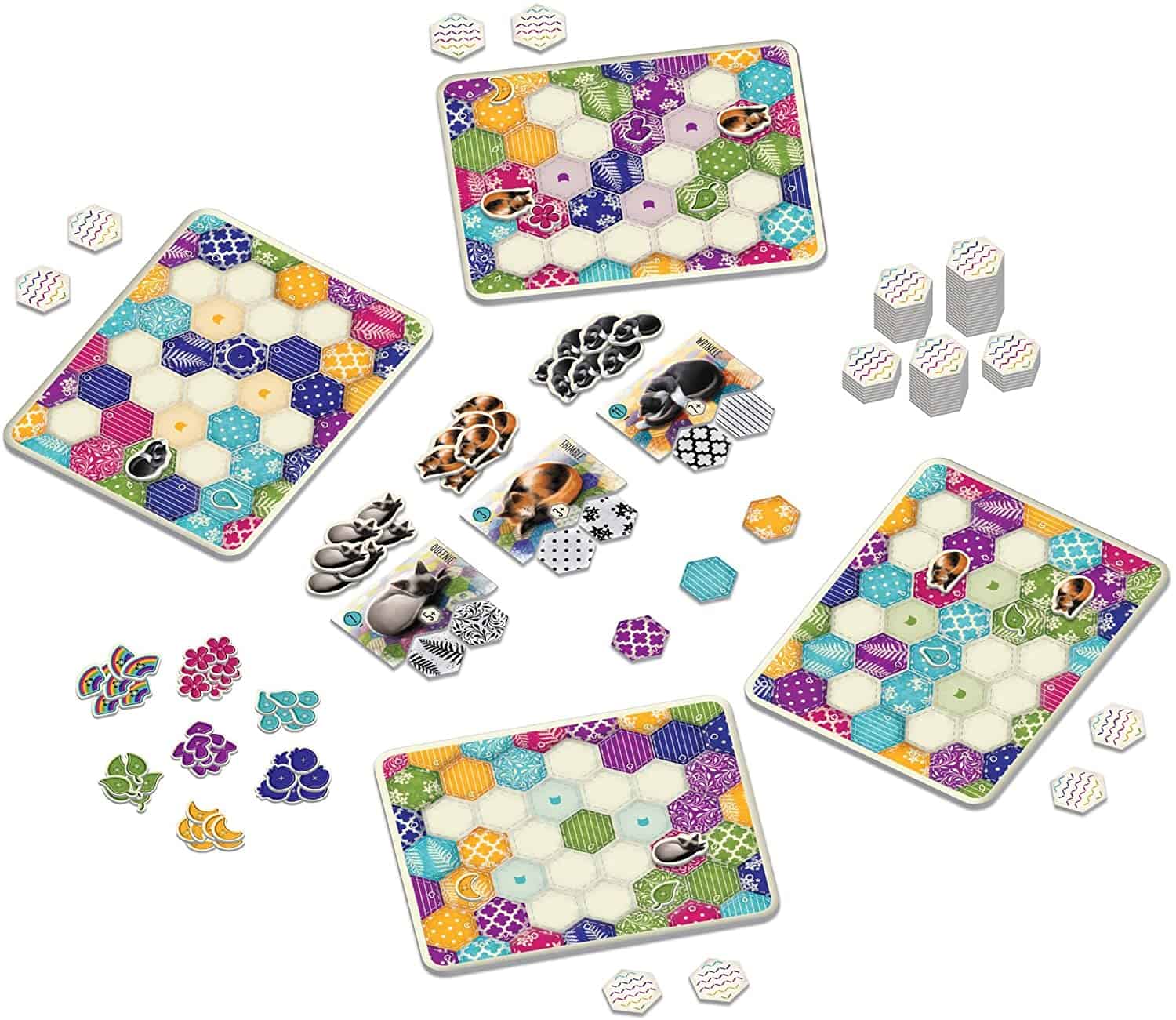 In this section, I will focus on the standard setup of the game. However, a beginner setup is also explained in the Calico instructions booklet.
Setup
Here's how to prepare the game.
The cat scoring tiles should be separated according to how many dots they have in the corner.

Randomly pick one cat scoring tile from each group and randomly select which side will be used.

Locate the cat tokens that match the chosen scoring tiles and return all the other unused pieces to the box.

Assign two of the black and white patch tiles to each scoring tile.

Shuffle the patch tiles and place them in stacks face down on the table.

Put the button tokens and button scoring tile in the middle of the table.

Each player needs a quilt board and a matching set of six design goal tiles in their player color.

Next, each player shuffles their design goal tiles face down and reveals four at random. Of these four, the player must choose three to use in the game by placing them on the design goal tile areas on the quilt board.

Two patch tiles must be drawn randomly by each player.

Reveal three patch tiles to form the tile market. This should be positioned in the center of the table.
Gameplay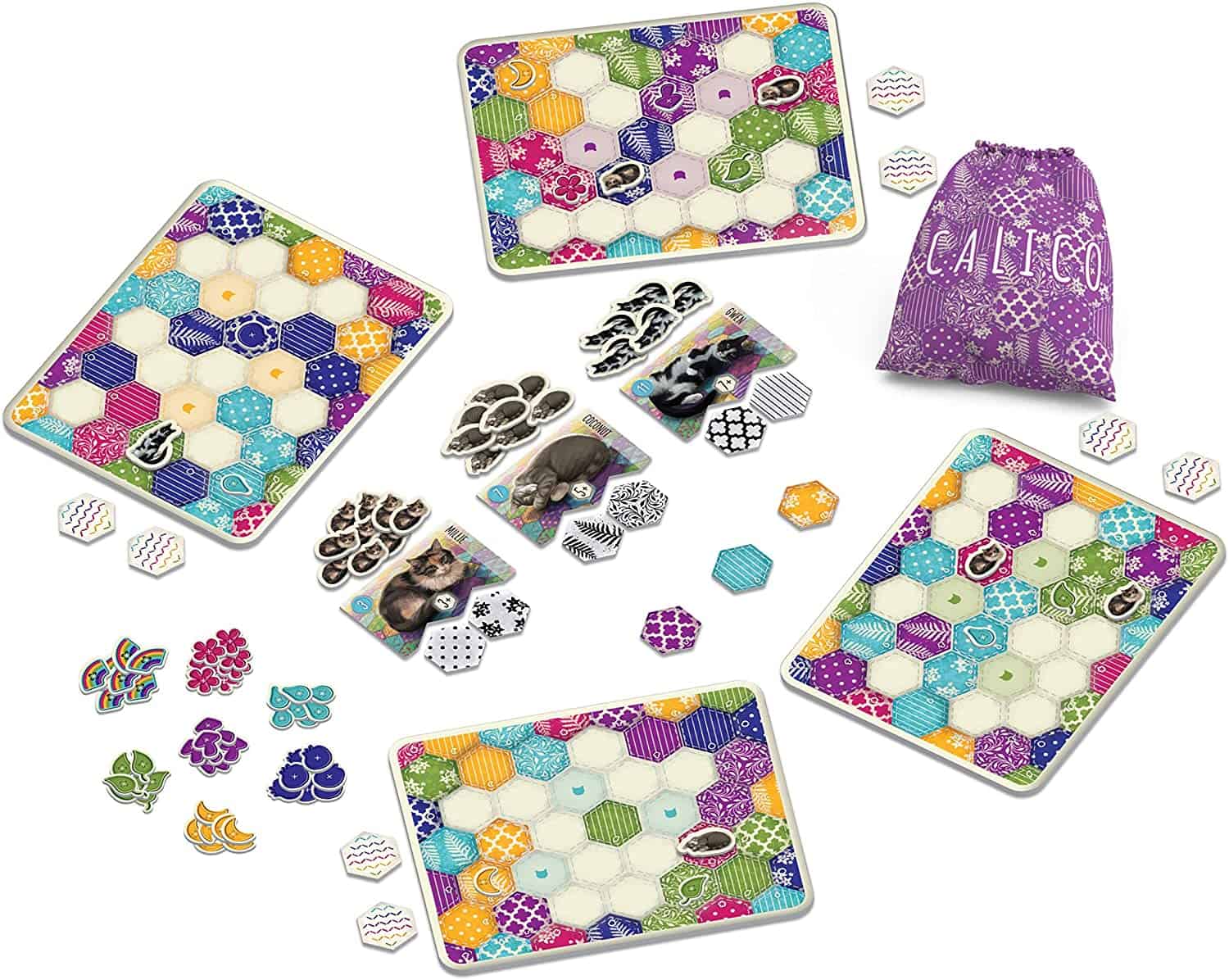 The game progresses clockwise around the table until each player's quilt board is completely filled with patch tiles. This takes twenty-two turns.
Taking a Turn
There are two steps to a turn.
Step one : Select one of the patch tiles in your hand and place it onto the quilt board in any open space. After this, check your quilt board to see whether you have gained either a cat token or button token.
If you have earned a token, place it onto one of the tiles that scored it.
Step two: Choose one of the face-up patch tiles from the tile market. Then, refill the market with a tile from a face-down stack.
Design Goal Tiles

Design goal tiles contain long-term goals that could score points at the end of the round, though this depends on the six patch tiles surrounding it.
To score points, design goal tiles have to be completed using either the patterns or colors of the six surrounding tiles.
A design goal can be completed twice – once with patterns, once with colors – but you will receive only the higher point value on the tile.
If you fail to complete a design goal tile, there is no penalty (other than not receiving extra points).
Cat Scoring Tiles & Tokens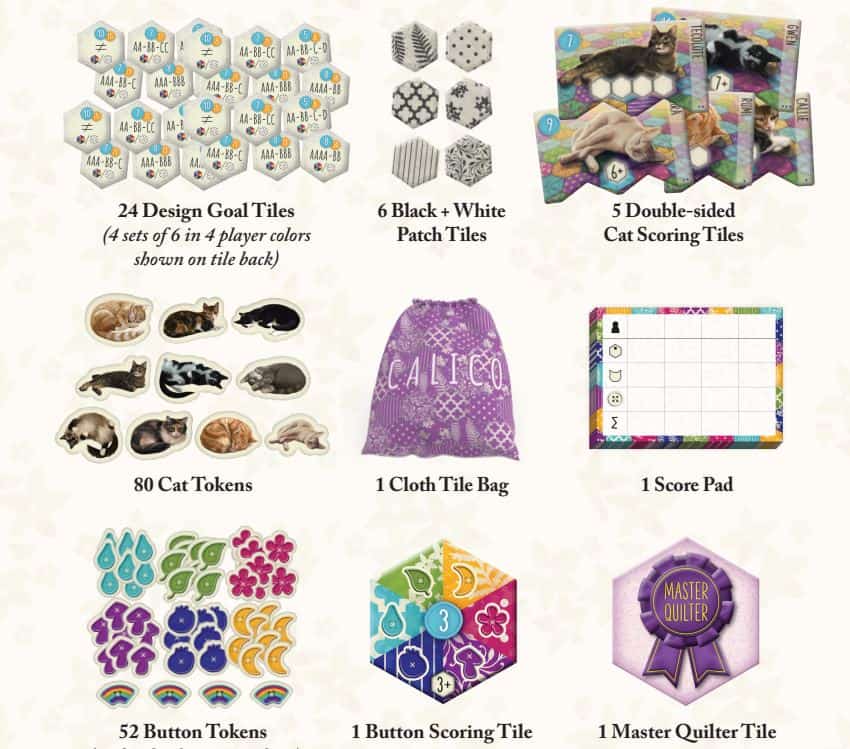 The patterns depicted on your patch tiles have the potential to attract cats to your quilt. This is because each cat has two preferred patterns per game, and each cat has a preferred tile group size or shape they want the patterns to be in.
To attract a cat, you must:
Make a group in their preferred size

Make a group in their preferred shape
Whether you utilize the correct size or shape, this must be done using one of their two preferred patterns.
If you manage to attract a cat, collect the relevant cat token and place it onto your quilt on a patch tile in the group that was most recently formed.
Here are the cats and what attracts them:
Millie – 3 or more of the same pattern

Tibbit – 4 or more of the same pattern

Coconut – 5 or more of the same pattern

Cira – 6 or more of the same pattern

Gwenivere – 7 or more of the same pattern

Callie – A shape consisting of 2 patch tiles on top and 1 below in the middle

Rumi – 3 patch tiles in a straight line

Tecolote – 4 patch tiles in a straight line

Almond – 3 tiles in a line below and 2 above

Leo – 5 tiles in a straight line
Button Scoring Tile & Button Tokens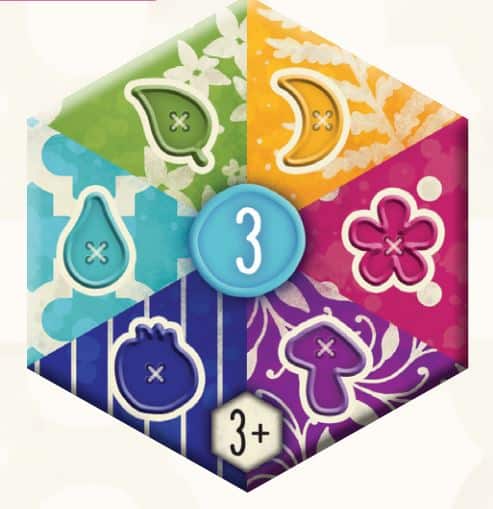 You can earn buttons thanks to the colors on your patch tiles. To sew on a button, you must first make a group of three or more patch tiles of the same color. The shape of this group doesn't matter.
A button is worth three points. Once you have formed a group, you can take a button token and place it onto your quilt on the group that was most recently formed.
However, be aware that even if you expand your group to six or more tiles, you only earn one button. To gain another one, you will need to form another separate group.
You make a rainbow button by sewing at least one button of each color onto your quilt. This is also worth three points.
End of the Game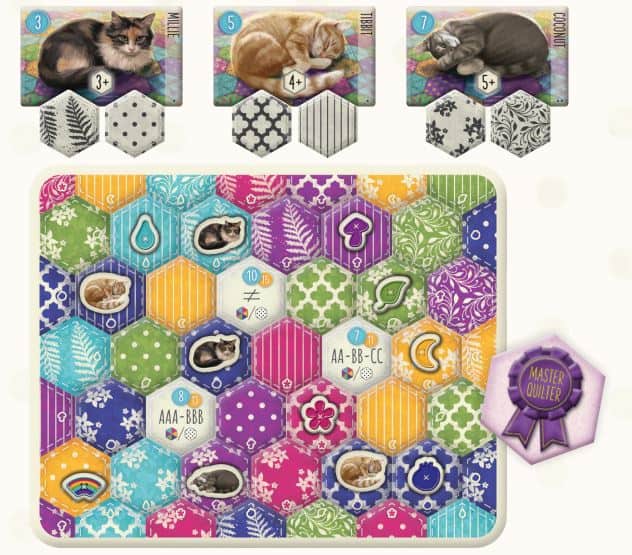 Once each player has completed their quilt board, filling it with patch tiles. The player with the most points at the end is the winner!
If the game ends in a tie, the player with the most button tokens takes the victory. The winner earns the "Master Quilter" badge.
Variations
There are a couple of variations of Calico that are worth being aware of.
2 Player Lower Variance Variant
This version of the game is designed for people who want it to be less random. To play, find, and remove one set of 36 patch tiles before following the beginner or standard setup.
Family Variation
This is suitable for players who are looking for a more laid-back game. It follows the standard setup, but you should flip your 3 design goal tiles face down. Rather than being scored, they provide obstacles on your quilt board.
In this version of the game, you focus on attracting cats simply by collecting buttons.
Who is Calico for?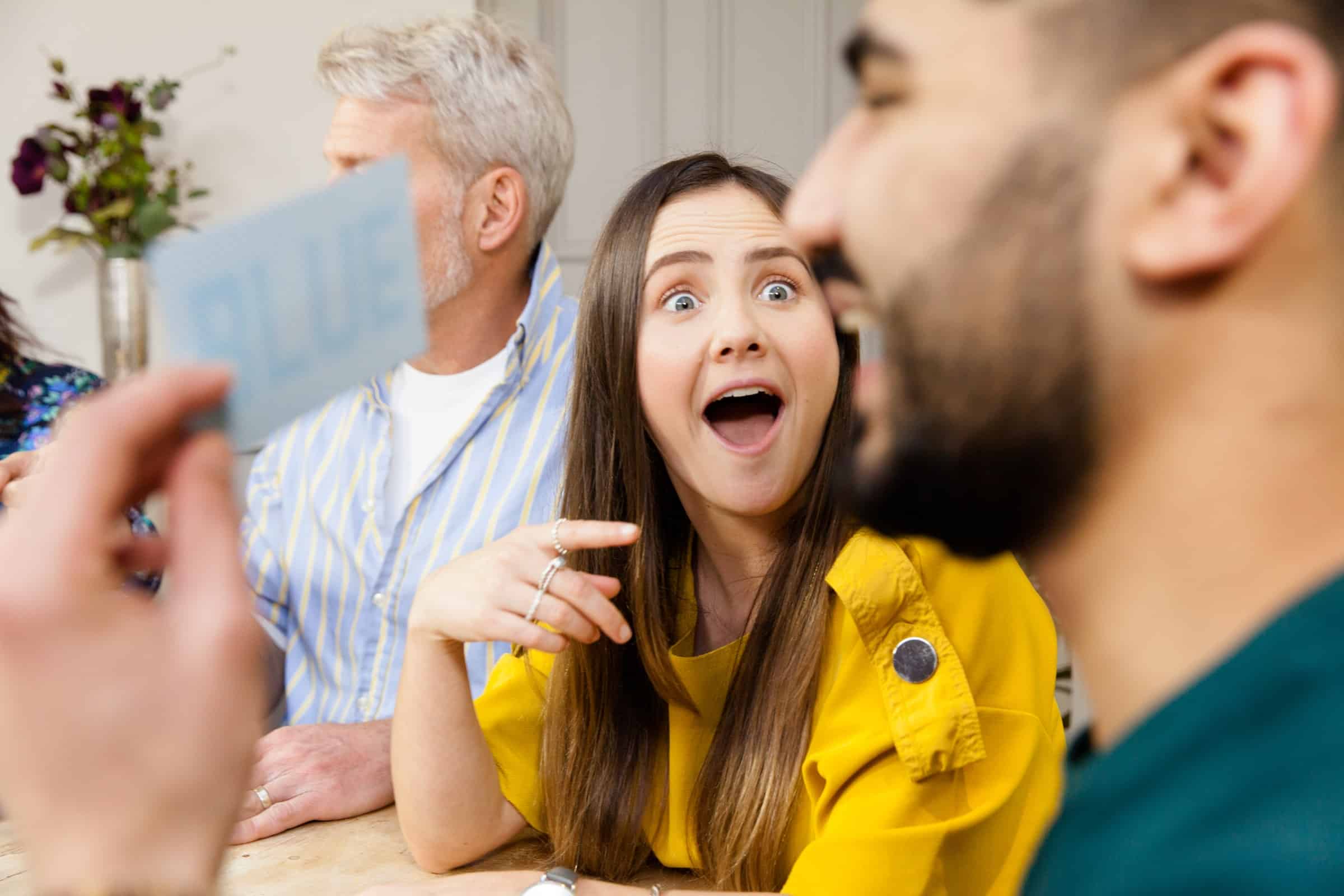 Calico can be played by one to four players aged ten and above.
It's a great family board game that's likely to appeal to cat lovers and art and craft enthusiasts alike.
There is an element of strategy involved which gives the board game a wide appeal, but it isn't so complex that younger children would struggle to play.
For anyone who enjoys playing games at a slower pace, Calico is perfect. However, it lacks some of the excitement and tension that's characteristic of some other board games. This makes it ideal for a rainy day when you're cozying up by the fire and want to relax.
How Many Pieces are There in Calico?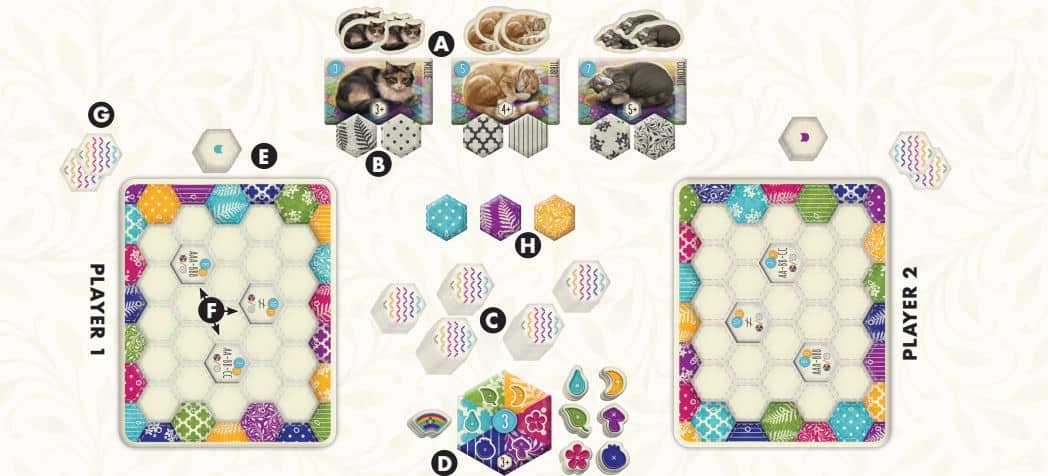 Calico contains many components – make sure you take good care of them and put them back properly, or they could get lost! The game comes with:
4x dual-layer quilt boards

108x patch tiles (6 sets of 18)

24x design goal tiles (4 sets of 6 in 4 player colors)

6x black and white patch tiles

5x double-sided cat scoring tiles

80x cat tokens

1x cloth tile bag

1x score pad

52x button tokens (8 of each color; 4 rainbows)

1x button scoring tile

1x master quilter tile
Alternatives to Calico
Here are a few of my recommendations for alternative games to Calico.
The Isle of Cats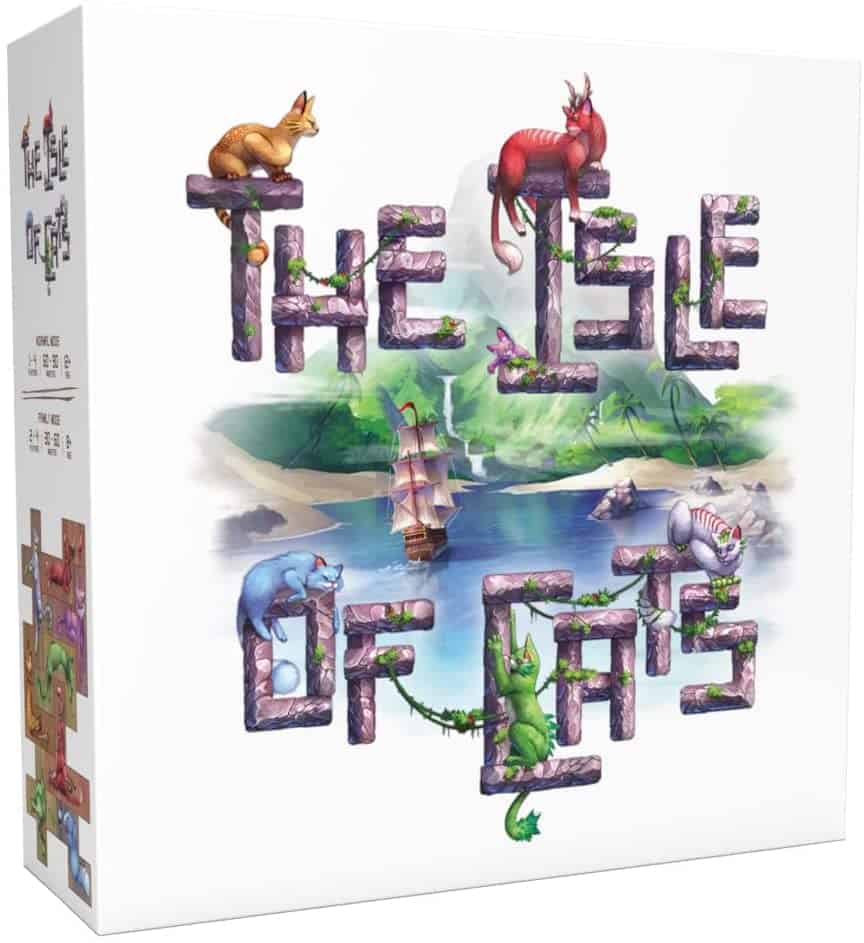 Much like Calico, The Isle of Cats involves collecting cats, but rather than attracting them to your quilt, you have to rescue them instead. Can you save all the cats and make it back to your boat in time before Vesh arrives? The stakes are high in this card-drafting polyomino board game that's packed with adventurous thrills.
Players – 1-4

Recommended age – 8+

Playing time – 60-90 minutes
Cat-Opoly
Cat-Opoly puts a new and unique twist on the original property trading board game, Monopoly. Travel around the board and collect different cat breeds – but be careful; some cat-astrophic twists are awaiting you!
Players – 2-6

Recommended age – 8+

Playing time – 60 minutes
Catan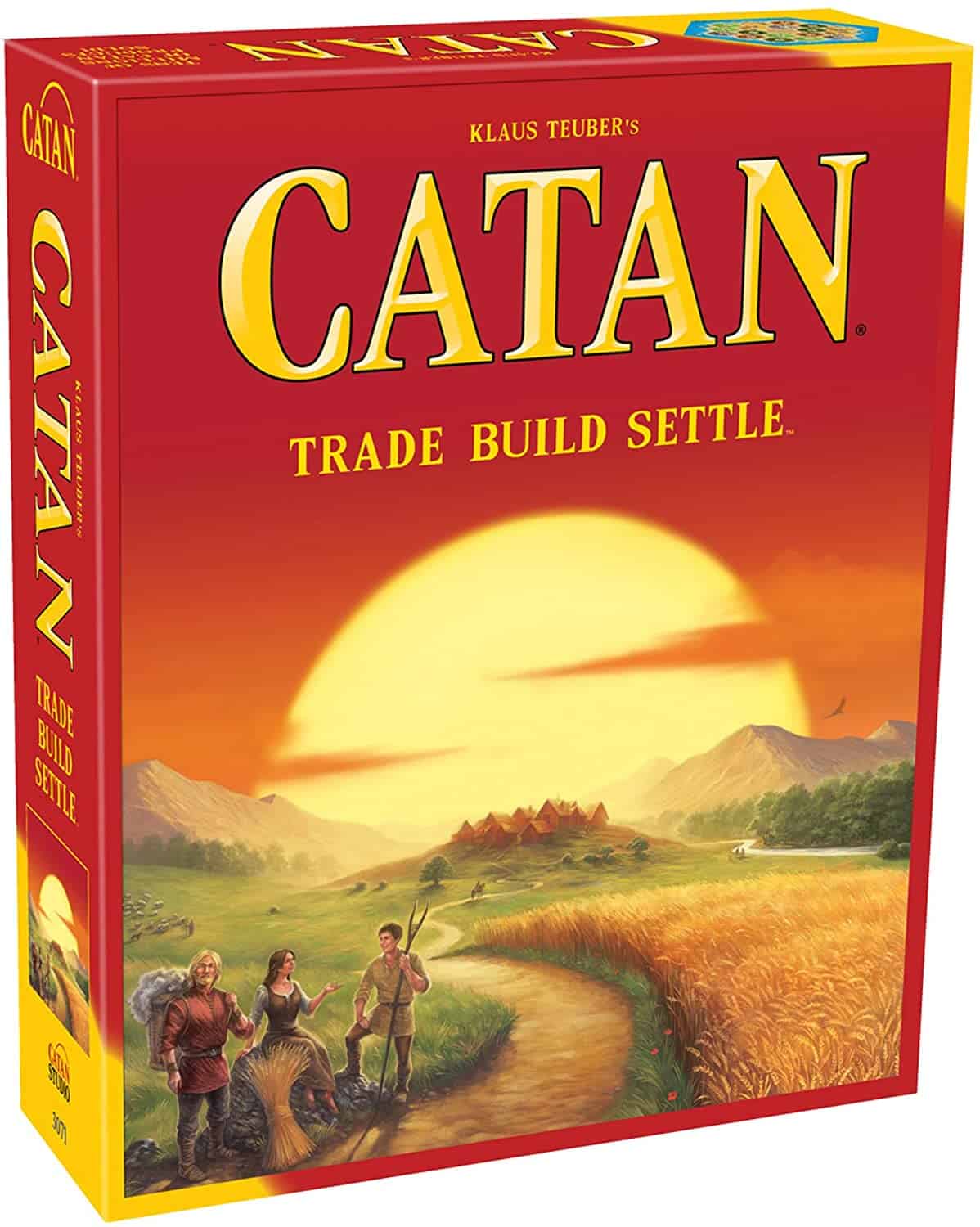 I'd recommend Catan as an alternative to Calico for anyone who wants a family board game but isn't a massive fan of cats (or quilts!). In this addictive game, trade, build, and settle on the island of Catan as you control your own civilization and spread across the board.
Want to know more? Check out our Catan board game guide!
Players – 3-4

Recommended age – 10+

Playing time – 60 minutes
Calico – Is It Worth Buying?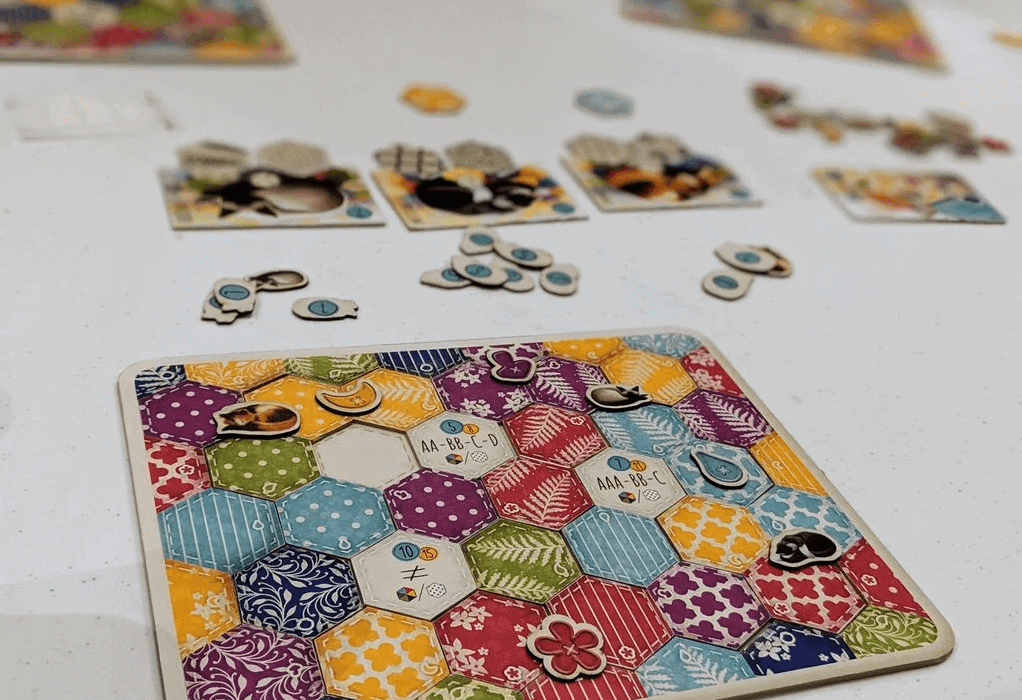 Calico is certainly an unusual board game, and in many ways, it's much like marmite; you either love it or hate it.
The premise alone has the potential to put people off – a board game about quilting and cats, really? – but give it a chance, and Calico might surprise you. It's surprisingly addictive, especially since there's the chance to continue to earn new ranks the more games you play.
I'll be the first to admit that Calico isn't for everyone. Fans of Stratego, for example, aren't exactly going to be clamoring for the chance to play a game that's all about cats, colors, and patterns.
But if you like strategy games and you can appreciate high-quality illustrations, this is a brilliant choice. It's something different, and since so many board games on the market today share similar stories and gameplay, that's very refreshing.
Ultimately, if you think you like the sound of Calico, then I'd recommend taking the plunge and buying it – the awards and nominations the game has under its belt speak for themselves.
Frequently Asked Questions
Question: Can you play Calico solo?
Answer: Yes, you absolutely can. When starting solo mode, you can opt for either the beginner or standard setup. Carry out your turn as usual, but after you choose a tile from the market, discard the tile furthest from the stack.
Slide the single tile in the market away from the stack in a conveyor belt fashion, then refill the market one tile at a time.
Question: Is Calico a family game?
Question: Can you play Calico with more than four people?
Answer: Unfortunately, there are no expansion packs available, but you can play with more than four people by purchasing a second copy of the game.
Question: Where can I buy Calico?
Recommended reads: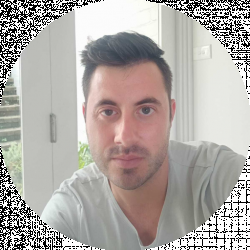 Latest posts by David Borgogni
(see all)