I always wanted to play board games as a kid and would beg my parents to play with me, sound familiar? If your child either wants to start playing board games or wants some new games to play, you've come to the right place.
As someone who plays board games (including with little ones), I've compiled this list of some of the best games for preschool-aged children. Read this guide on the best board games for 4-year-olds today!
Bottom Line UP Front
I recently played a bunch of games with my nieces for the holidays (although playing games with children is something I've done since I've worked in preschools and daycares), and I can tell you they can be just as competitive as adults!
If I had to pick a solid favorite that reminds me of my childhood and is one of the best board games for 4-year-olds, I'd have to go with the Candy Land Kingdom of Sweet Adventures Board Game.
My Top Picks at a Glance
Candy Land Kingdom of Sweet Adventures Board Game-Reignite your childhood passion from playing Candy Land and introduce your skills to your kids. Candy Land is a favorite for many, with plenty of colorful illustrations.

SEQUENCE for Kids-This is another excellent option since it's a strategy game. It'll get your children thinking!

Chutes and Ladders-Chutes and Ladders is another fun game that you can share with your child. It's a great option when you're looking for affordability.

Don't Break the Ice-It's a fun game for the entire family to work together to stop Phillip the Penguin from falling into the water.

Charades for Kids-I've always loved charades since it's fun to draw and guess. It's also fun to hear what others think.
Tips for the Reader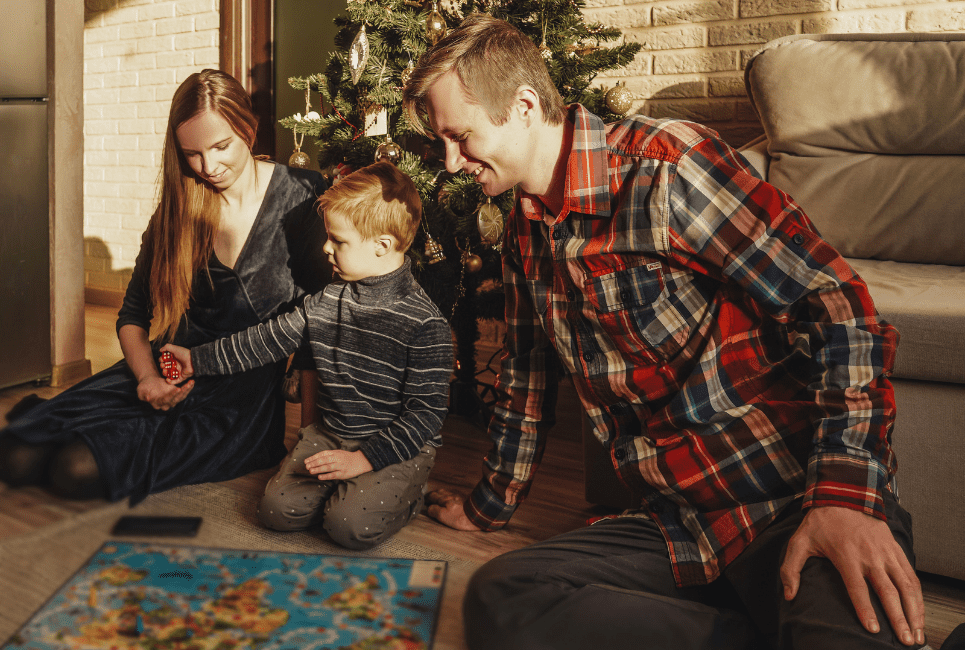 As you go through this article, think about what hobbies your child enjoys and how you'd describe their personality. While you might have loved Candy Land as a child, do you think they will? Consider different options, including your budget, your child's interests, and how competitive they are overall.
Selection Criteria
As I go through my list, I'm thinking about what board games won't break the bank and what your child will enjoy.
I also will factor in whether it'll teach your child thinking skills or imagination along the way. Of course, Educational and unique games are thought-about since it's fun to try something new.
Why Should Kids Play Board Games?
I encourage learning for children through board games. Why? Well, even in more basic games, your child will learn different words, colors, and more. They'll need to know to think critically with certain games as well.
Playing board games is a great way to teach your child patience, concentrate, and be OK with losing. They can also see how exciting it is to win!
Some benefits include:
 Critical thinking
Gross motor skills
Fine motor skills
Social skills
Educational Insights
Have your child learn to work hard to win. Help your child focus and improve their language skills along the way. If you choose a game that's a co-op (multiple people work together to win), it'll show your child how to be a member of the team.
Affordable Board Game Options
Chutes and Ladders Game
If your child is three and up, Chutes and Ladders is a fun way for them to practice numbers. Even if your child can't read, it's not a requirement. It's great fun for parents since you can bring along your memories from playing as a child.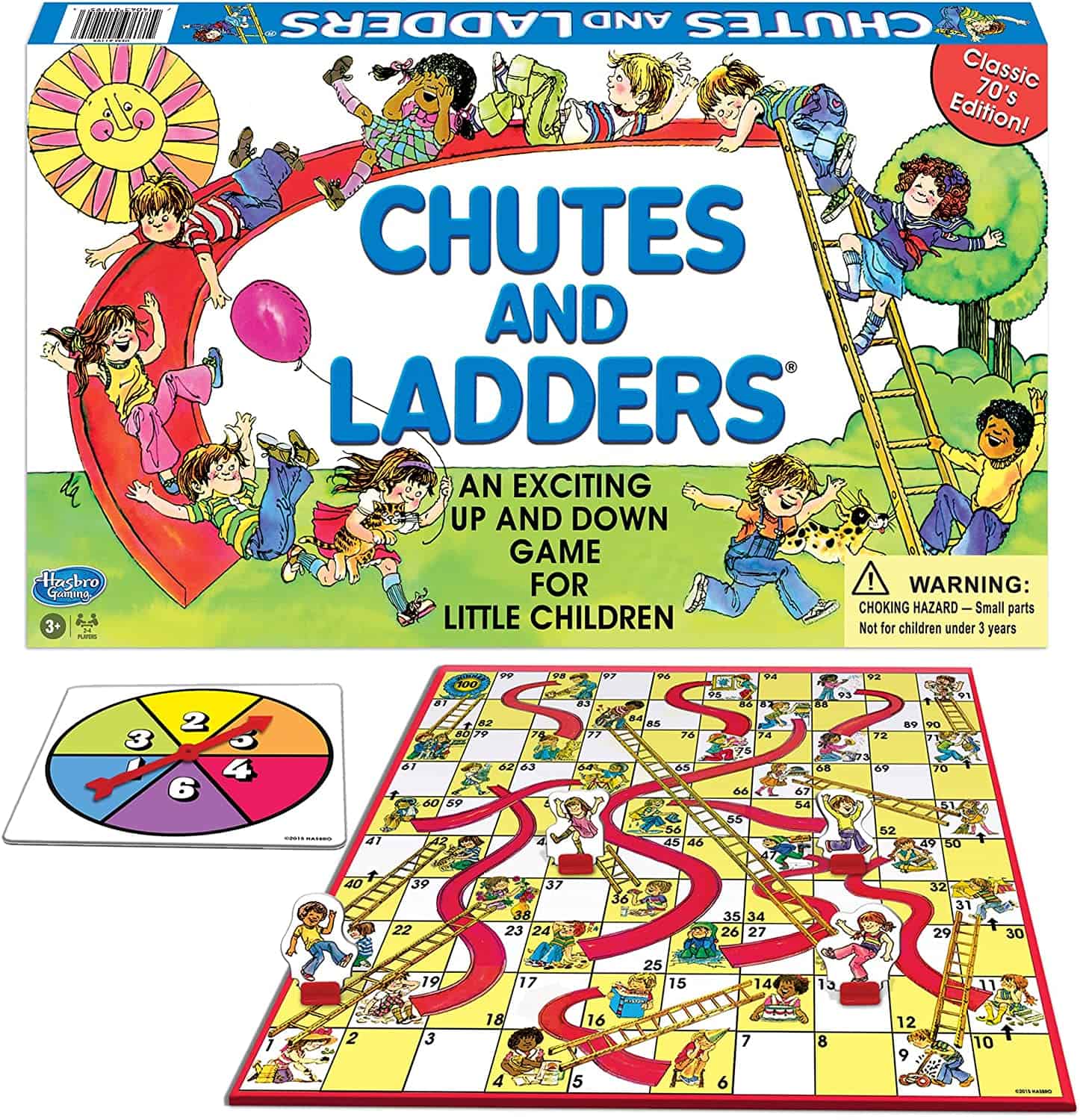 Pros
It's a fun game to bring back memories.

Affordable and won't break the bank.

Easy to learn for children
Cons
It's more of a primary game that might bore some children.

No reading is required.
Candy Land Kingdom of Sweet Adventures Board Game
I love how sweets and games combine in Candy Land, and it brings me back to my childhood. I feel like parents and kids alike can enjoy this one.
There are plenty of colorful illustrations to keep your little one's mind focused on the game. A plus is that it doesn't require your child to read.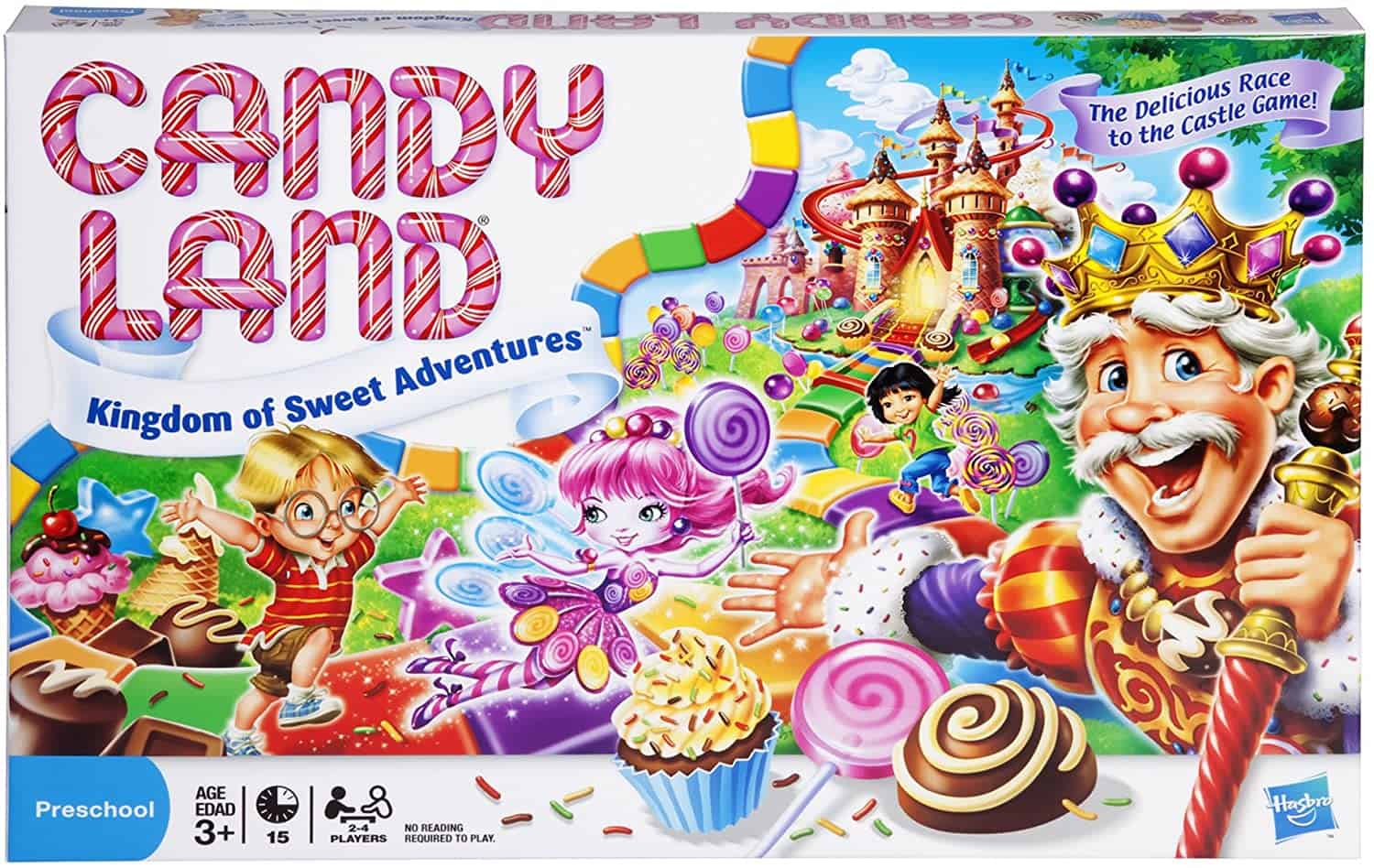 Pros
Fun for all and brings back memories

It's a colorful game to keep little minds focused.

Race to the end on this fun adventure for all
Cons
The spaces are on the small end of this board

It's a faster-paced game that might be overwhelming for some children.

No reading requirements which might be ideal for your child to practice
Don't Break the Ice
If you don't remember, Don't Break the Ice, it's a popular game that has been around for decades! I love how it's an interactive game to keep Phillip the Penguin from falling into the water.
I highly recommend it for households with a single child since it's also great for solo play. But, of course, you can also play it with 2-4 players.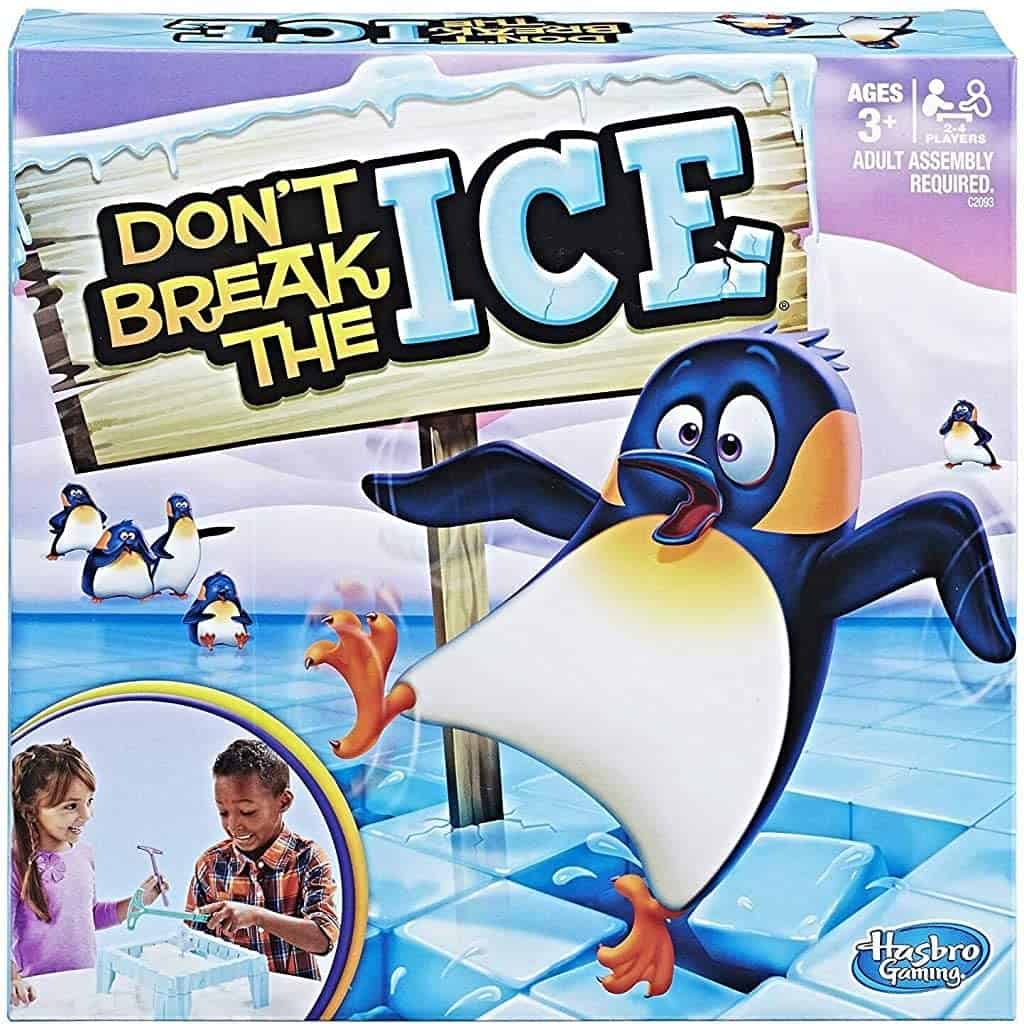 Pros
You can easily play it with up to 4 players

The instructions are easy to follow

A game that has been around for decades that parents will enjoy
Cons
The sessions are short

It might be a different game from what you remember
Charades for Kids
I think it's great that many of these games don't require reading. It's a great way to keep your child interested in the game.
I love how throughout the years, Charades is available, and they've thought of children for the game. Teach your children how to play Charades and have fun laughing and playing along the way! Is it a deer, person, or bat?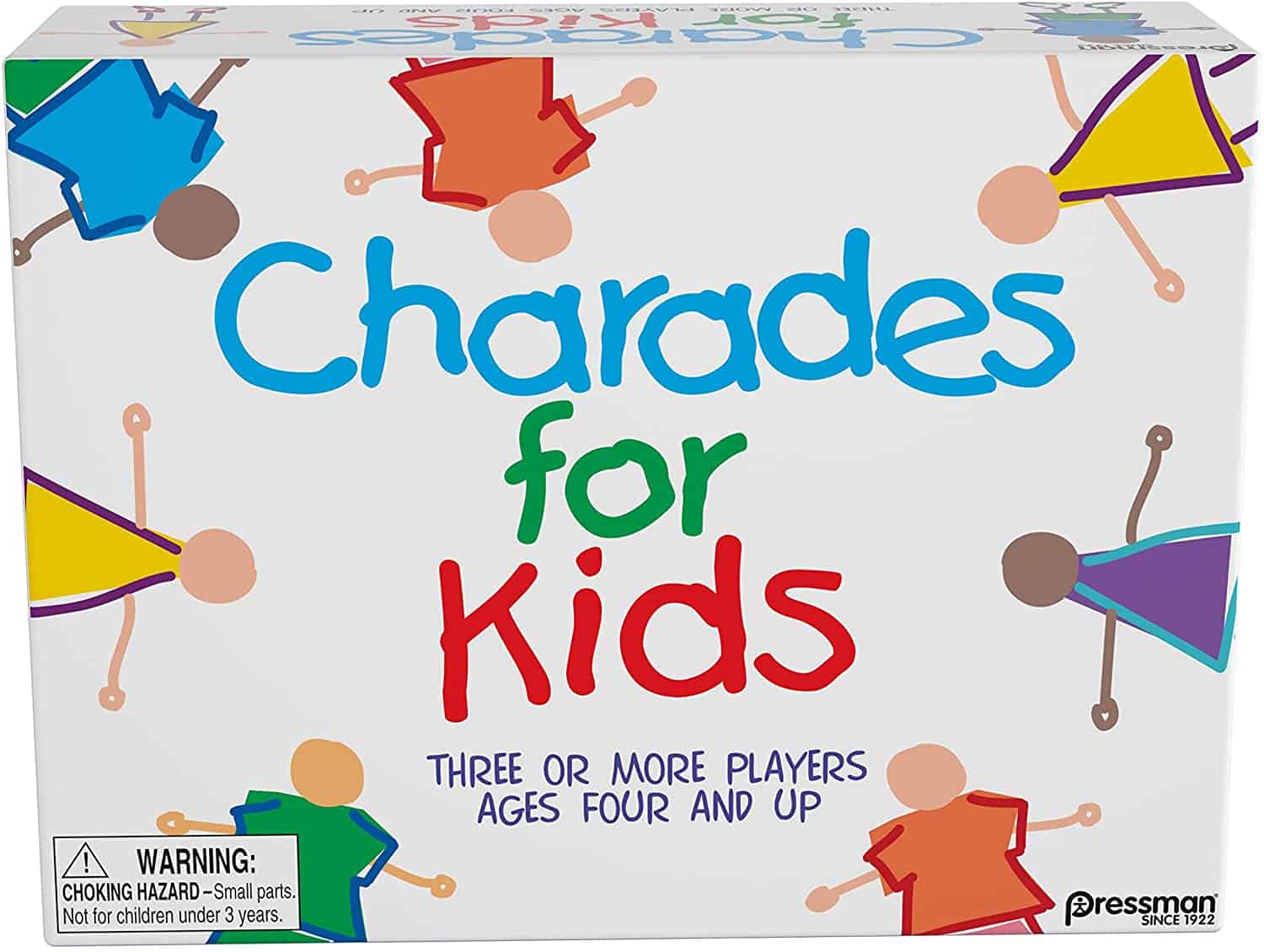 Pros
Affordable

This is a classic that many enjoy

You can play with three or more players.

Well suited for 4-year-olds

Various levels of play to make it enjoyable for your child.
Cons
You don't necessarily need a physical game for charades.

The cards are thinner quality and might not last for the long term.
Educational Board Games for Kids
Snug as a Bug in a Rug
Snug as a Bug in a Rug is my favorite to play with kids because it teaches them about sizes, colors, shapes, and numbers. I enjoy how it's a colorful game with so much for children to learn and explore! The object of the game is to stop the stink bugs from taking over.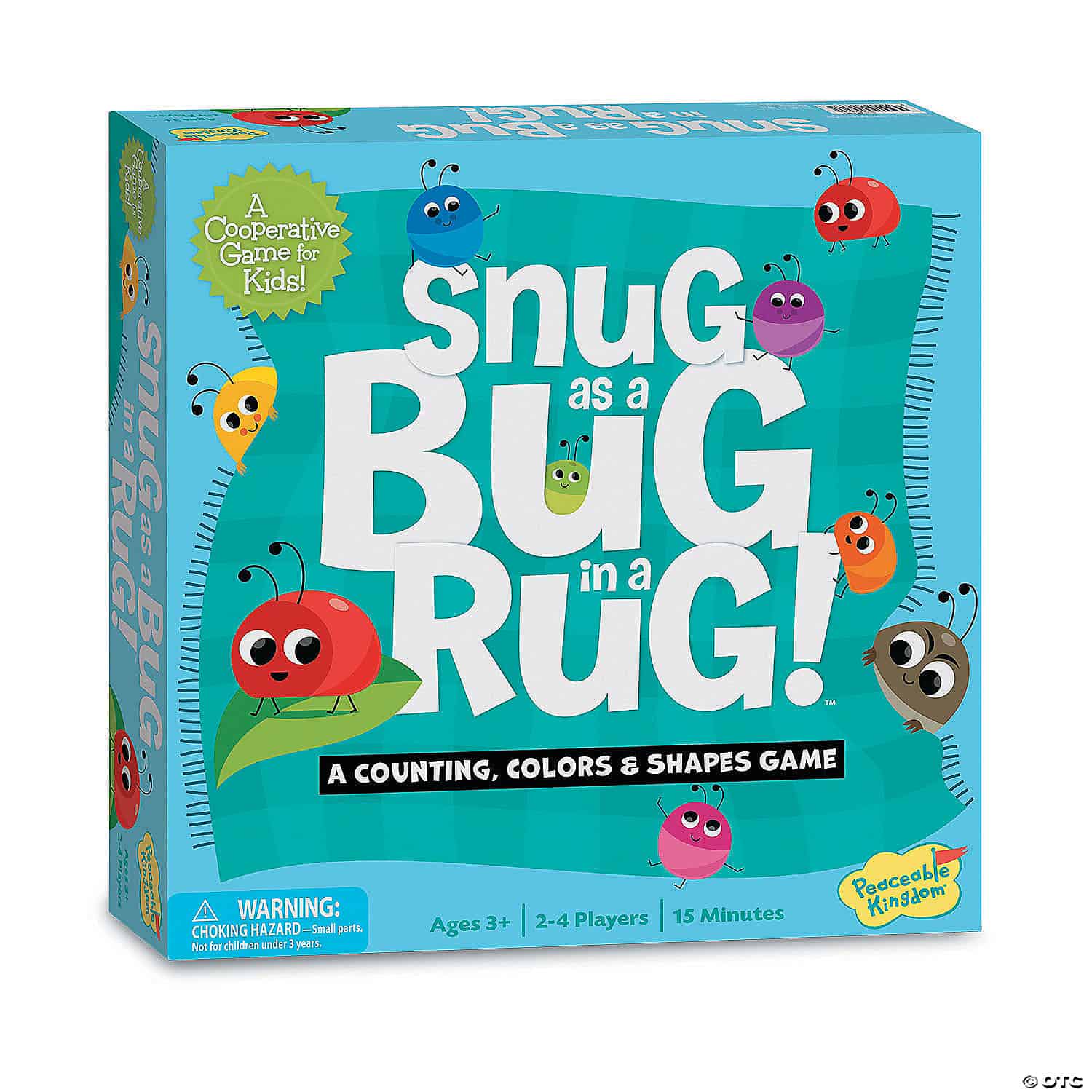 Pros
Your child will learn shapes, numbers, sizes, and colors.

A colorful game with plenty of educational fun
Cons
It can be pretty hard to beat.

It's a mid-range priced game and more expensive than other options.
Baby Dinosaur Rescue Board Game
You may or may not have heard of this one. I recommend this game for preschoolers to learn new skills and more about dinosaurs.
I love how no reading is required either, giving 4-year-olds plenty of fun with their older siblings or parents. If you're looking to teach your child team-building skills, then this might be right for you!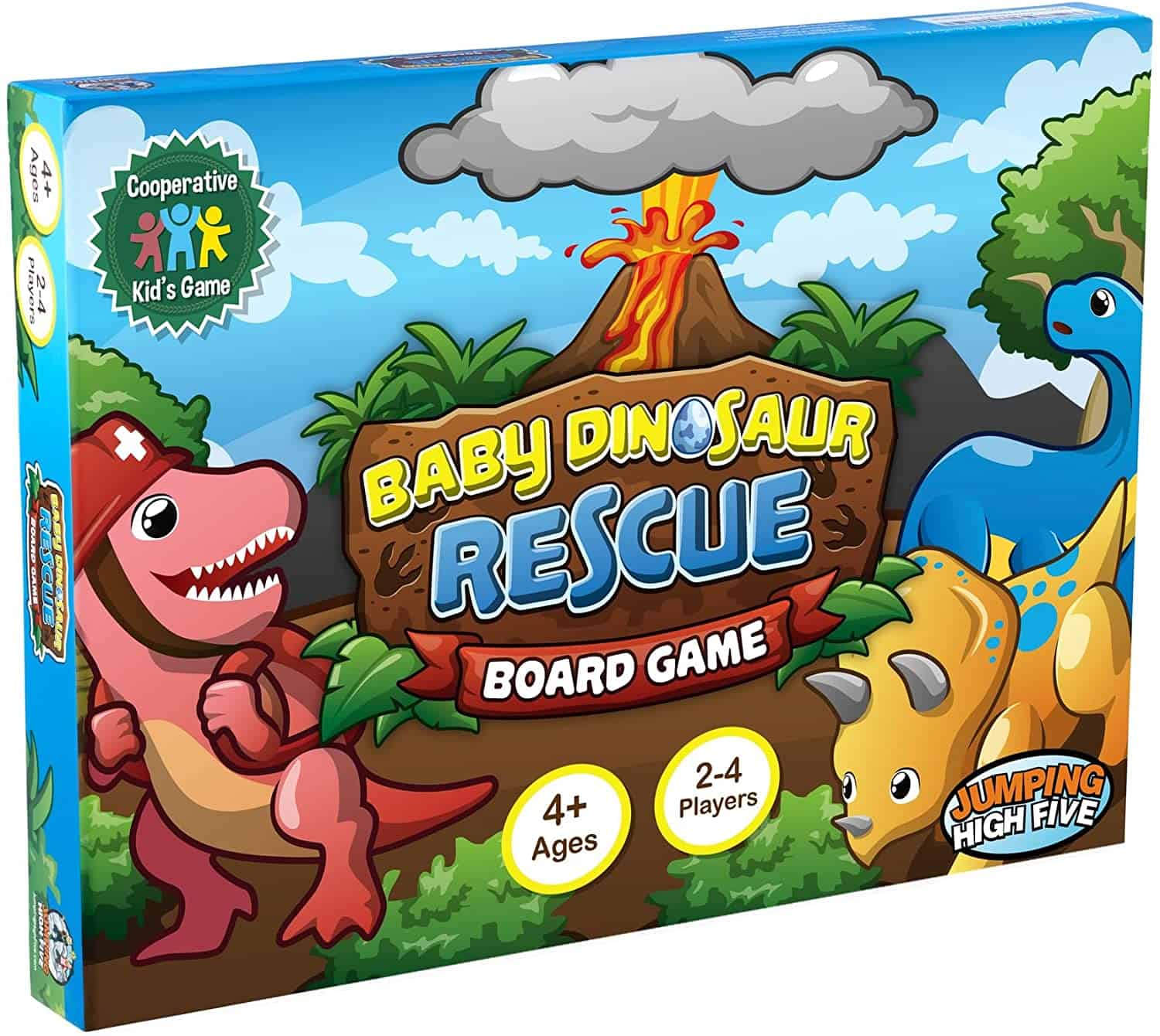 Pros
A fun and shorter game to keep their attention

Have your child feel like they're helping by having the dinosaurs escape the lava

Encourages problem-solving skills
Cons
Since it's a shorter game, it might be over before you know it.

It's more expensive than other games on this list.

It can be easy to win
Unique Board Games for 4-Year-Olds
Count Your Chickens
I love the fact that this is about chickens! So if you're looking for a unique option for family game night, this is it!
I recommend it since it teaches play, counting, and more.
This game is a co-op so that the whole family can play together. I love how you help Mother Hen collect her chickens and bring them to the chicken coop.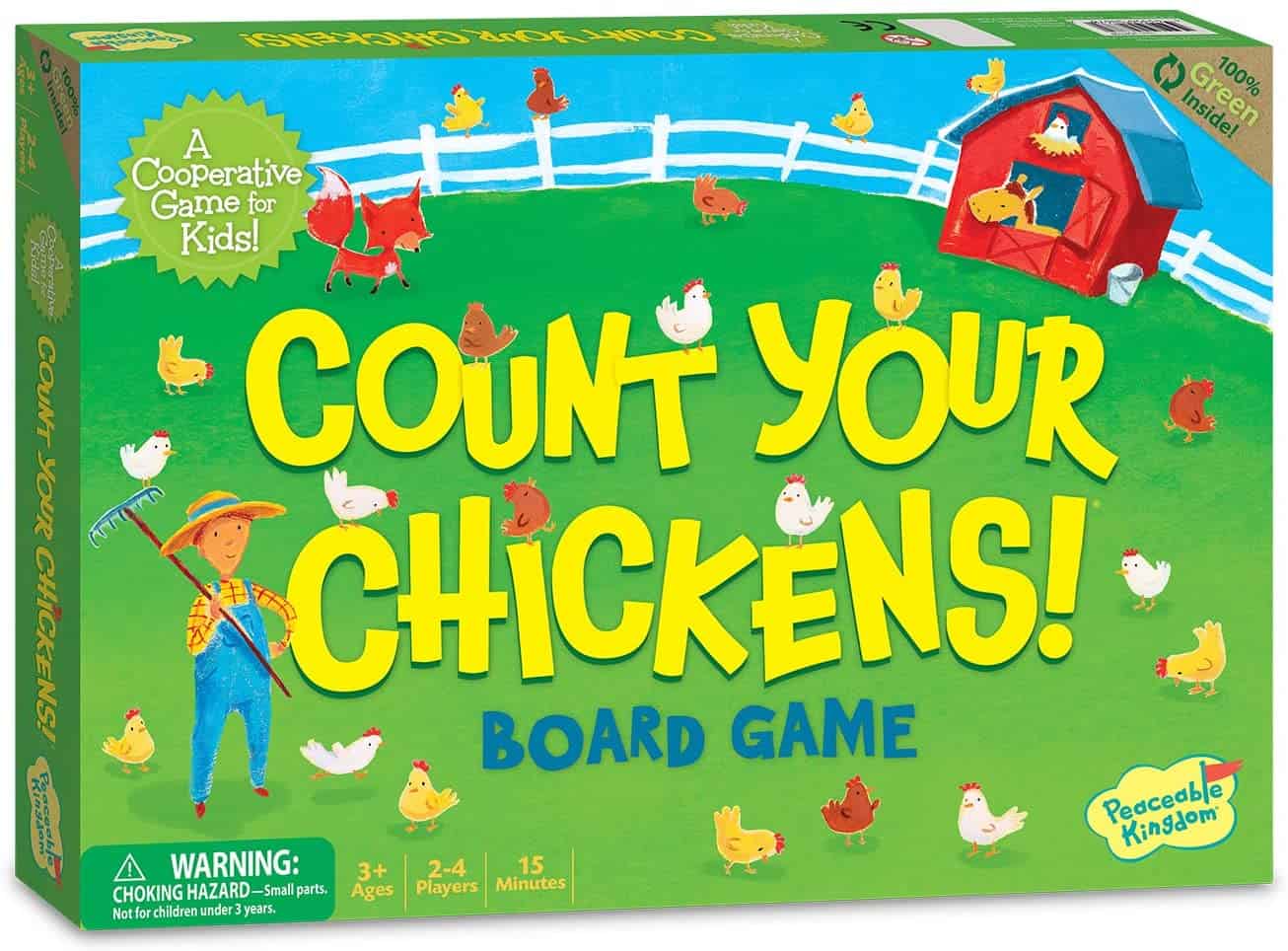 Pros
It's a co-op which means your little one can win with the whole family.

They'll learn to count

Fun and unique game for the entire family while counting chickens

Affordable
Cons
It's a shorter game which might make you wish it was longer.

A little too easy to win since everyone works together
ZOO Regatta
I love how this board game is not only award-winning but also educational. It's 2-sided, and there are multiple scenarios for your child to discover. I enjoy how you get your money's worth; it's a longer game than the others.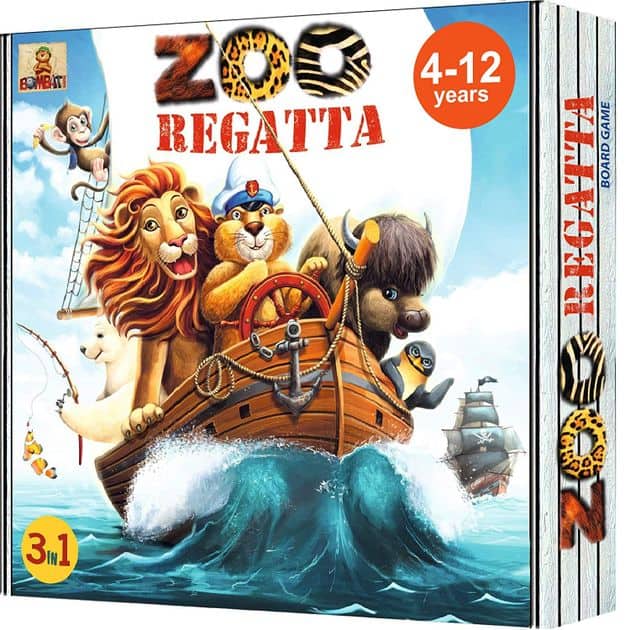 Pros
Exciting for various ages

Your child can learn strategy, geography, and more.

It's easy to learn
Cons
It's a bit more money than the others.

Since it's a more extended playtime, it might be more challenging for your child to focus.

A bit more complicated than other board games for children to learn
Diggin' Doggies
I can't help but include lots of animal games on this list. I'm sure many can relate if they have pets!
I like how this game is affordable even though it's unique. I also don't have to flip through the instructions all day since it's easy to learn. It's also great for hand-eye coordination and learning colors.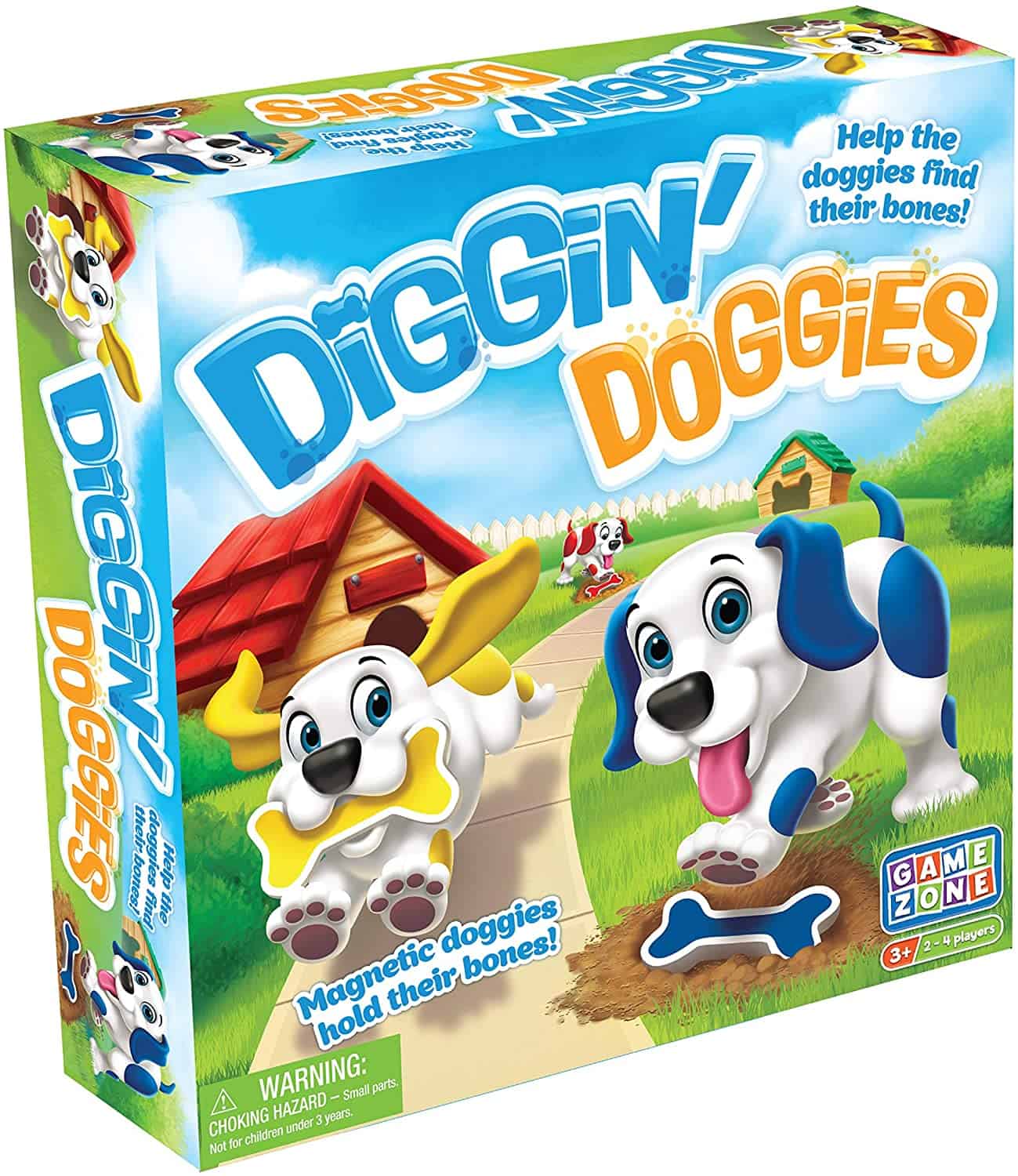 Pros
Your child will learn colors and skills as they play along

It's great fun for all

Great for animal lovers
Cons
Middle price range

It's a thinner quality, so it might tear easily (handle with care)

Since it's a longer game, it might not hold some young minds.
Hungry Hungry Hippos
No list is complete, in my opinion, without Hungry Hungry Hippos. I don't know about you, but this game brings me back, and we had a ton of fun playing it.
Show your children that you still have what it takes with this fun game. Hasbro has a Unicorn Edition if you're looking for a unique version. The player who eats the most marbles wins!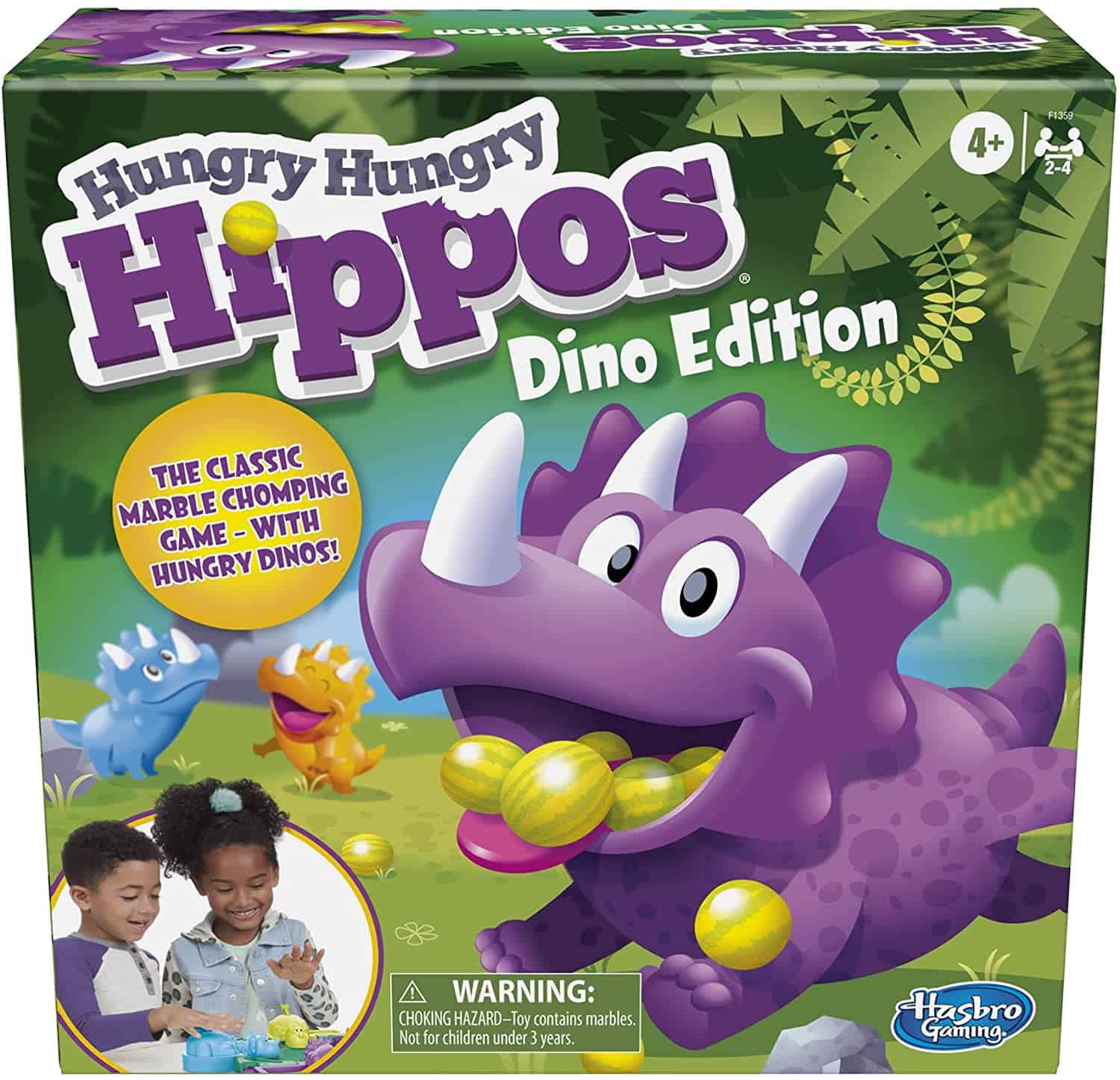 Pros
Fun for all

Easy setup

Easy to learn
Cons
It's not an educational game

Mid-range in price
How To Pick the Best Board Games for 4-Year-olds
When I talk about different board games for children, I tell parents to think about what area they would like their child to improve. Then, from word games to counting, you have options.
Think about your budget and be honest about how much you can afford. Don't feel embarrassed if you can't buy your child a $50 game. Many of the good ones are $12!
Always check the recommended age. You don't want your child to be bored by an easy game or frustrated by a difficult one either.
Think about yourself too. Are there any games that bring back memories that you'll enjoy?
Check the time of each game since young children don't have very long attention spans. I also recommend paying attention to their interests! My nieces enjoy various games, but they wind up liking different ones the best. Remember that each child has a unique personality and hobbies.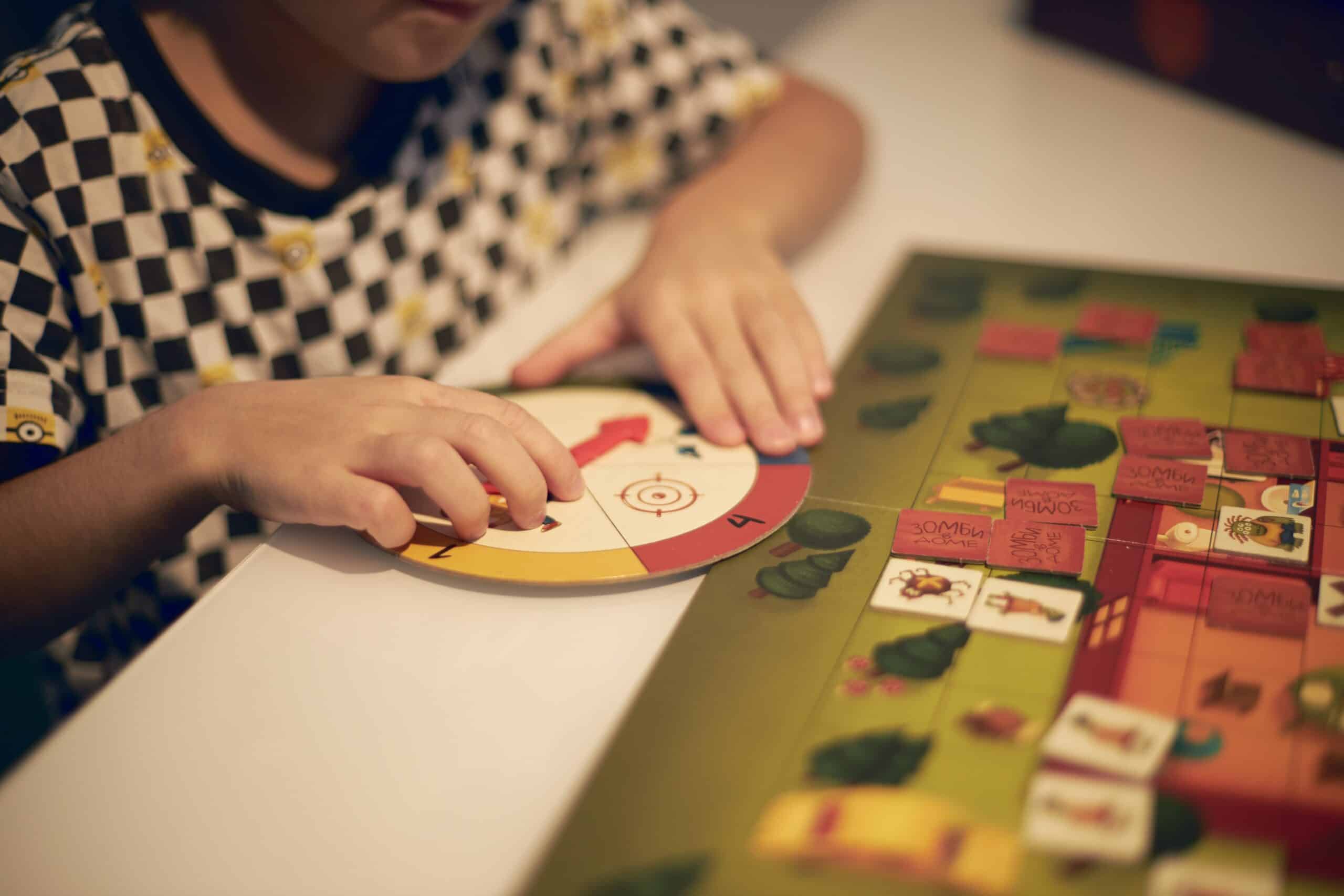 FAQs
Question: Are board games a good gift for a 4-year-old? 
Answer: I think board games are excellent gifts since they'll allow children to have fun while they grow. Board games can help them grow through developmental and emotional learning. They could learn counting, words, shapes, and more along the way!
Question: What are the best family board games for kids? 
Answer: Think of the classics that we enjoyed as kids. That can include Sorry!, Trouble, Candy Land, and others.
Question: What board games can a 4-year-old-play? 
Answer: You might be surprised by how many board games a 4-year-old can play! The better question would be what board games they can't play, which will be a shorter list. Think of board games off the top of your head, and then check the age range to see if they'd work.
A Guide on the Best Board Games for 4-Year-olds
I could recommend plenty of options that would fit the bill for the best board games for 4-year-olds. But, if I had to choose one, I'd say the original Candy Land.
This game brings back plenty of memories, and maybe it gave me a sweet tooth, but it was so much fun. It's a great game to teach your child and reminisce about your childhood while playing it.
This game is my favorite since it's colorful, tons of fun, and brings back fond memories. Even the desserts bring me back, and I'm sure it does for you as well! So get your games ready and schedule family game night today.
Looking for more interesting games? Check Out: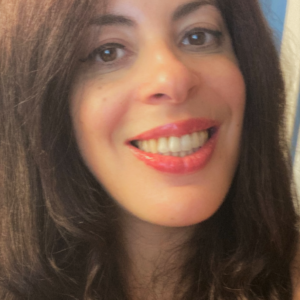 Latest posts by Lindsay Washington
(see all)