Whether you're new to Cards Against Humanity or a seasoned player, understanding all about the game is vital for gameplay. I remember the first time I played Cards Against Humanity; it made an exciting way to get to know the people I was hanging out with.
The exciting part about it is you can play with a small number of people or a large amount, it's entirely up to you. I've created this ultimate guide because there might be aspects of the game that you're not aware of. It's also an excellent guide for those who are entirely new to the game or haven't played it at all.
Please be aware this game is for an adult audience (17+) and might be sensitive for some players (as with this article).
Read this ultimate Cards Against Humanity game guide today, and be sure that you know the game inside and out the next time you play!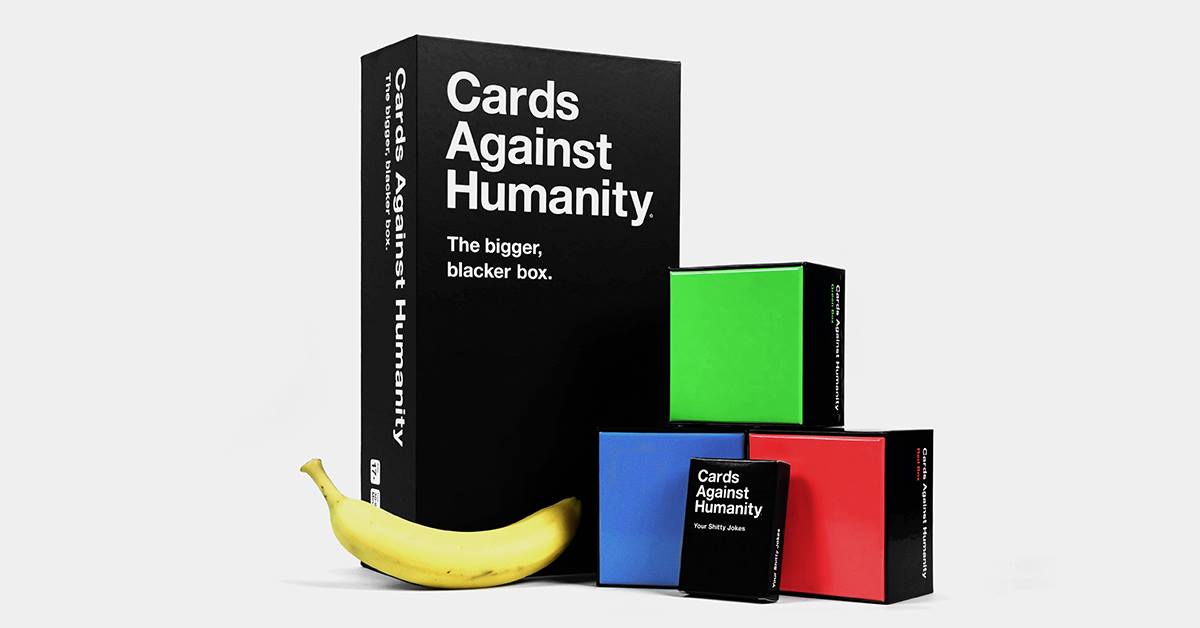 The History of Cards Against Humanity
The founders of Cards Against Humanity can be taken back to high school. So many of them attended high school together and would create different games to enthuse guests at New Year's Eve parties. It was started by Daniel Dranove, Eli Halpern, Max Temkin, David Munk, Ben Hantoot, David Pinsof, and Eliot Weinstein in 2009.
After they tried various games, one idea stuck. They played multiple games for inspiration, including Charades, Balderdash, Magic The Gathering, and Mad Libs. They first began using pieces of construction paper for the game itself.
It'd have questions and answers on the game board. Once they created it, you could find it for free.
They then got their start on a Kickstarter campaign. This allowed them to create a commercialized version of it.
Within the first couple of years, it was a huge hit. Today, it's one of Amazon's best-selling games.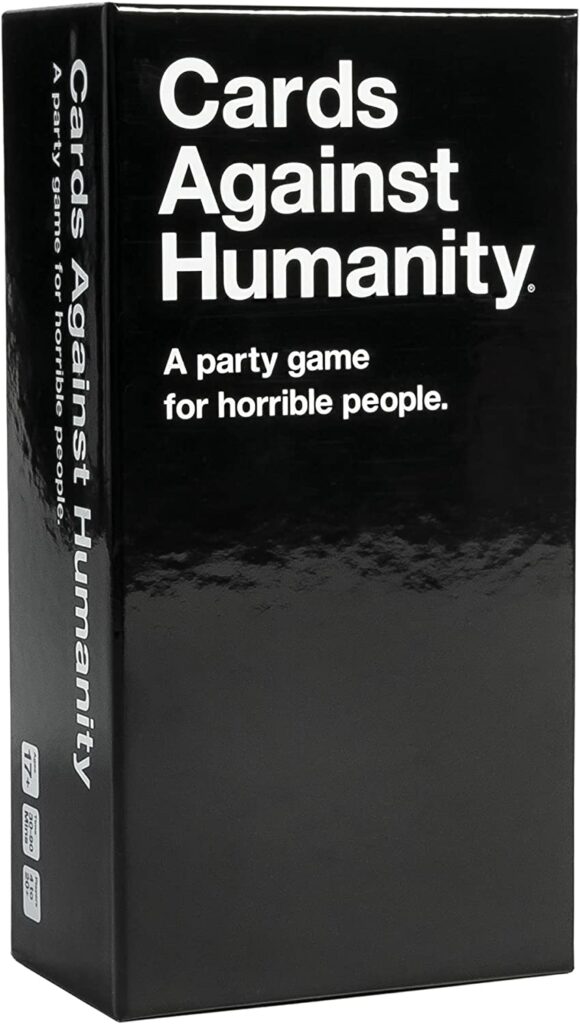 It's an adult party game, perfect for those seventeen and older who aren't offended easily. But, unfortunately, it's often considered the offensive version of Apples to Apples.
Not for the easily offended or for more sensitive audiences since it's filled with plenty of offensive and politically incorrect content.
It's great for parties since you can play with three-over twenty people! The game can go on for more than an hour or as little as half an hour.
An Overview of the Game
To begin, you and your friends draw ten white cards each. Then, one person starts by playing a black card.
Then all players need to find the appropriate card/cards that go along with that black card. It'll let you know how many blanks are required. The person who reads the card can also place it down to read it.
Once you choose your white card/cards, you keep them hidden and pass them to the person who read the card aloud. They then shuffle everyone's white cards together and read them aloud with the black card. It's up to that person who they think the clear winner is that round.
Whoever is chosen gets to keep that black card as a point. Then go around in a circle where everyone gets at least one turn to be the reader. Of course, you'll always want to be at ten cards throughout the game, so you get to choose another card/cards once you play.
It comes with:
500 white cards

100 black cards

Game rules along with alternate options
Some of the cards are blank, which allows you to write your own fun and unique idea. Lets you and your friends get unique with these. You can decide not to use the blank cards.
What Are Pick Twos?
Some of the cards have two blanks, so you choose two cards instead of one. Make it count, and be sure that the reader decides which card they'll read first. If you're the reader, let them know whether the card on the bottom is the first or second card that you'll read.
The Object of the Game
The object of the game is to play until you finish with seven-ten black cards. Although, you can always end early, and whoever has the most black cards wins. Another option is to not draw new cards and just play with what's left in your hand.
Tips for Success
First, decide what type of person the judge will be that round. Are they more serious, quirky, fun, ridiculous, etc.?
The better you know someone, the easier it'll be to pick out a card that they'll like. If you have a terrible hand, though, you could always ask if you could get rid of your cards for a whole new hand. Sometimes, they'll allow you to switch out one hand if you have no idea what a card is/means.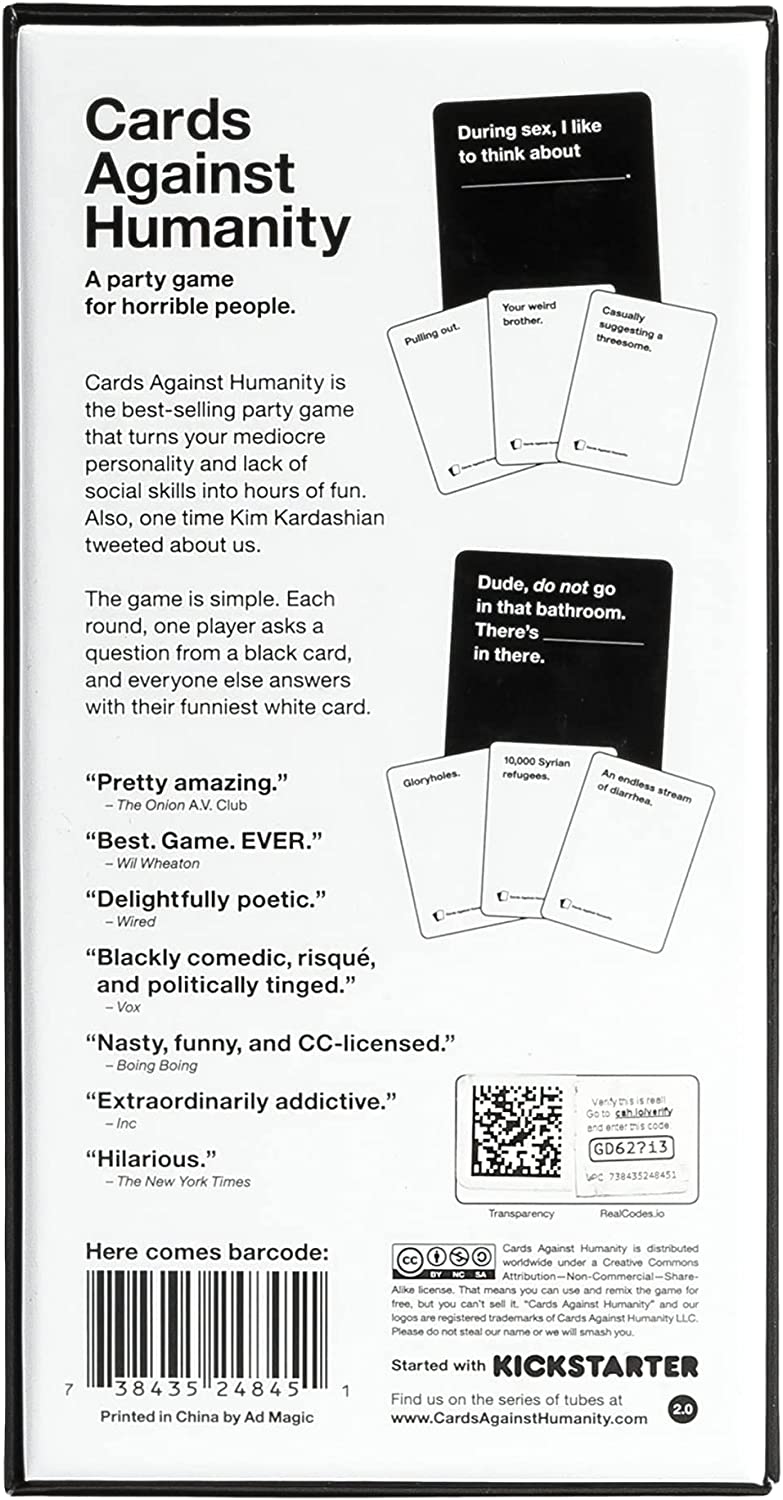 Who Is Cards Against Humanity For?
Keep in mind that there's sensitive content, so it's not suitable for everyone. Some adults might find the adult content bothersome.
It's for those who are sixteen and older. But, unfortunately, it's not a kid-friendly game. For a kid-friendly alternative, consider Apples to Apples.
Tips for Success
As we call them, "throw away cards." These are cards that you might not think are funny or will work. But, sometimes, you might be surprised by what people do find funny.
Even if it's a boring card on its own, it can be funny with how creative you use it depending on the black card. Shock factors are another great option as well.
Unique Combinations
Think of totally out-there combinations that'll shock and surprise you. For some of the cards, you have to wonder how they came up with them. These are more likely to get some laughs around the room.
Consider All of Your Options
Consider all of your cards as an option before you choose one. Also, think about any of your cards that go together; they might be great for when a double blank comes up.
Remember to keep your best card handy until a perfect black card comes along, or you know that someone, in particular, will appreciate it. Get rid of your throw-away cards to get better cards sooner than later.
Choose Your Cards Wisely
Some cards are on the more offensive side. Know your audience and the person who will determine the best card.
Even if you get the most laughs, it still comes down to the person which they like best. So avoid using the offensive cards on someone who you aren't sure whether they'll like it or not. Instead, pay attention to how others respond to each card played throughout the game and who wants what.
Where To Buy Cards Against Humanity?
You can buy Cards Against Humanity on or offline. You can find it at Target, Walmart, Amazon, and other locations.
While you can find it in your area, they might have limited copies. Consider expansions as well.
I always prefer buying items online because of the convenience and finding a variety of games. Keep in mind that if you try to go to a smaller shop in person, the price might be higher than a retail store. Online you could find the expansions easier as well.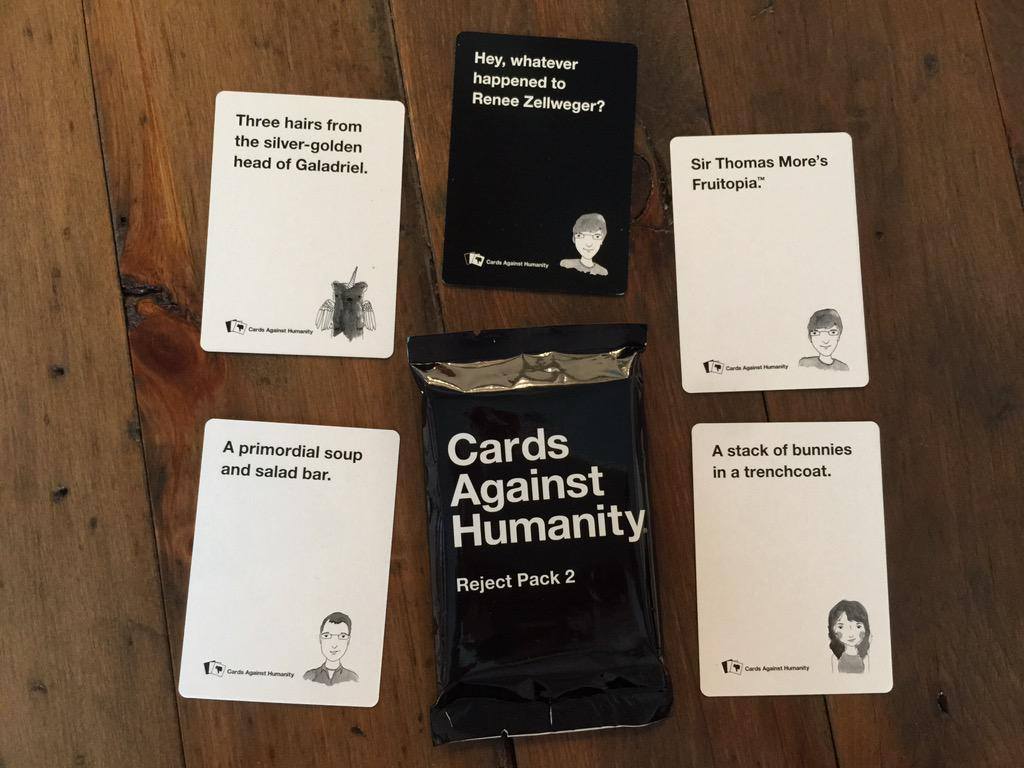 What Age Is Cards Against Humanity For?
Cards Against Humanity isn't for those who are under seventeen years old. It contains inappropriate and politically incorrect people that some adults might find troublesome. However, remember that it's for "horrible people," as per its creators.
Cards Against Humanity Expansions
Some expansions include the following: 
Food

College

Period

Geek

Weed

90's

Fantasy

Sci-fi

the Green Box

the Red Box

the Blue Box

the Bigger Blacker Box

Jew pack (for fun since all of the writers of Cards Against Humanity are Jewish)

 Sci-Fi pack

World Wide Web

Crappy Jokes.

 There are even Christmas-themed expansion packs as well!
The Red Box
The Red Box has 360 new cards unique from the original version. The Blue Box comes with 300 new cards.
The Green Box
If you're looking for more options to incorporate your own ideas, go with The Green Box. The Green Box contains 60 blank cards for you to fill in.
The Bigger Blacker Box
Don't be fooled by the Bigger Blacker Box. It's actually a storage container for your cards that can hold up to 2500 cards.
It does come with 50 blank cards, though. Some surprise cards come with it, though.
The College Pack
Relive those days by checking out this pack whether you're in college now or were in the past. It comes with a poster for your room as well. In addition, it includes about 30 brand new cards.
The Absurd Box
I love how this comes with 300 weird cards to place into your base game. It's also a newer expansion pack.
The Glow in the Dark Box
The Glow in the Dark Box is a newer expansion pack! I love how it comes with glow-in-the-dark stickers that you can hang up on your wall.
The box even glows in the dark. Unfortunately, the cards don't, though.
The Everything Box
Another newer expansion pack comes with 300 brand-new cards. The only downside is that it doesn't include the everything bagel.
The Nasty Bundle
This bundle comes with six-packs that are too nasty for most stores. It includes the Picture Card, Saves America, Ass, Weed, and Period Packs.
The Period Pack
This Period Pack comes with thirty new cards for you and your friends to enjoy. They call it their most "absorbent pack."
The Nerd Bundle
Get your nerd knowledge on in this Nerd Bundle! It comes with the World Wide Web, Sci-Fi, Geek, Fantasy, Human, and A.I. Packs. It'll also come with ten cards that don't come in the individual packs.
The Hidden Gems Bundle
The Hidden Gems Bundle also comes with ten new cards that don't come with individual packs. It contains the Season's Greetings, Food, Pride, College, Dad, and Science Pack.
Which Expansion Is the Best?
Many enjoy The Green Box. It has 300 new cards, including the blanks. It's all about making you happy and leaving your troubles at the door!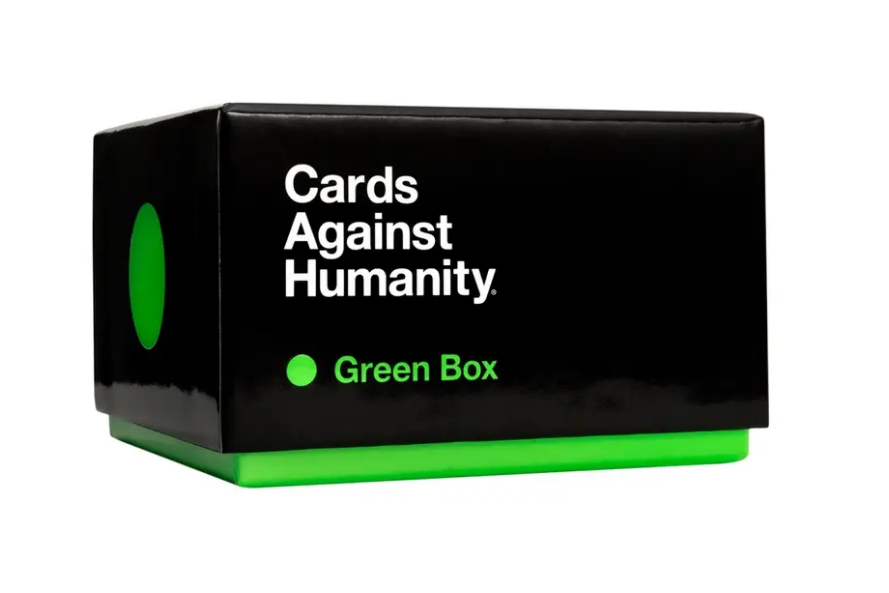 Playing Cards Against Humanity Online
Even if you live far away from your friends, Cards Against Humanity is great that you can play with others through video. Everyone who is playing will need a game pack for their computer. You can also consider buying the expansion packs to make them more exciting.
First, open up Zoom (or another video platform). Once you're logged in, you can invite your friends to play with you.
You'll show your cards on the screen. The only con is that it takes away the element of surprise. You'll know who picked what card.
There are also places where you can play the game entirely online. The only downfall of playing online is that it might not be as exciting as in-person gaming.
Criticism
Since it has incredibly inappropriate content for many, it has faced much backlash. One person even burned a game card in the street! After this, Max Temkin apologized and took out the card.
There's a lot of strong bias in the cards, which doesn't agree with many. Some of the questionable cards have been removed due to controversy. Although there are some questionable cards (to some) that still remain.
Alternatives to Cards Against Humanity
Whether you love Cards Against Humanity, or you want something a bit tamer than Cards Against Humanity, then this section is for you. I personally love Cards Against Humanity, but I understand that it's great in smaller doses. Therefore, some might argue that these alternatives might be better than Cards Against Humanity.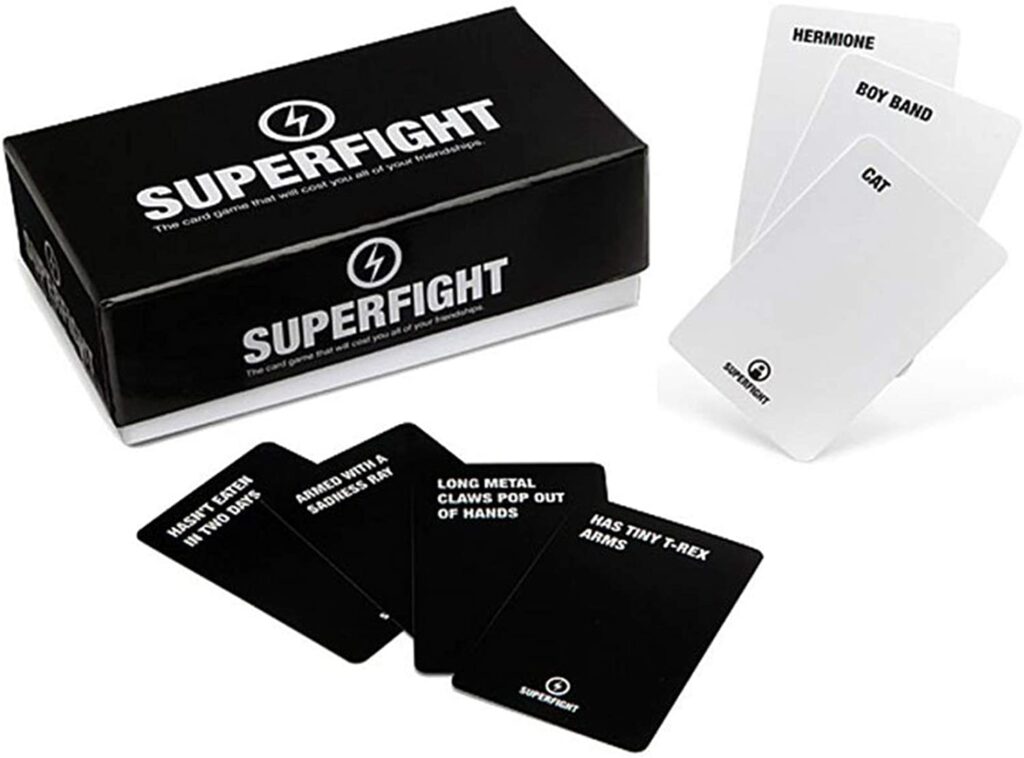 If you're looking for a Cards Against Humanity alternative that's more kid-friendly, then Superfight is an excellent option. But, of course, it's for those who are ages eight and older.
This is all about arguing who would win in a fight. It can be a dinosaur against Abraham Lincoln or any other crazy combination.
You'll argue with your friends about who would win in a fight and why. Then, at the end of the battle, the judges decide who the winner is.
Whether you're looking for a fun option for game night or parties, Superfight won't let you down. You also get to decide how many players will be the judge.
This game includes 500 cards (powers and weakness and character cards). Due to having over 500 cards, you can come up with various combos to keep it exciting.
You'll even get to choose the battle location and the fighting style. There's a timer to make it even trickier.
Some of the expansions include:
History, Naughty and Nice

90's

Horror

Street Fighter

The Walking Dead

Anime
Pros
A unique and fun game for the whole family

Tons of combo options to create

The ability to choose how many judges there are
Cons
Some might find it boring after a while

The instructions aren't obvious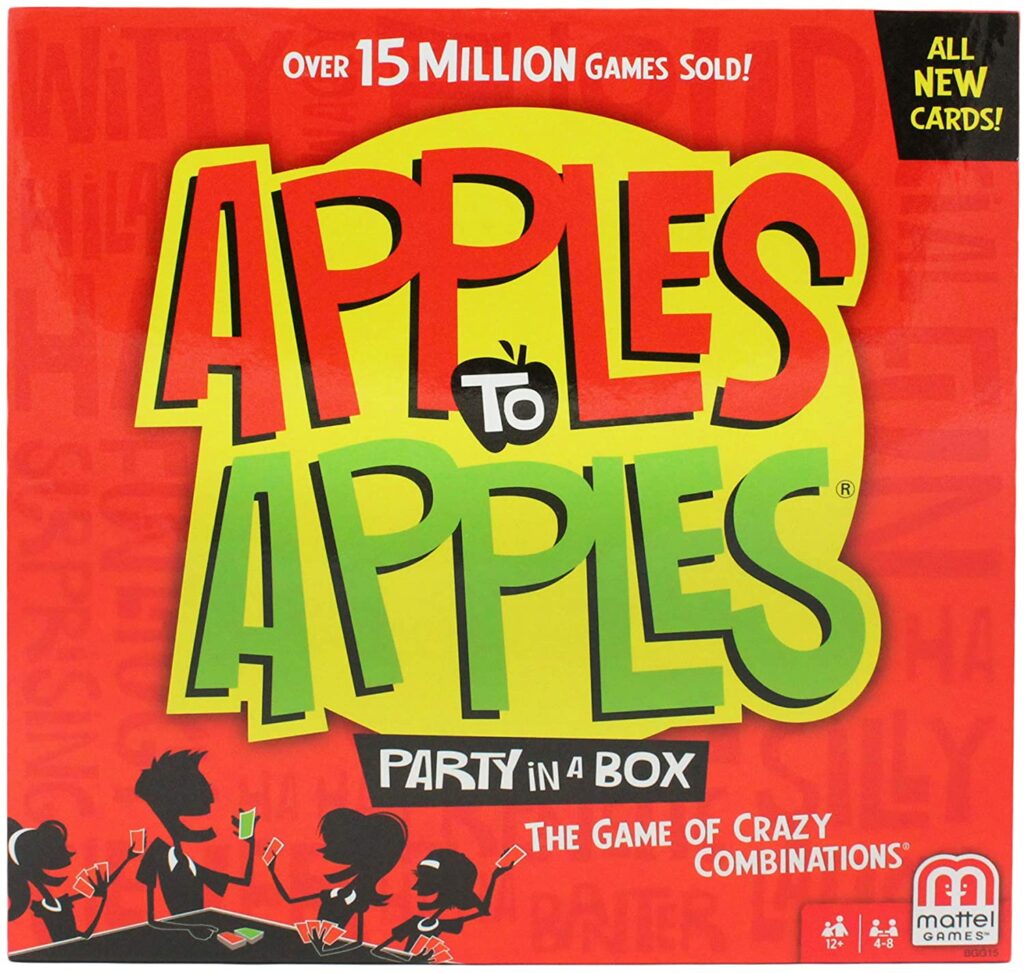 Apples to Apples is a cleaner version of Cards Against Humanity. It's perfect for your next family game night!
There are various editions to choose from too. For example, there's Party in a Box, Bible Edition, Disney Edition, Junior, Marvel, and more.
Apples to Apples is a game about comparisons between cards. This award-winning game is perfect for children who are nine and up.
There are no duplicate cards in the set either! It includes 576 cards in Apples to Apples Junior. This means that you can have a combination of thousands of options.
Pros
A kid-friendly version of Cards Against Humanity

Plenty of editions to choose from for the right option for your family
Cons
It's more monotonous over time

Not as exciting as Cards Against Humanity can be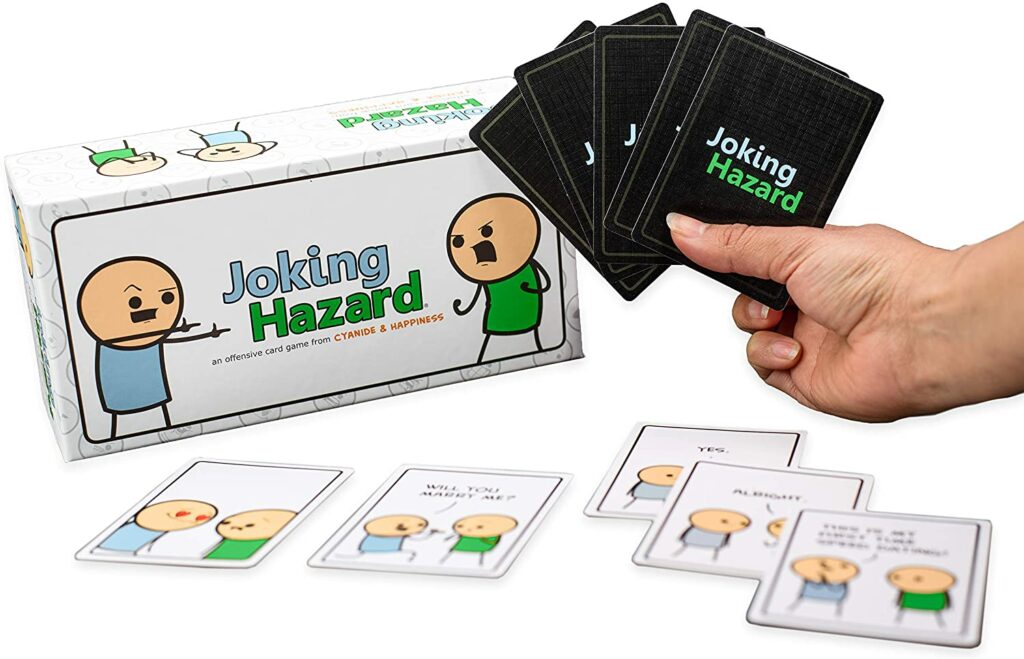 This is one that my friends and I enjoy playing together during game night. However, keep in mind that it's geared toward adults, not kids.
It can have three or more players who can choose from 360-panel cards. In addition, the deck includes cards that you can add your own words.
Joking Hazard is where you go against each other to finish comics. The judge first flips the top card.
They then place their own card to continue the comic.
And then everyone else plays a third card of their choosing. When you go to play your card, it's facedown so that the judge can pick the best anonymously. Of course, judges will need to shuffle the cards first before choosing one.
Pros
A ton of fun for game night

Keeps the evening humorous
Cons
Inappropriate for many

Adults only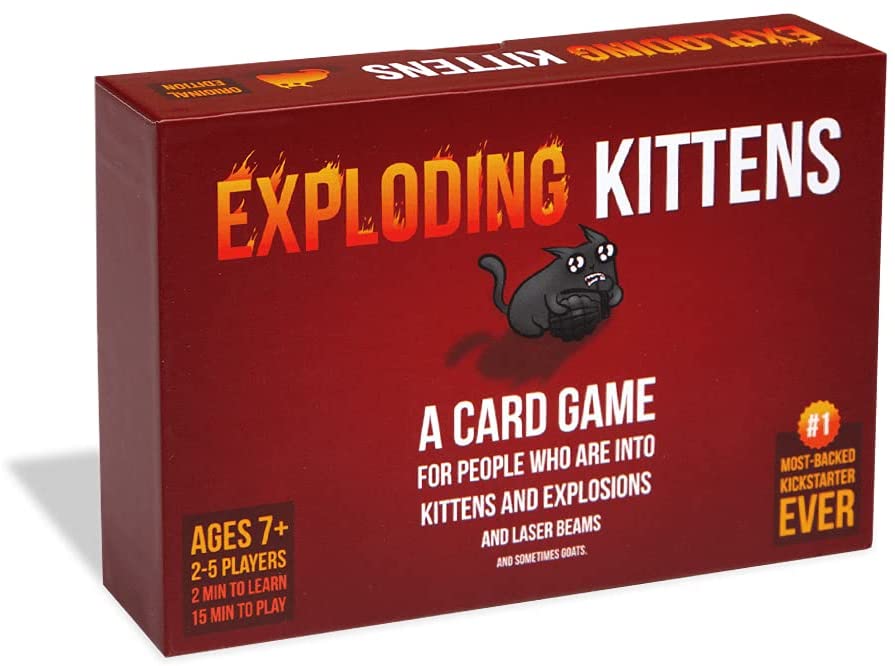 I absolutely love Exploding Kittens and can't say enough about this fun one. Once you have a solid strategy down, you can win this fun party game.
Whether you choose the kid-friendly or the NSFW (not safe for work, adult) version, it'll have you laughing with the cat pictures on each card. It's a card game; you have different non-action and action cards.
The action cards let you perform different things such as Skip, Attack, Nope, Shuffle, etc. The goal of the game is to not explode. Therefore, the only way to stop an explosion is to have a Defuse card.
The Defuse cards are like gold since there are only so many in the deck. If you have a bad feeling and don't want to go next, that's what the action, skip, or other cards are for.
You'll each take turns performing an action and then drawing a card at the end of your turn. Unfortunately, the NSFW version is not kid-friendly. If you're looking for a fun game, consider mixing in the kid-friendly game with the NSFW option. The last person standing who doesn't explode wins!
Pros
The kid-friendly option is great for family game night

Lots of fun to see who is the last person standing
Cons
It's a small deck of cards, so it can get monotonous for some

There's a good bit of luck in this game which can be frustrating for some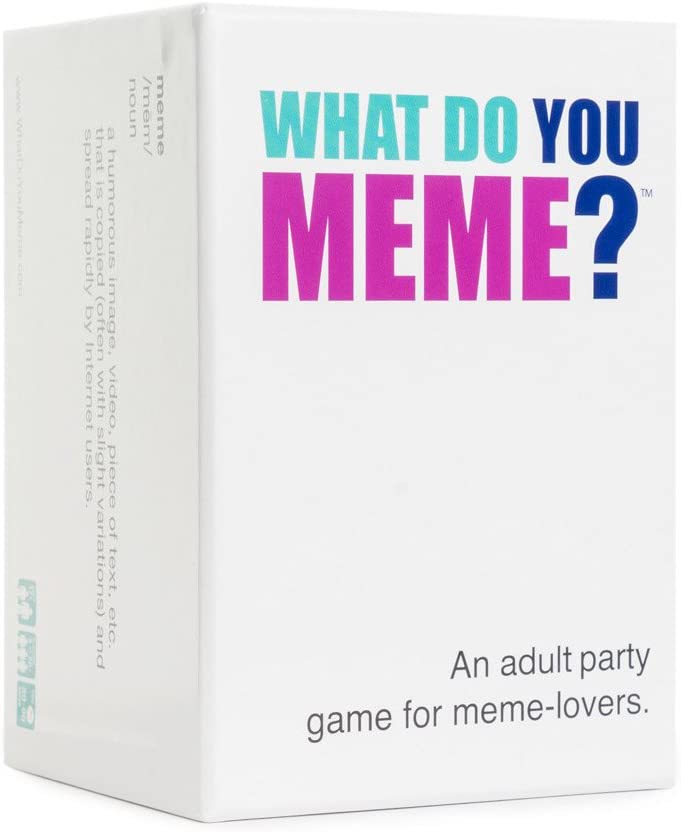 What Do You Meme has been a popular rotating choice at our game nights. It's a more casual card game since you have memes and want to label that meme with a funny caption.
One person is the judge and chooses the best caption for the picture. You'll receive a set of cards with phrases that you can pick from. Whoever has the most memes wins! Keep in mind that the traditional game isn't kid-friendly.
Pros
A fun game for those who love memes

Engaging and entertaining for the whole family (you must get the kid version)

A party game that many people can play at once
Cons
The traditional game isn't for children

It can get monotonous after a while
Exploring the Cards Against Humanity Game Guide
After exploring this Cards Against Humanity Game Guide, I hope you find it helpful and entertaining! Cards Against Humanity is a fun game for adults seventeen and up.
Keep in mind that while it's loads of fun, it's not right for every person. For example, those who don't enjoy sensitive content might not find the humor or find it offensive. If that's the case, be sure to consider the other Cards Against Humanity alternatives.
If you enjoyed this article, be sure to check out our other articles today.
FAQs
Question: Which stores sell Cards Against Humanity?
Answer: You can find them at Walmart, Amazon, and Target, among others. You can find the expansions at these stores as well.
Question: Where can you find Cards Against Humanity?
Answer: Keep in mind that specific editions can be found in their respective countries. For example, there are UK, Australian, Canadian, and American editions. With that being said, you can find the base game worldwide!
The UK edition replaces some American jokes with those targeted toward the British. The Canadian and Australian editions do the same for their respective countries.
Question: What's Cards Against Humanity?
Answer: It's a party game where you fill in the blank on black cards with your white cards. They're filled with politically incorrect, offensive, or inappropriate cards.
Question: How much is Cards Against Humanity?
Answer: You can get the base game online for $25. The expansion prices vary.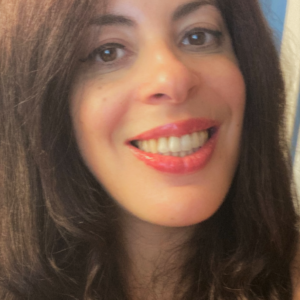 Latest posts by Lindsay Washington
(see all)