I love how board games can bring us all together, whether you're young or old. So what better way to ignite a passion for board games in your child when they're young?
Even if your child is only four or five years old, there are plenty of toys for them to choose from. You might wonder how to find the best board games for kindergartners. While it might seem like a challenge, it doesn't have to be!
I've created this list as a guide for tips on picking out suitable games, where to find them, and some of my top picks. You might wonder why listen to me?
Well, I've worked in preschools and elementary schools, including volunteer activities. I also studied Early Childhood Education. Currently, I'm a part of a local board game meet-up and play them with my friends. So, if you're ready to find some of the best board games for your child, then make sure to read on!
Bottom Line Up Front
There are so many games to choose from! This can make it challenging to pick a favorite, especially for children.
Considering I've played many games with children, I've noticed that many of them are learning opportunities. Even games that don't seem like they are.
If I had to pick a favorite board game, though, I'd have to go with Risk Junior. It's fun that the makers of Risk thought about children when creating this.
Your child will explore a world where they're the head of pirates and must guard their island and treasure. Like the original game, you need to protect your islands and have the most in the end to win. It's such a fun twist on the classic game!
My Top Picks at a Glance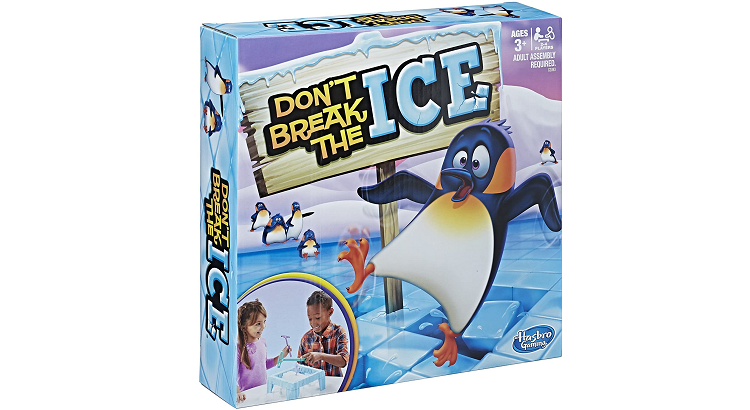 Risk Junior-It's so much fun to play since you're a pirate trying to collect as many islands and treasures as possible!

Zobmondo The Ladybug Game-Whether your child started kindergarten early or late, this is a ton of fun! Your child will learn about the different insects out there while playing this easy-to-learn game.

Clue Junior-What a fun twist on the classic game of Clue! A toy has been broken, and you have to find out who did it, which toy was broken, and when.

Charades for Kids- Whether your child knows how to read, they can play this fun game since no reading is required. Activate their imagination and get their art skills flowing with this classic.

Don't Break the Ice Game-A remake of this classic to provide you and your family a fun option for family game night. I love how children strategize and think about what blocks they'll tap.
Tips for the Reader
This list will provide a guide on some top games and tips for picking out the right option for you and your family. As you go through this list, think about different hobbies and activities your child enjoys. There are various ways to find top games for your child, but remember, you want to make sure that it's something that your child will enjoy.
Selection Criteria
When I pick out different board games for children, I think about what hobbies they enjoy. From there, I consider what games will be the most educational and fun at the same time. Even if a game seems like it's all fun, it could be a learning opportunity for your child.
Why Should My Child Play Board Games?
Board games are an excellent way for your child to learn cognitive skills. Think about it; your child needs to think about their next move. They might need to strategize to figure out how to win.
Various games teach your child to use their imagination. In addition, imagination through play is an excellent way to increase their other skills.
Board games allow them the opportunity to build on their social skills. Whether they're playing with you or their friends, they'll need to chat while they're learning. It helps limit awkward silences, too, since your child will learn to discuss the game and what's happening.
Your child could increase their focus as well. They're learning to wait their turn until they can move their piece.
Picking Board Games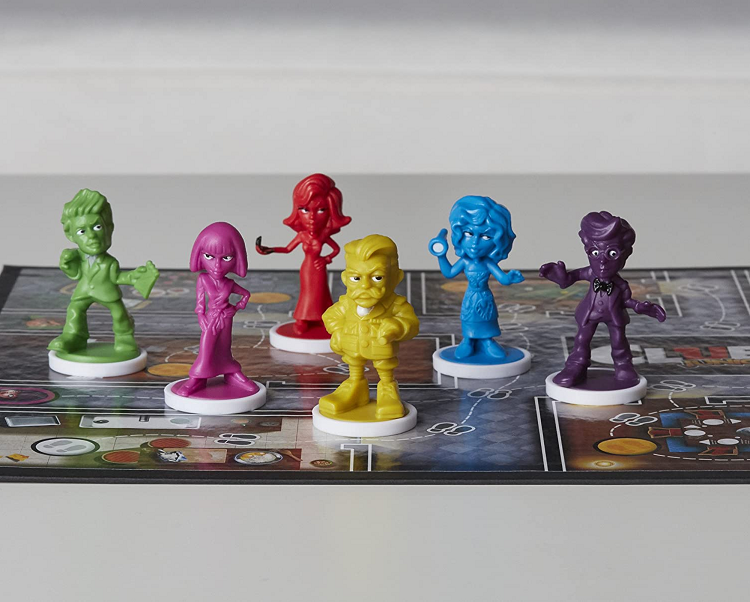 Picking board games can feel like a challenge since you're checking on the reviews, thinking about your child's hobbies, and more. The list below provides you with different things you'll want to consider as you look at various games.
Remember that there's no wrong answer; it entirely depends on what your child will enjoy playing. If you have more than one child, then you'll need to consider both of their personalities. You might want to think about getting each child their own play. My nieces are only two years apart but are entirely different when it comes to their favorite game!
Know Who Will Be Playing
First, decide whether it'll just be for family game night or if it'll be a game that your child can play with their friends often. Then, choose how many people will be playing, whether it'll be a larger group of six-eight people or smaller at two-four people.
Consider who will be playing and what their interests are. It's important to consider any developmental delays or texture difficulties. Some games might help improve sensory challenges.
Time Necessary
Since it's a game for younger children, you'll want to think about how long they'll stay focused on a board game. So you want to choose a game that's about fifteen-thirty minutes max for younger children.
Games can fall into light, medium, or heavy play-time. Think about how serious of a game you want for your child.
If they're new to board games, then you'll want something lighter. Once they become more comfortable with board games, you can consider heavier options.
Check Reviews
Go through all of the reviews, both good and bad. This is a great way to know what game you're considering, including its pros and cons. Decide whether gameplay itself will work along with the reviews.
Consider Checking the Brands
If you enjoy one game, be sure to check the brand's other games. There's a good chance that you and your children might enjoy their other games.
Think about what you like about the current games and see if they have similar options. Make sure that it's in line with your child's hobbies and interests to ensure that they'll enjoy it.
Check the Age Range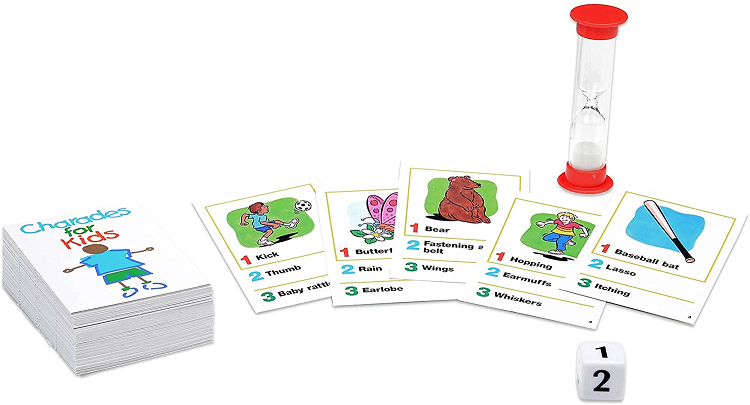 Be mindful of the age range since more difficult games might overwhelm them, and games that are too easy might bore them. Also, check the age range, especially for younger children, since some games could be choking hazards for those under three.
Consider Avoiding Games that Just Came Out
While it might be tempting to pick up a brand new game, you might want to avoid that. There might not be any reviews, so consider yourself the tester. This means that pieces might be warped/missing/etc.
Give games some time to be out and then check their reviews. This will allow you to decide if that game that seemed so exciting really is.
The Different Types of Board Games
Depending on the age, you could find a variety of board games. Roll and write is a popular option that's starting to gain traction.
Although, roll and write isn't a new game. Yahtzee! is an excellent example of a roll and write game since you're keeping track on a small board for yourself.
Cooperative
Cooperative games are generally for older ages. These games try to reduce the stress of classic board games by having everyone work together.
It's an excellent option for social-building skills. There are some games for children that fall under this category.
Basically, you're trying to beat the game together. If one person loses, then everyone does.
Legacy Games
Legacy games are a newer option. They're not just moving pieces around a board.
There are stories to enjoy that can influence different emotions along the way. Games like these are great for character-building and imagination.
Party Games
Party games are great when you're looking to host a party and need a game for many players. However, games for a more considerable number of characters can be harder to organize.
Puzzles
Puzzles are excellent for problem-solving, concentration, and patience. They encourage your child to think critically to figure out the puzzle.
Where to Buy Board Games?
You can buy board games in a retail store or online. Online might have more options, including more rare options. If you want to go to the store, it's a good idea to call and see what they have available.
I love how Amazon sometimes has coupons that you can apply to the different games. Along with Amazon, there's Target, Walmart, and BoardGameCo.
For children, though, it's best to stick with the first three. They'll have various games for you to choose from, along with reviews left by customers. I'll provide a list of some top choices as well.
My Top Picks
These games are a mix of the classics with a twist and various educational games. Even if a game doesn't seem like an educational option right away, most board games offer to learn for some. Think about your child's hobbies and their strengths and weaknesses as you go through this list, considering what you'd like for them to improve upon.
Zobmondo The Ladybug Game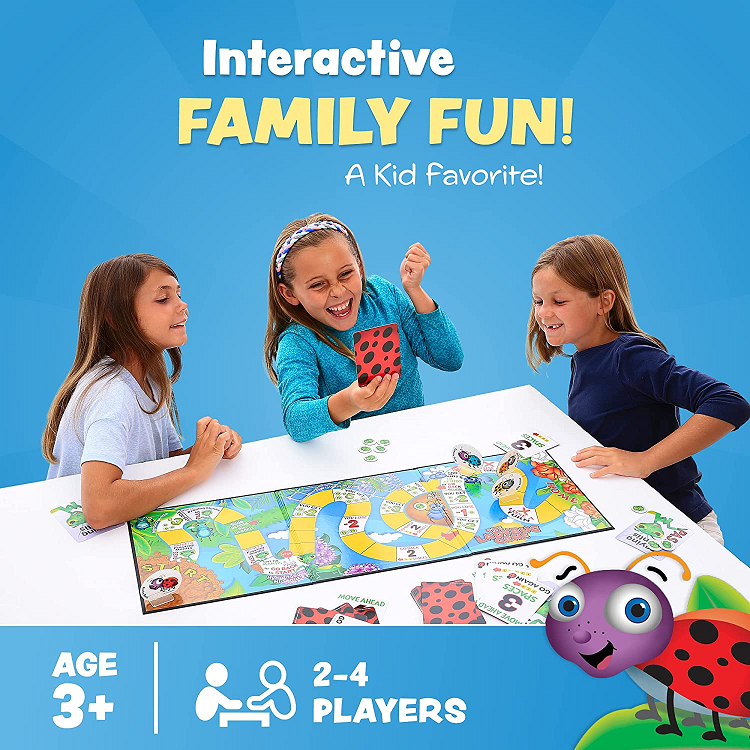 This game is loads of fun for those ages three and up. Not only will your child be in a world of fun and adventure, but they'll learn about different insects along the way. Be careful not to fall into the various insects' traps along the way!
What I enjoy most about this game because your child can practice addition and subtraction. The object of the game is to bring the ladybug to safety at her home.
The game contains:
33 ladybug cards

61 aphid chips

8 praying mantis passes

4 ladybug pawns

Game board
The game board is beautiful and vibrant. It's bound to be a fantastic game for kindergartners.
Pros
Your child can learn about different insects

They'll need to learn addition and subtraction
Cons
It's difficult to avoid the praying mantis, which will make them start all the way at the beginning

It doesn't come with instructions; instead, it's a story that'll teach you how to play
Pressman Charades for Kids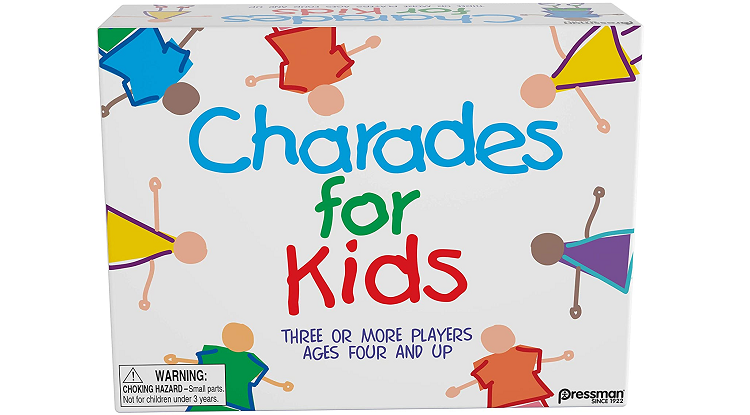 Head back to your childhood as you played charades with your friends and family! Now there's charades made explicitly for children.
A plus is that there's no reading required either. Instead, charades will allow your child to tap into their imagination and guess the correct item.
It comes with three levels of play to make it easier or more complex, depending on who is playing it. It's an exciting game since children will have to guess the word.
The cards provided are an excellent practice for your child to read different words. The image of the top word will be shown on the card.
It comes with:
150 charades cards

450 charades

Sand timer

Instructions

Game dice
Pros
It has vibrant colors on the different cards

Comes with full instructions

Your child can practice reading other words
Cons
The cards are flimsy

It might be more difficult for children who aren't used to acting clues out
Hasbro Gaming Clue Junior Board Game for Kids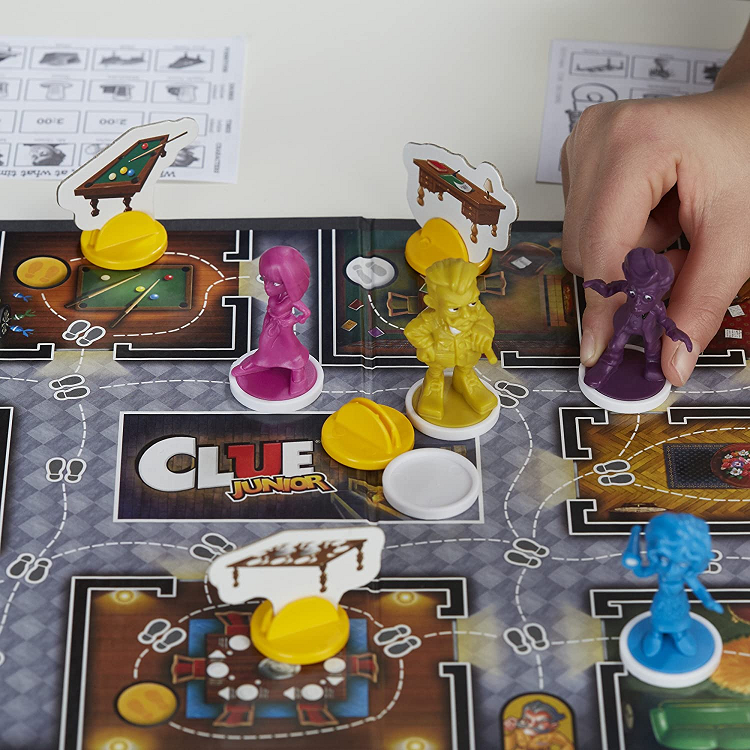 This is an excellent game for children that are aged five and up. I love how this is a twist on the classic. What a fun way to bring back memories of playing this when you were a kid as you play this with your children.
The overall concept is quite creative. Instead of solving a murder like the traditional Clue, this is where someone breaks a toy, and you have to figure out who did it. Of course, you'll also need to decide what toy it is and when it occurred.
It's a great game to teach your child strategy and critical thinking skills. But, first, they'll need to deduce who more than likely is the culprit. There are even fun detective sheets to help them keep track of the clues (similar to the classic game).
Pros
It's like the classic game but with a twist

Will have your child think critically as they try to determine who destroyed the toy

Comes with detective sheets which are similar to the classic game
Cons
It's very different from the original, unfortunately

The directions are a bit confusing
Don't Break the Ice Game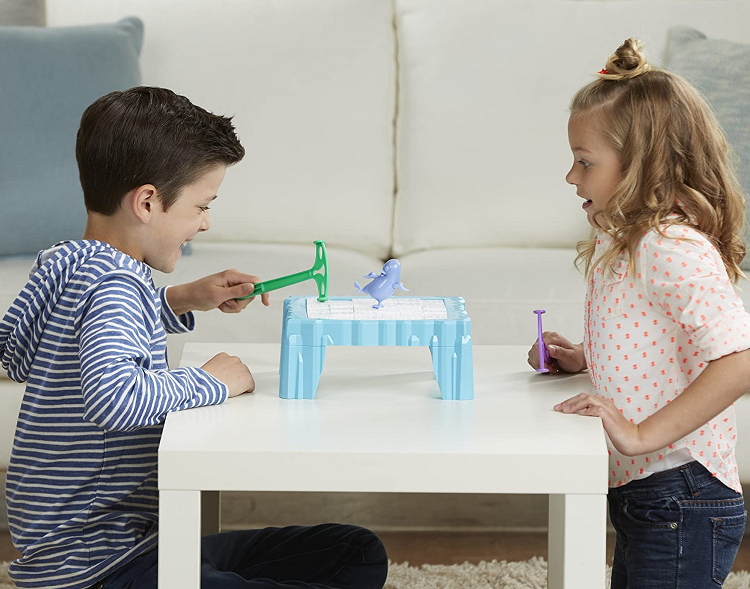 This is another classic game that received a remake. You and your child/children will have to avoid Phillip, the penguin, from falling into the ice.
You'll take turns tapping on the vibrant ice blocks to avoid Phillip from falling in! It involves critical thinking since your child will need to determine what ice blocks are safe to tap.
I love how vibrant the colors are and that children as young as 36 months can join in the fun! It's great for a family game night since two-four players can enjoy it. Don't Break the Ice could teach your child patience since they have to wait their turn to tap on the ice.
It comes with:
One large ice block

32 small ice blocks

Four ice tray legs

Instructions

Phillip the penguin

Two mallets to tap on the ice
Pros
It could teach critical thinking and patience

An excellent game for a family game night since various ages can enjoy it

It comes with plenty of items to effectively break the ice

Phillip, the penguin, is included
Cons
It's made differently than the game that you're used to as a kid

The legs aren't very sturdy for holding the ice
FAQs
Question: What is the Best-selling Board Game?
Question: Are Board Games Considered Sports?
Answer: If you're referring to mind sports, then yes! There are card games, chess, and board games.
Question: What are the Rules of Board Games?
Answer: Each board game will have its own rules that you'll need to learn. It's a good idea to check the gameplay before buying it to ensure that it's right for you and your family. Many board games overlap with each other as far as how to play.
Exploring Where to Find the Best Board Games for Kindergartners
I hope that you find this guide helpful to find the best board games for kindergartners. Be sure to check in with your children and see what games they currently love.
Then you can look at those brands and see what other options there are. If they're new to board games, then look at their current hobbies and skills. This will give you an idea of what games they might enjoy playing.
If I had to choose a favorite out of all of the games, though, I'd have to go with Risk Junior. I love how they remade the original with kids in mind!
Your child will have fun playing a pirate and trying to gain as many islands and treasures as possible!
If you enjoyed this article, be sure to check out our other articles today!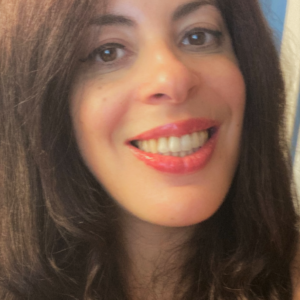 Latest posts by Lindsay Washington
(see all)