As a child, I always wanted to play board games with my big sister and family—even when I was 3 years old. If you have a 3-year-old, then you might be concerned that it could be tricky to pick out a suitable game for your little one.
I've noticed a few things through my years of playing board games with little ones. For one, they can be much more strategic than you might realize!
In order to allow them this opportunity to grow and thrive from board games, it's essential to ensure that it's for their age range. That's why I've compiled this list of the best board games for 3-year-olds. So read this guide and watch your child's learning soar to new heights before you know it!
Bottom Line Up Front
If you've been following the trends lately, you'll notice that kids are crazy about Peppa Pig. So what better way to excite your child and get them learning than a game featuring Peppa?
If I had to pick the best board games for 3-year-olds, I'd have to go with Chutes and Ladders, Peppa the Pig. As you introduce games to your little ones, it's essential to show them something they recognize and feel comfortable with (Peppa).
Many children are just beginning board games at this age. Plus, Chutes and Ladders is a family favorite that you more than likely played yourself as a child.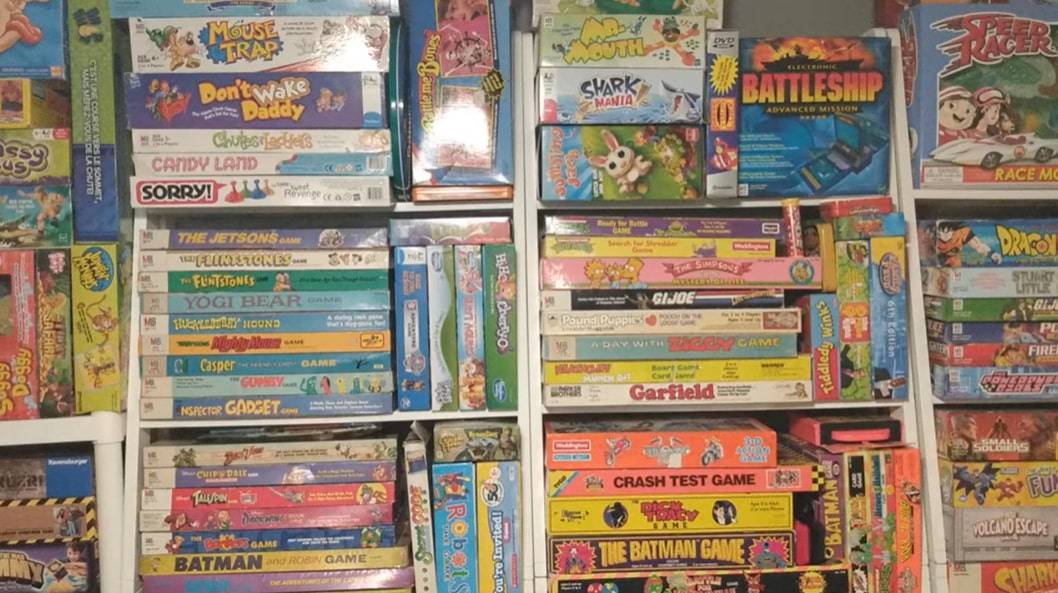 My Top Picks at a Glance
Chutes and Ladders, Peppa Pig – Get your child excited for their first board game featuring one of their favorite characters in a family game night favorite. It's a great strategy since they have to decide whether to use the ladders or not to reach 100 squares quicker.

Candy Land Unicorn Edition Board Game – Candy Land was always a favorite when I was a child. It makes me happy knowing that kids today still love it. It's full of colorful illustrations for your child to enjoy. Plus, it's unicorn-themed, which is another popular trend for children.

The Ladybug Game – Not only is this game award-winning, but it's excellent for stimulating your little one's mind. Your child will get excited about a new adventure as they play.

SEQUENCE for kids – SEQUENCE is popular with adults, and now your child can join the fun. This is a great game to teach your child to strategize to make a match.

Hungry Bins Board Game – I love how this game is award-winning plus educational! If you're looking to improve your child's memory while they play, you'll want to pick up Hungry Bins Board Game.
Tips for the Reader
I tried to separate board games into different sections to make it easier. As you pick out the suitable match for your child, think about what your child needs to improve upon, what they excel in, and what they enjoy. For example, what hobbies do they enjoy?
Selection Criteria
I will factor in pricing and stay under $20 whenever possible. I feel that an educational game doesn't have to break the bank or be expensive. Even if a game is more, it doesn't mean that it'll be better than a $10 option. What's most important is that your child learns through play, including imagination, counting, the alphabet, and more!
Why Should Kids Play Board Games?
Whenever I speak with parents, I encourage them to continue learning through board games. Board games are an excellent way for your child to learn patience, concentration and to see the excitement in winning.
As your child learns through play, they're more likely to absorb the material since they're having fun. Other benefits include educational learning, gross motor skills, social skills, fine motor skills, and critical thinking.
Affordable Board Game Options
Chutes and Ladders: Peppa Pig Edition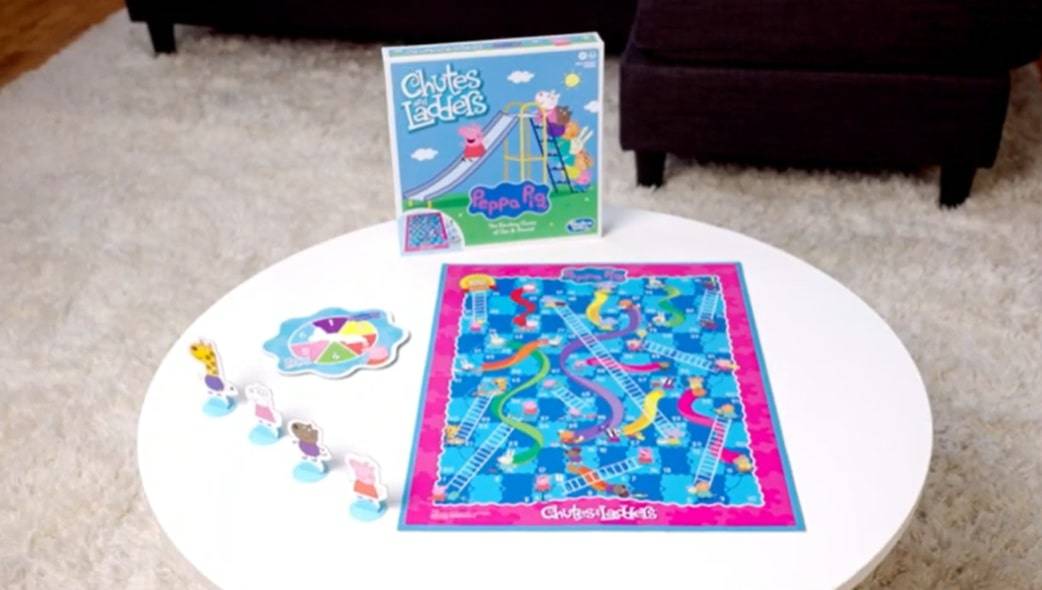 If your child loves Peppa Pig, then they'll get excited to see this game! Whether for Christmas, their birthday or just because, this is a colorful game with no reading required. It's great for parents, too, since they might have nostalgia playing Chutes and Ladders as a child.
Pros
They need to strategize and decide the quickest way to 100 squares to win

There are 4 characters to choose from, including Peppa

I love how your child can practice their numbers through play

They need to plan where they'll go as they watch out for ladders

Affordable since you can get it for under $11 at the time of posting this!
Cons
Since there's more planning with moves, it might be a bit overwhelming for their first board game

The colors of the pawns can blend in easily with the squares

The numbers can be tricky to see for some
Candy Land Unicorn Edition Board Game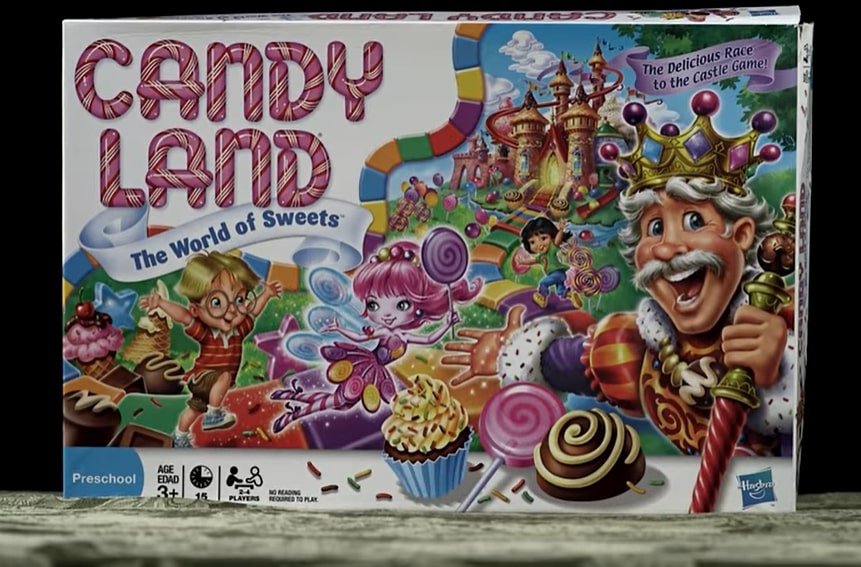 Talk about the perfect game for your child! Children love unicorns (adults too), and they'll enjoy Candy Land. Candy Land will excite parents as well as they remember playing it themselves as kids. Enjoy this illustrative, no-reading required game.
Pros
A great board game for beginners since it's easy to learn

Fun for the whole family

Kids love unicorns which will get them excited to play

Encourages imagination for your child as they transport themselves into the delicious world of Candy Land.
Cons
Since it's filled with tasty treats throughout, your child might be encouraged to eat sweets more often

It's not as educational or stimulating as other games

The pawns seem more prominent than the squares that they go on
Great for Board Game Beginners
The Ladybug Game
While this game is close to the $20 limit that I try to keep, I can't say no to this since it's excellent for beginners and fun. The exciting part is the adventure changes as you play each time. I also love that children can learn reading and math through The Ladybug Game.
Pros
Educational for reading and math

The adventure changes each time your child plays

Award-Winning

Designed with younger children in mind
Cons
It's more expensive than the other options since it's almost $20 when posting this.

Your child might feel a bit overwhelmed since they'll learn to read, add, and subtract.

It can be harder to understand for certain children

If you fall into a trap, it's hard to have to start all over again.
Hungry Bins Board Game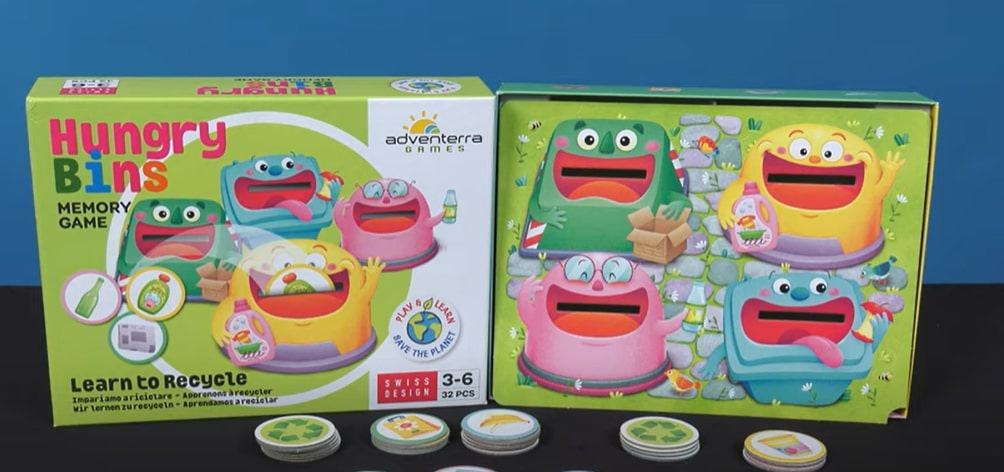 This is another one of the best board games for 3 years olds since it's educational and award-winning. I love how it's eco-friendly as well (recycled materials)!
It's a tremendous educational opportunity since it could improve your child's memory. Each bin needs to be fed, but each one has different preferences. Your child will need to remember who likes apples or another item and who doesn't.
Pros
It could be played as a single-player game

Eco-friendly

Encourages memory-building since they'll have to remember what foods the bins like.
Cons
It's more expensive, $19.99 at the time of posting this.

It might feel monotonous for some since it's filling up the bins with the correct items.
SEQUENCE for Kids
Whether or not you've played SEQUENCE, it's a game for all to enjoy. SEQUENCE came out with this game for children to enjoy with ages 3-6 years old.
Your child will practice matching since they'll need to have the card in their hand be the same as the animal on the board. Also, there are unique cards that let you place your chips in other locations to switch them up!
Pros
Made with 3-year-olds in mind

An excellent game for first-time players since it's matching

Reading isn't required

Encourages logic since your child will have to plan out what they'll do next
Cons
Since it's a more straightforward game, it might be a bit boring for some

It's not as inexpensive as others (usually $16.59 but on sale at the time of posting this).

The board is delicate, be careful while playing it.
Honorable Mention
Wuximde Big Pop Fidget Game Toys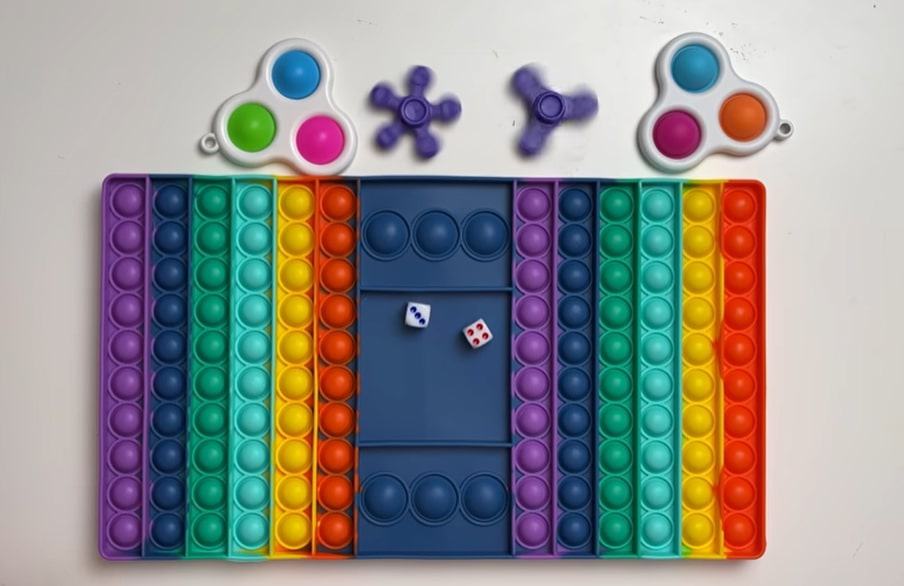 I played this game with my nieces, and it's supposed to be a stress-relieving and interacting option. My nieces kept wanting to play this one over and over since it's easy to take out, begin and put away.
It's straightforward to play. You just roll the dice and pop the bubbles.
This game is excellent for 2-players since you'll each have your own side. I love how it encourages children to concentrate as they play!
Pros
Easy to learn

It could be stress-relieving for all

Could improve concentration

Soft to touch and relaxing to pop

Beautiful and relaxing colors to look at while you play
Cons
There's no strategy. It's pure luck and based on what you roll

Since it's so basic, some children might find it boring and hard to concentrate
How To Pick the Best Board Games for 3-Year-olds
I know this list might have you unsure which to pick. I first suggest thinking about your budget. Don't feel obligated to go outside of your budget since there are plenty of affordable games!
Pay attention to the recommended age whenever you pick out a game. See what the gameplay is like and ensure that your child has the basic requirements to learn to play it.
Remember that board games should be fun and not a frustrating experience for your child. They're an excellent way to learn and grow as they play. If you choose something too complicated, instead of them learning, they might instead lose interest in both learning and board games.
Think about their hobbies as you pick out a suitable game. If your child has a shorter attention span, take a look at the playtime.
FAQS
Question: Can toddlers play board games?
Answer: Yes! Your child can start playing board games as soon as 2-years-old. It's an excellent way for your child to learn different skills, including fine motor and critical thinking skills. It's also a great way to encourage learning through play.
Question: Can a 3-year-old play Sorry?
Answer: It might be too tricky for your 3-year-old to play. Sorry! is an excellent option for 5+ years old. If your child can recognize the cards' numbers, they could be old enough to play it.
Question: What age is Connect 4 for?
Answer: It's really for ages 6 and up, so it's not best for your 3-year-old quite yet. Keep playing the other games, watch them grow, and before you know it, they can play this too!
Question: Can 3-year-olds play Jenga?
Answer: Traditionally, Jenga is meant for 6 and up. It's a strategic game of moving the pieces without letting the tower fall over. However, if your child has been playing games for a while, they might be able to play this at 3-years-old.
Question: How old do you have to be to play Monopoly?
Answer: While Monopoly for kids starts a bit younger, it's not well-suited for 3-year-olds. Traditional Monopoly is for the ages of 8 and older.
Question: What age is Junior Monopoly for?
Answer: Junior Monopoly is for 5 and over, so it's not best for 3-year-olds. Your child might wind up frustrated if they cannot follow and adequately strategize to win.
A Guide on the Best Board Games for 3-Year-olds
There are various games to choose from, making it difficult for me to pick just one! Plenty come to mind when I think of the best board games for 3-year-olds. Which is a good thing because it means you have options.
If I had to choose, I'd go with Chutes and Ladders: Peppa Pig Edition Board Game. Not only is Chutes and Ladders a classic for years, but your child will love that their favorite character is a part of it.
This game is affordable, which is a huge plus since I don't believe in breaking the bank for fun. I love how it's enjoyable for parents, too, since they can have nostalgia playing it as a child. It's educational, has plenty of colors, and will make your next game night tons of fun. Your child will learn strategy, how to plan ahead, concentrate, and reach the end in as few moves as possible. 
So get your games ready and schedule family game night!
Be sure to check out our other articles for even more exciting games to play for the whole family!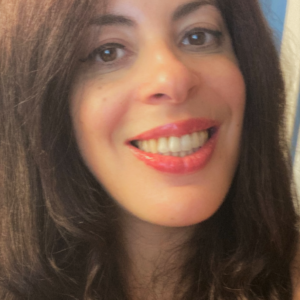 Latest posts by Lindsay Washington
(see all)