If you've played Catan, you know what it's like to have your own territory and work against others to win. But after a while, you might feel like you want to try something fresh and new.
While I enjoy a good game of Catan, it's nice to switch it up. That's why I've put together this list of the top games like Catan worth trying. So read on to explore this informative guide on the top games you won't want to miss trying that you're bound to enjoy!
Bottom Line Up Front
I am a giant board game enthusiast. However, in my experience, it's best to go with a board game similar to what you usually enjoy. Whether that's a board game, card game, etc.
If I had to choose the best similar game like Catan, I'd have to go with the Castles of Burgundy. While it's also a strategic game, it's still unique in its own respect.
The gameplay is fun since you need to have each resource card to win (when your tiles are all used up by other players).
My Top Picks at a Glance
Castles of Burgundy-Enjoy this strategic game similar to Catan but still unique in its own right.

Ticket to Ride-This is a much faster game if you're looking for something to be completed in under 30 minutes. It's also easy to learn.

Risk-This is one of my favorites since it's all about strategy. The first person to take over the world wins.

Monopoly-I 

had 

to. Whether you love or hate Monopoly, it's here to stay with various themes to choose from!

Mysterium-Think of Clue with a ghost. You're trying to figure out who you are, the weapon, location, and who the murderer is. There are also plenty of strategies involved.

Betrayal At House On The Hill-This game will keep it entertaining since each time you play, how you win can change! It's similar to Catan since there are plenty of strategies necessary.
Tips for the Reader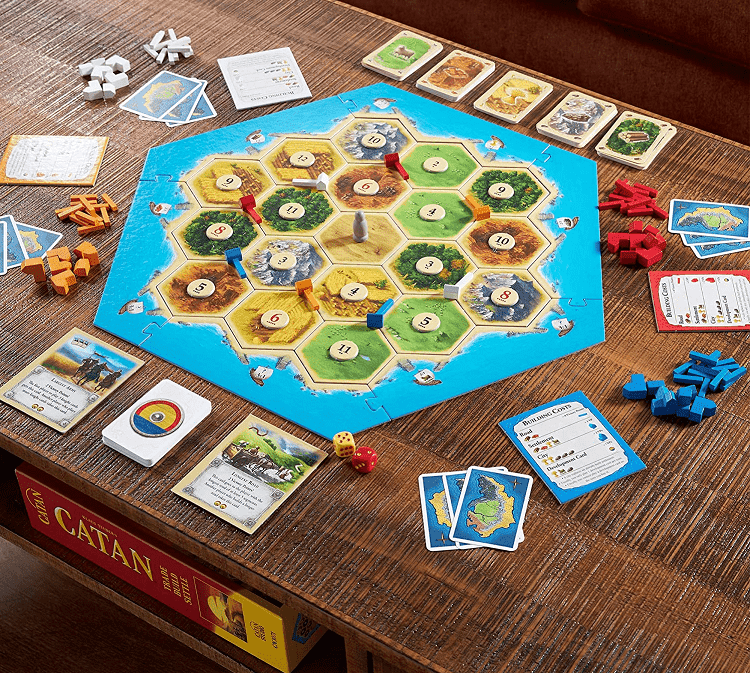 As you go through this list, take your time deciding which game will be best for you. Think about what you enjoy most about Catan and go from there. Take a look at each section and your budget to decide which game to pick.
Selection Criteria
Since it's a list about which games are similar to Catan, that's what I used. I took a look at each game and decided which had similar gameplay to Catan.
You might be surprised by some of these on the list, but I can tell you that there are many solid games here.
Why Should I Play Board Games?
First, they're a great way to develop and maintain social skills. If you're not sure what to talk about, they're a great icebreaker!
My friends and I like to meet up for a weekly game night to maintain our friendship, relax, and have fun. It's also great for families to have something to share together and get them away from screen-time.
Board games are a great way to reduce stress as well. You're focused on the strategy of the game instead of the daily stressors of life.
Top Strategy Picks
Castles of Burgundy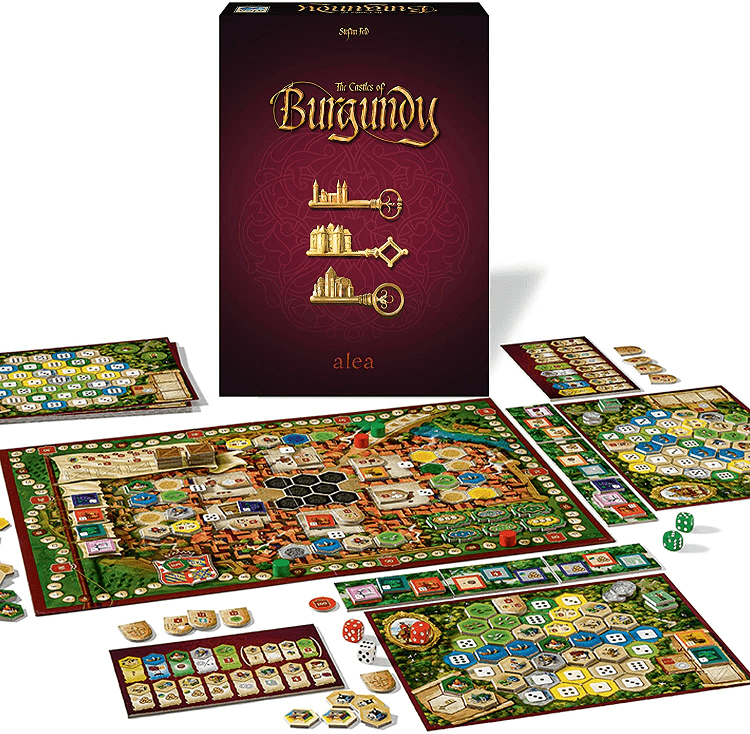 In this fun Catan alternative, you have so many pawns that allow you to move across the board for resources. From here, you can build your own civilization (similar to Catan).
The difference between the two games is how many cards you receive. You only have three options during the Castles of Burgundy.
Trading is different as well. There's no dice, and you keep your cards.
Pros
You don't have to fight over resources as you do in Catan

Very similar but different from Catan

The price and quality are both reasonable
Cons
It's hard to carry this game around since it's large

The game can go on for a while, so if you're on a time crunch, it might not be a good option
Ticket to Ride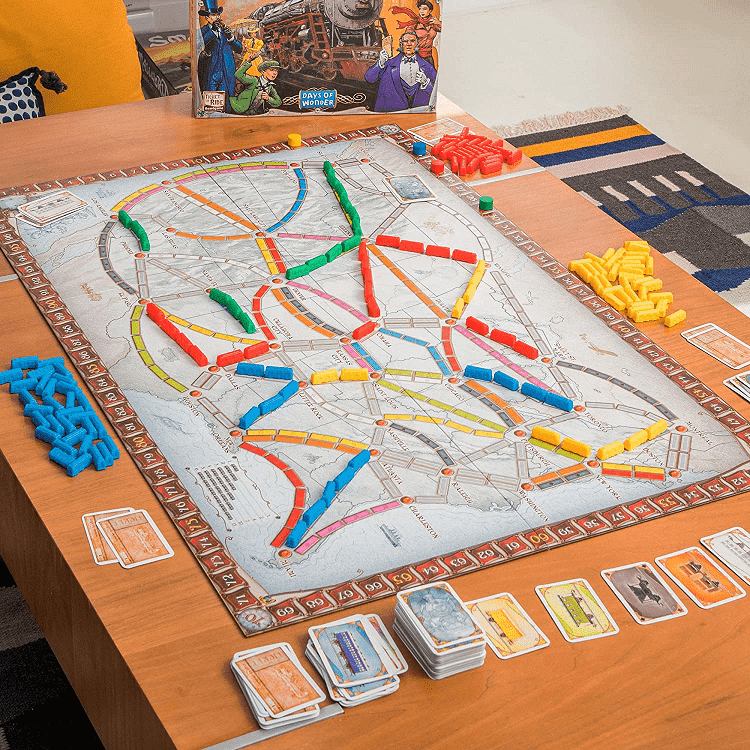 This is a popular option in our board game nights. If you're looking for a game similar to Catan but won't have you there all night, then Ticket to Ride is a great option.
While you have the strategy aspects of Catan, you can play it in under 30 minutes. It's also easy to learn, which is essential to me.
I tend to get nervous learning new games! Ticket to Ride is also an excellent option for family game night since a younger crowd can learn to play.
Pros
Easy to learn

Fun for the whole family

Doesn't take long to play
Cons
If you're looking for more extended gameplay, then this isn't it

It might be too simple for some players looking for complex games
7 Wonders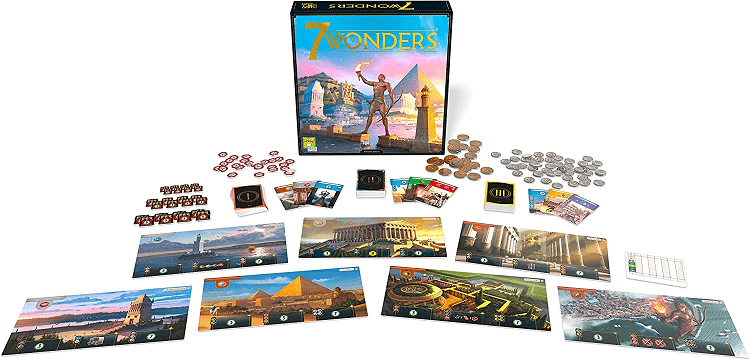 7 Wonders is similar to Catan since there's plenty of strategy involved in trading. In the beginning, you'll receive cards, have to pick one, and then pass the rest to your opponents.
As you play this civilization-building game, you'll need to watch what the other players are doing with their land. Sometimes, you'll need to decide whether or not to keep a card that the other player might want.
Pros
You'll love this game if you like longer games

A fun game based on strategy

It keeps you engaged since you'll need to watch what others do along with planning out your own moves
Cons
It can take a while to play this game

It can be overwhelming to learn at first since you need to watch so many parts of the game
Terra Mystica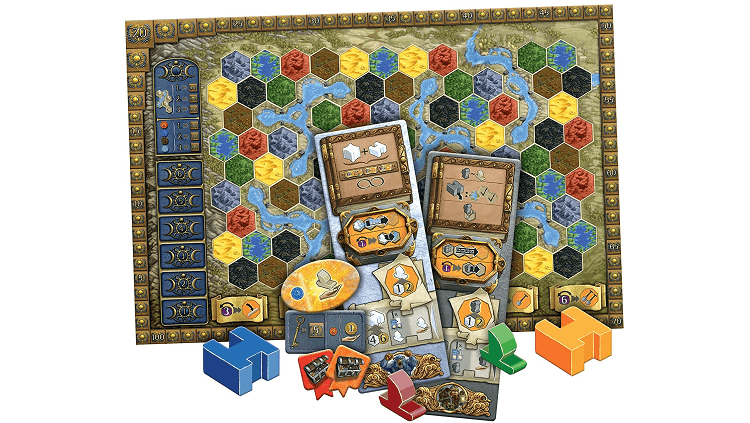 This is a fun game where you'll be able to change the terrain that you receive. It's similar to Catan since you'll have settlements and factions that you'll build as time goes on.
There are some differences, though, since it's not card-based, and there are no dice. As a result, this game tends to be harder to play and learn than Catan.
Pros
An excellent multiplayer option for game night

It combines fantasy and world play into one
Cons
It's quite expensive

Harder to learn than other games

Expect to be playing for an hour or more
Unique Gameplay Alternatives
Mysterium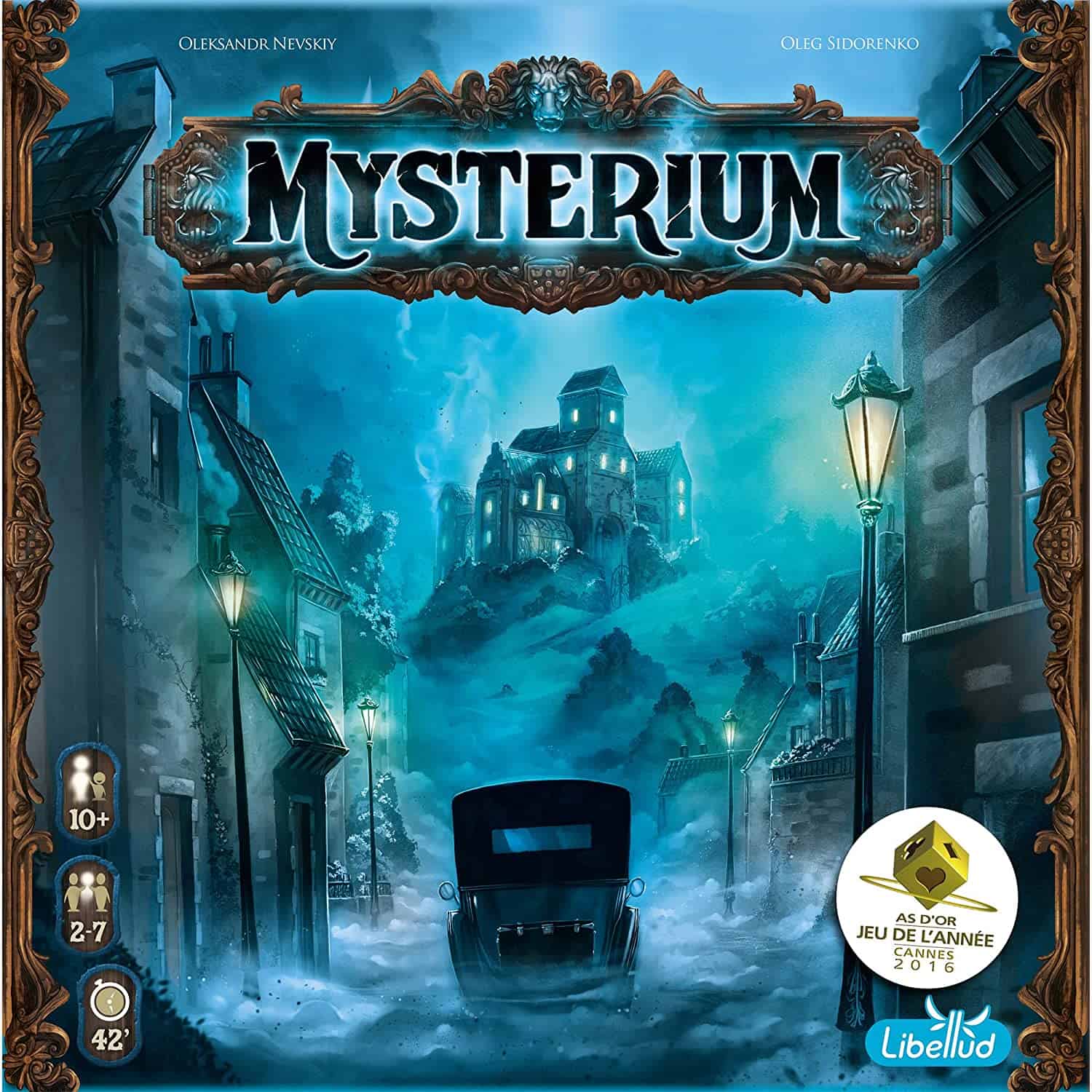 This is hands-down one of my favorite games. It's multiplayer and co-op.
You're all working together to try to figure out who killed the ghost. Meanwhile, the spirit is giving you clues (cards) to help you along the way. It has Clue vibes since you're trying to figure out the location, weapon, etc.
There's plenty of strategy in this game. This is due to only so many hints from the ghost and so much time. If you don't make it to the end in so many moves, you lose. In the end, you need to guess who the murderer is.
Pros
It's a fun who-done-it

Co-op game where you get to work together to win the game

A great game that has a hidden strategy to beat the game in time
Cons
Since it's a co-op, if the person who makes it to the end guesses wrong, then you all lose

This game can take a while, so it's not a good idea if you're short on time
Betrayal At House on The Hill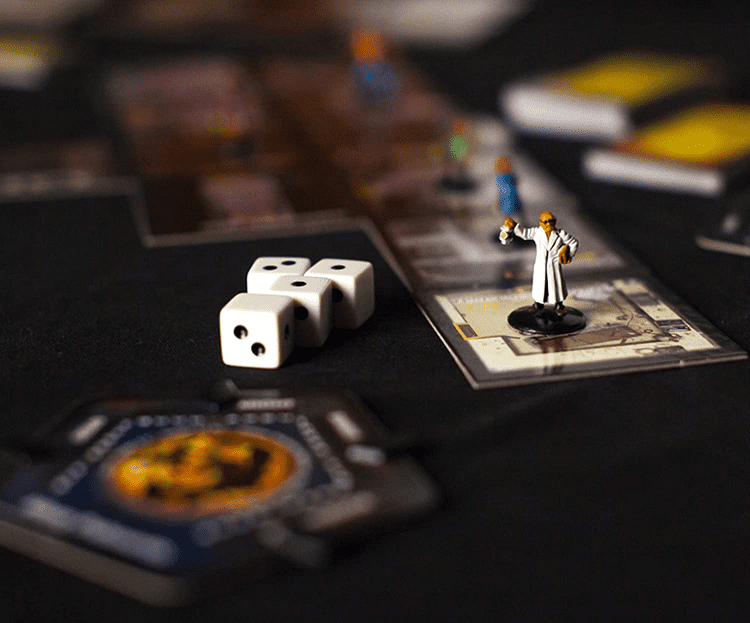 This is another favorite of mine! I enjoy the gameplay since the theme of the story changes each time.
You're all working together, trying to solve the murder mystery and make your way through the house. But, of course, you could have a betrayer in the middle of the game, the house attacking you, or something entirely different!
I love how the story changes, which keeps it fresh. Since you need to plan what you're going to do in advance, the strategy aspect is similar to Catan.
Pros
Since the game changes each time you play, it's a fun and exciting game

There's plenty of strategy and planning ahead to keep you engaged
Cons
You could be doing so well, and then a change in the story could make it nearly impossible to win

This game takes a while to play and finish
The Classics
Monopoly
I know that my board game friends will give me a hard time about this one, but let's be honest, Monopoly is all about strategy! And no matter what theme you pick, the game's plan will still be very similar.
Although some will argue that Monopoly is a game of luck, it still has parts that involve strategy. Even if your roles aren't the best, you can trade with other players to obtain the cards you'd like. Keep in mind, though, that Monopoly, similar to Catan, takes a while to play.
Pros
It's a tremendous family-fun game since many know how to play

There's luck and strategy involved

You can trade for better cards
Cons
It can be a stressful game since there's a good bit of luck involved

It can take a while to play and finish
Risk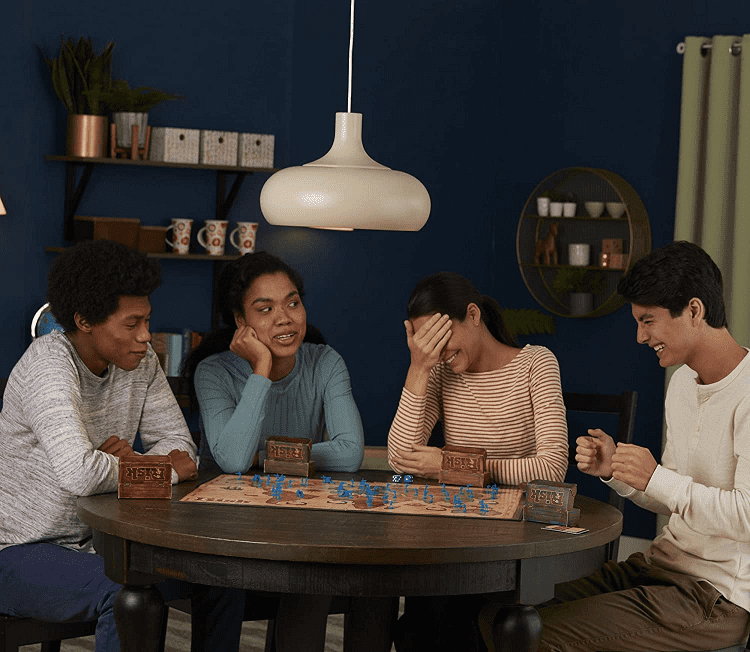 If you love the idea of a strategical game that's similar to Catan but on a larger scale, then Risk might be the right option for you. It's fascinating to play since you're trying to beat others for world domination.
Keep in mind that although this is multiplayer, it takes a while to finish! It's also not the best game night option unless your kids are a bit older (pre-teen).
Pros
A fun and engaging game to keep you hooked for hours

Plenty of strategy and planning, which makes it similar to Catan
Cons
This game will take a few hours

It's not the right fit for family game night
How to Pick the Best Board Game Similar to Catan
First, think about what you enjoy most about Catan. Next, think about your budget. Some of these games are on the expensive side.
It's essential to think about other games that you enjoy as well. For example, consider the ages of the people playing if it's for family game night.
Whether you're looking for a game that's most like Catan or is a more unique option is up to you! Don't forget about other classics as you consider your different options.
FAQs
Question: What Games are Better than Catan?
Answer: This depends on your personal preference. Some enjoy Dominion, Bohnanza, and Ticket to Ride more.
Question: Is Catan the Most Popular Game?
Answer: It's becoming one of the more popular games since Monopoly and Risk!
Question: Are Dungeons and Dragons Like Catan?
Answer: Dungeons and Dragons are more complex to learn and play than Catan. However, Catan is great for those who haven't played many board games or are younger.
Question: Are there Different Versions of Catan?
Answer: There are different stand-alone versions. While some offer an entirely new game, others expand on Catan.
Question: What's So Great about Catan?
Answer: You need to interact and trade with the other players to do well. As trading goes on, it can get creative and keep everyone engaged.
Question: Which is Better, Catan or Monopoly?
Answer: This comes down to personal opinion, but many enjoy Catan better. Many enjoy the fact that Catan forces you to socialize. However, while there's the potential to trade in Monopoly, there's no guarantee that people will.
Question: Which is More Prolonged, Monopoly or Risk?
Answer: Monopoly takes about an hour or two, while Risk can take multiple hours!
Question: Is Risk a Challenging Game to Learn?
Answer: It's easy to learn, but gameplay can be tricky to master.
A Guide on Games Like Catan Worth Trying
There are so many games like Catan worth trying that it was hard to narrow down this list. Be sure to take your time going through each option to decide on the best pick for you.
If I had to choose the most similar to Catan that you should learn how to play, I'd go with Castles of Burgundy. The strategy and planning of this game are a lot like Catan. Although, it's still different enough that you'll still feel refreshed trying something new.
Get some games ready for your next game night and impress your friends with your new choices to try! If you enjoyed this article, be sure to check out our other articles today.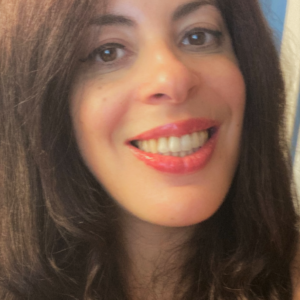 Latest posts by Lindsay Washington
(see all)