Cards against humanity is a "fill in the blank" card game that was released in 2011. The game was heavily influenced by Apples to Apples and Mad Libs with a twist of adult humor.
It has since become one of the most well-known and played adult party games in the English-speaking world. Therefore, it has built on quite a few expansion packs to keep the game interesting throughout the years.
In total there are 6 expansion packs, 24 smaller themed packs, 2 bundles, and 6 different base packs made for different countries and families.
The main expansion packs contain 300 cards and the smaller packs contain anywhere from 10 to 50 cards. To help you choose the right expansion pack or add to your collection, below you will find a list of all of the Cards Against Humanity expansions available.
Background
The creators of Cards Against Humanity started with a simple topic and written response game that later turned into premade cards. They then brought the first edition of the game to a New Year's Eve Party to see if others would like it as well. That's when they decided to put the game on Kickstarter.
Cards Against Humanity started as a Kickstarter crowdfunding campaign in December of 2010, raising its goal of $4,000 in two weeks. At the end of the campaign, 2 months later, it had reached just under 400% of its initial goal. Since the crowdfunding went so well, the creators decided to add fifty more cards to the game and released it in May of 2011.
Game Play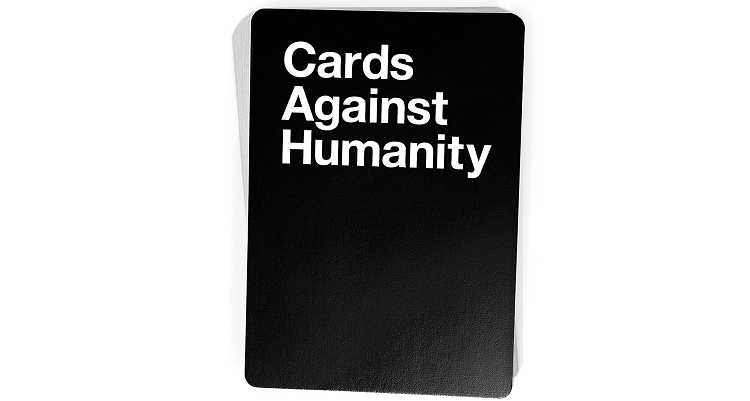 The goal of Cards Against Humanity is to end up with the most black cards by the end of the game. The end of the game is solely up to you. Most people choose a certain amount of black cards someone has to reach to win.
You can also simply keep playing until you run out of cards in the deck or until you feel done with the game. The point of the game is to simply have fun.
Start the game by shuffling the deck and handing out 7 white cards to each player. You then choose a starting player. The rule book states that the first player should be whoever defecated last. The starting player draws a card from the black deck in the center and reads it aloud to all players.
Each player, except for the person who drew the black card, then chooses a white card from their hand that fits with the black card best.
The person who drew the black card then collects all of the white cards from the other players and chooses which card they like best. Whoever the white card that they chose belonged to collects the black card as a point. Everyone draws a new white card to bring their hand back to 7 cards.
Rise of a Classic
After Cards Against Humanity's release in May of 2011, it rose to the number one game sold on Amazon in one month. The game has become more and more popular over the years with an increase in sales every year since its release.
The first expansion pack for Cards Against Humanity was released in November 2011 and sold out in 3 days. It contained 80 new white cards, 20 black cards, and 12 blank cards.
Cards Against Humanity Base games
Before getting any expansion packs, you need to buy a base pack first. There are a few different packs that you can choose from depending on where you live and who you are playing with. Keep in mind that the family edition only has one possible expansion.
Cards Against Humanity 2.0
2.0 is an updated version of the American version of the original game. They have removed outdated jokes and added new jokes to this base game. You need this pack before buying any expansion packs. There are 600 cards in all base decks.
Cards Against Humanity Canadian Edition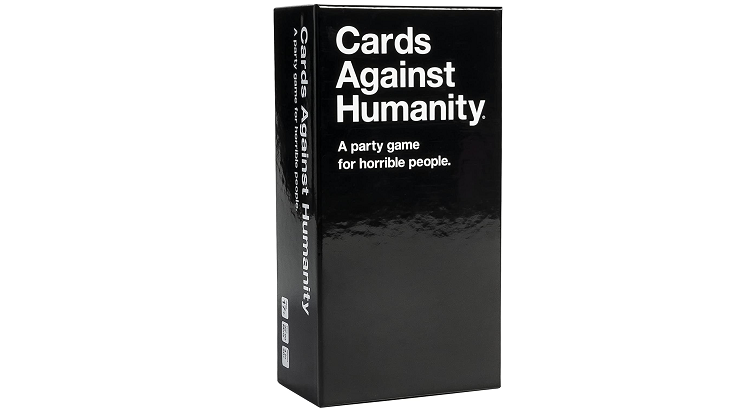 The same as the base pack, except made for Canadians. You will see more jokes that people from Canada would understand and probably not anyone else. It is only available in Canada.
Cards Against Humanity Australian Edition
This is another edition made more specifically for Australians. Some of the cards in this edition pertain to things that only Australians and New Zealanders would know of. It is only available in Australia and New Zealand.
Cards Against Humanity U.K. Edition
Just like the other two country-specific editions, this one is made for people in the United Kingdom. Some American references are removed and U.K. references are added. It is only available in the U.K.
Cards Against Humanity International Edition
The international edition was made so that anyone from around the world would be able to play and understand the cards in the deck. Very well-known people are kept in the deck but cards with American references are removed. This is also the main base pack available.
Cards Against Humanity Family Edition
The family edition is a new rendition of Cards Against Humanity made for kids and adults to play together. It's just as fun as the original but with cleaner cards. People ages 8 and up can play this game. There are 600 all-new cards in this deck.
Cards Against Humanity Expansions List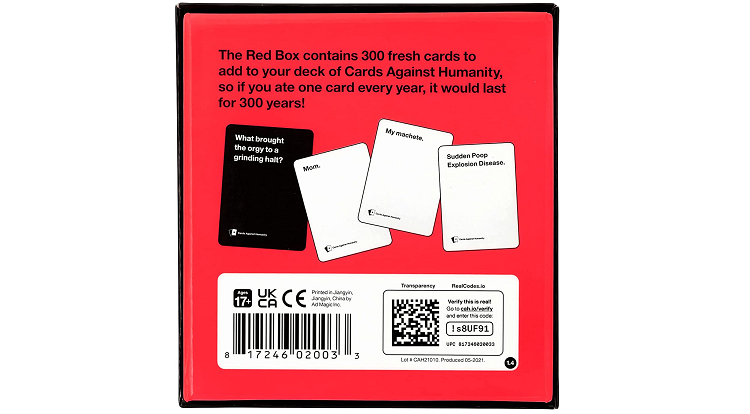 300 cards are included in the Red Box. You can use this box along with the Blue Box and the Green Box. However, if you have bought the International Edition of Cards Against Humanity as your base pack, do not get this expansion. It will have some duplicates.
The blue box includes more pick two black cards. Meaning there are more double fill-in-the-blank cards. This box also comes with 300 new cards to add to your base game.
This expansion seems to be a favorite amongst popular opinion. Like the other two colors, it comes with 300 different cards including 220 white cards and 80 black cards. You can play this pack with the blue and red boxes as well.
A new expansion pack that is more up-to-date with current events. Including people who have more recently hit the spotlight and standard Cards Against Humanity jokes. Just like the other boxes, with 300 new cards, you can play this expansion with other expansions as well.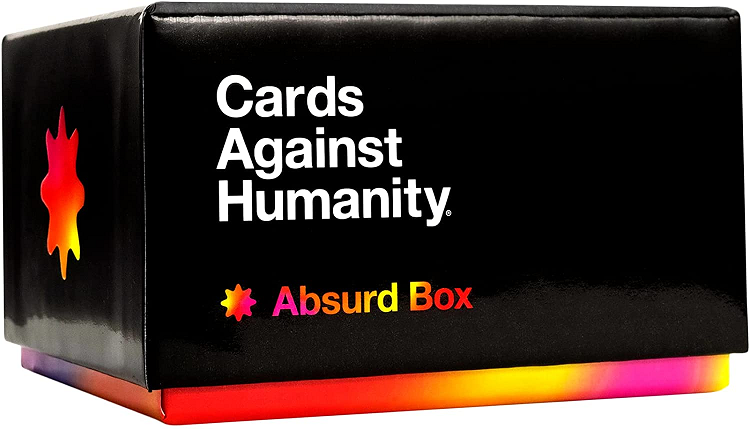 If your current expansions or the base game isn't weird enough or raunchy enough, try this one. There are some really off-the-wall cards in this box. This box will add 255 white cards and 45 black cards to your deck.
This expansion is made for the family edition and is the only expansion for this edition. There are 300 more family-friendly cards to play with. The box literally glows in the dark and also comes with glow-in-the-dark stickers for the kids.
Cards Against Humanity Themed Packs
Climate Catastrophe Pack
These cards include jokes revolving around the climate crisis. There are 30 cards in this pack that tell a story of how messed up the environment is and isn't getting better. 100% of the profits from this pack are donated to Coalition for Rainforest Nations.
With this pack, you use pictures instead of words to tell a story. Some of these cards are simply a photo and some have words. You can mix this pack of 30 picture cards into your normal deck to add a little diversity.
The first picture card pack did so well that Cards Against Humanity decided to add another picture card pack. Which the appropriately and simply named Picture Card Pack 2. There are 30 more picture cards to add to your first pack.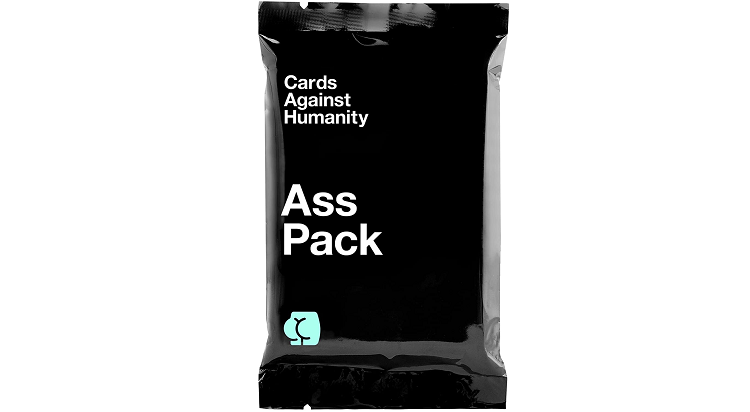 If you like the butt jokes, you'll love the ass pack. This is a pack of 30 cards dedicated to asses. Some of these cards are even written by the butt expert himself, Sir Mix-A-Lot.
For those that love playing Cards Against Humanity on girls' night, this pack is a must. This pack includes all relatable things to womanhood. It includes 30 cards that talk about everything from cravings to tampons.
For all you stoners out there, this pack is full of stereotypical jokes about weed. If that's not enough, this pack also comes with rolling papers that have cards printed on them. Enjoy 30 new cards all related to smoking weed.
Cards Against Humanity released a pack just for the science nerds with a little help from Phil Plait of Bad Astronomy and Zach Weinersmith of SMBC. You can enjoy 30 cards all about science and of course the occasional Uranus joke. 100% of profits from this pack are donated to the Science Ambassador Scholarship.
If you love everything 90's pop culture, you'll love this nostalgia pack. A lot of the cards are about 90's music but still a lot of fun to laugh about the decade. It includes 30 new cards for your deck.
Growing up in the 2000s was interesting and Cards Against Humanity does a great job of capturing it. From chunky highlights to 9/11, they really included everything representing the early 2000's in these 30 cards. All that's missing is the BFFL charm bracelet.
This pack was actually written by artificial intelligence. I think the creators may have got bored and thought it would be fun to teach a computer how to write cards for them. That's exactly what these 30 cards sound like too. Some weird A.I. that doesn't 100% make sense.
The Human Pack was made with the A.I. pack to hold a competition between the human writers and the A.I. writers. Unlike the A.I. pack, this one includes black cards and white cards. There are 30 cards in this pack as well.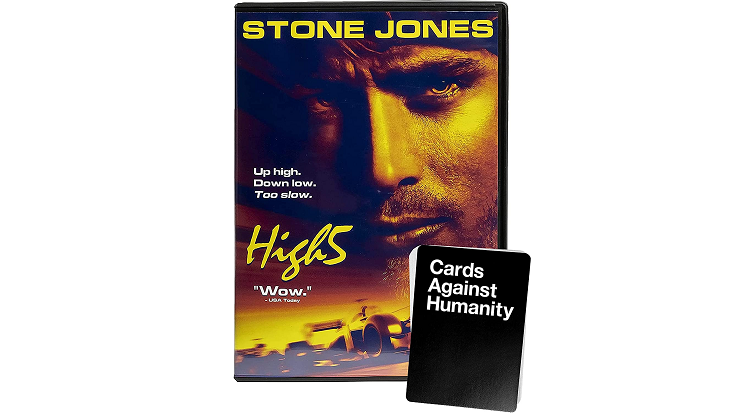 If you want to play the ultimate dad joke on your dad, get him this pack as a gift. It comes in a DVD case of some weird, off-the-wall movie. You could also just get it for yourself and enjoy all the dad jokes inside these 30 cards.
This pack embodies your college year. From beer bongs to college questions, you are sure to have a flashback. This pack of 30 cards also comes with a nice poster for your dorm room wall.
For all the foodies out there, this pack is for you. You get a nice mixture of the digestion of food and Gordon Ramsey jokes with these 30 cards. I think we can all relate to at least half of these food-focused cards.
The Jew Pack is not for those easily offended, but then again, id any of Cards Against Humanity. Those who are actually of the Jewish faith may relate to these 30 cards more than any other group. However, it's still a funny addition to a large collection.
This is not the first time Cards Against Humanity has released a holiday pack. The Season's Greetings pack includes some new cards and some cards that were in previous packs, If you already have a holiday pack, you may not want to purchase this one.
These cards were released during the Trump administration. Therefore they are quite political but in a funny way. If humor could save America, these 30 cards could possibly do the trick.
If you are a lover of all things fantasy, like elves, dragons, and sorcerers, you may love this pack. The Fantasy Pack was written with Pat Rothfuss, Neil Gaiman, Sam Sykes, Myke Cole, Jaqueline Carey, Martha Wells, Sherwood Smith, Elizabeth Bear, and Wesley Chu. These 32 cards can be played seamlessly with other packs.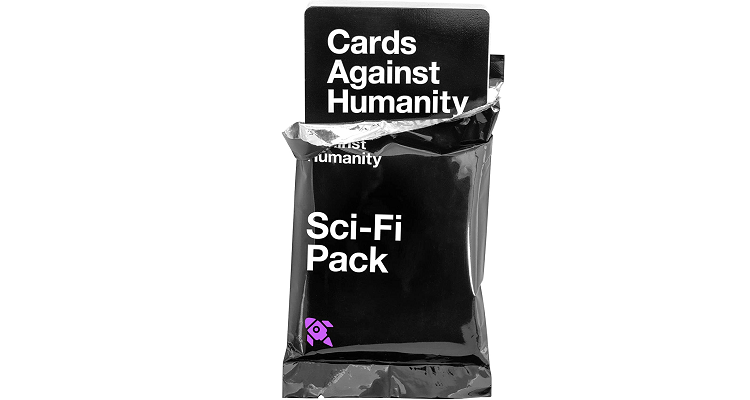 With a little help from Sci-Fi writer Pat Rothfuss and other Sci-Fi experts, the Sci-Fi Pack was created. This pack includes 30 cards about taking technology a little too far. All profits made from this pack are donated to Worldbuilders.
Do you have anything that you Geek out on, like Batman or Dungeons & Dragons? Well, Cards Against Humanity made this pack for you. With 30 new cards revolving around the fandom world, you will get even more excited to play.
What better way to write a bunch of Cards Against Humanity cards than to ask a bunch of strangers on the internet to write them. Which is exactly what they did with this pack. These 30 cards are the best selected from a Reddit Thread of strangers.
It's kind of like all of the cards based on movies but based on the ones that play out right in front of you on stage. Think Rent, Shakspeare, and Cats. This pack includes 30 cards based on the theatre.
This pack is more of a collector's item than meant to be played. They are basically just white cards with designs on them from Milton Glaser, Susan Kare, Erik Spiekermann, and many others. If you find a way to play these 30 cards, let me know!
These cards are blank cards that you can make your own. There are 40 white cards and 10 black cards. If you feel there is anything missing from your Cards Against Humanity deck, here s your chance to add it.
Cards Against Humanity Bundles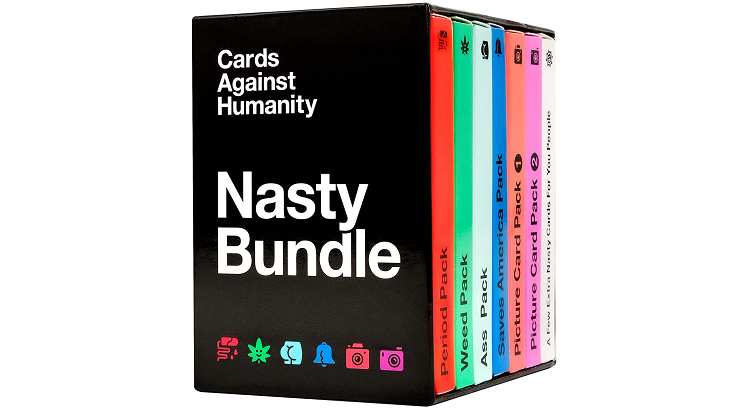 This is a bundle of 6 different themed packs that are not even allowed to be sold in some stores because they are so dirty. The packs included are the Period Pack, Weed Pack, Ass Pack, Saves America Pack, and Picture Card Pack 1 & 2. Cards Against Humanity also include a pack of 10 new cards that are just as nasty as the rest.
This bundle comes with 6 packs that Cards Against Humanity deems nerdy. These packs are the Fantasy Pack, Geek Pack, Sci-Fi Pack, World Wide Web Pack, A.I. Pack, and Human Pack. There is also a pack of 10 new nerdy cards included in this bundle.
FAQs
Question: How Many Expansions are there for Cards Against Humanity?
Answer: There are currently 6 expansion packs, 24 smaller themed packs, 2 bundles, and 6 different base packs made for different countries and families. The newest expansion packs are the Everything box and Absurd Box. Each pack is different and they can all be used together with the original base game.
Question: What is the Best Expansion Pack for Cards Against Humanity?
Answer: The Green Box seems to be the most popular amongst players of Cards Against Humanity and with good reason. You get more cards that are the stereotypical Cards Against Humanity humor but at a whole new level.
This box is raunchier, weirder, and even more politically incorrect than the rest. If you get offended easily, this box may not be for you.
Question: Do You Need the Original Cards Against Humanity to Use the Expansion Packs?
Answer: All of the expansions include both types of cards needed to play but not nearly as many as the base game. It is not recommended to play without the original game due to the lack of cards.
This will make the game very short or you won't be able to play with very many people. However, if you buy multiple expansion packs, you may be able to pull it off.
Question: What is the Dirtiest Cards Against Humanity Box?
Answer: The Nasty Bundle is a compilation of all of the dirtiest cards in their themed packs plus a few more nasty cards. These cards are so bad that they aren't even allowed to be sold in some stores. It includes the Period Pack, Ass Pack, Weed Pack, Saves America Pack, and Picture Pack 1 & 2.
Question: Is there a Cards Against Humanity Clean Version?
Answer: Yes! Cards Against Humanity created a family edition of the original game that is made for kids and adults to play together. There is also an expansion pack for the family edition called The Glow in the Dark Box. Yes, the box glows in the dark and they have even included glow in the dark stickers.
Overall Best Expansions
Best Expansion Box
I'm going to have to designate the Green box as the best expansion box. There are now 6 of them, including the family edition expansion, and this one takes Cards Against Humanity up a notch when you start getting bored of the original. If you thought that Cards Against Humanity couldn't get any worse (in a good way), you were wrong.
Best Themed Pack
Themed packs are designated to hit certain niches that are very specific. That being said, picking your favorite theme pack greatly depends on what you're into. If it were me, I would choose one of the two bundles instead of buying individual packs.
You end up saving a little money in the long run because you're most likely going to be buying more than one over time. Plus you get those 10 bonus cards that aren't in any of the packs.
If you enjoyed this article, be sure to check out our other articles today!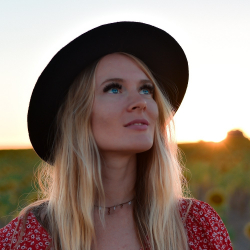 Latest posts by Haley Parker
(see all)