I remember as a child being ecstatic seeing Jumanji. No matter how many times I watched it, it never got boring. Today, you can own a piece of that nostalgia by checking out the Jumanji game.
It's from the companies Spin Master and Cardinal Games. You're bound to love this game whether or not you've seen the recent Jumanji movies!
But if you've never played it, you might wonder how to begin. That's why I've created this guide!
It'll be the ultimate Jumanji board game guide to see what the game is all about and what to expect. Read on to learn more about this game today!
What Is the Jumanji Board Game About?
Like the fantastic movie, your goal is to watch out for the dangers of the forest and reach the Jumanji Space first. Then, find out if you and your friends can survive the different perils you'll find along the way.
You'll need to follow your dedicated path and reach the Jumanji Space during play. Whoever reaches it first wins. There is a Doomsday Grid as well. If that fills up, then everyone loses.
It's great for those who are at least eight years old. Perfect for two to four players.
I highly recommend it for family game night! The game takes about 30 to 45 minutes.
Pros
Great for family game night

Fun for all since parents could experience nostalgia from their childhood
Cons
It's on the simpler side; it might not be suitable for teenagers.

The board is fragile, be careful not to sit on it accidentally.
What Jumanji Comes With
It comes with everything that you need!
Along with the board, you should also have:
One label sheet

One instruction sheet

One number die

One sand timer

One card decoder

One rhino figure

One gameboard

Four pawns (Crocodile, Monkey, Elephant, Rhino)
Getting Started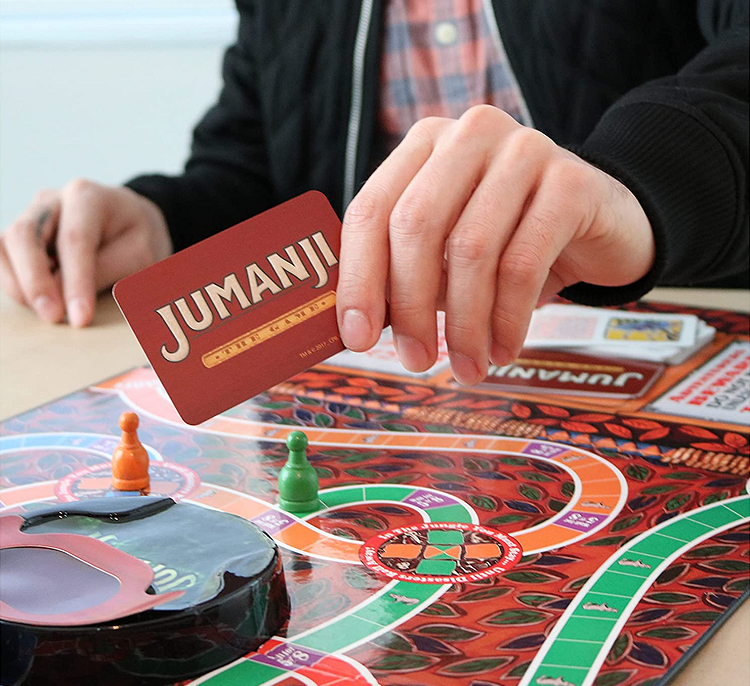 First, take the board out and give each player a pawn. Then, place the pawn toward the edge of the game, where its color begins. You'll then need to take one of the four dice.
Place the rhino figurine on the top left panel of the game board. Each player has an eight-sided rescue die. The sand timer, card decoder, and the number die need to be near at all times.
Place the experience cards face down on the right side of the board. One person goes first with the individual roll and then moves their pawn that many spaces.
You'll need to perform one of the four actions that the space states. For example, one of the moves could be where each person (except for the player who just went) rolls their dice to turn over the clock.
When your turn is over, you give the dice and timer to the next player.
It's Rhino Time
If you land on a rhino space, you'll need to move the rhino before anyone else. If you roll an odd number, you stay where you are. For experience cards that set you back, the rhino moves with you and stops you from moving forward.
Blank Space
Draw a danger card if you land on a blank space. You must read it out loud for all players to hear.
When you're in danger, your friends have to save you. They roll the rescue die until they reveal a symbol on the danger card. A wild symbol works too.
The matching symbol must be found before the timer runs out. If you do this, you get to advance that number of spaces.
If the timer ends before you reach a matching symbol, you have to go back to that number of spaces on the danger card. The danger card is then placed on the doomsday grid.
Jungle Space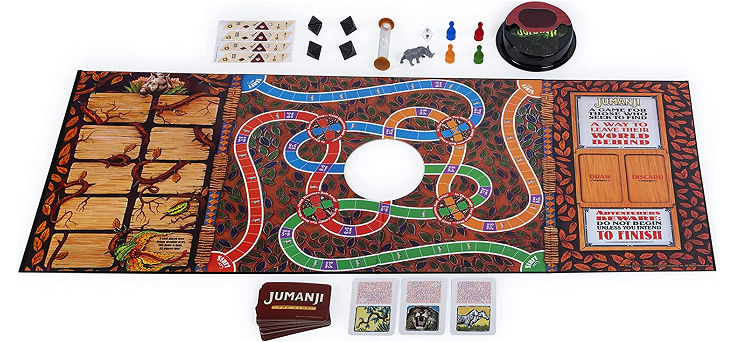 Like the blank space, you'll need to draw a danger card. Follow the instructions that it states.
The difference is that if the players don't roll the matching symbol, the danger card goes to the doomsday grid instead of moving your pawn back. So you'll need to draw another danger card until everyone has a matching symbol. You'll then move your pawn to the number of spaces that the danger card states.
The Doomsday Grid
All players must roll the number die until someone rolls a five or an eight. Pawns will be moved back one space each time you roll the dice. If you land on the start space, it's game over.
Winning Jumanji
You must be the first to reach the Jumanji Space and yell out Jumanji. To land on this space, you'll need to roll that exact amount.
If you roll higher than the amount, then you'll stay where you are. Remember that once the Doomsday Grid fills up, then everyone loses. The first person to yell Jumanji before another wins.
Is This the Original Game?
No, the original game was by Milton Bradley in the 90s. You can find the classic game on places such as eBay. This current game is by Cardinal Games and Spin Master.
Make the Game More Difficult
If you've played it a few times and want more of a challenge, you can change the doomsday grid. Have it filled up halfway when you begin.
Where To Buy Jumanji the Board Game?
You can find Jumanji in Amazon, Walmart, and Target. They might be in stock in your local stores as well.
The easiest bet is online. Then you can see who has it without having to leave the house. Then, with a few clicks, your game will be on the way!
Why Play Jumanji?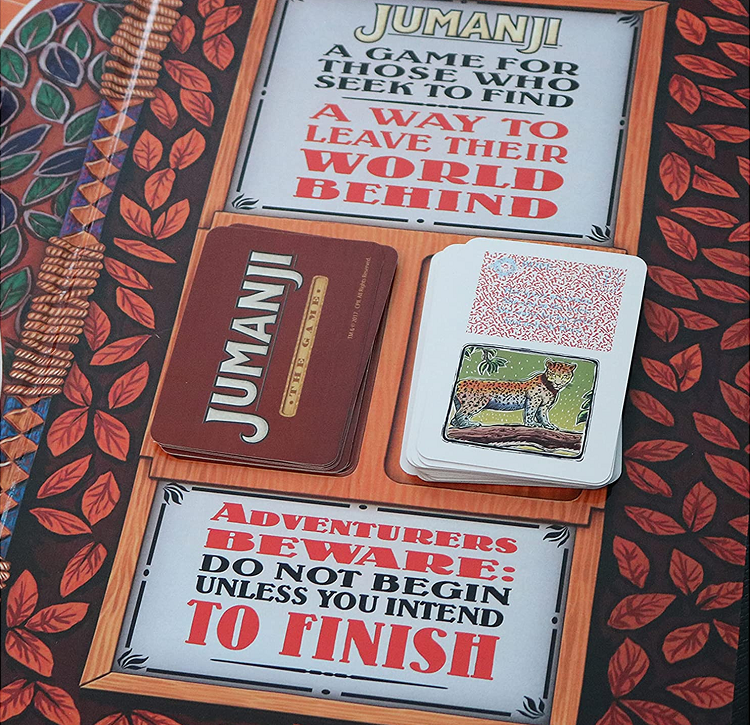 It's fun for the whole family! Jumanji is perfect for a family game night since it's not too complicated.
The timer gives it an exciting element. You must roll the dice before the timer runs out.
Since various Jumanji movies have been coming out, it's a popular option for many. Adults can enjoy the game too as they remember the film from when they were kids.
My Top Picks at a Glance
Keep your games exciting by choosing games that are like Jumanji! If you like Jumanji, then you're bound to enjoy these.
Escape The Curse of the Temple- A shorter game for two-six players. There's even a soundtrack to enjoy while playing the game.

Forbidden Island- For those who want a cooperative game filled with adventure.

Jurassic Park Danger-Nostalgia abounds for all with this fun game! You must be at least ten years old to play this exciting dino-active game.

The Oregon Trail Card Game-Not as fun as the video game but still good. You have to connect roads with cards that'll decide your fate.
Games Like Jumanji
I've created this list for those who want to find more games like Jumanji. Whether you're looking for something similar or need something fresh, you're bound to find something that you'll enjoy!
Escape The Curse of the Temple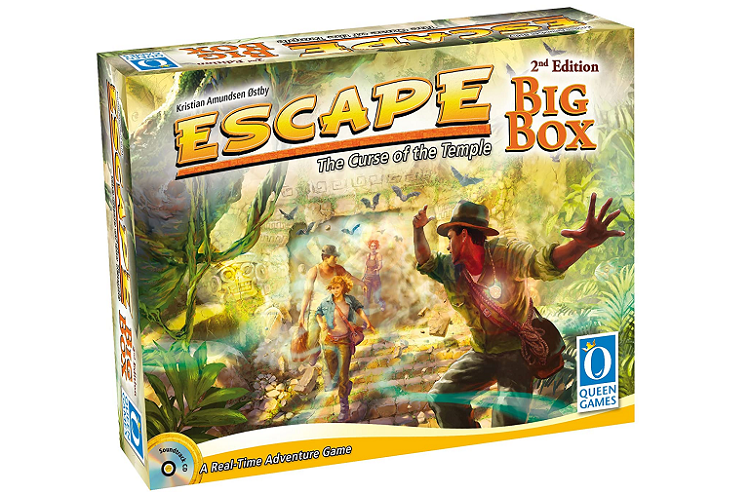 While it has a short playtime, it's perfect for a family game night since you need to be eight years and up to play it. There's even a big box edition on Amazon!
It's an exciting adventure-packed game that's easy to learn. I love that a soundtrack comes with it to immerse you into the world.
This game is imported from Germany too! This big box comes with three expansions.
They include:
Quest Chambers (mini-expansion)
Fountain (mini-expansion)
Doomed (mini-expansion)
The Pit (mini-expansion)
The Maze (mini-expansion)
The Maya Calendar (mini-expansion)
Exchange Chamber (mini-expansion)
Cursed Gems (mini-expansion)
Totem Chamber (mini-expansion)
Traps
Quest
Illusions
The perfect game when you're looking for a cooperative adventure. You and the other players find yourselves in an ancient temple and need to work together to get out.
Pick up gems, layout cards, and roll dice. It's a fast-paced game taking only about ten minutes to play the base game.
Pros
Comes with a soundtrack

Filled with adventure

Perfect for a family game night
Cons
More expensive

An extensive and bulky box

It takes a while to set up and put away.
Forbidden Island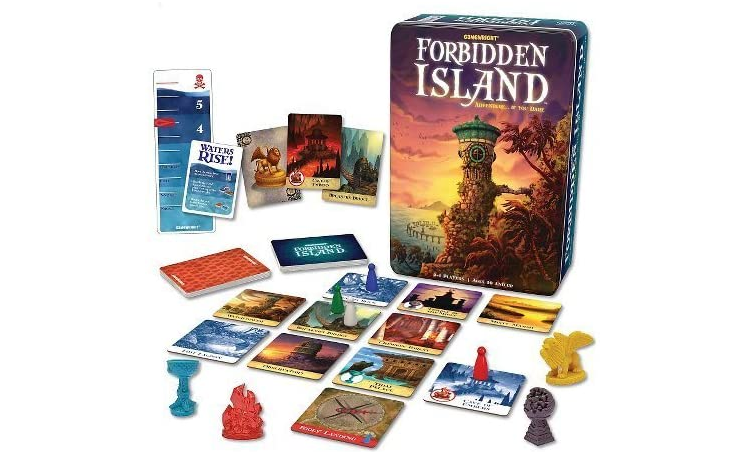 Get ready to problem solve and work together to get off of Forbidden Island. This fun game won an award from the 2010 Mensa Favorite Brainy Games Winner.
It takes about thirty minutes to play and is excellent for those ten and older. The game can have two to four players.
You'll get to check out a mysterious island after creating a team. Recover treasures along the way and stop the tide from rising. In the end, you get to escape into your chopper before the island sinks.
Pros
A fun cooperative game for all

Perfect for a family game night

Problem-solving and planning involved
Cons
Not for children under ten years old

A straightforward game, adults might get bored of it.
Jurassic Park Danger!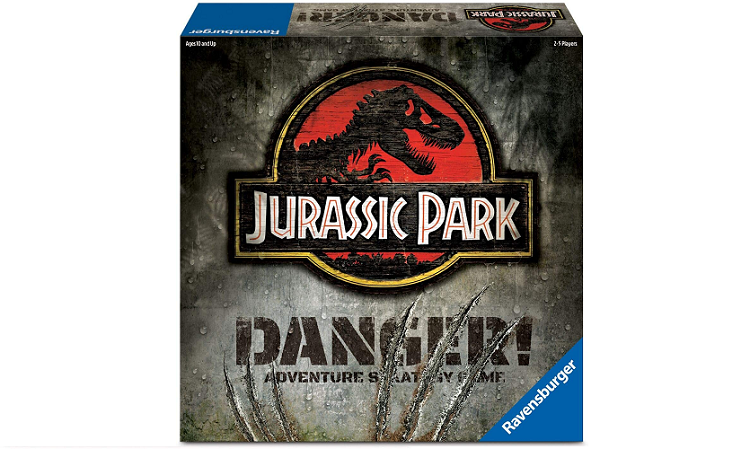 I couldn't resist including Jurassic Park Danger! Perfect for a family game night, it's for two to five players aged ten and older.
It comes with:
110 cards

Eleven player mats

One game board

Nineteen island tiles

Ten character movers

32 tokens

One die
Each character has its own objective, and you have ten characters to choose from.
The Isla Nublar has dinosaurs, and the first visitors go to check it out. When the power goes out, the creatures are let loose. You and the other players must work together to get the power back online before you become eaten by the dinosaurs.
Pros
A great cooperative game

Thinking and strategy are involved
Cons
The instructions and gameplay are a bit harder to understand

The fewer players that you have playing, the harder it'll be
Betrayal At Baldur's Gate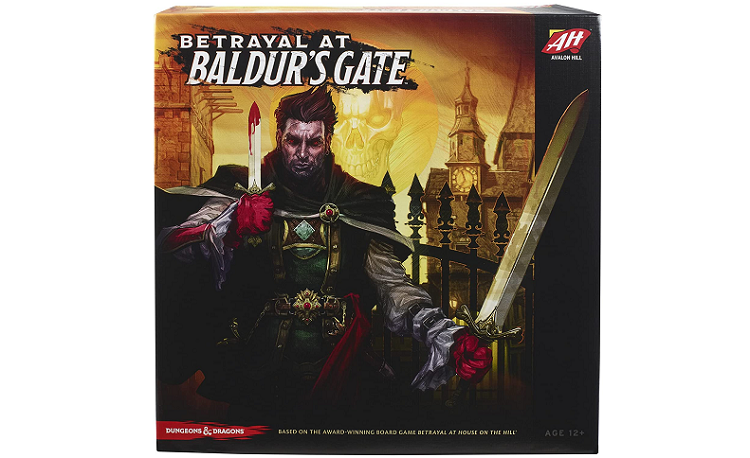 Those at least twelve years and up can enjoy Betrayal At Baldur's Gate. Those who love Betrayal at House on The Hill get excited because it's based off of that.
It comes with fifty scenarios! This means that the game often changes (similarly to Betrayal at House on the Hill).
Perfect for a game night since three to six players can enjoy it. The game lasts about sixty minutes.
There's a hidden traitor in the game! You have to work together to survive the terrors that you find.
Pros
Perfect for a game night since many love Betrayal at House on The Hill

Three to six players

Fifty scenarios to keep it fresh each time you play it
Cons
The instructions aren't completely clear.
The Oregon Trail Card Game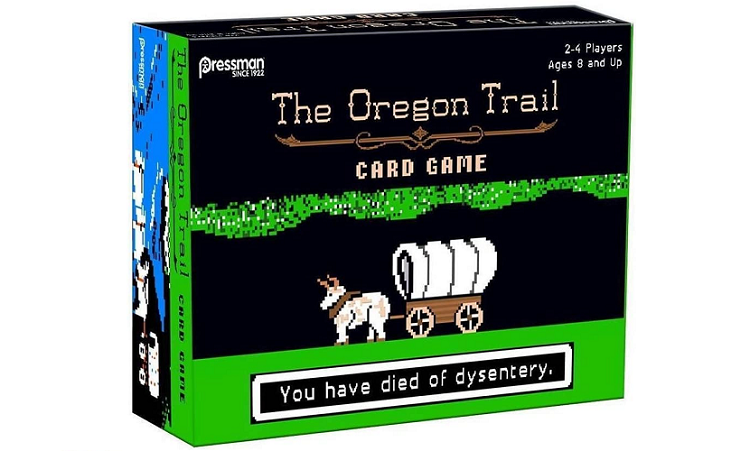 Ah, what a fun game that I used to own, and then we lost it. Now it's nowhere to be found.
I enjoyed the creativity behind this Target original (yep, initially, you could only find it at Target). Now you can find it on Amazon too.
When we opened it up, at first it was exciting, Oregon Trail! But, while nostalgia is great and the game itself is fun, it's not that similar to the computer game we grew up playing.
Now, you can get the hunt for food card game expansion. In The Oregon Trail Hunt for Food Game, you and the other players have to work together to collect 600 pounds of meat. The great part is that you can play it with the original Oregon Trail Card Game or play it alone.
It's recommended for twelve and up and works well for two to six players. It takes about thirty minutes to play. Oh, and like the original computer game, there are diseases and the like.
Pros
It hits you right in the nostalgia

Nice that they have an expansion for it now
Cons
You need to be at least twelve to play it

Those who go in with expectations that it'll be like the computer game will be disappointed.
FAQs
Question: How Long Does it Take to Play Jumanji?
Answer: About 30-45 minutes.
Question: Is Jumanji a Real Game?
Answer: Yes! The original was created in the 90s. Today, you can find it made by Cardinal Games and Spin Master.
Question: Is Jumanji the Board Game Fun to Play?
Answer: Yes! You'll need to watch out for peril in the forest and avoid the doomsday grid.
A Jumanji Board Game Guide
After you explored this Jumanji board game guide, I hope that you have a better idea of the gameplay and how fun it is! Whether or not you own Jumanji, consider the other game alternatives as well.
If you enjoyed this article, be sure to check out our other articles today.
Recommended reads: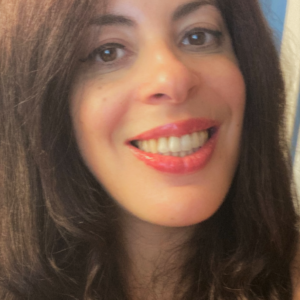 Latest posts by Lindsay Washington
(see all)