In this guide, I'm going to cover everything you need to know about Harry Potter: Hogwarts Battle so you can emerge triumphant when you put your magical skills to the test.
Thanks to the creation of this board game, Potterheads can marvel once more at the magic of Hogwarts. As evil forces gather and threaten the infamous school of witchcraft and wizardry, players must rally to protect their beloved institution by defeating villains and consolidating their defenses.
Bottom Line Up Front:  Harry Potter Hogwarts Battle is perfect for nostalgic adults and young children alike. A cooperative deck-building game that re-animates the world of Hogwarts with the appearance of iconic characters and spells throughout.
Harry Potter: Hogwarts Battle – an overview
In Harry Potter: Hogwarts Battle, players take on the role of a student (Harry, Ron, Hermione, or Neville), each of whom comes with their own personal deck of cards. These cards can be used to acquire resources in different ways.
The aim of the game is to protect Hogwarts from the forces of evil that are encroaching on the school.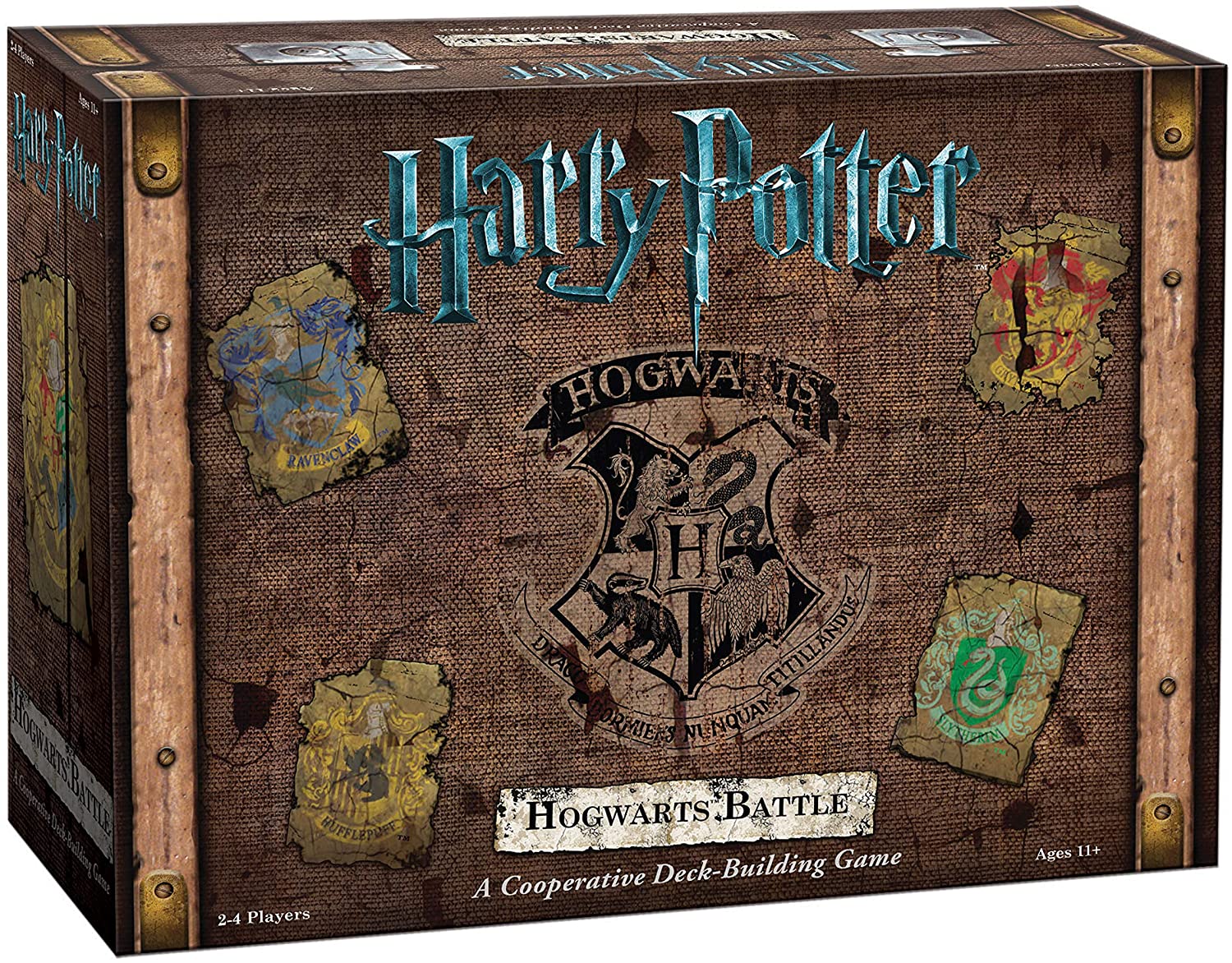 When players gain influence within the game, they can expand their existing card deck with characters, spells, and magical objects. There are also cards that allow them to fight against villains or replenish their health.
Unlike many traditional board games, players should not aim to defeat one another; rather, according to the game's manufacturer, they must work together to secure the castle from all outside threats.
If you're looking for more of a classic game, however, we have a guide to the best board games of all time.
The aim of the game
As previously mentioned, to win the game, you must play collaboratively to defeat the villains before they succeed in taking control of all the locations.
There are four steps to this process which I will explain in-depth shortly.
Reveal and resolve Dark Arts events
Resolve villain abilities
Play Hogwarts cards and take Hero actions
End your turn
The game unfolds in a series of seven adventures, and it can end in one of two ways. Either the encounters are completed, and the villains are all defeated (heroes win!), or villains and creatures control all locations.
The origins of Harry Potter: Hogwarts Battle
The Harry Potter franchise is one of the biggest in the world, with many books, films, and games making the world of magic that it depicts (created originally by novelist JK Rowling) a complete and immersive one for fans of all ages.
The seven Harry Potter novels follow the eponymous Harry and his friends Hermione and Ron as they embark on their magical education at Hogwarts, which exists solely for young witches and wizards.
As they grow up, they face increasingly dark forces within the wizarding world, threatening to destroy everything they know and care about. These forces culminate in the figure of Voldemort, who is defeated in the seventh novel at the Battle of Hogwarts, from which this board game takes its name and inspiration.
Harry Potter: Hogwarts Battle was released by USAopoly in 2015. The seven rounds of the game are increasingly complex and have been designed to follow Harry's seven years at Hogwarts.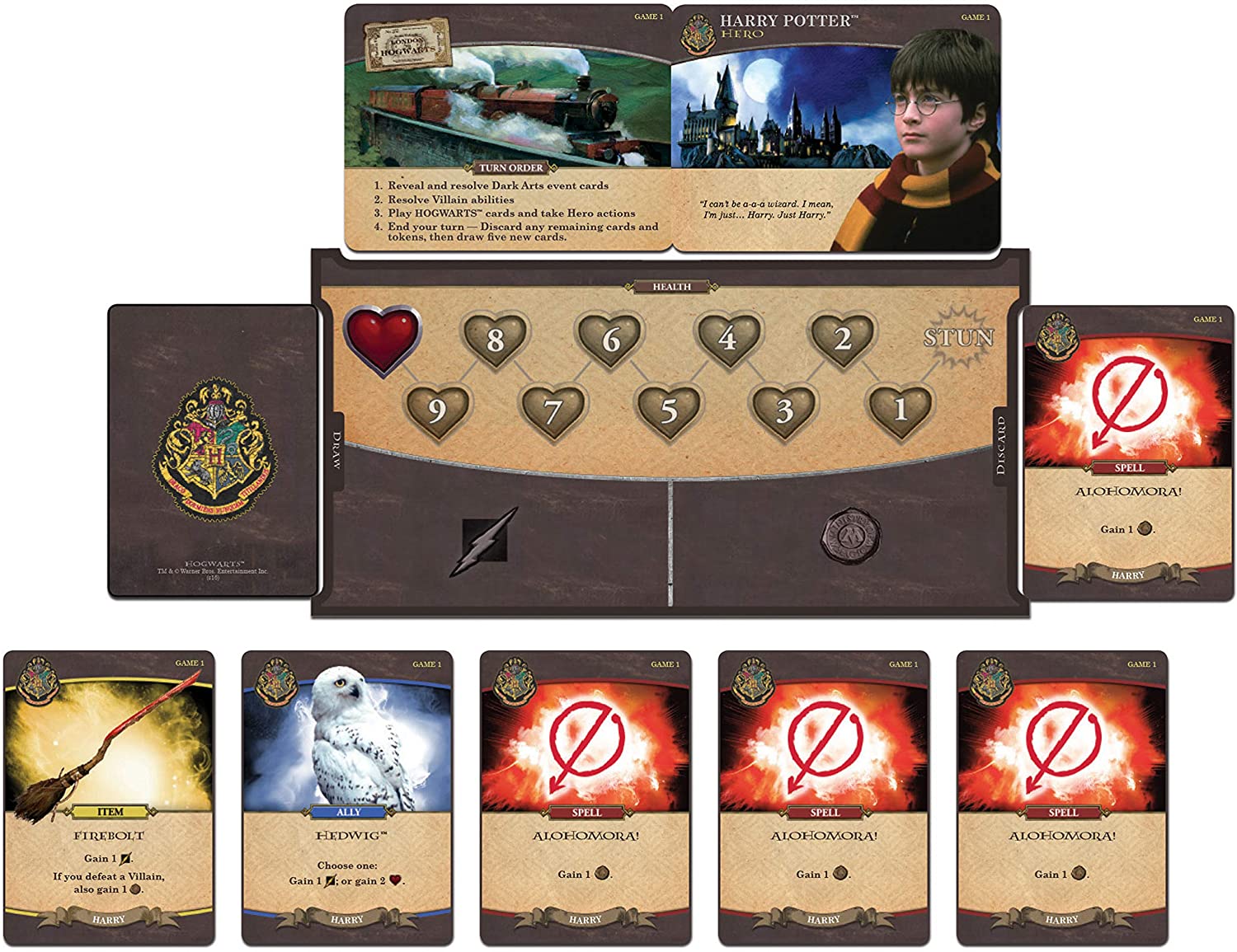 How to play Harry Potter: Hogwarts Battle
The first thing to do before the game can commence is to set up the board ready for play. Remember, you should only use the cards that are intended for the first game.
Setting up
Give one player board and one health card to each player
Stack the oversized Location cards face up in the correct order
Shuffle and stack the square Dark Arts cards, ensuring they are face down
Shuffle and stack the oversized Villain cards, face down
Choose your hero and place the relevant card above your board
Shuffle and stack your Hero deck face down, then choose 5 at random
Separate the four starting Hero decks (indicated by the names at the bottom), then shuffle and stack the Hogwarts cards face down
Gameplay
Each turn is made up of four different steps.
Step one – Dark Arts events are revealed. These events can have a variety of negative effects. During this step, you might be instructed to add a token to the Location card, for example, and this is called resolving the event.
If the stack of Dark Arts cards runs out, simply shuffle the resolved cards and make a new stack.
Step two – Villain abilities are resolved. Every Villain in the game will have a certain ability. It could be present at all times, or it might be revealed by a particular event. For example, the active hero might lose 2 health points because a Villain token was added to the Location.
Step three – Hogwarts cards come into play, and heroes take action. As the active hero, you can choose to do any of the following:
Attack villains by assigning a token to them.
Use influence tokens to acquire new cards.
Play cards to gain resources and generate effects.
Unless otherwise specified, any newly acquired cards should immediately be placed in your discarded pile.
Step four – end your turn. Once the three previous steps have been followed, you need to end your turn by taking the following steps:
Check if the Villains have the required tokens to control the Location. If they do, remove the token and discard the Location, unveiling the next one in the stack.
If you managed to defeat a Villain during your turn, replace it with the next one from the stack.
Refill empty spaces for Hogwarts cards.
Discard all cards that you used during your turn.
Draw a new hand of five cards.
After this, the game continues clockwise, with the same four steps being repeated each turn.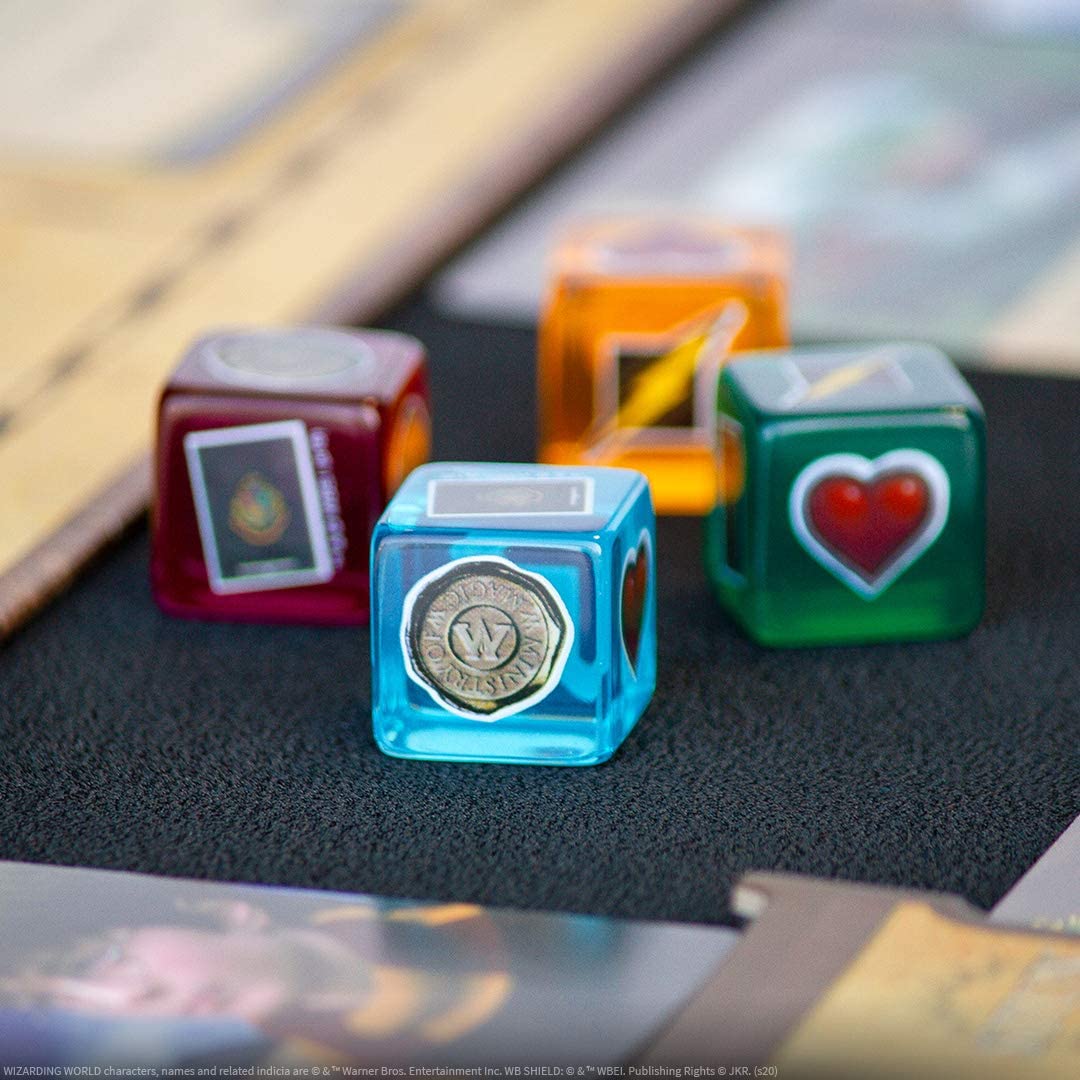 Defeating a Villain
When the attack tokens assigned to a Villain equal its total health, the Villain has been defeated, and you can claim the reward listed on the Villain's card.
Location control
Certain Dark Arts events and Villain abilities have the power to increase the control the Villains have over the Location. When Villains have enough control tokens to take over, the Heroes have until the end of that turn to remove one of the tokens by defeating a Villain or playing a card.
Hero health
Some Villains and Dark Arts events also have the ability to lower the overall health of the Heroes, whereas some Hogwarts cards allow them to improve their health.
To show this, you move your health tracker up and down the board. In the event that you lose all your health, you are Stunned, and the following happens:
You can't lose or gain any health this turn
Discard any influence or attack tokens you have saved from other Heroes' turns
Add one Villain control token to the Location
If it's your turn, you can still play cards and take actions with whatever you have remaining after you have been Stunned.
After the active Hero's turn finishes, you have recovered and can reset your health.
Who is Harry Potter: Hogwarts Battle for?
Harry Potter: Hogwarts Battle is recommended for people of eleven years and over. However, thanks to the widespread appeal of the Harry Potter novels and films, fans of all ages can enjoy the game.
People who are already familiar with this fictional wizarding world are likely to enjoy the game the most, but others with an interest in magic and fantasy-themed games will also appreciate it.
If you're looking for other children's games, check out our guide to the best games for three-year-olds.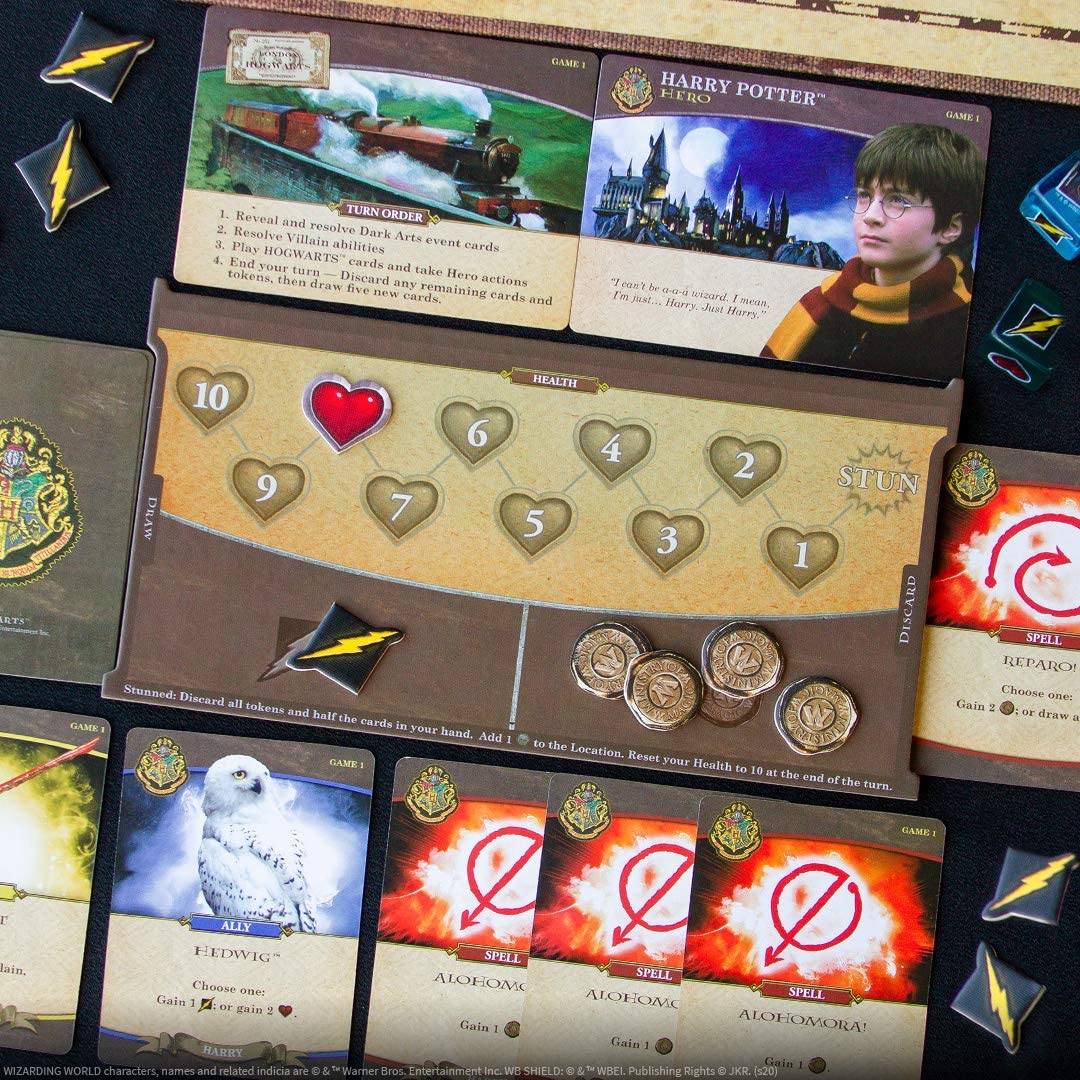 How many pieces are there in Harry Potter: Hogwarts Battle?
The game comes with several sets of cards and tokens, all of which are listed below.
8x Villain control tokens
4x health trackers
25x influence tokens
35x attack tokens
4x dice
4x player boards
1x game board
7x game boxes (containing Location cards; Hogwarts cards; Dark Arts cards; Villain cards; and Hero cards)
252 cards in total
Other Harry Potter games
If you can't get enough of Hogwarts Battle, here's what I'd recommend.
Trivial Pursuit: World of Harry Potter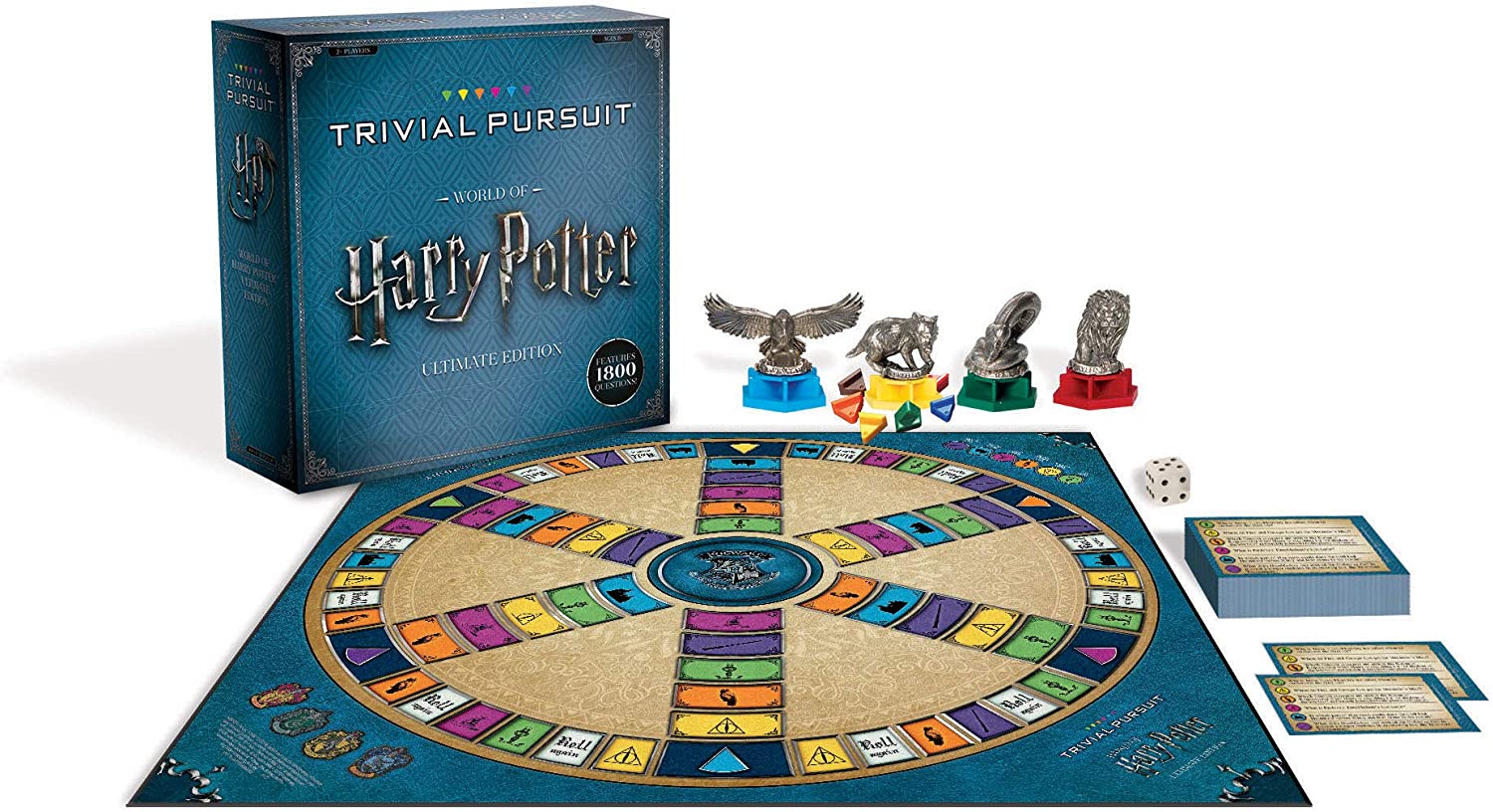 This edition of Trivial Pursuit allows avid Potterheads to test their knowledge of all eight films, moving around the board with House Mascot movers and answering questions to collect "wedges".
Players – 2+
Recommended age – 8+
Playing time – 60+ minutes
Clue: Harry Potter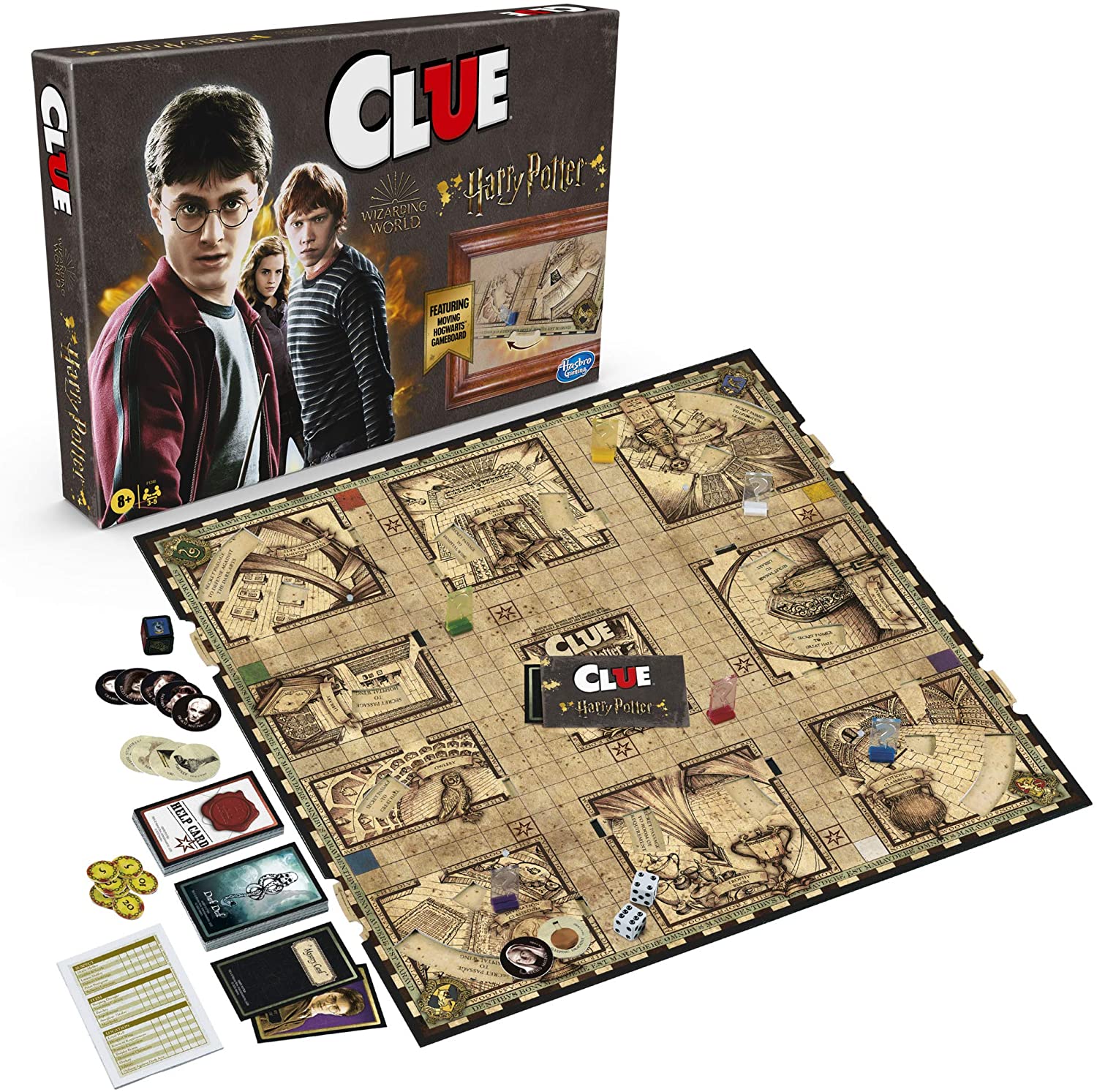 The classic mystery game, Clue, gets a magical makeover in this Harry Potter edition. A fellow student has gone missing, and players must solve the mysterious disappearance by playing as Harry, Hermione, Ron, Ginny, Luna, or Neville.
Players – 3-5
Recommended age – 9+
Playing time – 60 minutes
Alternatives to Harry Potter: Hogwarts Battle
Want to try another cooperative deck-building game? If so, these are the ones I'd recommend.
Shadowrun: Crossfire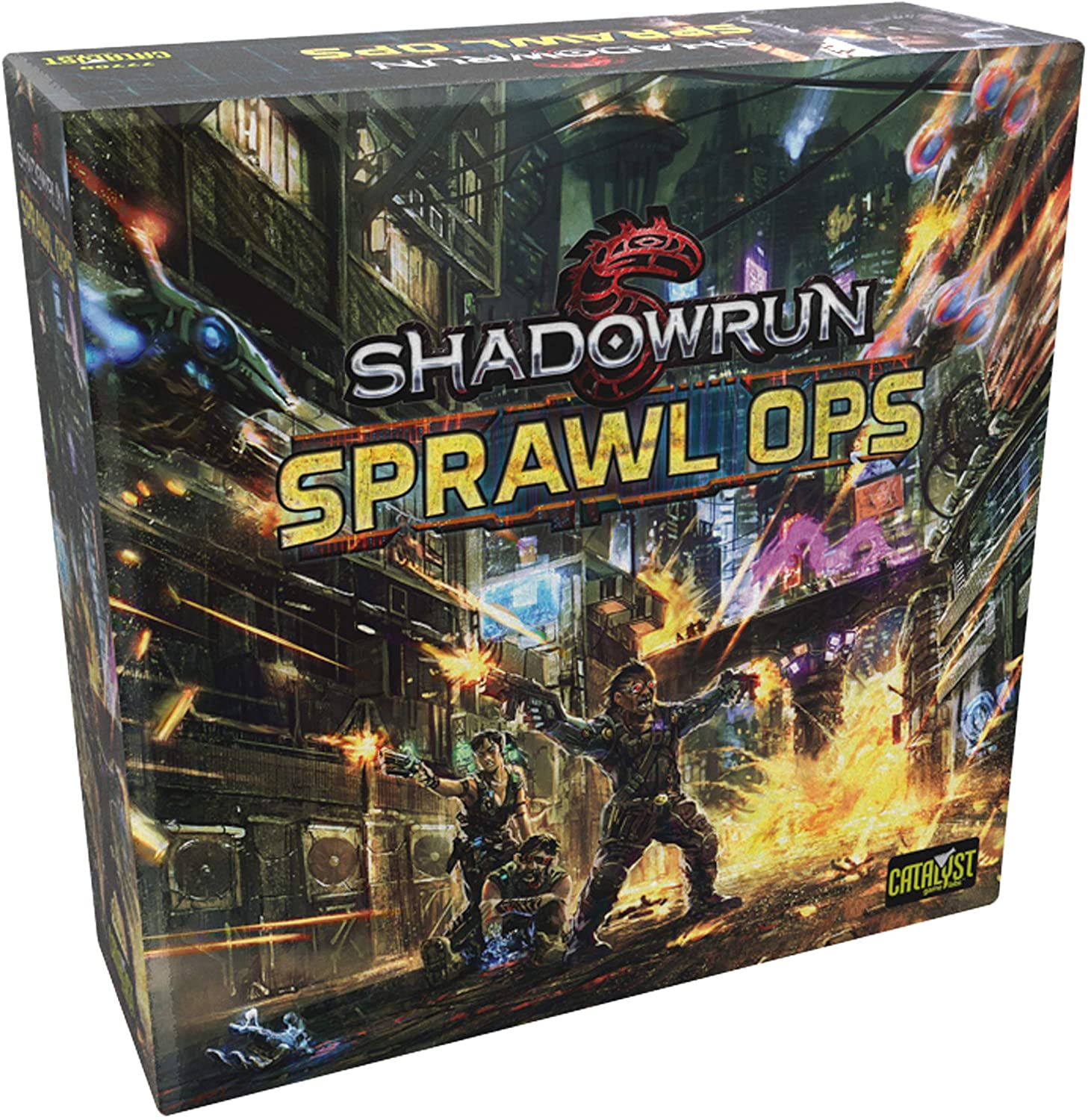 Set in the fictional, cyberpunk world of Shadowrun, Shadowrun: Crossfire is full of magical, fantastical dangers like ghouls and dragons. In the game, you play a Shadowrunner team and complete jobs such as protecting someone who has been marked for death, improving your deck with strategies.
Players – 1-4
Recommended age – 13+
Playing time – 30-60 minutes
Aeon's End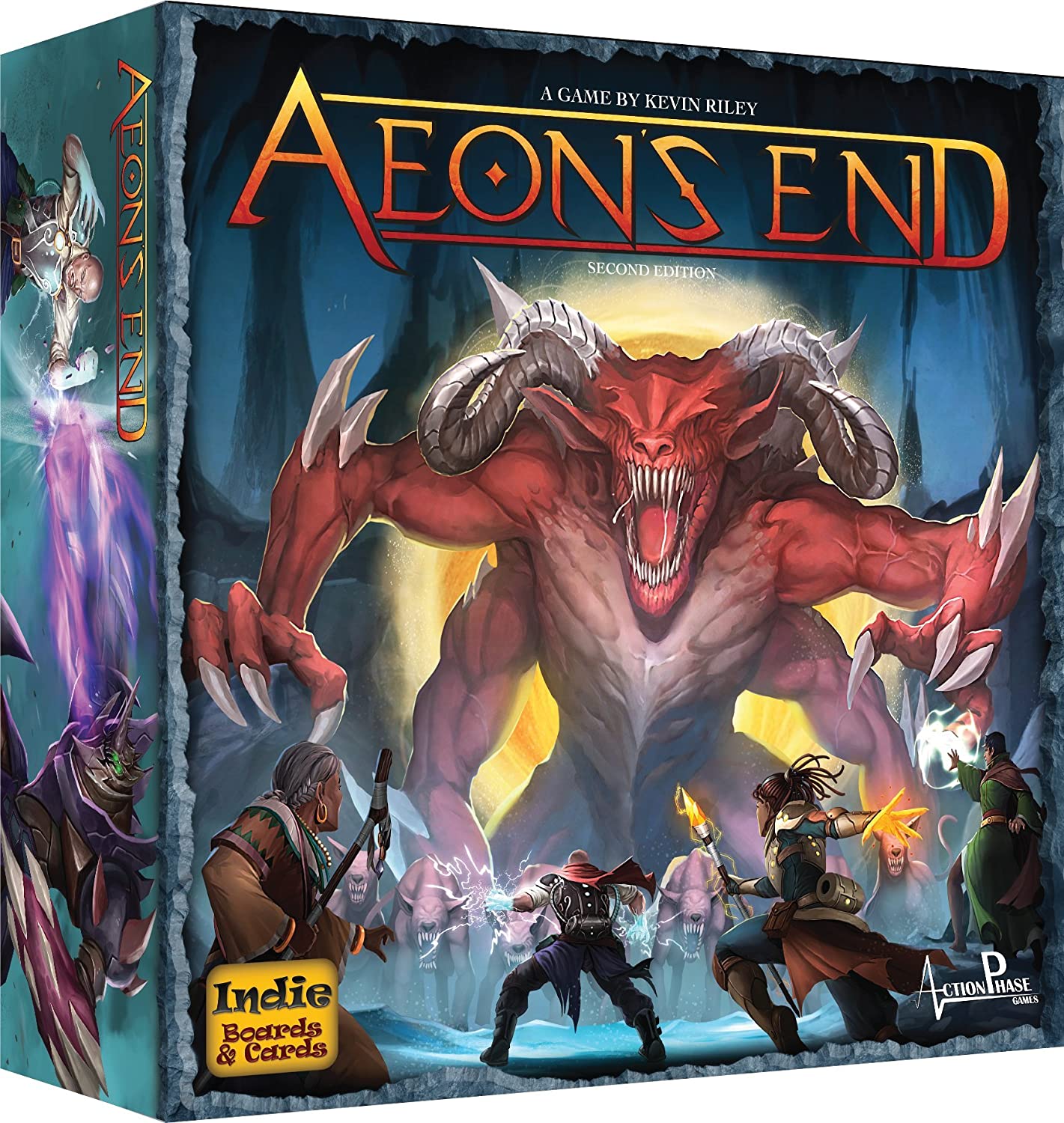 In Aeon's End, mages must defend humanity's last city by harnessing alien powers. The game deploys some seriously innovative mechanisms to emulate the chaos of an attack, and the story is extremely immersive.
Players – 1-4
Recommended age – 14+
Playing time – 60 minutes
Harry Potter: Hogwarts Battle – is it worth buying?
In my opinion, Harry Potter: Hogwarts Battle is absolutely worth buying if you're a fan of the books and movies. It provides an excellent way to get closer to the story and relive the magic again.
However, the game lacks complexity and depth in some respects, so it's more suitable for children than adults, but it is a great option if you're looking for a family game. There are other Harry Potter games out there, such as Trivial Pursuit: World of Harry Potter, which are better suited to adult fans.
If you're not a fan of Harry Potter but want to play a cooperative deck-building game, this probably isn't the game for you. There are others out there that are more engaging and also offer the opportunity for complex strategy.
Frequently asked questions
Question: How long does it take to play Harry Potter: Hogwarts Battle?
Answer: It usually takes between half an hour and an hour.
Question: How do you win Harry Potter: Hogwarts Battle?
Answer: You win the game by defeating all the Villains using your attack tokens and influence tokens as well as your Hero cards.
Question: Can you play Harry Potter: Hogwarts Battle solo?
Answer: Yes, you can. To play solo, you must start from game five. The game comes with a set of rules that explains how to play on your own.
Question: Is Harry Potter: Hogwarts Battle a good game?
Answer: It is an excellent game for Harry Potter fans, particularly younger children. However, if you're looking for a cooperative deck-building game with more depth and strategy, this isn't the right game for you.
Recommended reads: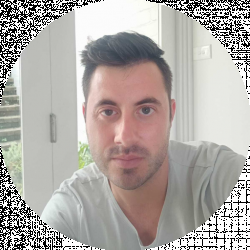 Latest posts by David Borgogni
(see all)