Being a lover of board games, I've always had a special place in my heart for everything Harry Potter. So the thought of Harry Potter board games sounds intriguing.
Are you dreaming of the ultimate Harry Potter Monopoly Guide? You might be wondering if Monopoly has made a Harry Potter version because, let's face it, we all miss the trio from the movies and books!
Ever since I was little, I would wait years for each book to come out (yep, showing my age). But it was always well worth the wait.
Even though the movies and shows have ended, there are various games to choose from. But what about Monopoly? Read this guide to find out the answers to these burning questions!
Bottom Line Up Front
Let's answer what you've come here for…is there a Harry Potter Monopoly game? The answer is no.
Can you imagine how popular that would be, though? I bet they could get top dollar for combining the ever-popular Monopoly with Harry Potter.
Why Isn't There a Harry Potter Monopoly?
There isn't a licensing agreement between Warner Brothers and Hasbro. There's no information about whether this will change in the future, though.
While some have created Harry Potter Monopoly on places like Etsy, be careful with these. Due to a lack of licensing available, games with Monopoly or Harry Potter without proper licensing aren't legal. Many have been told to take the game down since it's against the rules.
How to Make My Own Harry Potter Monopoly?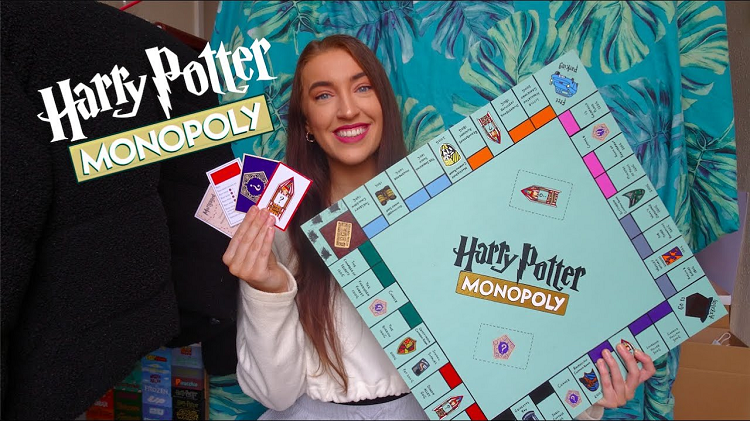 First, it's important to remember that you can't sell a game that you make yourself. It's just for you and your friends to enjoy, but you can't try to sell it. So be sure to look at other Monopoly games for reference.
Decide on a theme for your board. Whether it's based on Hogwarts, a specific room at the school, or the different houses. I'm team Ravenclaw, so I'd love a board dedicated to my house!
Consider different street names. Since you're making it, the great part is that you can design it how you'd like.
What You'll Need
Some of the names that you'll need are for:
Four railroads

Three greens

Three pinks

Two browns

Three light blues

Two dark blues

Three reds

Three oranges

Three yellows
Use an 18 x 18-inch cardboard to create the board itself. Use a ruler for reference. 
You'll need paper for cash and cards for the different cards in play.
You'll also want crayons, colored pens, a long ruler, pencils, and paint.
Coming up with a Theme
Consider the different movies and books as you're thinking about the theme. Which is your favorite?

You could base it off of one or all. Instead of properties, you could have the different houses in the movies/books to make it unique.

Add in more places from the book, such as Hogwarts and the different shops that they go to. Then, instead of homes and hotels, you could have schools and buildings.

Make it fun by adding in an element of surprise, such as Voldemort. The chance cards could be a mix of good and evil, such as different spells. Instead of jail, it could be detention.
Creating Your Board
Use a pencil to draw on the cardboard and then cut it out with scissors. Use a ruler as a guide to ensure that it's the correct size.

Ensure that you use the ruler to create four squares on each side of the board. These could include free parking, jail, etc. 

Then you'll get to work coloring the board. Take a look at other boards for reference. Be sure to place the names of the different places as well.

Get creative with the extra spaces and look at other boards for reference. Some ideas include Paying (goes in the middle), chance cards, roll again, etc.

Ensure that the board has different colors to make a set.
Design Cards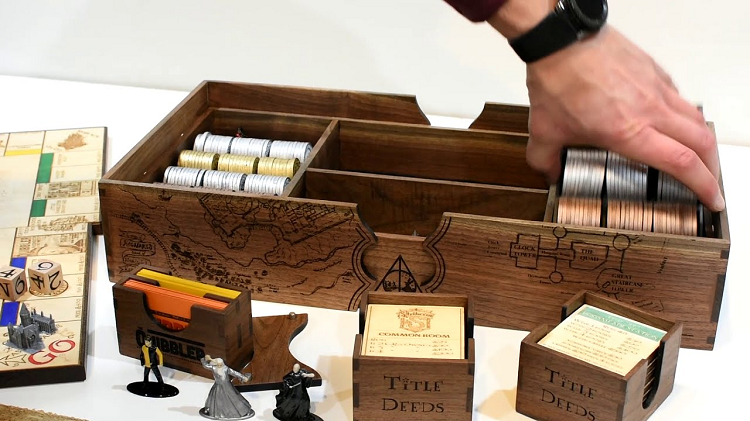 Once that's done, you can get to designing the different cards. But, again, take a look at other cards for reference. 

Use card stock for these. 

Be sure to outline your boxes on the card and on the board. Have the name of the city on one side along with the price. 

On the opposite side, be sure to have the unmortgage value, mortgage value, and property name.

Don't forget about the chance cards! There are also free printable card templates online that you can find.
Design Money
Last but not least, if you don't already have Monopoly money, you'll need to use paper to make the dollar bills. You could also use paper money from other games or another Monopoly game. 
You'll need:
Thirty $1 bills

Thirty $5 bills

Thirty $10 bills

Thirty $20 bills

Thirty $50 bills

Thirty $100 bills

Thirty $500 bills
Create Tokens
The original Monopoly didn't come with tokens! Instead, they used items around the home. You can do the same with buttons or coins. 
Since the game can range from two-eight players, you'll want to keep that in mind as you design the tokens. You can also consider using figurines that you can paint yourself from a craft shop or reuse figurines that you buy.
Use paper machè or clay to create your own tokens.
Build Homes
Whether you're building schools, homes, or castles, you need these for the different properties. For example, in Game of Thrones Monopoly, you have holdsteads and castles.
You'll want sixteen hotels/castles/etc. Then you'll want 32 houses/holdsteads/etc.
Consider buying miniature pieces, reusing pieces from another Monopoly board, or making your own. If you're making your own, you could create tiny homes with paper. Origami might have some ideas.
Once you grab some dice, then you're ready to begin!
My Top Picks at a Glance
Harry Potter Monopoly Alternatives
While you can't play Harry Potter Monopoly, there are Harry Potter alternatives! From Trivial Pursuit to Clue, you have options. Think about your favorite games that you enjoy playing and see if a Harry Potter alternative has made the list. 
USAOPOLY Trivial Pursuit World of Harry Potter Ultimate Edition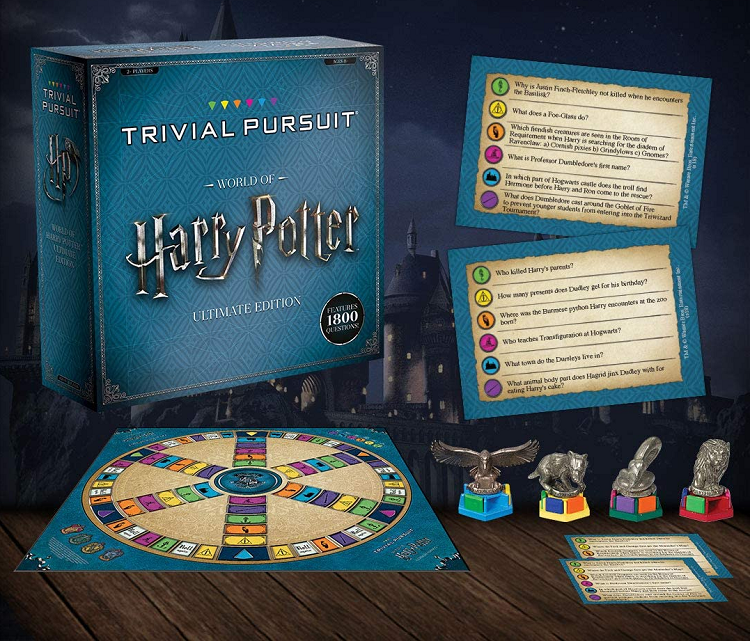 Trivial Pursuit is a classic that many have grown up with. So why not add in the excitement of Harry Potter?
Harry Potter is incredibly popular, so even if this is a gift, they're bound to love it. It comes with 1800 questions based on the Harry Potter movies.
Choose from four tokens, including Ravenclaw, Gryffindor, Hufflepuff, and Slytherin. Questions include magical creatures, objects and artifacts, magical locations, spells and potions, and the dark arts. Play with your friends and consider forming groups to win.
Trivial Pursuit Harry Potter is perfect for the ages eight and up. It can be played with two-eight players.
Pros
Harry Potter and Trivial Pursuit coming together is pretty amazing!

I love how each of the tokens represents the different houses.
Cons
It's harder for those who don't know A LOT about Harry Potter

Some of the cards are more of a disappointment and about the actors themselves
Hasbro Gaming Clue: Wizarding World Harry Potter Edition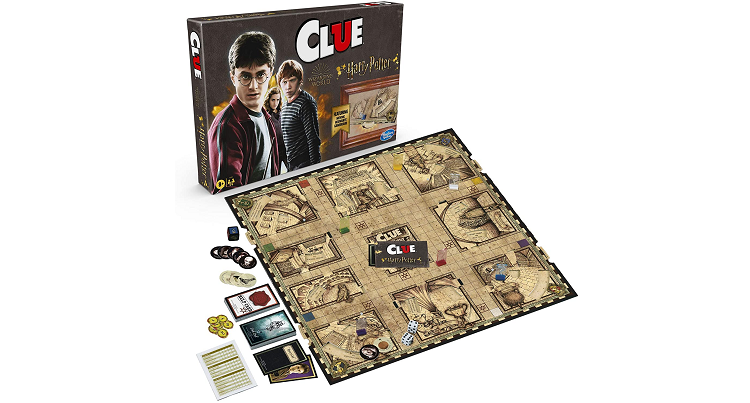 I love Clue and recently played it with my nieces (and was beat)! If your child is eight or up, this Harry Potter edition is perfect.
You and your family will get to be Ginny, Luna, Harry, Ron, or Neville. But, first, you'll need to discover where the crime happened, what the spell was, and who disappeared.
There are changing staircases, secret passages, and dark marks that might appear. It's perfect for three-five players too.
I love how it's nostalgic since it brings you back to playing Clue as a kid, but with a twist! This would make an excellent gift for all of your favorite muggles.
Pros
Clue but with a twist!

Unique where it has changing staircases, dark marks, and more

Perfect for family game night
Cons
The rules can be a bit tricky

A more complicated game than it seems
Hedbanz Harry Potter Card and Board Game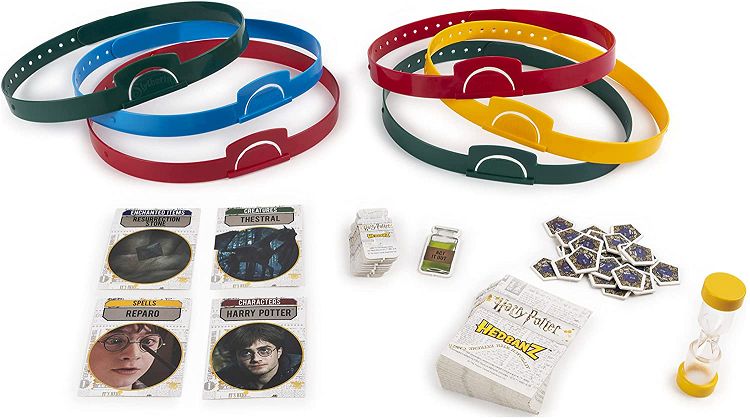 Hedbanz is an exciting game where you're trying to guess what word or clue is on your head. Others will give you clues to help you figure it out.
This is Hedbanz, the Harry Potter edition. So your guesses will be Harry Potter-themed. It comes with 25 chocolate frog tokens, twelve potion tokens, one sand timer, and six headbands.
Hedbanz is also a more straightforward game to figure out, perfect for family game night! You can represent the different houses (Slytherin, Gryffindor, Hufflepuff, and Ravenclaw) while you play along.
Pros
Hedbanz with a Harry Potter twist!

Head back to Hogwarts as you try to solve the different clues with the help of your friends
Cons
It's hard to find the ingredients with the wand

You'll need to have strong knowledge of the different characters from Harry Potter
CODENAMES: Harry Potter Board Game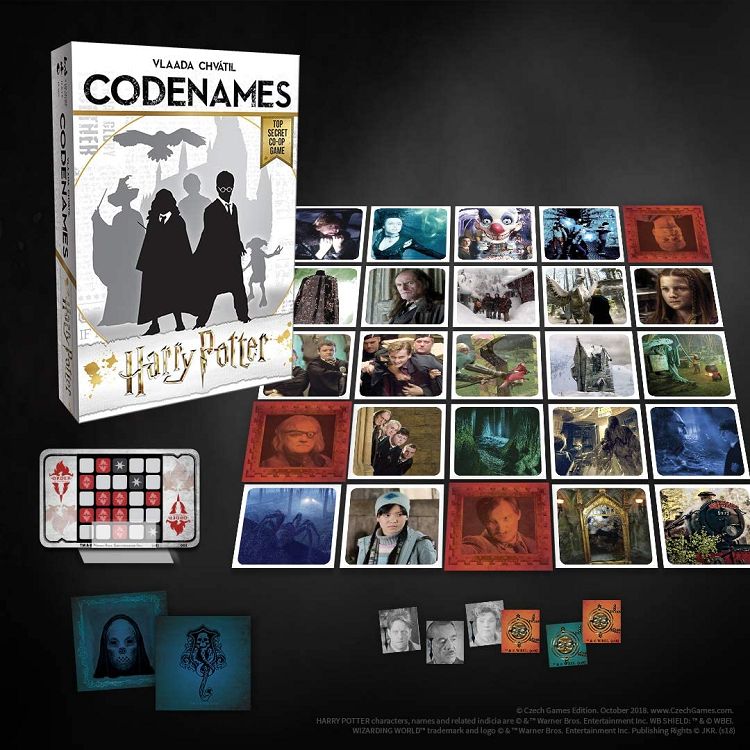 I love CODENAMES! There are different versions I've played, including the Marvel edition (which was actually quite challenging).
During the game, you have two clue givers and then the guessers. They'll give you clues matching multiple cards for you to figure out what cards are your team's.
The clue givers look at a tiny card that'll tell them which cards are theirs, the other clue giver's, black cards (game over), and neutral (no one's). It comes with one death eater cover card, one pad of mission logs, instructions, one card stand, sixteen Order of the Phoenix cards, and eleven time-turner tokens.
I love how different it is from the original CODENAMES. While the original CODENAMES is words, this is images. There is also a CODENAMES with pictures.
Pros
Try to figure out the different clues given to win the game

I love that it's images instead of words
Cons
A more complicated play since it's images instead of words

The instructions could be more clear
My Top Picks at a Glance
Monopoly Avatar-If you're a fan of The Last Airbender, then you'll enjoy this game!

Monopoly Disney Villains-What a fun take since it centers around the villains in the movies.

Monopoly Animal Crossing-It's totally different from classic Monopoly; it's still a ton of fun, though.

Monopoly Marvel Avengers Edition-Avengers is incredibly popular, and why not enjoy its excitement with this Monopoly edition!
Monopoly Alternatives
While there isn't a Harry Potter Monopoly (which is shocking because there are so many Monopoly editions available), there are others to choose from. In addition, some of your other favorite movies and shows are Monopoly editions.
I was pleasantly surprised when I played Monopoly Game of Thrones. Instead of money, you use coins! There are others to choose from, and while some are very different from the original, others are similar.
Monopoly Animal Crossing New Horizons Board Game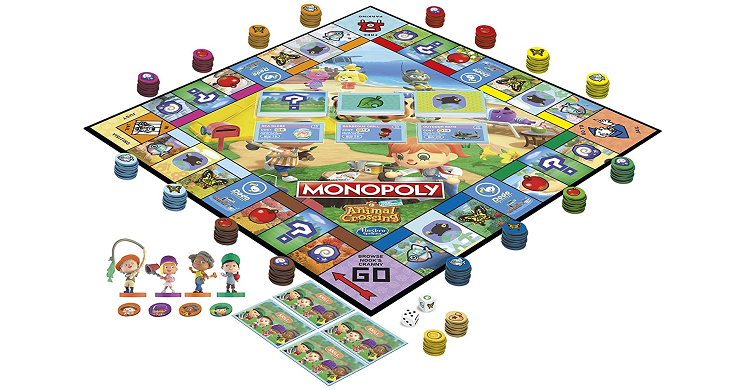 I love how different this edition of Monopoly is from the original! You'll be taken into the world of Animal Crossing as you collect bugs, create furniture, and try to earn bells.
The object of the game is to have the most Nook Miles. So, for example, the furniture you can buy is worth a certain amount of Nook Miles.
I love how it's perfect for the whole family! It's for ages eight and up and can have two-four players.
Pros
Such a fun and unique take on Monopoly

A more relaxing version of Monopoly
Cons
It's an entirely different game, not similar at all to classic Monopoly

There's still the jail card
Monopoly Disney Villains Edition Board Game
I love how Monopoly gave us a villain's version of Disney characters. Also, it's pretty cool how you can place Flames of Power on your token when you pass GO.
You hire different Disney villains to buy and sell villain contracts during the game. Instead of locations, you have villain contracts.
It's perfect for a family game night since it's for the ages of eight and older. Two-six players can enjoy this one.
You can play as Hook, Maleficent, the Evil Queen, Jafar, Scar, or Cruella. The more villains you hire, the more rent you can collect. Poison apple cards can switch up gameplay.
Pros
Monopoly with a twist!

Play your favorite villains and collect rent
Cons
It's much different than the classic Monopoly

It's much easier than the original game
Monopoly Avatar Nickelodeon The Last Airbender Edition Board Game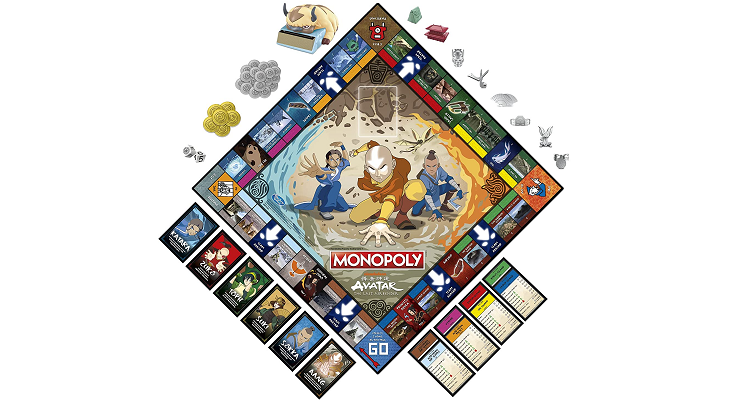 If you've seen the Last Airbender, then you'll enjoy this take! During play, you can have special powers depending on your character.
There's Suki, Aang, Toph, Zuko, Katara, and Sokka. To use their powers, you'll roll the white lotus dice.
Just like traditional Monopoly, you want to protect your properties. Therefore, you want to save as many properties as possible from the Fire Lord. Whoever is the last person to have coins wins.
Perfect for ages eight and up and two-six players.
Pros
Monopoly with a twist!

If you enjoy the Last Airbender, then you'll like protecting your property from the Fire Lord.
Cons
If you don't like the older artwork, then you won't like this board

The tokens aren't characters from the show; they're objects
Monopoly Marvel Avengers Edition Board Game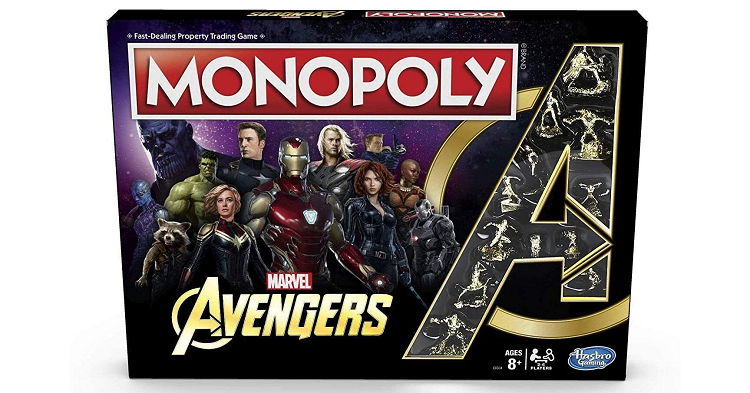 I love Monopoly and Avengers, so this is the perfect pairing! In the game, you'll form a team of Marvel heroes.
The heroes could include Maria Hill, Nick Fury, Iron Spider, and more. Then, of course, there are Stark industries cards and an infinity gauntlet.
Watch out because if you land on a Child of Thanos space, then you'll need to prepare for battle! You can choose from twelve Marvel character tokens.
The tokens include:
Captain Marvel

The Infinity Gauntlet

Thor

Hulk

Black Widow

Captain America

Iron Man

Ant-man

Nebula

Rocket

War Machine

Hawkeye
Pros
Twelve tokens to choose from

Much different from the classic for a new spin on it
Cons
It can be a bit challenging for younger teens and children to learn

Very different from the classic
FAQs
Question: Is there a Harry Potter Monopoly?
Question: What is the Rarest Monopoly?
Answer: A jeweler named Sidney Mobell made the rarest Monopoly set with 23-karat gold.
Question: What Different Types of Monopoly are there?
Answer: Star Wars, Game of Thrones, Junior, 80th Anniversary Edition, and more!
Exploring the Best Harry Potter Monopoly and DIY Guide
After exploring this Harry Potter Monopoly guide, I hope you're not too disappointed that there isn't a game available. However, while it's not available, there are plenty of other editions that you should consider giving a try.
At the end of the day, if you're looking for a Harry Potter-themed game, I highly recommend CODENAMES Harry Potter. If you're looking for a fun Monopoly game, consider the Villains edition!
If you enjoyed this article, be sure to check out our other articles today!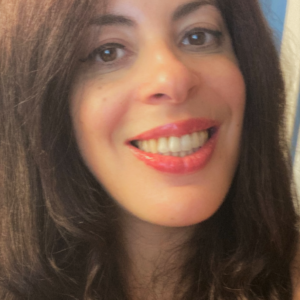 Latest posts by Lindsay Washington
(see all)