Board games themselves are fun, but they can be hours of fun and excitement when you find board games with a war theme. Have you played war board games before?
Whether or not you have, I've created this list to go over some of the best. I've been playing board games for years, and war games often stand out.
Picking out a solid war game can seem challenging, but it doesn't have to be. So get the other war players together and check out the best war board games guide today!
Bottom Line Up Front
There are various war games to choose from. Still, if I had to pick a favorite, it'd be the Avalon Hill Axis & Allies Anniversary Edition. Head back to WWII in this edition. Many have seen this game as one of the best all-in-one WWII war games.
There are plenty of versions of this game (Pacific, Europe, and individual battles such as D-Day and Battle of the Bulge). Perfect for a game night since you can play with up to six people. I love how vibrant the artwork and themes on this game are to keep you engaged.
My Top Picks at a Glance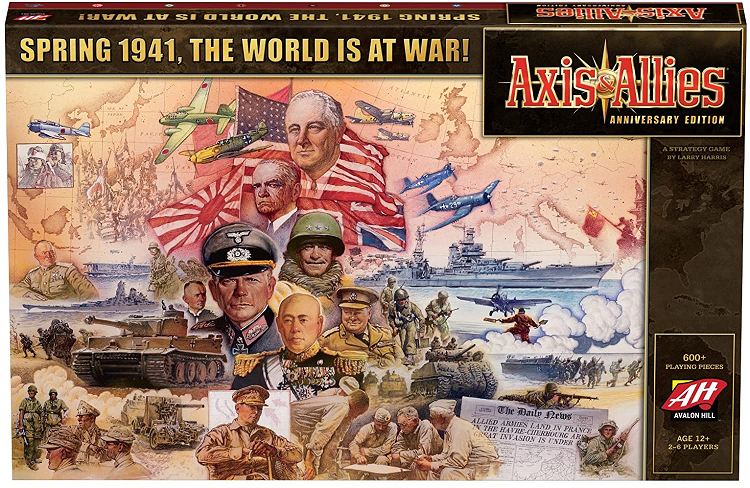 Avalon Hill Axis & Allies Anniversary Edition-The perfect game for those who enjoy WWII history. Take a trip back in time and defend your side against the threat!

SEKIGAHARA: Unification of Japan: 3rd Printing-Head back to 1600 where Tokugawa Ieyasu took power from Ishida Mitsunari. This game is limited by action cards that force you across central Japan to bring the other player into war.

1775-Rebellion-Head to the American Revolution in this war game. Patriots and the American Continental Army fight against the Loyalists and British Redcoats.

Risk Legacy-I love Risk and couldn't include a list about war board games without mentioning it. If you've played traditional Risk, then you'll want to check out Risk Legacy.

Cuba Libre-In Cuba Libre, you can be a part of four different factions during the 1956 revolution in Cuba with Fidel Castro. Depending on which faction you choose will determine the victory and overall game.

Root-The perfect war game when you're looking for something shorter than the others. Perfect for two-four players. You'll join a faction that has its own goals.
Tips for the Reader
As you're going through this list, it's a good idea to keep a pen and paper handy. We'll be going through many games here, and you don't want to miss out!
To determine if a game is the right choice for you or not, decide how long of a game you're comfortable playing. It's a good idea to think in your mind about how many people will be playing as well.
Selection Criteria
My selection criteria are based on some of the most exciting war games out there! Yes, there will be a few here and there that you might have heard about as well. However, some of the classics, such as Risk, deserve a spot on this list.
Why Should I Play Board Games?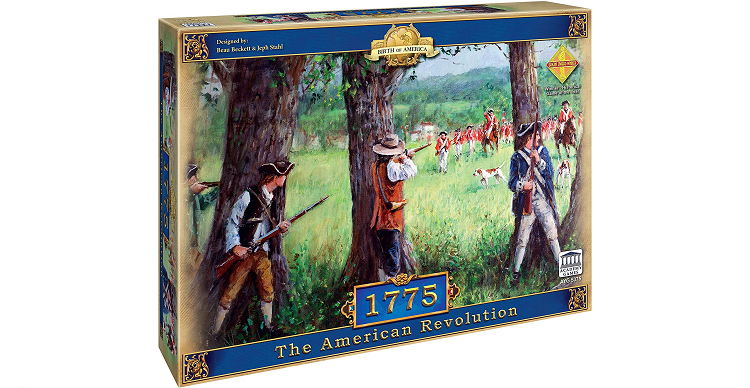 Some of us (myself included) are crazy about board games and can't imagine life without them. I often will play board games at least a few times a week. From Sushi Go! to Citadels, board games allow you the opportunity to escape stress.
Whether it's an easy or hard game, they allow you the opportunity to abandon any current worries and fully engross yourself in a good game. They're also great for socialization purposes.
When I first moved to my area, I didn't know anyone. So the first thing I did was join a board game meetup.
Board games are an excellent way to get the conversation going and keep you all engaged in the game. In addition, some games, such as Catan, will force you to socialize with the other players.
Besides being excellent for adults, board games are perfect for kids too. They offer critical thinking and strategy skills to develop along with socialization cues.
Top Unique Picks
I figured let's start out with the unique picks because they're always the most exciting! Maybe you've heard of these, perhaps you haven't. However, one rule is don't judge a board by its cover; give it a shot and see what it's about.
Root: A Game of Woodland Might and Right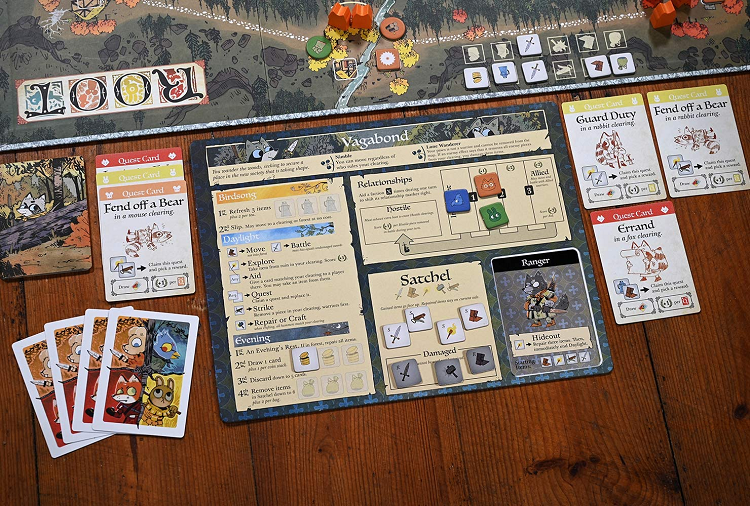 While the design of this cover might have you thinking it's an innocent kid's game, it's not. You need to be at least ten years old to enjoy this one.
It's perfect for a family game night or get-togethers of smaller sizes. Root is ideal for two-four players.

You'll be able to choose from the characters such as the raccoon, mice, birds, or cats. Think of fantasy meets war-time.

It's still a game about territory. Depending on the character that you choose, this will determine your goal.

There's also The Riverfolk expansion. This will allow you to add more players or play it alone.
Pros
A unique game mixed with fantasy and war

Perfect for a game night since it can be two-four players
Cons
You would need the expansion to have a good-sized game night.

It can be confusing to play since each character has a different goal.
SEKIGAHARA: Unification of Japan: 3rd Printing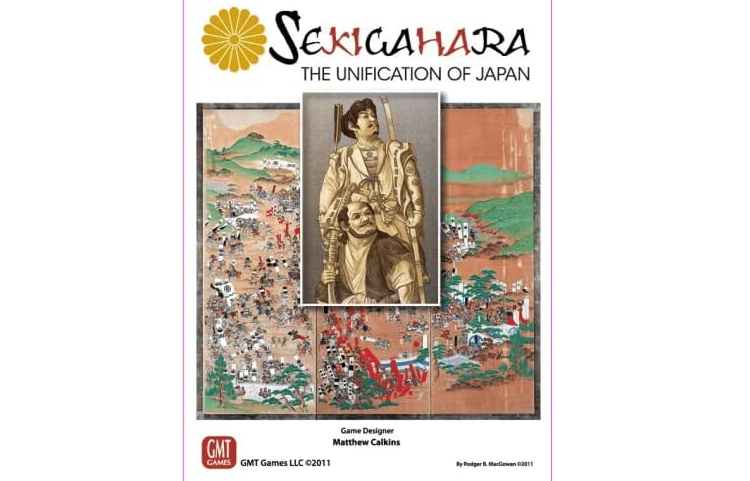 Head back to the Battle of Sekigahara in 1600, where Tokugawa Ieyasu secured power from Ishida Misunari. I love how they made this game with action cards to determine what you can/can't do.
This can decide between combat, potential betrayers, and where units can fight. Finally, you and the other player will try to make it across central Japan.
You'll want to manage your hand to have armies in good positions and bring the enemy into war. I love how it's not too hard of a game to learn either. I just wish that it was for more players.
Pros
A war-time game for two players

Unique since it has the aspect of cards in play

Take a trip back in time to 1600
Cons
While I love that two players can enjoy it, I wish it had the potential for more players.

It's hard to place the blocks on top of each other since they're not very parallel.
Cuba Libre- Coin Series Volume 2 Game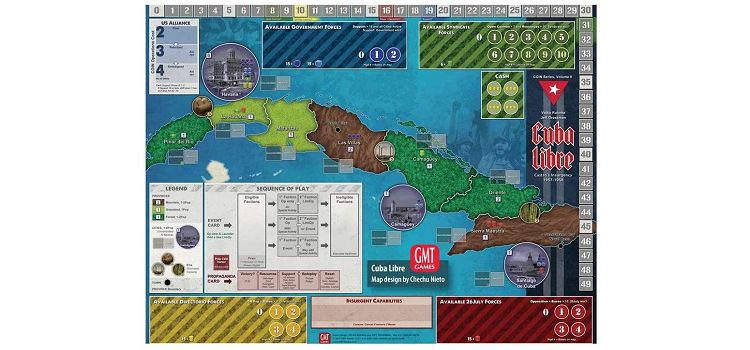 In Cuba Libre, you're taken back to 1956 when Fidel Castro had his revolution in Cuba. Depending on your faction, this will determine the different plays and victory conditions.
The gameplay really forces you to make decisions sooner than later. Keep in mind that this is volume 2, so it's different than the original version.
Be prepared to play this one for a few hours. It works well for two-four players.
Pros
You can play it with two-four players.

It's based on a historical moment in history.

A game that'll have you strategizing and thinking fast
Cons
It takes a few hours to play.

The board is a bit overwhelming to look at
Fantasy War Games
Runewars: Uthuk Y'llan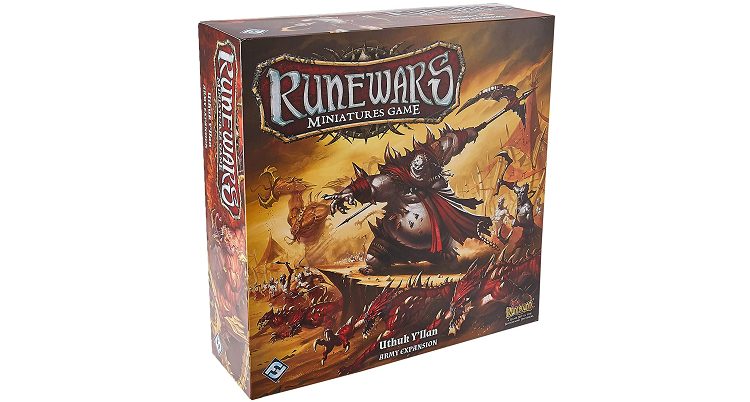 If you're looking for a war game that's mixed with fantasy, then look no further than Runewars: Uthuk Y'llan. Perfect for two-four players, it's a strategic game where you have armies, gather resources, and have various cities.
During gameplay, wars are happening for the dragon runes. In the end, only one faction will win.
Pros
A great game if you're looking for something that'll last a couple of hours

Unique in its own right since it combines war with fantasy
Cons
I wish it could handle more players.

It's only for ages fourteen and up.
Games Workshop Warhammer 40,000 Command Edition Starter Box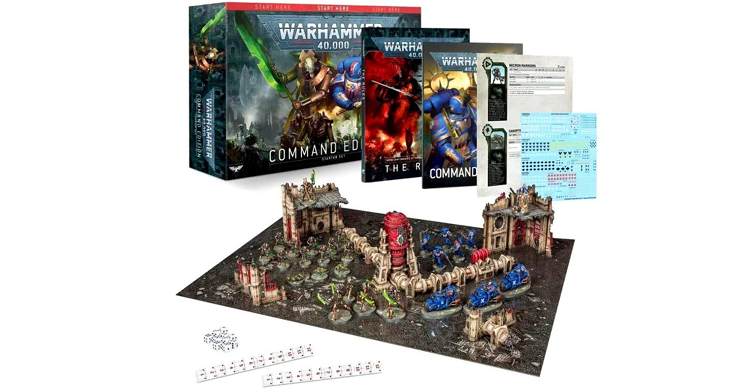 No war board game article is complete without Warhammer! This game is for more serious gamers and is the starter box. But, of course, you can always buy more and add to it.
It comes with:
Five assault intercessors

Primaris Lieutenant

Necron Overlord

Primaris Captain

Three outriders

Three skorpekh destroyers

Royal warden

ten Necron warriors

three scarab swarms
It also has a command manual, push-fit terrain, a double-sided game board, and a rule book. It's important to note that it doesn't come with paint and you have to assemble it yourself.
Warhammer is a fun, action-packed game for at least twelve-year-olds.
Pros
A classic that's considered one of the most exciting war games!

Great for building on since there are other packs

Collector items
Cons
You really want to buy all three sets for the whole experience

It's only for those who are at least twelve years old
Classic War Games
As you're looking for the best war games, be sure to check out these classics. Some of these have been considered the best games based on their time. Some have been around for a while and have been favorites.
Avalon Hill Axis & Allies Anniversary Edition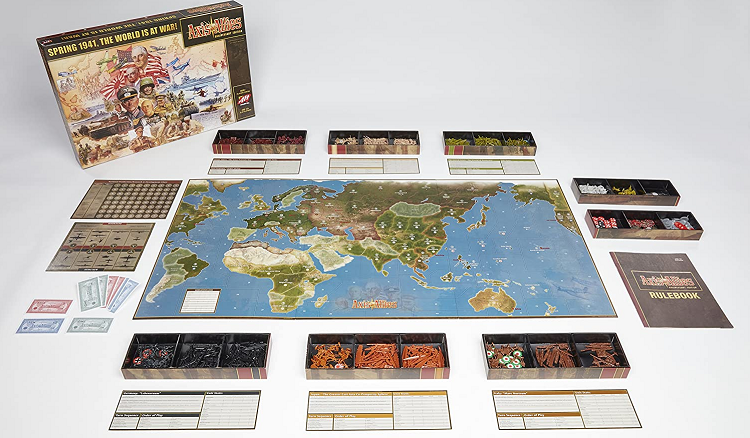 Some consider the Avalon Hill Axis & Allies Anniversary Edition one of the best WWII war games. Many agree, considering that there have been many adaptations for this game.
Some expansions include individual battles such as the Battle of the Bulge and D-Day or location packs. Location packs include the Pacific and European versions.
Since this is a special edition, it allows you to play with up to six people! The artwork and gameplay itself are both incredible.

You can choose the time of 1942 or 1941, which will affect how you set up the map. The gameplay will still be the same, though.

You can either be Axis or Allies. For two-player games, you can be multiple powers.

The goal is to control as many Victory Cities as possible. You can check the winnings at the end of the United State's turn.

Win conditions can be based on controlling 18, 13, or 15 Victory Cities. If you don't mind a game going on for hours, then have at it!
Pros
A game that'll keep you entertained for hours!

Set back in time for historical reference
Cons
It can get a bit confusing if you need to play both sides in the game

The map is on the flimsy side
1775-Rebellion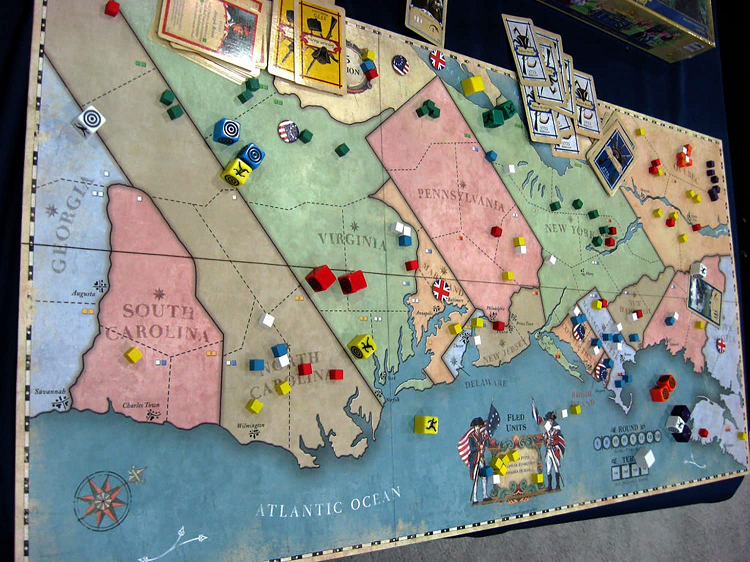 It's 1775 in Colonial America. The Patriots and American Continental Army are fighting to defend themselves against the Loyalists and British Redcoats. You'll play the major factions during the American Revolution in the game.
You can choose from three scenarios before you begin. There's The Siege of Quebec, The Introductory Scenario, and The 1775 Campaign.
Appropriate units and factions are then picked along with dice and cards. I love how unique this game is since it uses battle dice.
These dice will decide the combat in the game. Different events could benefit you in various ways. As you look at the map, you'll see the thirteen original British Colonies.
Turns are based on four phases:
Reinforcement phase

Draw cards

Battle phase

Movement phase
Once you play all of the truce cards, then it's the end of the game. Whoever controls the most colonies wins!
Pros
A vibrant and engaging map to keep you entertained

How unique the game is since it uses battle dice

Great for those who are ten years and up
Cons
Only for two-four players

The map could be better illustrated, including the different battle sites
Risk Legacy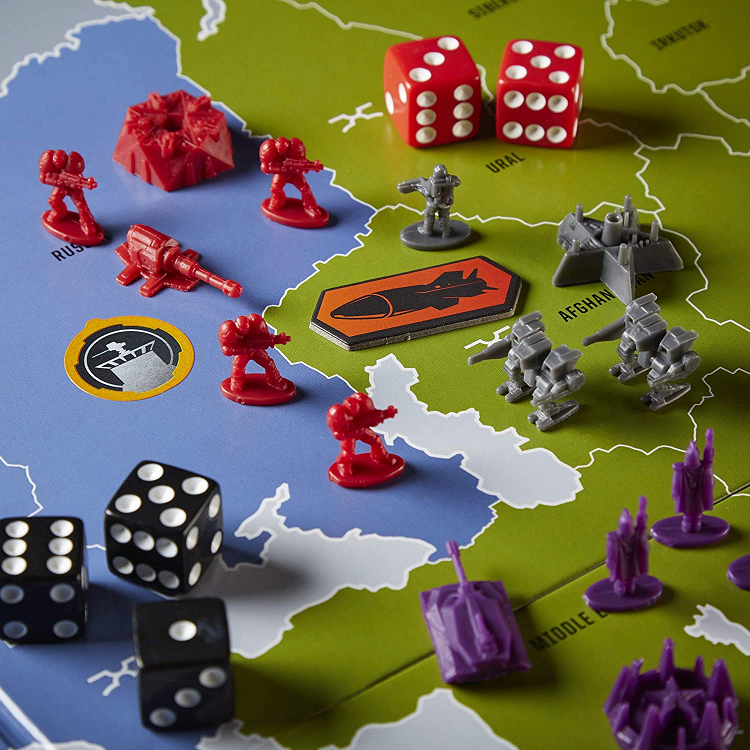 I love the original Risk, so it's only a given that I'd enjoy Risk Legacy. Considering Risk is one of the most popular board games, it deserves a seat on this list.
Hasbro Gaming brings you this engaging experience that's perfect for those who are at least thirteen years old. Plus, it works for three-five players, which makes me happy! I often play in board game groups of five-six people.
During gameplay, the decisions that you make could affect you later on. So it's much different than traditional board games too.
You and other players will determine what happens in the world regarding its cities, history, and how they fight. You'll have stickers and cards that are a part of play.
I love how colorful this board is, plus it comes with various pieces to keep track and immerse you in the game. It's so exciting too how you get to decide what will happen in the future based on your decisions now!
Pros
It's unique from other war games

Different from traditional Risk to keep it exciting
Cons
A bit harder to learn than other games

It can feel imbalanced at times in the gameplay itself
Memoir '44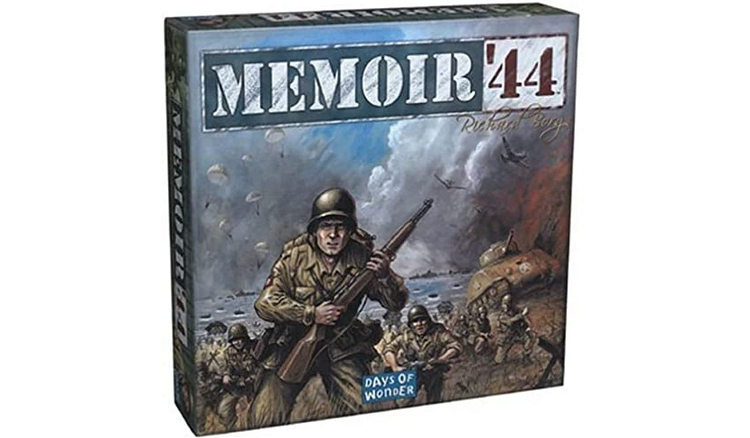 If you're looking for another WWII game, then consider Memoir '44. Take a journey back in time and feel like you're part of the battle since it comes with small plastic Army men to play with.
The game itself is much shorter than the other games. The one unfortunate part is that it's only for two players, but it's for ages eight and up.
It's perfect for game nights since it's educational and accurate to the war. Plenty of strategy is involved to succeed. There are different skills, including commandos, paratroopers, infantry, artillery, tanks, and resistance fighters.
Pros
An immersive game since you'll feel like a part of it

Seventeen historical scenarios

Easy to learn
Cons
It's not extended gameplay compared to other war games.

It takes a while to set up.
FAQs
Question: What is the Most Realistic War Board Game?
Answer: The Command Series by WarfareSims is definitely up there!
Question: What are the Best American Civil War Games?
Answer: Gettysburg: The Tide Turns is a great option.
Question: Is Warhammer the Best Wargame?
Answer: It's definitely one of the most successful and popular.
Question: Is there a Civil War Board Game?
Answer: Yes, there's even a game called The U.S. Civil War for two players!
How to Pick Out the Best War Board Games
I highly suggest that you go through this list and think about who will be playing and the ages of each person involved. If teens or kids are playing, you might be more limited.
This could come down to how many board games they've played in the past and their comfort level in various games. Of course, you'll also want to determine how comfortable everyone will be with longer games.
Some of these games can span hours or even days! Next, think about each person's hobbies. For example, if they enjoy fantasy games and videos, they might love the fantasy board game options.
Check reviews and try to go for games that aren't brand new. If you choose brand new games, you'll be more of a tester.
This means that you might pick a game that isn't enjoyable at all! But, at the end of the day, you'll also want to consider sensitivity toward different games since war can be a touchy subject for some.
Exploring the Best War Board Games Guide
After exploring the best war board games guide, I hope you have an easier time picking out a suitable game for you. Take your time narrowing down which game will be best for your next game night. Really factor in what everyone's likes, dislikes, and preferences are when it comes to games.
At the end of the day, if I had to choose the best war board game, I'd have to go with the Avalon Hill Axis & Allies Anniversary Edition. However, WWII has always been an interest, so it was an easy pick.
I love how creative and immersive this game is too. You really feel like you're part of the experience. Also, I like how there are different packs to choose from for the game.
If you enjoyed this article, be sure to check out our other articles today!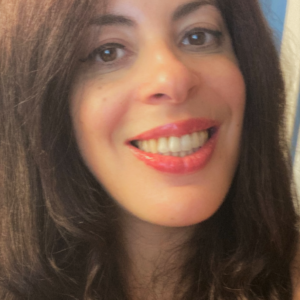 Latest posts by Lindsay Washington
(see all)