Today we're going to be diving into the wonderful world of custom Catan boards. If you're like me, you've played Settlers of Catan so many times that you're now looking for any way to change up the game. Perhaps you've played all the expansions, gotten all the alternative games, and have seen all the scenarios. What's next?
Custom Catan boards are the answer. These hand-crafted boards are a great way to show your love for the game to your friends and keep things fresh. We're going to start this article by learning about Settlers of Catan itself, going over what custom Catan boards are, then listing my favorite boards. By the end of this article, you will be a certified pro in Settlers of Catan. Let's begin!
Bottom Line Up Front
My mentality is that if you're going to get a custom Catan board, you might as well get one that looks completely unique. There are many boards out there that are made in a similar "vibe" to the original game, which makes it not all that original to me. 
Therefore, my all-time favorite custom Catan board is the Wooden Laser-Cut – 3D by MrWeebleWooblesShop. This board is a hand-crafted 3D board that looks like something you'd see in a museum. It's that good. I'd recommend this piece if you're looking to keep your Settlers of Catan game out on display because it never gets old to look at.
What Is Settlers of Catan?
First off, let's look at what Settlers of Catan is. Even if you've been playing the game for years, you might learn a thing or two in this section. Settlers of Catan is a strategy game founded in 1995 by Franckh-Kosmos Verlag. The game is one of the first German-style board games to become popular outside of Europe, making it a sort of legendary game in North America. 
The game has won more than ten awards and has sold more than 32 million copies worldwide. It's even published in over 30 languages. Needless to say, this game has become the Monopoly of millennials and has become a household name, with countless expansion packs.
Settlers of Catan is essentially a resource management game that's designed to force players to trade items to build up their "settlements." As the game moves forward, players race to accumulate victory points to win. Since the game is set up differently each time, it allows for a great level of replayability and strategy-building. It's even gotten to the point where you can play Settlers of Catan in worldwide competitions.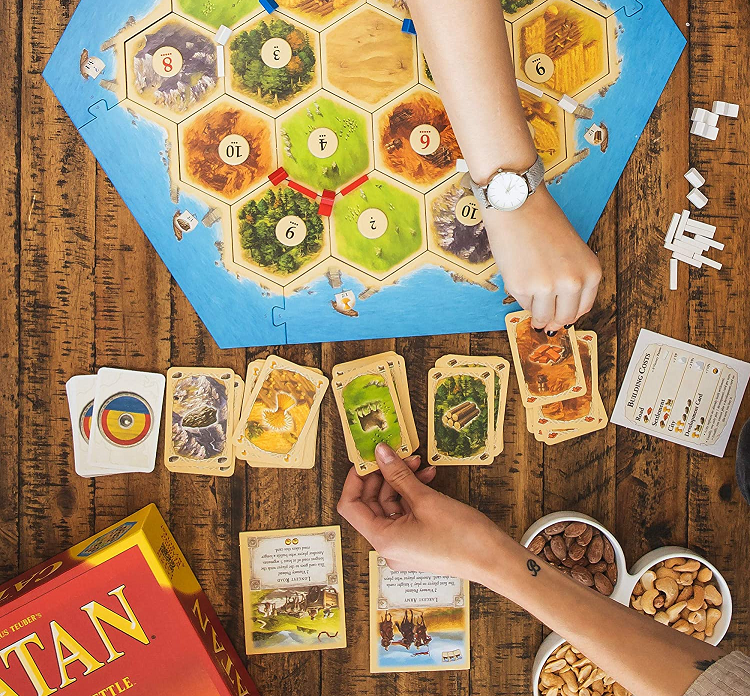 What's a Custom Catan Board?
Since Settlers of Catan has acquired quite the fan base over the past two decades, it's only natural that fan-made alternatives would begin to appear. Although there are lots of ways fans have added to the game, one of the most popular methods is through designing custom Catan Boards. These boards are usually hand-crafted and add an element of personality to the game.
These custom boards can be made of different materials and use all sorts of different themes. Some are made out of wood carvings, some are laser cut, and some even feature 3D landscapes to add more style to the board. You never know what you're going to find once you hit that search bar. Since all of the custom Catan boards online aren't "official," it means there are no rules to the creations. I've even seen a board that's made from crochet…
Where Can I Find a Custom Catan Board?
The all-time best place to find custom Catan boards is through Etsy.com. Simply type "custom Catan boards" into the search bar, and you'll be greeted with endless options to choose from. If you can't find one that you like there, the next best place to find one is on eBay.com. There are independent websites that sell custom boards as well, but they're a bit more difficult to find unless you have specific word-of-mouth recommendations.
If you're simply looking to browse one-of-a-kind boards that aren't for sale, Flickr, Tumblr, and Instructables can be great places to find boards that are unique. 
It's important to note that these customized Catan boards aren't licensed by the "official" Settlers of Catan company. They are completely independent artists and do not represent the actual brand name. The official Catan dealers have a few "official" spin-offs of Settlers of Catan (such as Star Trek Catan, Game of Thrones Catan, and Starfarers Catan,) but these games have their own independent rules and won't be included in this guide.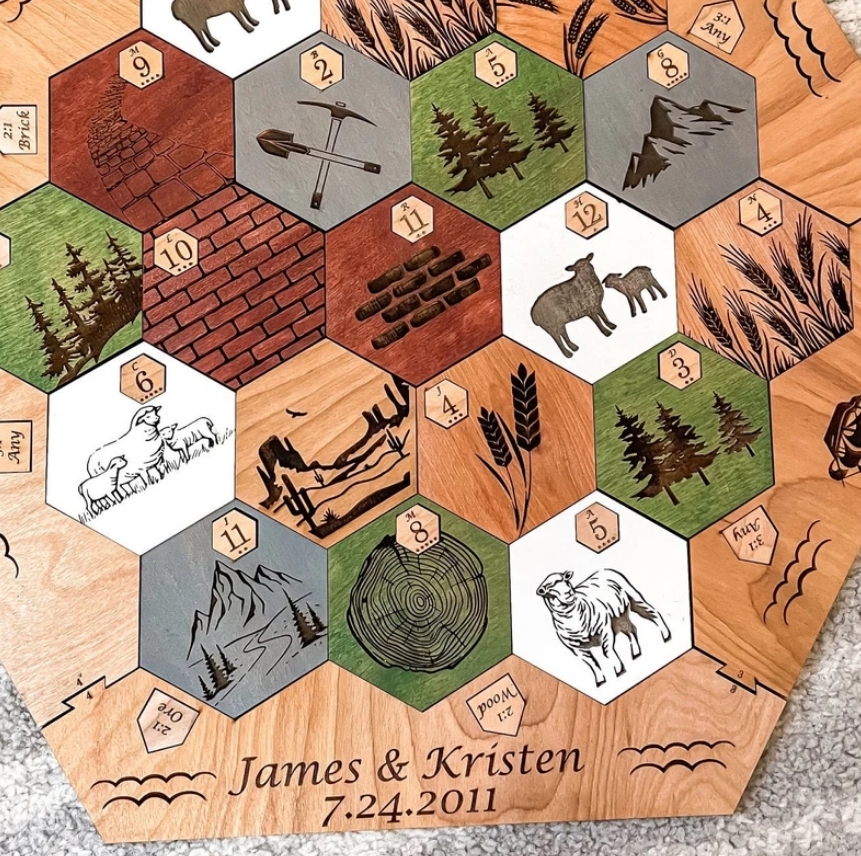 Amazing Custom Catan Boards
Now that we have an idea about what Settlers of Catan are and what custom Catan boards are, let's take a look at some of my all-time favorites across the internet.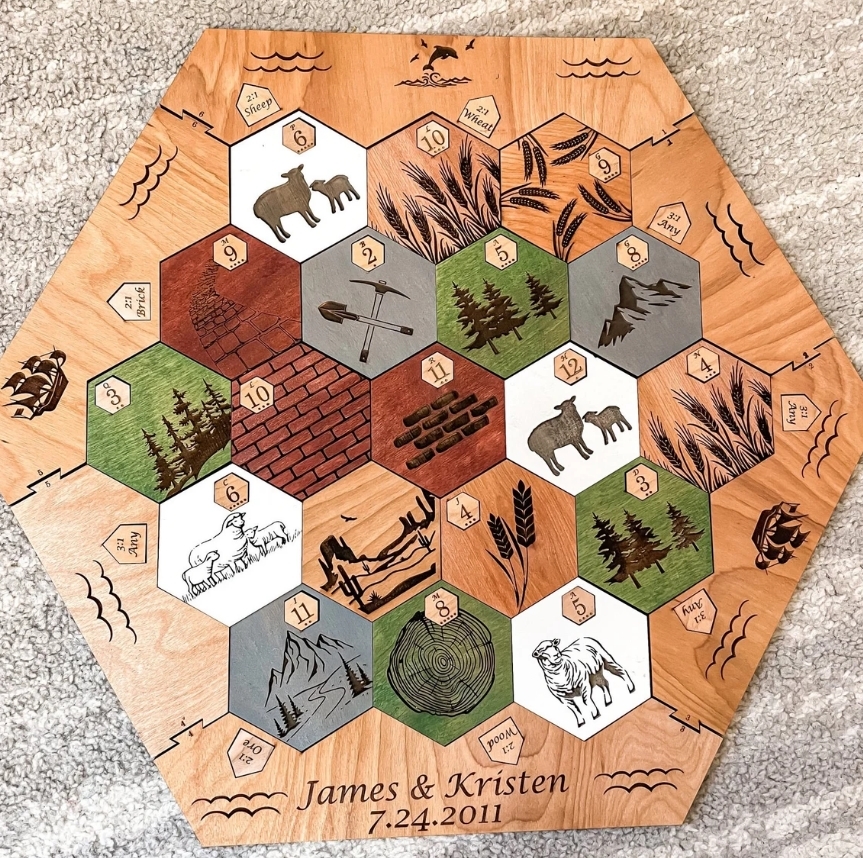 This beautiful, hand-crafted wooden board is unique in that it can be customized with your own personal engraving. This makes it the perfect gift for couples that love Settlers of Catan or even to commemorate a special occasion like Father's Day or an anniversary. The whole board is made out of wood and engraved with beautiful designs that give the game a homey, modern look. I like this board because it looks good, even left out on the table as a decorative item.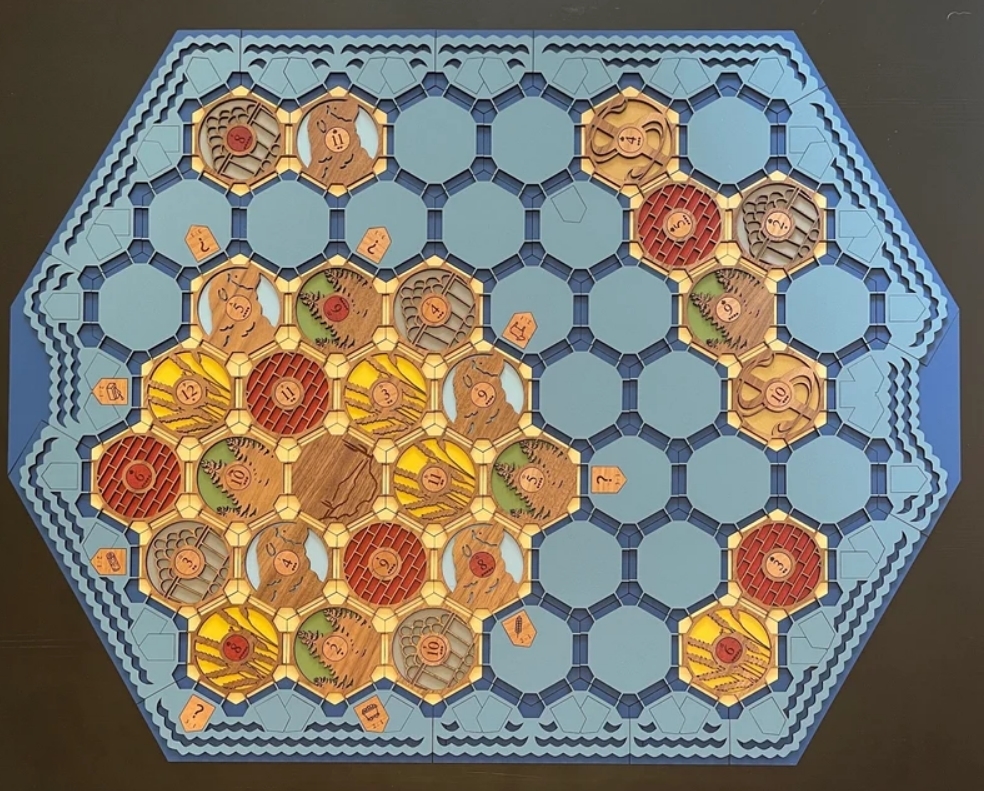 This laser cut board by ThomFroxDesigns is one of my favorites for anyone that likes everything organized and in its right place. The board is cut between multiple pieces of wood and includes structures that hold your buildings, roads, and ships in place! This means you don't have to worry about readjusting roads as they become loose- which makes it an ideal candidate for games on the road or on a bed.
Every piece in the game is customized beautifully and designed to work with the Seafarers expansion and 2-4 players. Although this is a pricier board, it is worth it, in my opinion, as it adds not just style but function to the game.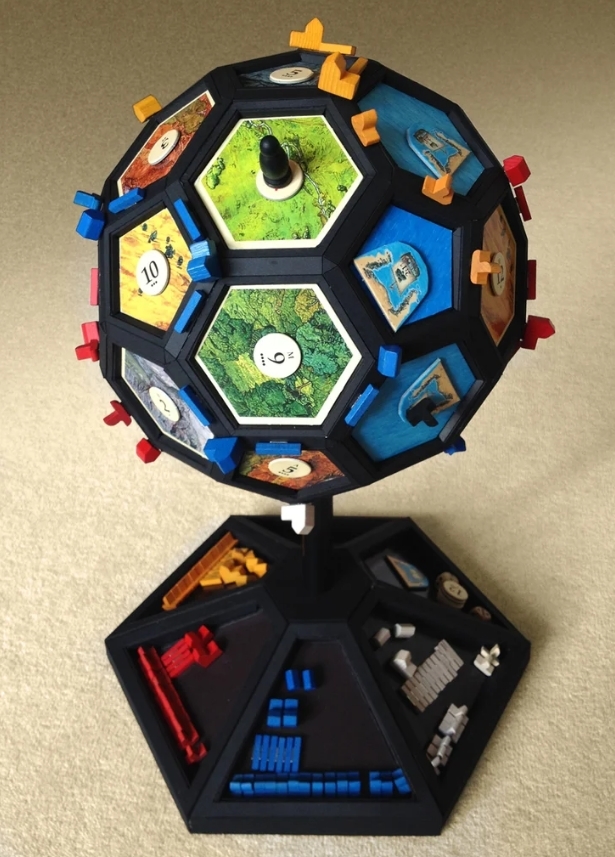 If you're looking to build something but don't want to think too deeply about the creative process, this Instructable could be the perfect fit for you! The Globefarers of Catan game makes Settlers of Catan a 3D globe, where the action becomes vertical- literally. Built by magnets, this customized board game will have you playing pieces upside down.
It's designed to work with all the pieces from a normal Catan game, which keeps its level of "complicated" down to a minimum. Check this design out if you're looking for a fun weekend project!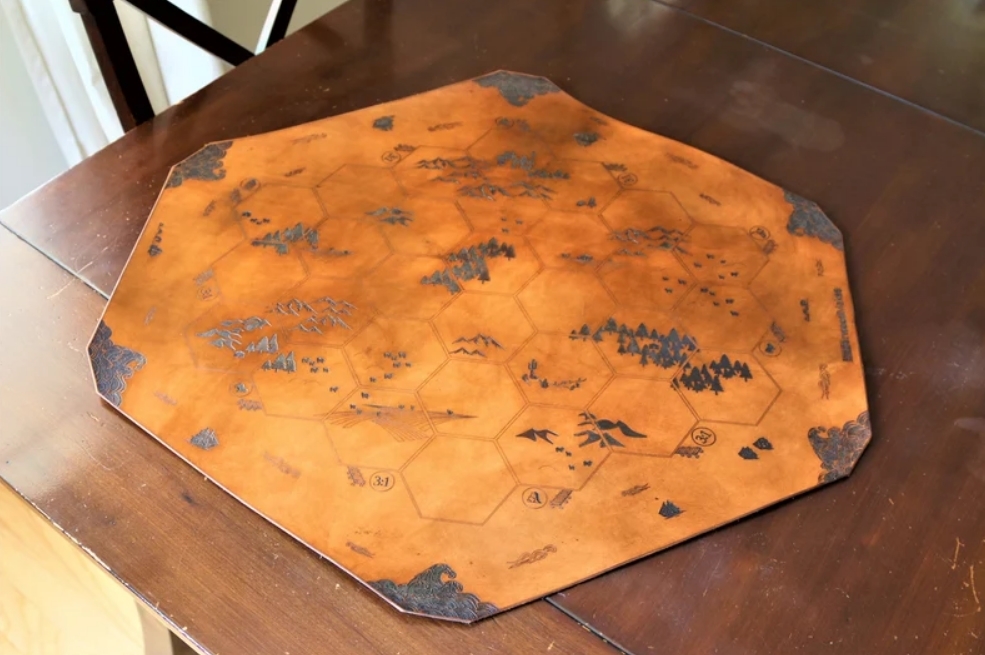 If you're looking for a board that is designed to look like it's straight out of the Wild West, this custom leather play mat by Underwood Makes could be the perfect option for you. The terrain is artistically engrained into the mat, and the oceans even feature neat designs with sea creatures! If you're looking for a simpler board to display on your table, this mat comes with only the board and is compatible with the original game.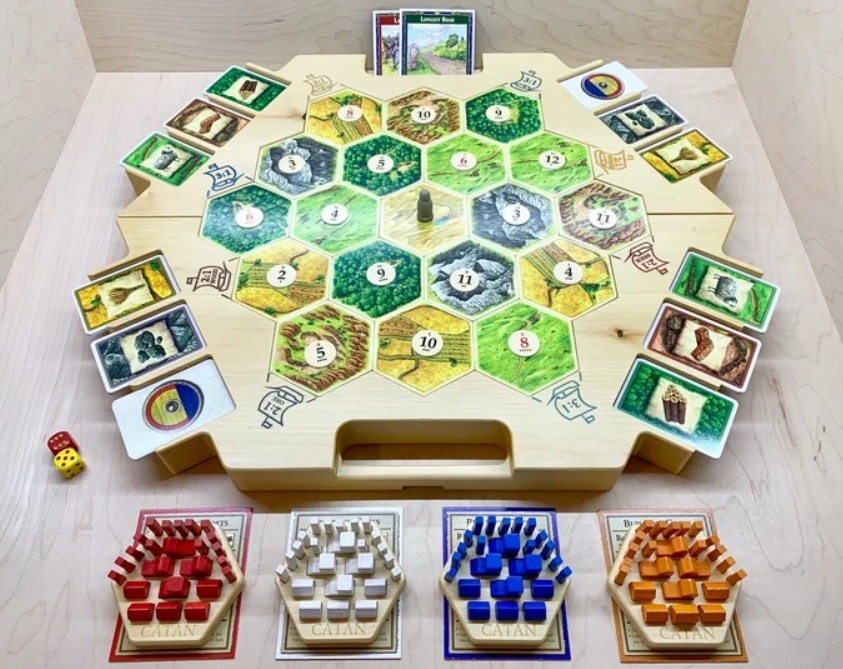 If you're like me and love taking board games on the road, this portable game board could be the perfect option for you. This hand-made board (from pine) is built to be taken on the road and neatly hold all your pieces in messier playing environments. The best part is that the whole board will fold up into a nice carrying case.
My favorite custom board games are always the ones that have function along with design, and this design by Kalpentry fits that bill perfectly. It's compatible to work with the normal Catan game, and all the pieces fit inside perfectly.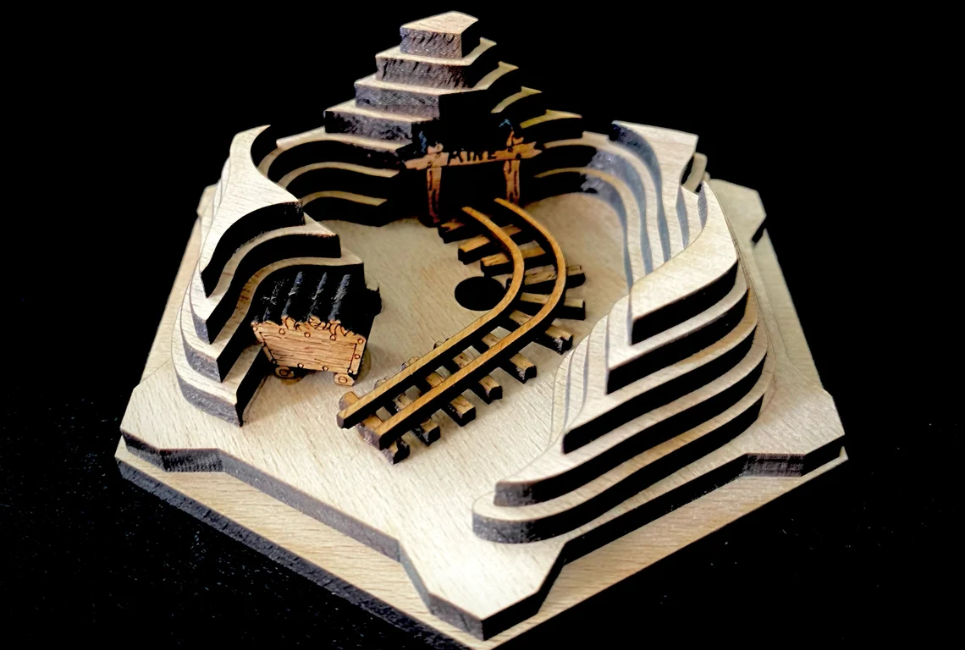 Perhaps the most artistic design on this list is the Wooden Laser-Cut 3D board. Each hexagon has its own unique appearance and is full of intricate details. This board is designed for those who can appreciate the art, as the board is fairly fragile to play with. It's hand-made with ash wood and beach wood, so its order has its own unique appearance. Check this board out if you're looking to take your appearances to the next level.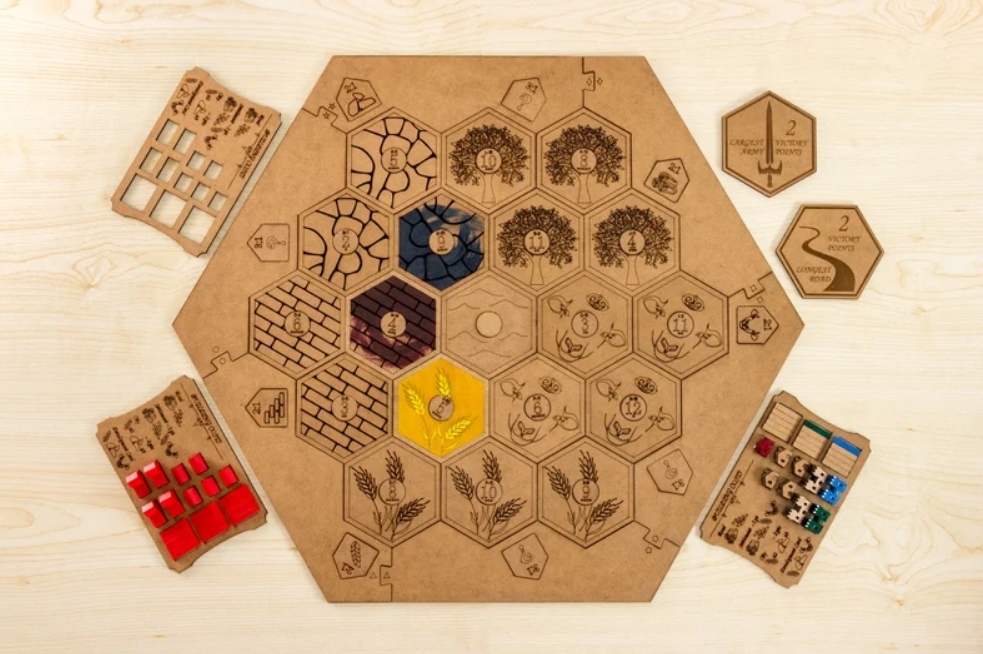 Suppose you're looking for a custom Catan board that you can put a little work into to make your own, look no further than this Paint-It-Yourself Board. This fully wooden board comes with a board, pieces, an organizer, and a box that can all be painted to your liking. It comes in various sizes as well, to allow either 2-4 players or 2-6 players.
My favorite part is that every piece is completely original, so it feels like an entirely different game. This custom board is great for kids who want to get interactive with the game or adults who want to paint a masterpiece set!
Frequently Asked Questions
Question: How do you make a custom Catan board?
Answer: Making a custom Catan board can be a rewarding yet fairly challenging prospect. The first step is to learn how the game is played. Once you have a fairly good grasp of the rules, it's time to get creative. Create a mood board to visualize the style you want to create.
Make a customized piece of each piece from the actual board game. Then start executing. Don't be discouraged if it's difficult to start. That's the hardest part. Once your creation starts to come to life, it'll only get easier. Once it's done, have a reveal party with your friends!
Question: Is Settlers of Catan copyright protected?
Answer: Yes, it is. However, this shouldn't discourage you from purchasing a fan-made creation of the game or even designing your own board. The game is protected from people ripping off the exact design and trying to sell it. Creating fan art is entirely legal and actively encouraged!
Question: Where can I find custom Catan boards?
Answer: The best place to find custom Catan boards on the internet is through Etsy.com. Simply search it in the bar, and you'll begin to see all the custom creations on the internet. If that's not enough for you, I've also found eBay.com to be a suitable option for designs. Flickr, Tumblr, and Instructables are also interesting places to find custom Catan boards, but the options on these websites are generally one-of-a-kind options that creators are displaying and aren't necessarily for sale.
Question: How much do custom Catan boards cost? 
Answer: Custom Catan boards can vary heavily in price, depending on how exclusive the product is and how much time went into making it. I would say the average custom Catan board can range from $50 – $200. 
Question: Are custom Catan boards compatible with the original game?
Answer: It depends on the custom board. Some boards include just the board, while others include customized pieces and cards. However, it is rare that a customized board will include everything needed to play the game. Usually, customized boards are compatible with the original Settlers of Catan game and, in some cases, work with the Seafarers expansion pack.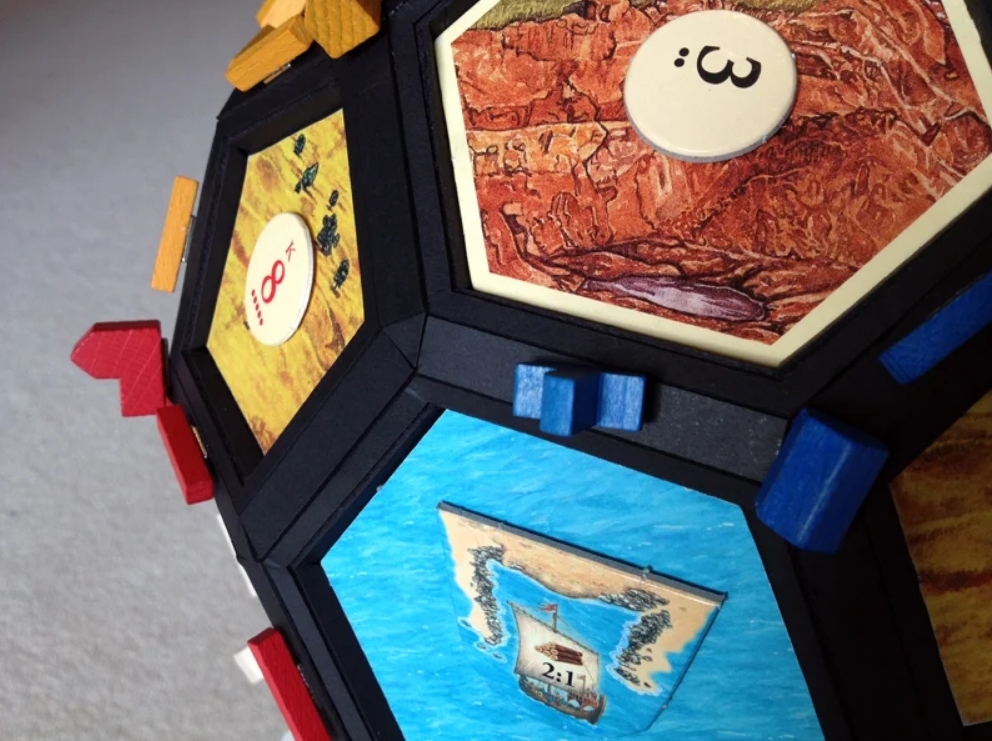 Conclusion
Overall, if you're looking to get a custom Settlers of Catan board, there are endless options to customize your gameplay experience. 
A personal favorite of mine is the Wooden Laser-Cut – 3D by MrWeebleWooblesShop because it is ridiculously beautiful. However, you can also go with a Paint-Your-Own Catan board if you're looking to make it more personal, or even a custom Seafarers board that fits every game piece neatly in place. There's truly something for everyone.
I hope this guide has been helpful in your decision to get a new board, as it has for me. I have my next board already ordered!
Recommended reads: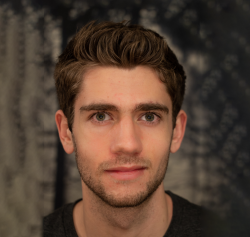 Latest posts by Nicholas Morris
(see all)