Today we'll be diving into two of my favorite things in the world- board games and horror vibes. That's right- I will be compiling a list of the best horror games of all time. Whether you're a casual horror goer looking for a few thrills or a complete horror nerd looking to have your night rocked, I will be covering it all.
Ready to get spooked?
Bottom Line Up Front
If you're looking for a quick answer, my top two games are Eldritch Horror and One Night Ultimate Werewolf. The former because it creates a real, in-depth horror experience that can get into your head. I'd say it's an "advanced" horror game and will satisfy your deepest cravings for a good story. The latter game, One Night Ultimate Werewolf, is more of a party game, but it's a ridiculously fun social game to play with casual horror fans.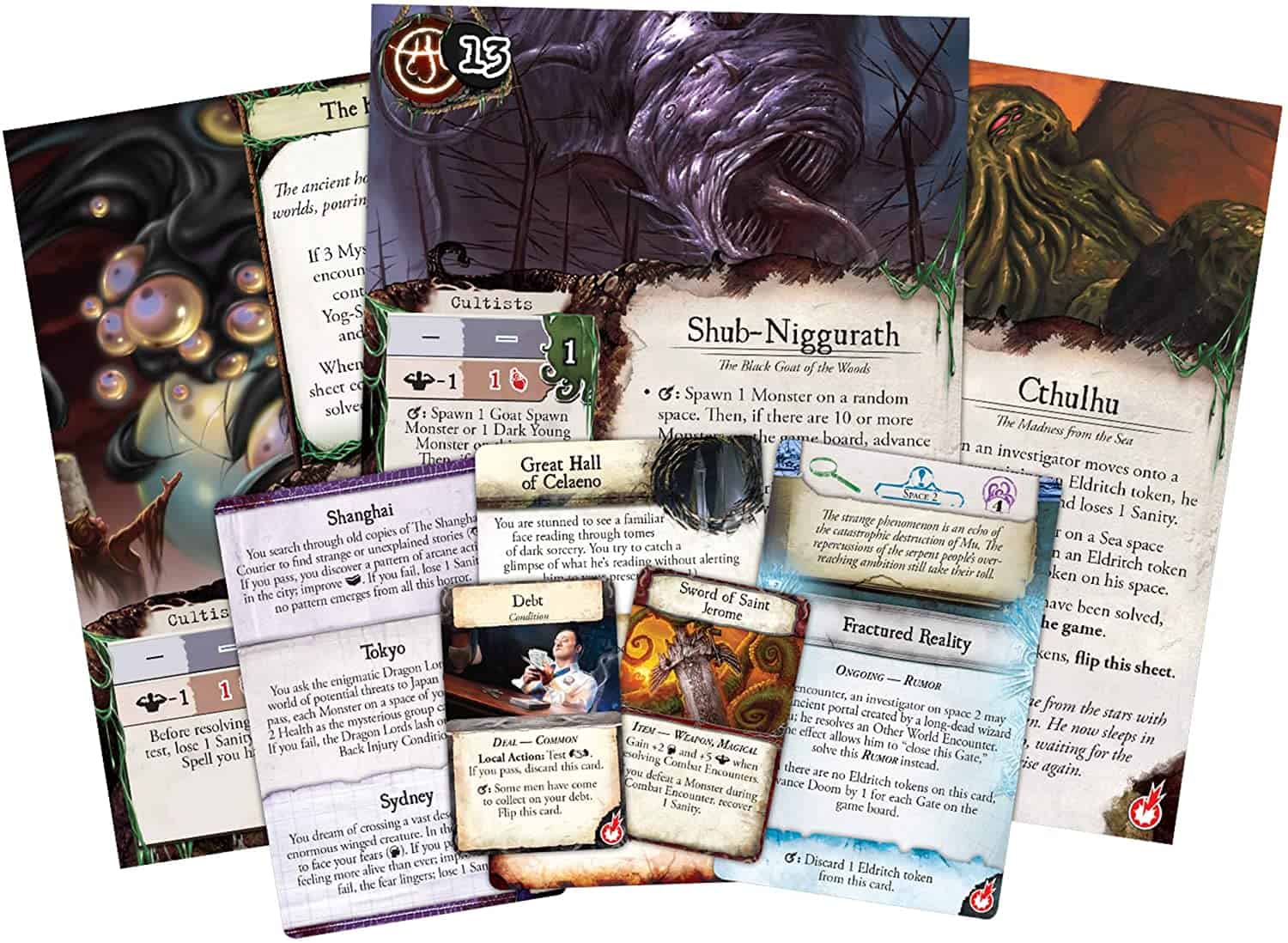 What Makes a Good Horror Game?
First, let's take a step back and determine what makes a good horror game. In my opinion, the main thing that makes a good horror board game is the level of immersion in the story-telling. The emotion of "fear" that we all chase when seeking out a horror flick or haunted house directly results from immersion.
The difficult part about making a board game scary is that you're most likely playing it while sitting at a table in the kitchen with your friends while drinking wine. It's not exactly "dark and moody," even if you turn the lights off. Therefore, I like to think of horror games simply as games that have solid story-telling and veer on the darker side.
My favorite types of horror games are among the likes of Arkham Horror, Eldritch Horror, and Betrayal at the House on the Hill. These games all pull you into a deeper story with your friends but are still creepy enough to fill my cravings. 
However, I still like to think that I appreciate horror games that don't traditionally fall into this story-telling (RPG) niche. Every once in a while, I'll pull out games like Zombie Fluxx, Trivial Pursuit: Horror Ultimate Edition, or even an Ouji Board. These games are short, fun, and good if I'm not in the mood to dive into a massive RPG session.
One last note I'd like to make in this section is that the artwork is always a big plus for me when looking for a solid horror game. Visuals are an important part of the experience to me. Therefore if the game cards and pieces look like they've had time put into their creation and are genuinely creepy, I'm significantly more likely to purchase them.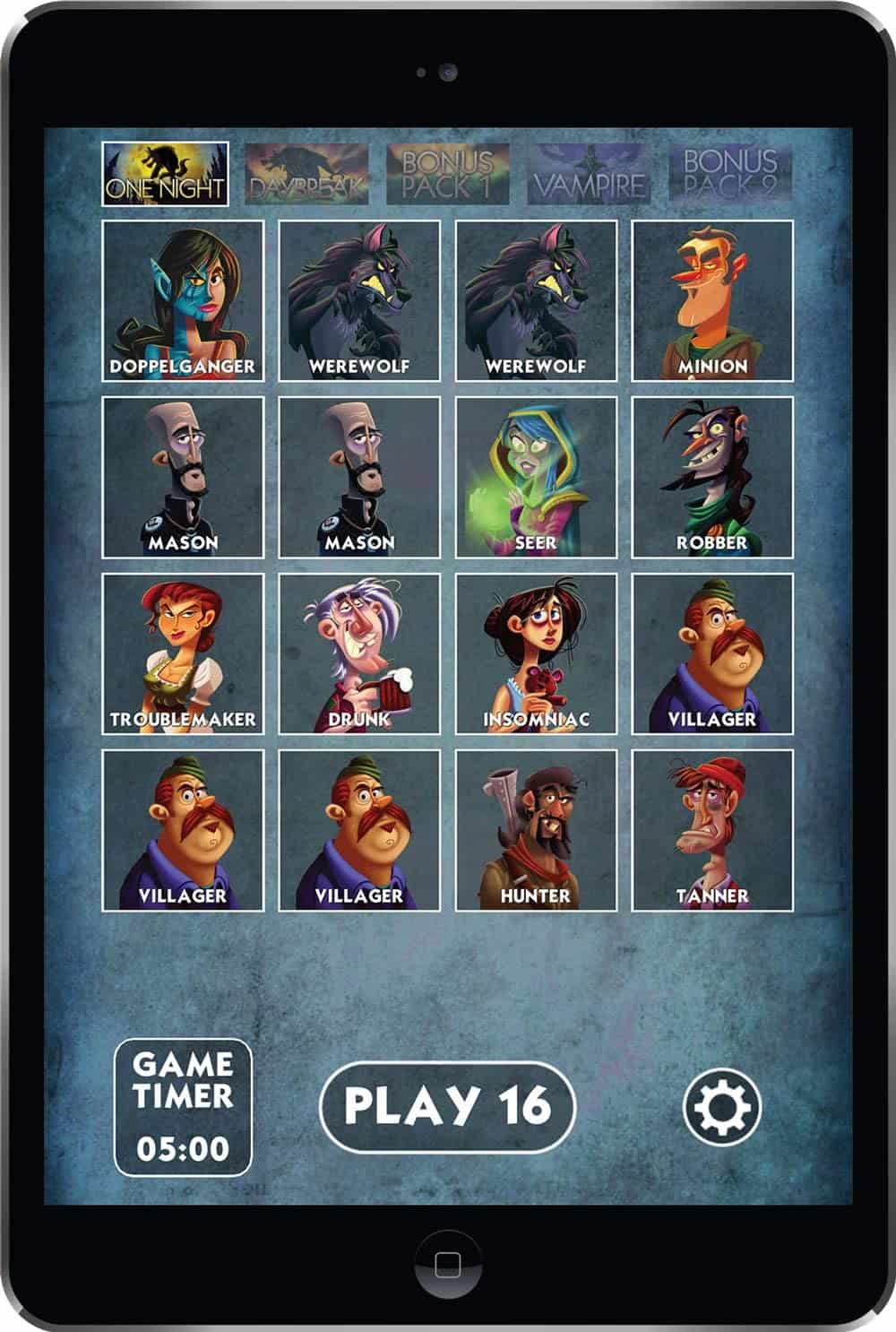 How to Find Horror Games
The best place to find horror games is on the internet. Places like Amazon allow you to look at reviews, see the game pieces, and even learn about the plotline before purchasing them. The thing about horror games is that they can often veer on the pricier side because they are a bit more niche in the gaming community. Arkham Horror definitely isn't on the same page as Monopoly.
The next best place to find a horror game is at your local board games store. You'll usually find them located on the outskirts of your town, inside malls or small strip malls. The good thing about these ma and pa stores is that you can talk to the owners, who usually have significant gaming knowledge, and help you decide what you want to buy. You might even be able to meet some new gaming buddies, as these stores usually host community game nights.
The final place I'd look for a horror game is in retail stores like Target or Walmart. Although keep in mind your selection in these stores will most likely be limited, as horror board games are quite niche. However, it couldn't hurt to look and see what they have next time you're out shopping. You might be surprised…
Best Horror Games
Now that you know what I look for in a horror board game and where to find them let us take a look at my top 9 board games. These are ranked in no particular order.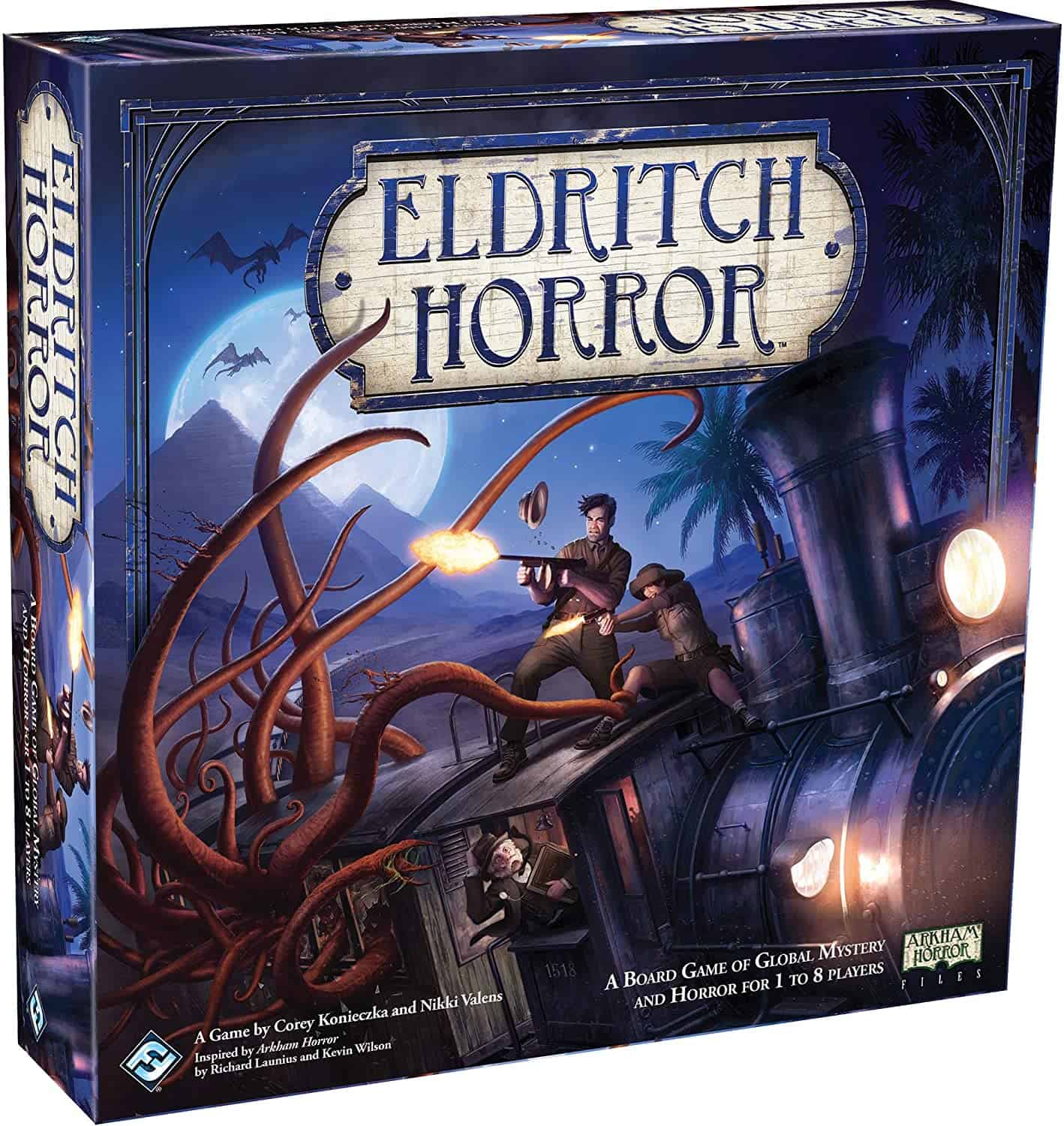 Eldritch Horror is a cooperative board game loosely based on HP Lovecraft's novels. The object of the game is to work together with your friends to defeat the Ancient One while encountering a wide plethora of monsters and encounters along the way. This game may be your choice if you're looking to get sucked into a creepy, hallucination-filled world. It generally takes 2-4 hours to finish and has over 300 hundred cards, 12 investigators, and 250 tokens. Get ready for the gameplay experience of a lifetime.
However, my absolute favorite part about this game is its artwork. It won Best Game Artwork in 2013 by Dice Tower Gaming Awards, as the monsters and designs are beautiful. If for nothing else, I'd get this game to appreciate some awesome, low-key visuals.
Pros
 Absolutely gorgeous artwork
 Has won several board game awards
Cons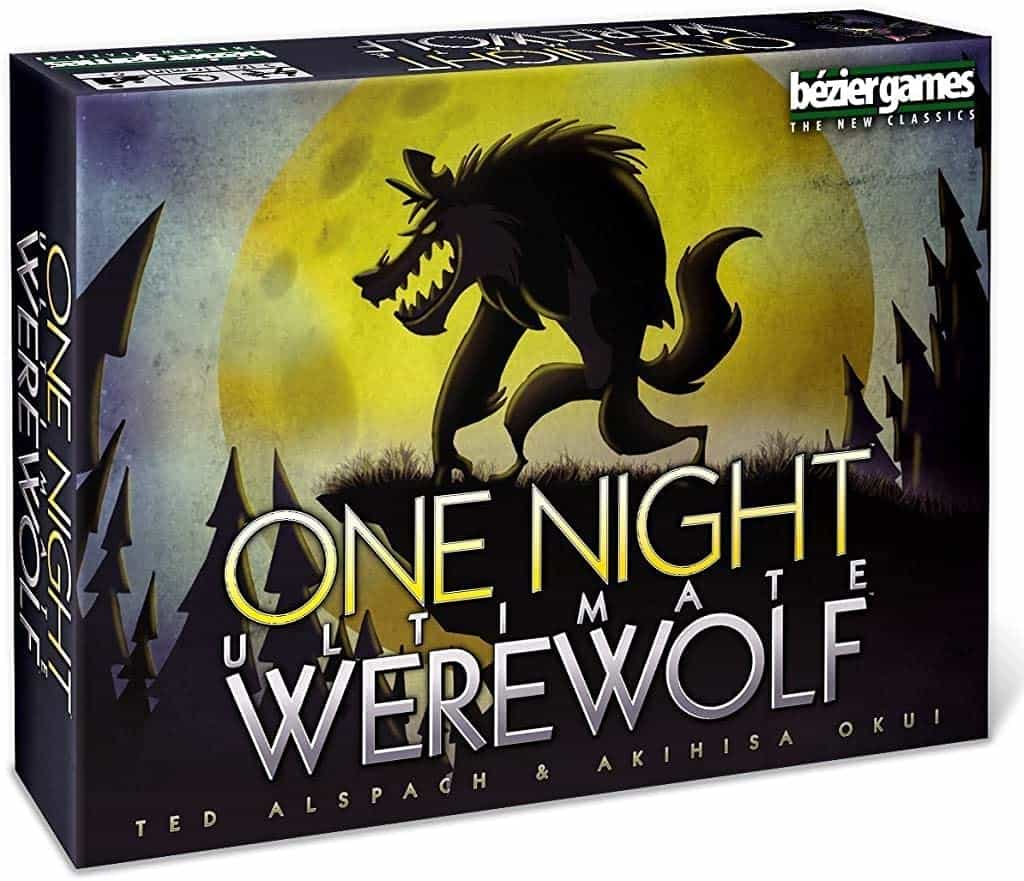 One Night Ultimate Werewolf is one of the fastest-playing games on this list, but that doesn't mean it doesn't hold its own in the rankings. This game is essentially a social deduction game that's based on the theme of identifying who the werewolf is amongst your friends. I love pulling this out during Halloween parties or any spooky event.
Since it's so fast-paced, it doesn't involve too much commitment or know-how, which is ideal when you're in an environment where people are drinking. It can support 3-10 players, each of who will get their own unique abilities to help move the deduction process forward.
Pros
Can support up to 10 players
Great party game
Cons
Isn't very "deep" story wise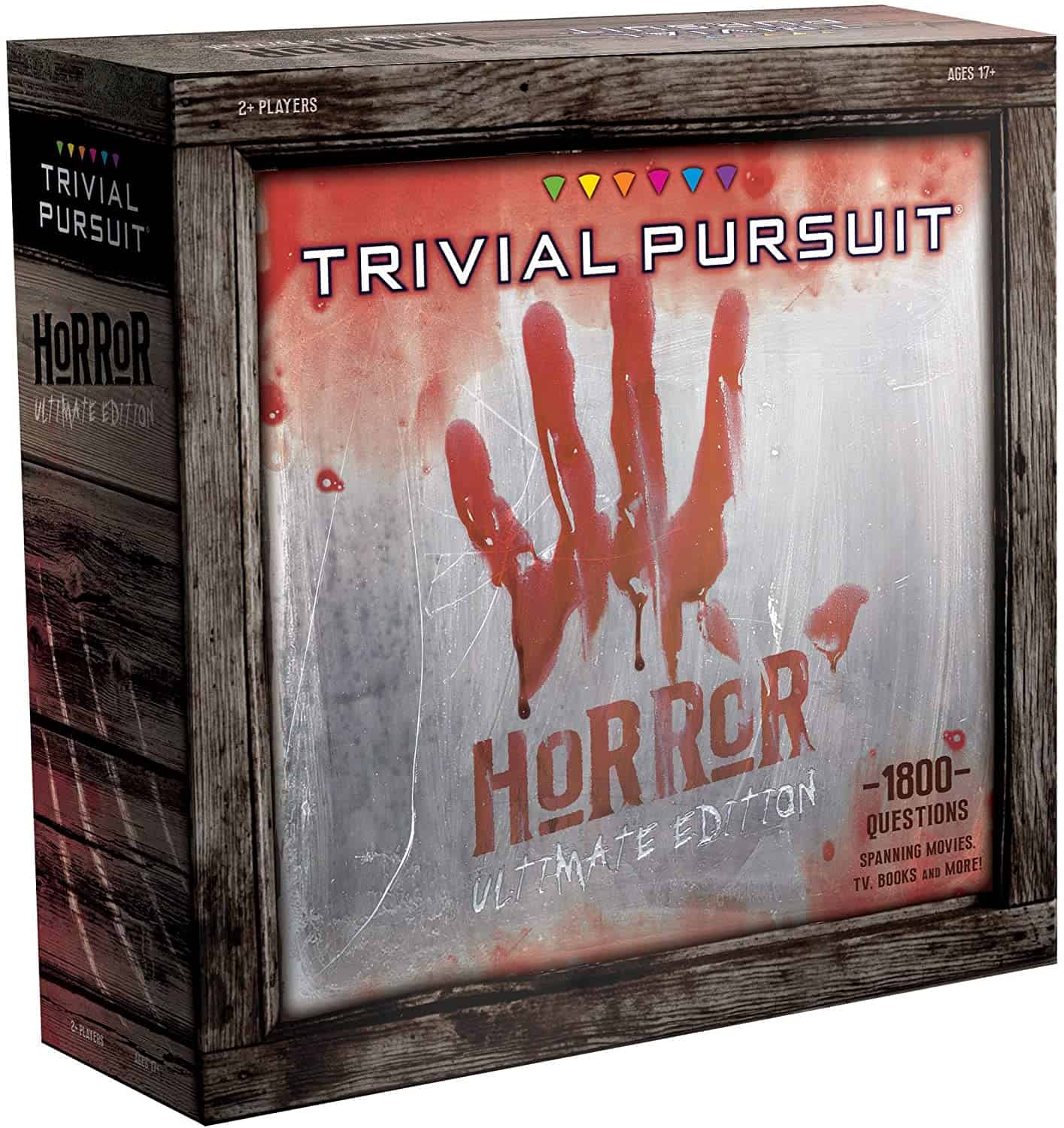 If you're a classic horror film and book geek, this game is your chance to shine. With over 1800 questions from across six horror categories, including psychological, monster, comedy, killer, paranormal, and disturbing, this game traverses the entire horror genre. Each game takes about an hour to play and can support 2+ players. 
I'd note that this game is heavily based around actors/actresses and directors' names from older horror flicks. If you're simply a casual horror fan, you might want to gloss over this one. However, for the die-hard know-it-alls, this game could become your claim to fame.
Pros
Tests your knowledge of the horror genre
Easy to learn format
Cons
More "niche" knowledge required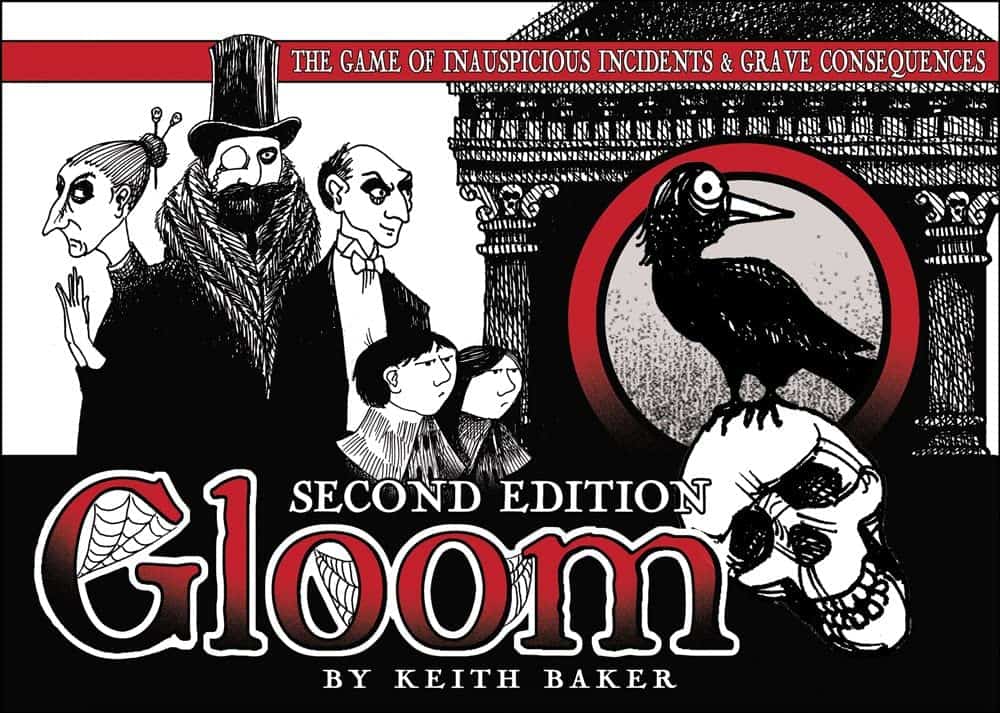 In an exciting game based on depression, this game could stir your senses in a way you've never seen. It's unlike any game I've ever seen. The point of Gloom is to make your character as miserable as possible and make your opponent's characters as happy as possible. It's like a complete 180 from what you expect out of life. For example, you might cheer your friends on with marriage (to make them lose) or get bitten by a rabid rat (to lower your character's self-worth score.)
If you particularly enjoy the game, it can be built upon with three expansion packs and played by up to 7 players.
Pros
Unique concept, creative story
Fast-paced game for parties
Cons
Can be a bit depressing to play
Arkham Horror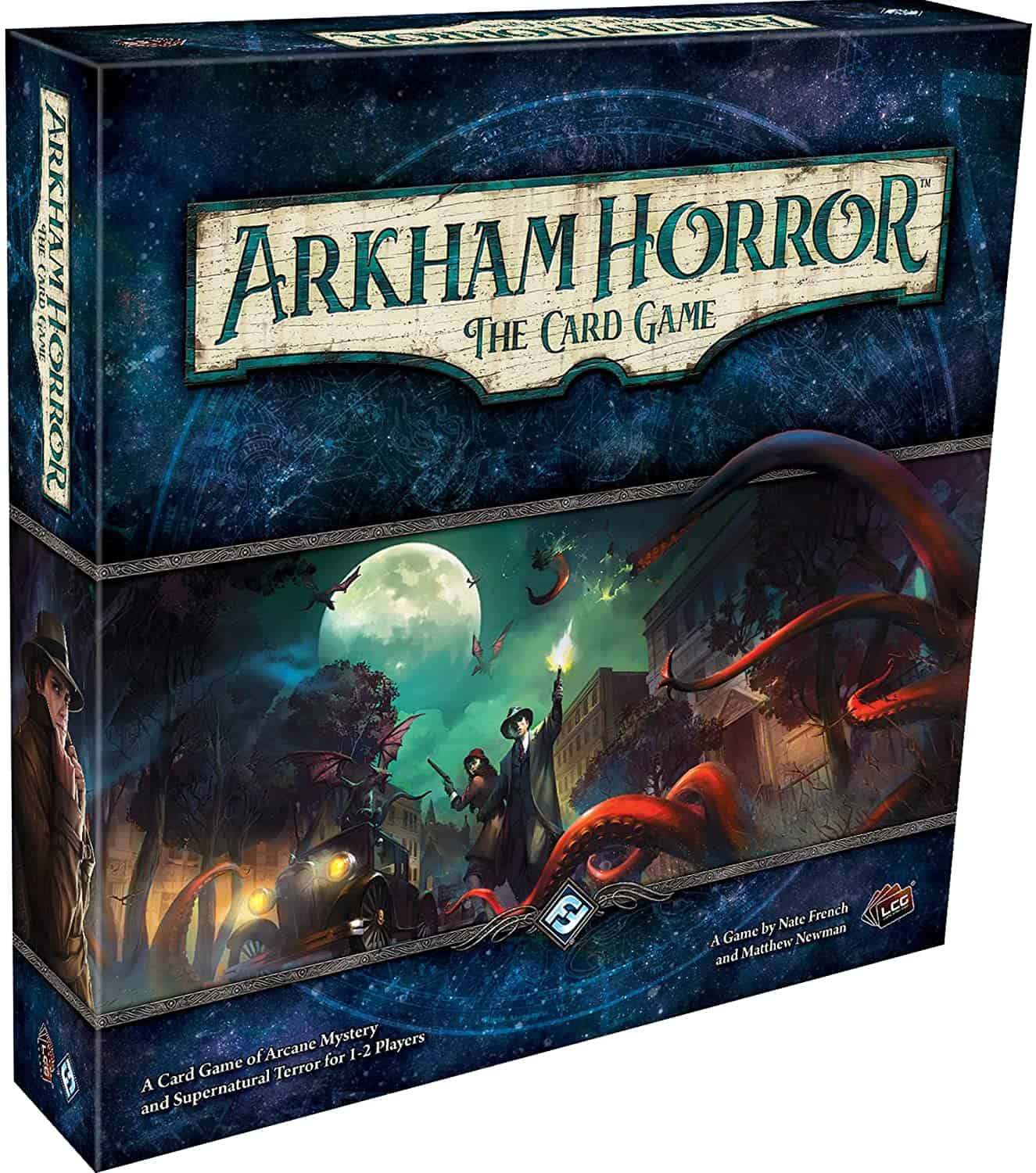 Arkham Horror is similar to Eldritch Horror in that it's a cooperative game based on HP Lovecraft's novels and that it's designed by the same company- Fantasy Flight Games. However, this game is different because it takes place in the roaring '20s, featuring mobsters, flappers, and Prohibition. The object of the game is to defeat one of the Ancient Ones before it breaks onto Earth. 
Throughout the game, you'll upgrade your character, acquire skills, and fight all sorts of monsters. It'll hold your attention and pull you in, as each session can last 2-4 hours. This game has also won several nominations over the years, including the 2006 Golden Geek's Best Board Game Nomination. It might be one of the market's most well-known horror board games.
Pros
Beautiful artwork, award-winning game
Cooperative bonding experience with friends
Cons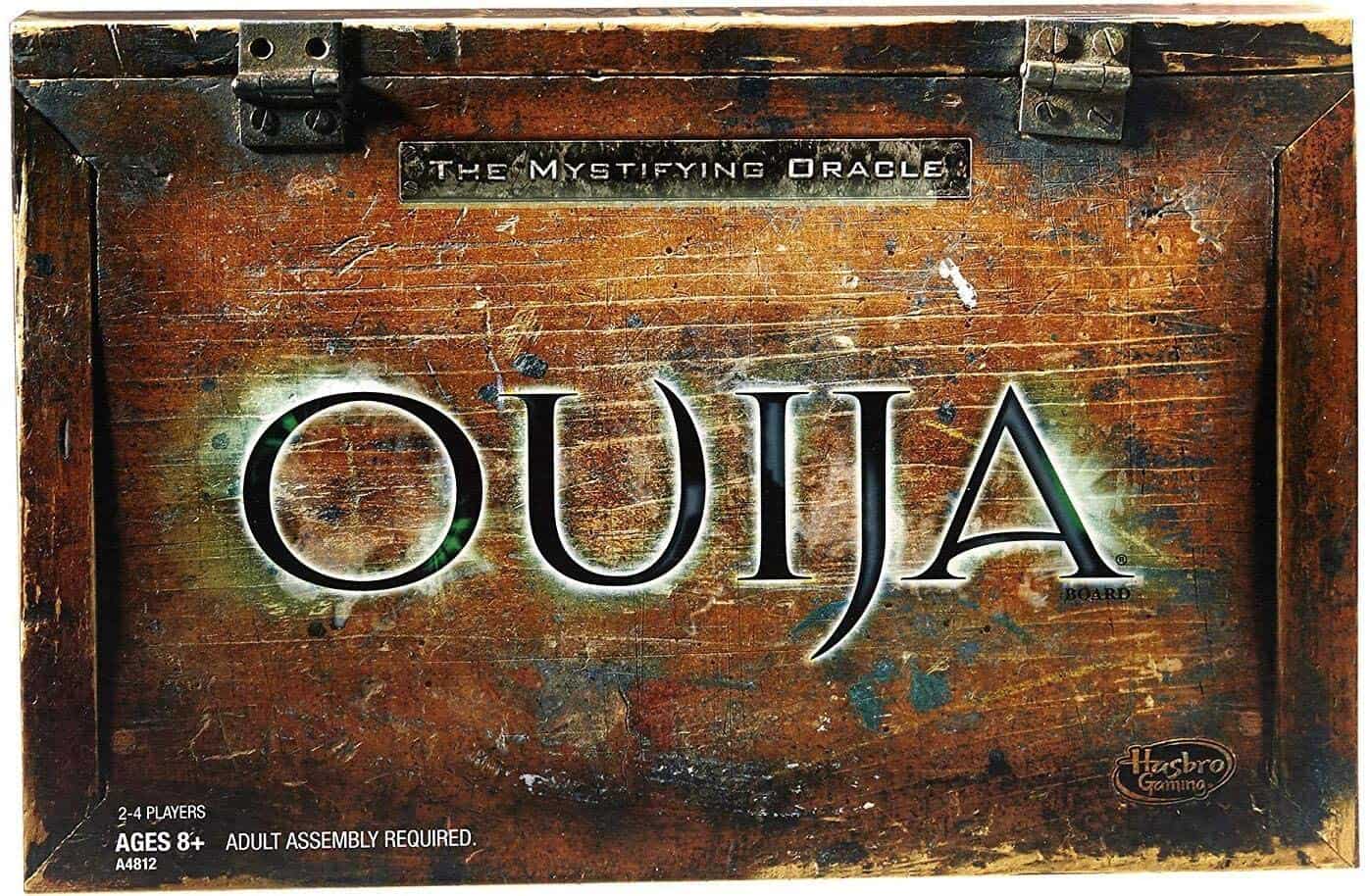 I couldn't complete this board game without including one of the most classic horror board games of all time- the Oujia Board. Although it might not technically be a "game," it does draw a similar crowd and reaction, as it is touted to give a "glimpse into the past, present, and future."
The point of the board is to ask it questions, to which it mysteriously answers back. The trouble is that you never know if your friends were moving the marker to answer the questions or if it was a real spirit… Whether you believe in the supernatural or not, it's a fun experience to have at least once in your life and can be taken to the next level with candles, props, and an enthusiastic host.
Pros
Probably the "scariest" game on the list, if done right
Opportunity to get creative with a moody setting
Cons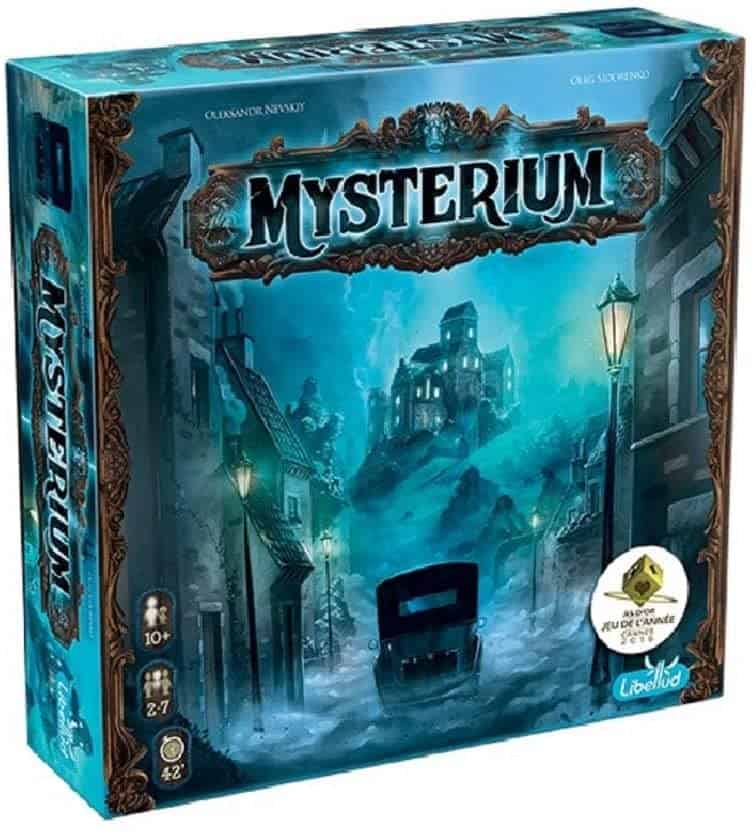 Mysterium is all about becoming a psychic to solve the mystery of a killer ghost. Each player will be a different medium, and one player will be the "ghost." If I were to compare the game to a classic, I'd say it's most similar to Clue. The "ghost" player must lead the rest of the players through the process of finding the murder weapons and locations for each medium playing. This makes the game a bit more advanced than Clue, and it's more visually appealing as it involves vision cards.
It's a great game that can be played with 2-7 players and can take anywhere from 30 minutes to an hour. I'd recommend it if you're willing to suspend your disbelief a bit, as the story gets a little wonky. But if you keep with it, you'll learn to love it. 
Pros
Is essentially an "enhanced" version of Clue
Quick but deep gameplay
Cons
Must suspend beliefs for story-line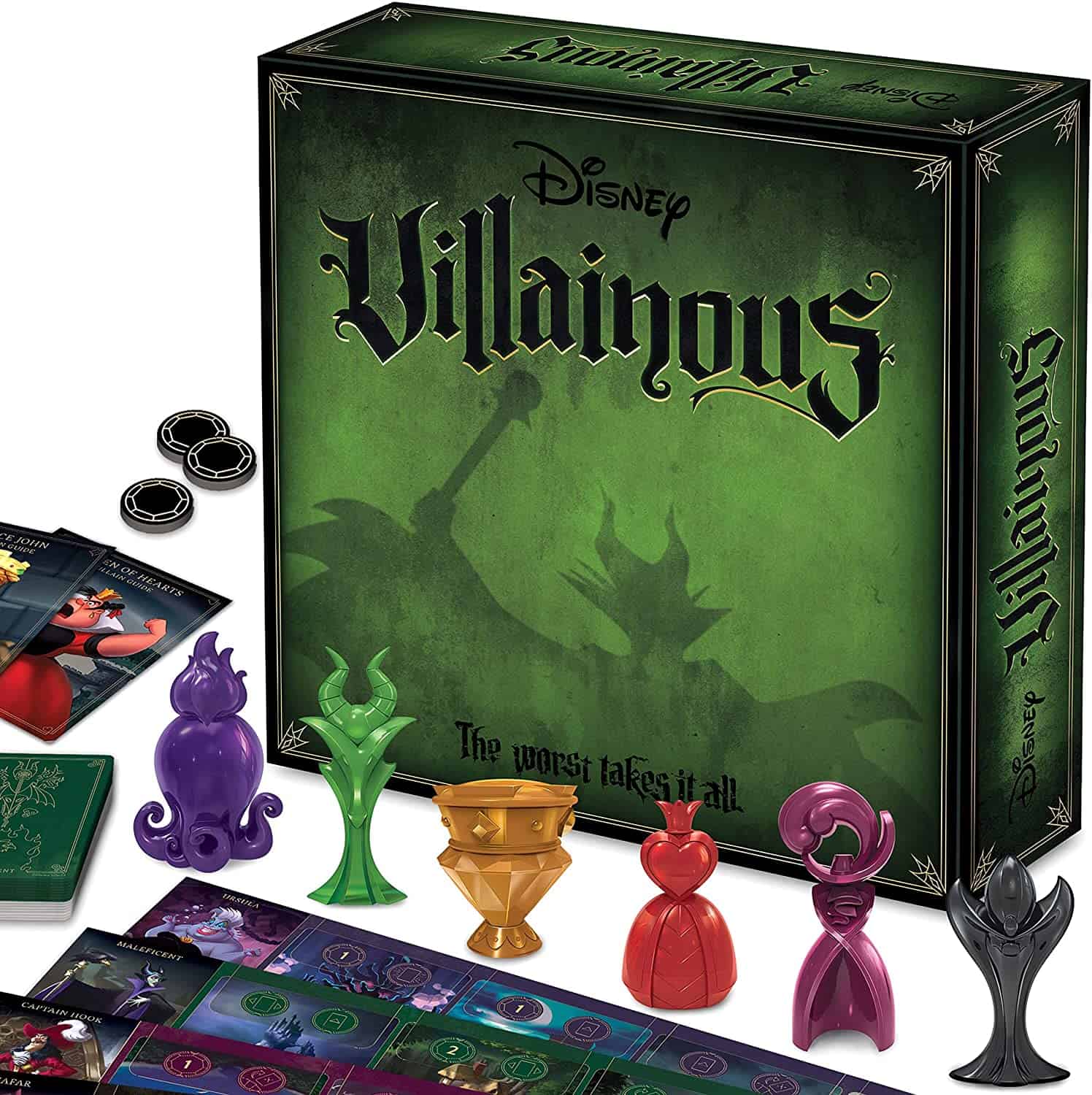 Villainous is about as PG of a horror game as you can get because the game is entirely based around Disney villains. Although it can take a little bit to understand as the game is fairly complicated, it's well worth it. The point of the game is to pick a Disney villain (such as Maleficent, Scar, or Jafar) and use them to defeat your opponent's villain. It's fun because each villain has a unique course of actions it must complete to win, all based on their movie plots.
One thing I particularly enjoy about this game is its replay value. Each villain requires an entirely different strategy to play as and defeat, which will keep you coming back for more. The game also features several expansion packs, allowing you to play with new villains. 
Pros
Different strategies for each game
Beautiful story-lines and art
Cons
Can be confusing to learn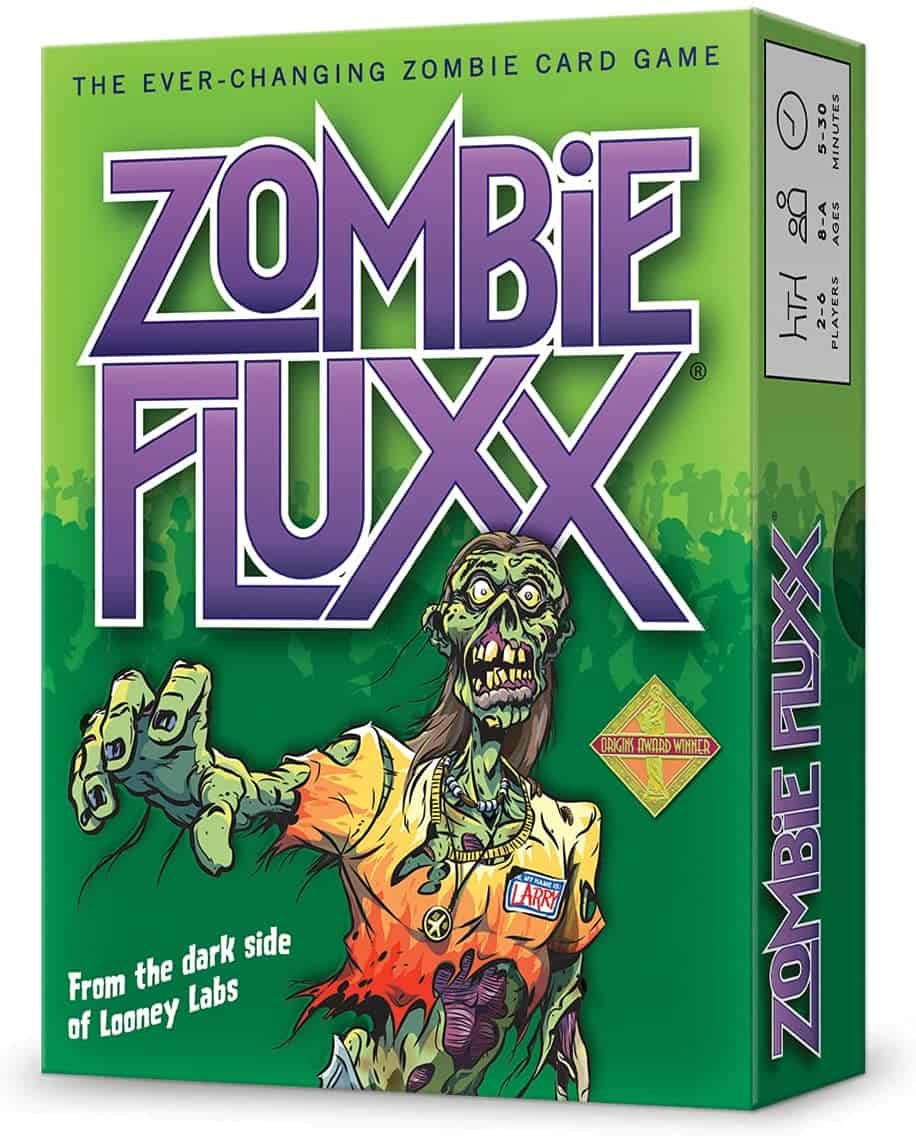 Zombie Fluxx is an exciting card game in that the game's rules are constantly changing. For example, there could be new ways to win, different ways to draw cards, or methods to play cards with each card you draw. It constantly keeps you on your feet and can be played relatively fast with 2-6 players, which I enjoy. Since the game is all played on cards, it makes it a good game to play on the road. 
Fluxx is part of a larger game with many different themes, editions, and special cards. The Zombie Fluxx version just happens to be zombie-themed, making it my favorite. It'll always hold a place on my horror shelf. 
Pros
Fast-paced, constantly changing rules
Several other versions to mix things up
Cons
Not traditionally "scary"
Frequently Asked Questions
Question: What are the scariest board games?
Answer: The scariest board games would be either Eldritch Horror or Arkham Horror. These games do a fantastic job of creating a level of immersion that makes you feel like you are actually there. Each game lasts 2-4 hours, and you spend a lot of time building your character's skills and becoming invested in the outcome. The visuals for these games are fantastic as well- they are all based on HP Lovecraft's books.
Question: Are horror board games difficult to learn?
Answer: It depends on the game. Some games, such as Zombie Fluxx or One Night Ultimate Werewolf, are easy to pick up and teach your friends. However, other games like Mysterium or Eldritch Horror can require a bit more investment to fully appreciate. 
Question: Where can I get a horror board game?
Answer: The best place to pick up a horror board game is online, where you can read reviews and determine what type of game would be best for your needs. Getting a game in a local shop is also an option but can be more expensive. 
Question: Are Oujia Boards a game?
Answer: Not traditionally, however, Oujia Boards can be made into a game if you're willing to ask it more light-hearted and targeted questions. No one knows for sure if the magic of Oujia Boards is real. Only one way to find out…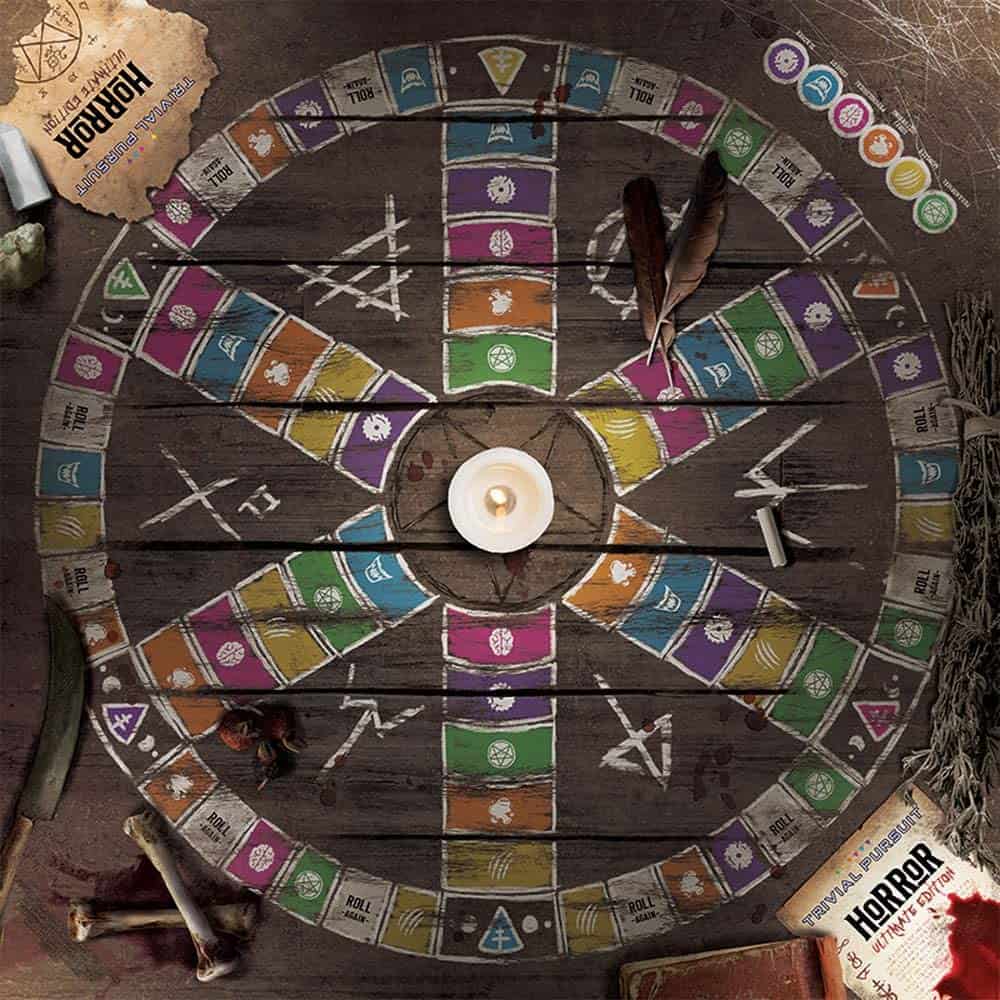 Conclusion
Overall, there are all sorts of horror games that can satisfy your every horror need. Whether you're a horror geek representing classic films or a party animal with a thing for werewolves and zombies, there's a game for everyone.
My favorite game on the list is Eldritch Horror because I'm a huge HP Lovecraft fan. It's got all the elements of horror to keep me invested. It is a great joy to play when you have a free night with your closest friends. On nights when I'm looking to party, I also like to pull out One Night Ultimate Werewolf. It's a great social deduction game that will get everyone at the party talking.
I hope this guide has been helpful in picking out your next horror game classic! See you on the other side…
Recommended reads: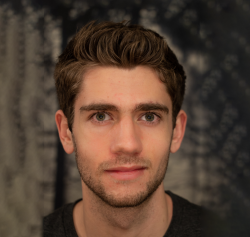 Latest posts by Nicholas Morris
(see all)