Across the Board Horse Racing is an epic game that'll give you a rush of adrenaline almost as powerful as the kind you get from being at a real-life race track.
With a gorgeous maple veneer wooden board and detailed pieces, there's no doubt that this is a board game that'll last you a lifetime. Whether you choose to play for money or just for fun, the feeling of bagging yourself a win never gets old. Especially when it means beating your friends and collecting your winnings!
In this comprehensive board game guide, I will go over everything you need to know about Across the Board Horse Racing, including how to play, how the game came about, and some fascinating information about the real-life sport that it's based on as well.
Whether you're a newcomer to horse racing or you consider yourself a bit of an expert, there's plenty to love about this game.
Players – 3-7
Recommended age – 8+
Playing time – 60 minutes
Across the Board Horse Racing is a game that has been around for decades owing to its simplicity, with one of the earliest versions being published in 1975 by MPH Games Co.
However, the version that I will focus on in this guide is manufactured and published by Across the Board, a family-run workshop based in St. Louis.
The company was founded by Ryan and Kim McDaniel, a young couple with experience in construction and woodworking on the one hand and marketing on the other. All the board games they produce are high-quality reinventions of old classics without the need for batteries or computer screens.
Across the Board games are designed to last for generations to come. This is something that makes the company and its products so unique; nowadays many board games are mass-produced with cheap plastic components, so it's refreshing to see a real wooden board.
Though simple, this is one of those games that you immediately want to play again after you've finished just to relive the sheer excitement of it.
A Brief Introduction to Horse Racing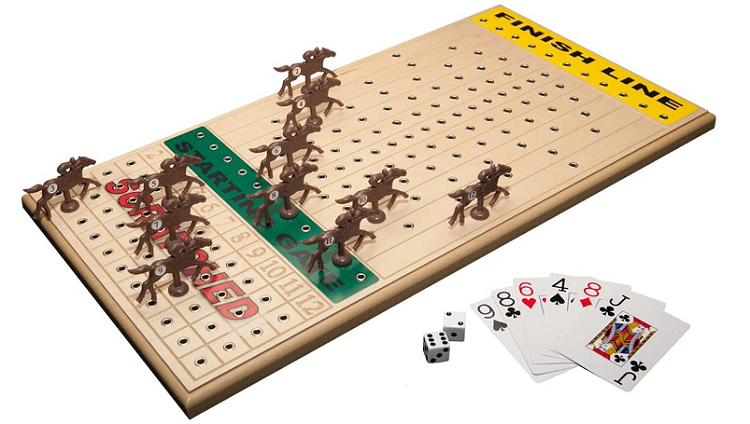 The game itself doesn't require any existing knowledge of horse racing, and it's absolutely possible to play and enjoy Across the Board Horse Racing as a complete newcomer to the sport.
However, learning a little bit about where horse racing came from and how it works in the real world certainly adds an extra dimension to the board game.
Horse racing has been practiced in many civilizations for hundreds of years, so it has a long and distinguished history behind it. There are different formats and rules in racing depending on which historical period you're interested in, but most can be defined by:
Running over obstacles
Running a particular distance
Racing a particular horse breed
Racing on different surfaces
Today, the vast majority of horse racing happens on a grass or dirt track which varies in length, sometimes – but not always – involving jumps. Thoroughbred horses are typically used thanks to their powerful muscles and unusually large hearts, making them ideal for running very quickly.
Standardbred racing and Quarter Horse racing are also popular variations in the US.
The gambling aspect of horse racing is both socially and economically significant – part of the fun for most spectators is placing bets on whichever horse they think will win. Part of Across the Board Horse Racing's success can undoubtedly be attributed to its use of a kind of gambling.
Design of the Game
Across the Board Horse Racing features a stunning handmade design with a real wooden board. You can choose whether you would like walnut or maple wood, the latter of which is much darker.
Either way, there's no denying that a lot of care and attention has gone into the game. The horses and jockeys look fairly realistic – though it's a shame they're all one color rather than being individually painted – and all of the components come in a lovely wooden box.
This is the kind of game that's perfect as a gift that will be treasured for a lifetime. Even the cards and dice come in a neat little pouch to keep them safe.
The Aim of the Game
The aim of the game is to be the player with the most money, or chips, at the end. There are eight rounds, each of which follows the same structure. The cards that a player has in their hand and the numbers that they roll on the die determine their fate.
The numbers that are painted on the horses correspond to the numbers on the deck of playing cards; this is how the winner of the race is determined.
How to Play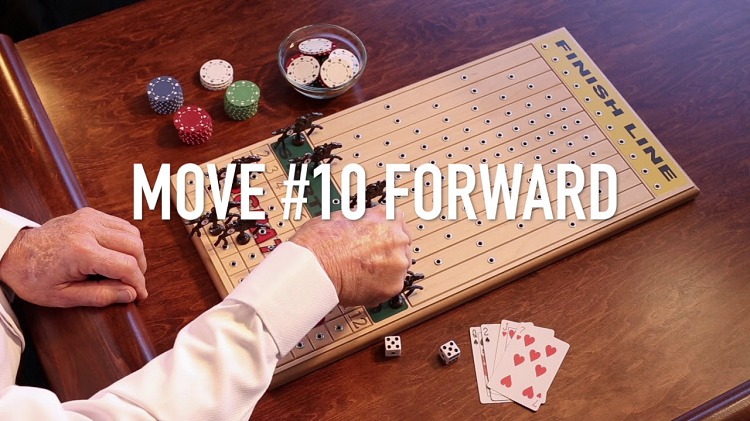 Are you ready for some horse racing action? Here's how to play the game.
Setup
Preparing the Board
First of all, place the racing track on a table with enough space for the dice to be rolled nearby.
Take the deck of playing cards and remove the kings, aces, and jokers. Shuffle the forty-four cards that are left and deal them out between the players.
Next, place all horses at the starting gate.
Decide on a currency for your game. You might want to play using poker chips or ten-cent coins, for example. These will be used to build up the "pot" during the game.
Scratching the Horses
To anyone who's unfamiliar with the world of horse racing, "scratching the horses" probably sounds like a strange expression, but all this means is that some horses need to be eliminated from the race.
The player to the left of the dealer rolls the dice.
The numbers on the dice should be added together, and the total tells you which horse is going to be scratched.
Move the corresponding horseback to the first line; it won't be involved in the race.
All players should check their cards. If they have a card with the number of the horse that has been scratched on it, then they should discard it.
Players who had to discard a card should also pay one chip/coin into the game pot.
Repeat this process until four horses have been scratched from the race.
Gameplay
It's very easy to learn how to play Across the Board Horse Racing, and this is part of what makes it so enjoyable for families and friends alike. Follow these instructions, and your horses will be galloping down the track to victory in no time.
Taking a Turn
Roll the dice and add up the total score
Move the corresponding horse forward one position
If their score is the same as one of the horses that has been scratched, the player should pay one chip or coin into the pot.
Play continues clockwise with a horse moving forward, or a chip is added to the pot each time until one of the horses reaches the finish line.
Winning the Game
For example, imagine that horse number eight crosses the finish line first. All players who have an eight in their hand win.
This is where you have a decision to make because there are actually two different options here in terms of how to play.
You might decide to just play one race, in which case the pot should be split equally between all players who had the winning card (continuing with our example, all players who had an eight).
However, if you're competitive and you don't like sharing a win – or for that matter, you just want the game to last longer – you can play eight rounds to decide the overall winner.
To do this, repeat the process described above, keeping track of who wins each race. Again, it's a good idea to keep some kind of collaborative score sheet, so there are no disagreements about how many races have been won by each player.
Throughout the eight rounds, the pot will continue to grow, adding to the stakes – especially if you're playing with real money. After the eighth race, count up each player's wins – the person with the highest number gets the pot.
If there is a tie, you could run one more race or decide to split it.
Who is Across the Board Horse Racing For?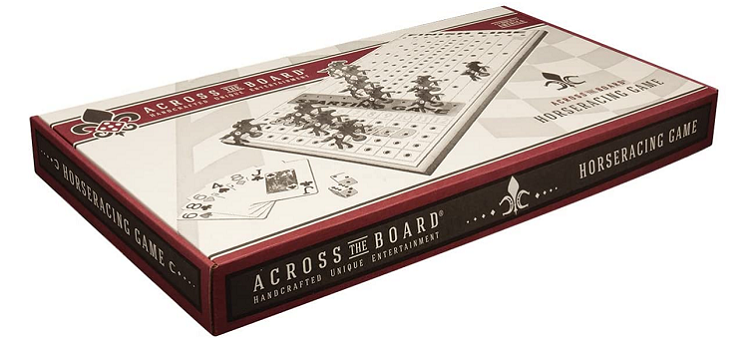 The game manufacturer doesn't provide any guidelines about what age group it is for, but it's agreed within the gaming community that Across the Board is pretty much universally enjoyable.
However, the game isn't suitable for children under three years old due to small components presenting a choking hazard.
You can play Across the Board Horse Racing with two to six players, making it an ideal family game.
Although the game was clearly designed with horse racing fans in mind, you definitely don't have to know anything about the sport to enjoy it. As you'll know by now, the rules are very simple, so even young children can get to grips with how to play quickly.
It's worth noting that if you enjoy strategy-based board games, this probably isn't the one for you. Gameplay relies predominantly on luck based on the random cards you are dealt and the numbers you happen to roll.
While this is a strength in some respects, it also means that seasoned board game enthusiasts who like something with a little more substance might find it tedious after a while.
Nevertheless, one of the best things about Across the Board Horse Racing is that almost anyone can play; it can bring people of different ages together and make them smile.
How Many Pieces are There in Across the Board Horse Racing?
Here are all the components involved in the game:
1x wooden race track
11x numbered horses
2x die
1x deck of playing cards (52 cards in total)
1x velvet pouch
Alternatives to Across the Board Horse Racing
Here are some other games I'd recommend. I've included a few that are similar and some that are totally different.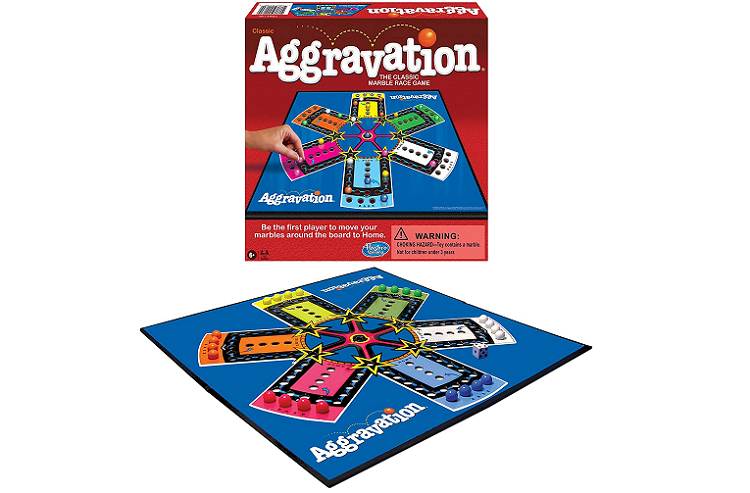 Aggravation is similar to Across the Board Horse Racing in that it involves moving pieces across the board in a race. However, the aim of the game is to be the first player to get all four marbles home, and movement around the board is determined by the roll of a die. As such, it's suitable for a wide range of people – including families – owing to its simplicity.
Want to find out more? Read our full Aggravation board game guide.
Players – 2-6
Recommended age – 6+
Playing time – 45 minutes
If it's the racing aspect of Across the Board Horse Racing that excites you, Don't Wake Daddy is another game I'd suggest trying. The aim of the game is to make it to the kitchen to sneak a midnight snack before the other players and without waking daddy, of course! I'd say it's definitely aimed more at kids than adults, but it does make a fantastic family game.
You can read our Don't Wake Daddy board game guide to decide whether the game is right for you.
Players – 2-4
Recommended age – 3+
Playing time – 20 minutes
This one is a little bit different, but it's a hell of a lot of fun to play with friends and family if you can take fierce competition in the cut throat world of business that is! Can you keep your cool and come out on top even when your opponents stab you in the back, gang up on you and defraud you? Find out in Cover Your Assets!
We have a Cover Your Assets guide covering how to play (and how to win) if your interest has been piqued.
Players – 2-6
Recommended age – 7+
Playing time – 15-45 minutes
Across the Board Horse Racing – is it Worth Buying?
I'm going to be honest, I really love this game. Everything about Across the Board Horse Racing is appealing. It's high quality; the board is wooden and designed to last a lifetime; it's easy to play; it's fun; and it's simple without being boring.
Whether you're playing with family or friends, this is one of those games that always goes down a success. It never fails to put a smile on my face, and for that reason I wholeheartedly recommend it.
Frequently Asked Questions
Question: Does Across the Board Horse Racing come with a carrying bag for the pieces?
Answer: Yes, it comes with a beautiful box for the board and a velvet bag for the horses.
Question: Are there instructions included in Across the Board Horse Racing?
Answer: The game comes with a full set of instructions that are easy to follow.
Question: Where is Across the Board Horse Racing made?
Answer: It is manufactured in a workshop in St Louis, which is where Across the Board is based.
Question: Is Across the Board Horse Racing hand made?
Answer: The wooden board is hand crafted.
Question: Can you play Across the Board Horse Racing Solo?
Answer: Unfortunately it isn't possible to play the game solo, but there are many other board games out there that can be played with just one person. Check out our guide to the best solo board games for more information.
Recommended reads: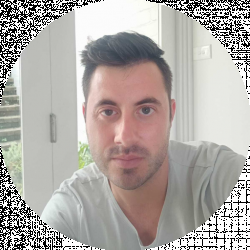 Latest posts by David Borgogni
(see all)