Catan is one of the original resource-gathering games. It was released in 1995 and since then has become a fan favorite amongst households.
Of course, Catan built onto this love for the game by creating expansion packs and accessories to make the game even more fun and easy to play throughout the years. Below you'll find a list of some of the best Catan accessories available today.
Bottom Line Upfront
If you had to only choose one Catan accessory, I would go with the Catan Trading Post. It has multiple uses from card organization to a dice tray and is very well made. This accessory seems to solve all the major annoyances that come with most card and dice games.
Criteria for Catan Accessories
This is the criteria I used to make the product recommendations in this guide.
Organized
One of the main goals of all accessories for any game out there is to make it more organized. Catan especially has many pieces involved. Therefore, any accessory that adds to the organization of the game is a huge bonus.
Works for Expansions
Catan is a game that has a few different expansions. If you are a true Catan lover like myself, I am sure you have at least one or two expansions that could use some accessories. Therefore any accessory that accommodates the expansion packs is a great accessory.
Adds Value to Catan
I think the definition of an accessory to a game is a piece that adds value to the original game. That being said, the value-added through an accessory should be obvious. Rather it is organizing playing pieces, making the game easier to travel with, or adding a bit of luxury to the game.
Keeps Pieces Safe
We all want our board games to last a lifetime. They aren't cheap as is and they become even more expensive as you build on to them with expansion packs and other accessories. Therefore, any accessories that keep your pieces, cards, and board from getting damaged are a must.
Best Catan Accessories: Catan Hexadocks Set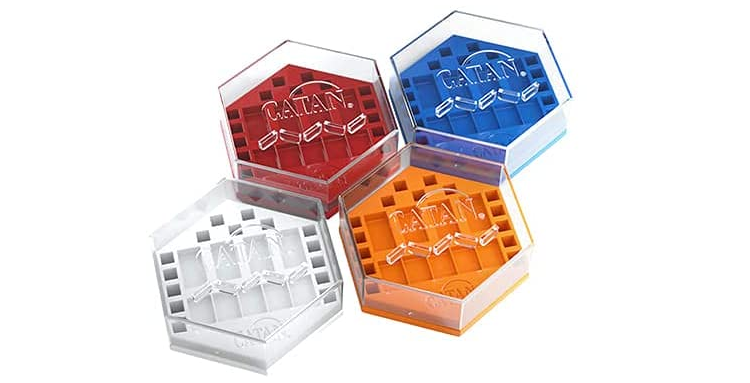 Pros
Keeps pieces organized
Keeps pieces safe from dings and chips
Compact size
Cons
 The base set doesn't come with cases for expansions
Hexadocks are specially made cases to hold all of the wooden pieces included in Catan. These cases keep all of the pieces organized with slots to put each piece in and are color-coded to match the pieces. Using the hexadocks is a good way to keep your wooden pieces in pristine condition without dings and paint chips.
Each hexadock is made of a hefty plastic material with a snap-on, clear lid. The cases are very compact being the same dimensions as the Catan hexes used on the board. You could definitely fit these cases inside the Catan box with all the other components.
The base set only comes with 4 hexadocks in colors red, white, blue, and orange. However, there is also an expansion you can get with these cases that have the additional 2 cases. They match the green and brown pieces that come with the 5-6 player expansion of Catan.
Catan Trading Post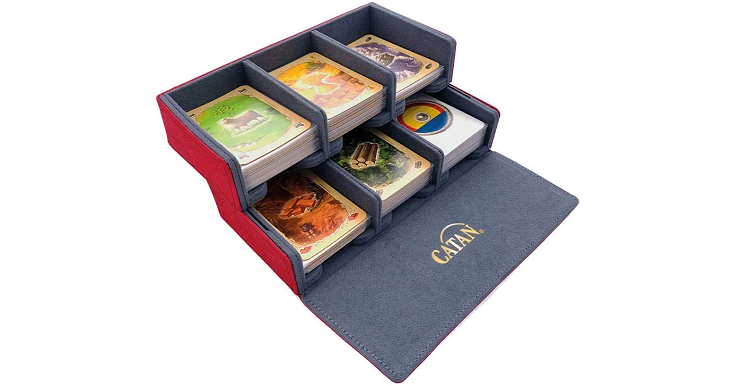 Pros
6 cardholder spaces with enough space for sleeved cards
The cover is also a dice tray
Double tiered to make all cards visible
Cons
Limited use outside of Catan cards
The Catan Trading Post addresses one of the most annoying parts about games that involve multiple card decks. It organizes all of the different resource cards and development cards into 6 different compartments that are large enough for expansions as well.
Each compartment is easily accessible with the top-level sliding out making the bottom level visible. The slots are also slightly tilted back to keep your cards from falling out.
Another bonus that they have added to this accessory is the lid of the box turns into a dice tray. The lid magnetizes onto the box and when removed, the sides can be lifted up and magnetically connected to create a walled tray.
The box and dice tray lining are made of soft microfiber to keep your cards from getting damaged and your dice having a quieter roll.
You may love this card case so much that you want to use it for some of your other card and dice games. Unfortunately, Catan cards are slightly smaller than the average card. Since this accessory is made for Catan cards, you will not be able to use it with most other card games.
Catan Hexatowers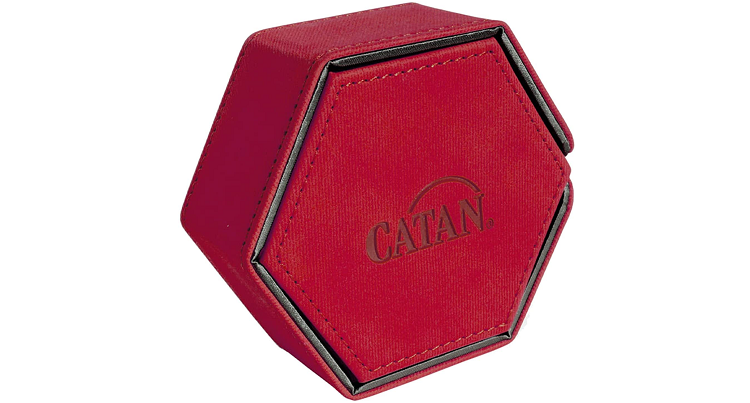 Pros
Soft to the touch, the fabric creates a soft dice rolling sound
The magnetic top can be turned into a dice stopper
Inner ramps to seamlessly roll the dice
Cons
A little expensive for a dice tower
Catan's Hexatower is a multifunctional dice tower that can be used as a dice roller, dice stopper, and dice storage container. The roller has ramps built-in on the inside that makes for a smooth roll.
The lid wraps all the way around the dice tower with magnets and can be removed and turned into a dice stopper on a table by attaching each magnetic side to the tower forming an enclosed area.
You can get the Hexatower in two different colors. It comes in red and yellow. The fabric is a soft-to-touch Nexofyber and the inside has a microfiber lining making for a nice, soft rolling sound. You can also use this dice tower for any other game involving two dice.
Even though the Hexatower feels and looks luxurious, it is quite expensive for a dice tower. With the cost being nearly $20, it is double the cost compared to similarly sized and designed dice towers. If you love Catan and simply want a dice tower made for this game, it may be worth it.
Catan Play Board
Pros
Rolls up for on the go play
Neoprene material
Reference cards built in to play board
Cons
The board is not customizable
Requires pieces from the original set
If you wish there was a way to play Catan anywhere, this playboard may be for you. It is a flexible board that is already put together and can be used on planes, trains, or anywhere else that has a semi-flat surface. This board is made to be able to roll up and bring anywhere with you.
It is made of neoprene, which is similar to silicone. Because of this, it is flexible, water-resistant, and slightly sticky so your pieces are less likely to fall off the board. Everything is built into the board including the reference cards so there are fewer pieces that move around making it great for on-the-go play.
With the board being put together initially comes the inability to customize the board like in the original game. It is preset to the setup recommended for beginners.
You also need the pieces and cards that come with the original set as it does not include them. Therefore, you could simply bring the hexagon resources along with the additional pieces and cards but this may take away from some of its mobility.
Handmade Glass Catan Robber Pawn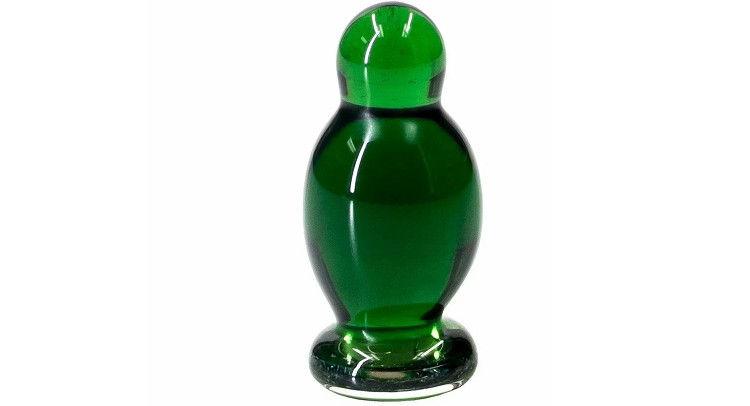 Pros
Every robber pawn is unique
A luxurious addition to the original game
Cons
Catan's original game comes with a very basic wooden robber pawn. The robber pawn prevents other players from collecting resources by being moved over their resource on the board when a 7 or knight card is played. What better way to really rub it into your opponent's face than by doing it with a heavier piece of glass.
Each of these handcrafted glass pawns is unique depending on the type of glass used. The glass can be a variation of colors from clear to green to blue. This piece is sure to grab other players' attention during the game.
Even though this piece is certainly a show stopper, it doesn't really add anything to the game. The only thing really special about it is that it looks more luxurious than the original wooden piece. It's sort of like playing chess with glass pieces rather than wooden pieces.
TowerRex Storage Organizer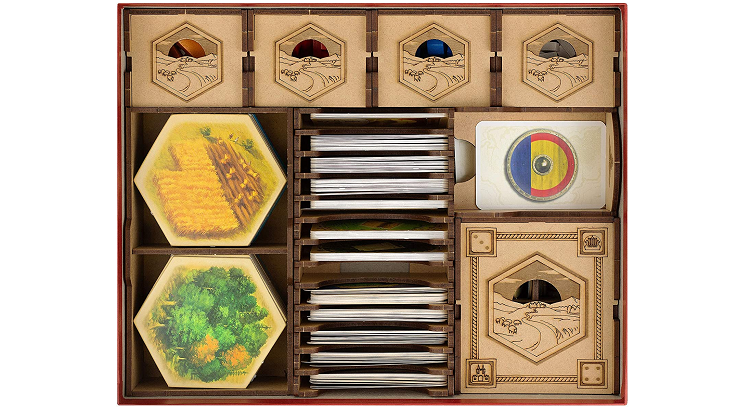 Pros
Keeps every piece organized
It all fits perfectly inside the box
Has room for expansions also
Cons
Takes some time and resources to put together
One of the worst parts about board games is the pieces are usually just thrown into the box without much thought on the organization.
This third-party accessory organizes all of your Catan pieces and cards for use during the game and for storage. This organization kit comes with a cardholder, containers for all your pieces and dice, containers for your resource hexagons, and a tower for your development cards.
The kit is made of 3mm HDF which is a thin board with the look of wood making it feel luxurious and appropriate for Catan design. Each piece has Catan designs stamped right into the board giving it even more of a feel of luxury. This set is also large enough to support Cities & Knights and Seafarer expansions.
TowerRex organizer does not come assembled. It comes in individual pieces that need to be assembled at home with thorough instructions.
It seems easy enough but they recommend having a soft mallet and maybe even glue on hand which makes it seem like it may be sort of difficult to put together. It takes about 10-20 minutes to put together.
Anleo Travel Case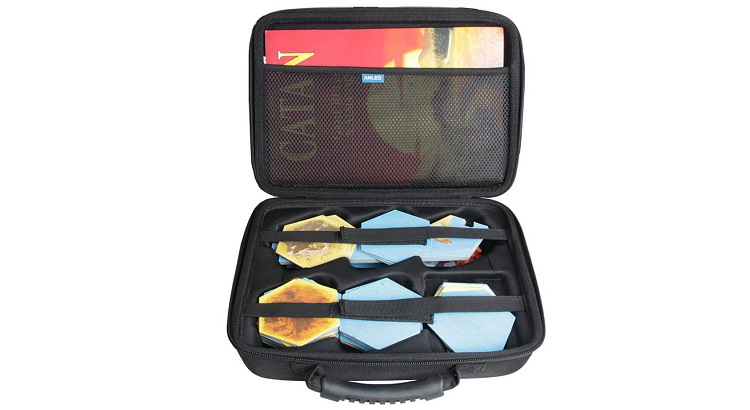 Pros
Zippered, durable carrying case
Has compartments for each piece with straps to hold in place
There is room for expansion packs
Cons
Things may move around inside
This third-party accessory is similar to the previous TowerRex Organizer, but it is made for travel. All of the pieces included in the original game fit into this travel carry case.
Each piece, card, resource hexagon, and board piece have their place inside with a strap that holds everything in their place. There is also plenty of room for expansion packs Cities & Knights and Seafarers.
The carrying case is made of a very durable material called EVA. This material is scratch-resistant and malleable foam keeping all of your pieces inside safe. The carrying case comes with a handle on top to easily carry this game with you wherever you go.
Even though this carrying case is very organized, once picked up by the handle things may move around a little. The straps that go over the pieces aren't very tight giving things room to shift. You may find a token or city out of place when you open this case after traveling with it.
FAQ's
Question: Are there Accessories for Catan?
Answer: There are many accessories for Catan. Some of these include cases for your wooden pieces, a dice case, and a travel case. Most are made by Catan but some are also made by third parties.
Question: What Comes in the Catan Box?
Answer: 19 hexagon tiles, 6 sea frame pieces, 9 harbor pieces, 20 settlement pieces, 16 city pieces, 16 road pieces, 95 resource cards, 25 development cards, 4 building cost cards, 2 bonus cards, 18 number tokens, 2 dice, 1 robber pawn, rulebook, and almanac.
Question: Are there Organizers for Catan?
Answer: The original board game does not come with much organization other than zip lock bags and some plastic placeholders. There are some accessories that you can additionally purchase for more organization. These include cases for the wooden pieces, a wooden organizer for the box, and a place to put all your cards.
Question: Is there a Catan Dice Case?
Answer: Yes! They are called Hexatowers. They are in the shape of the Catan hexagons and come with a magnetic wall. The wall of the case can be shaped to create a rolling space so that your dice do not go everywhere.
Question: Are there Accessories for Catan Expansions?
Answer: There are some accessories that go with Catan expansions. You can purchase cases for the pieces included in the 5-6 player expansion and a travel case that fits all the pieces of the expansion as well.
There are also third-party organizers for the pieces in the City & Knights expansion and the Seafarers expansion.
Overall Best Catan Accessory
The overall best Catan accessory largely depends on your needs for it. However, for overall uses and quality, I would recommend the Catan Trading Post if you had to choose one accessory.
This Catan accessory is built extremely well with hidden slides to make the bottom level of cards accessible and extremely strong magnets to keep the lid on.
It also has some of the most beneficial uses out of all the Catan accessories listed. It can be used during gameplay to keep cards organized, to store your cards including expansion packs, and the lid is a dice tray.
Out of all the organizational flaws that almost all games have, this accessory solves the ones I find to be the biggest annoyances.
You may have different priorities than me though. If your focus is to be able to travel easier with the game, you may want to go with the Catan Play Board. On the other hand, if you want an organization kit for your expansion packs and original game, it may be beneficial to go with the TowerRex Storage Organizer.
Recommended reads: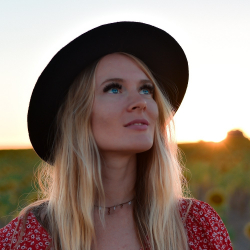 Latest posts by Haley Parker
(see all)