I've played board games for years and have played some of the best in local gatherings, from Cards Against Humanity to Citadels. Having a broad mix of board games makes it more fun and exciting, so you can avoid them getting stale.
But you also want to make sure that the next game you pick out, there's a good chance that everyone will enjoy it. Because let's face it, everyone is different, and not every game out there is excellent.
Through my years of playing various board games, some, of course, stand out. But are you wondering what the best roll and write board games are? Then you've come to the right place. Read this guide on some of the best roll and write board games today!
Bottom Line Up Front
Since I love various forms of board games, it was hard to choose, but I went with The Castles of Burgundy. This game will get you and your friends thinking, strategizing, and socializing as you try to trade between the different cities. It's a great game if you're looking to strategize (similar to Catan) and love the theme of High Medieval France.
My Top Picks at a Glance
The Castles of Burgundy – It's similar to Catan but still unique with its own twist.

Qwinto – I love how colorful this game is, and it doesn't end until there are misfires or it reaches completion.

Steamrollers – This is different than other roll and write board games. It's a game-themed around trains and even comes with custom dice!
Harvest Dice – Affordable and an excellent game for the family. It's all about having dice, keeping pigs fed, and similar veggies together.

Fleet: The Dice Game – This is one of the favorites in roll and write games! There are various ways to score points, and I love that it allows you to unlock bonus points.
Tips for the Reader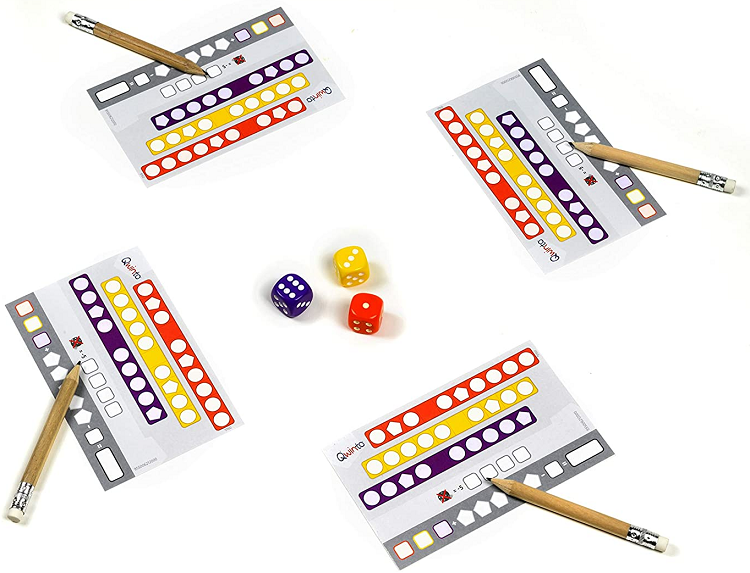 I know that there are various options to choose from but think about your budget and what you enjoy as you go along. It's also a good idea to think about what your friends or family enjoy during the family game night. There's nothing worse than buying a game, and no one else wants to play it!
Think about what games you currently enjoy and if they have specific themes that stand out.
Selection Criteria
As I'm going through this list, I'm trying to choose affordable options whenever possible. That means that I try to stick to under $50 whenever possible.
Did you know that some games can cost hundreds of dollars thanks to add-ons to keep the game fresh (such as the Red Dragon Inn)? The good news, though, is that those add-ons are optional.
Why Should I Play Board Games?
Do you enjoy spending time with your friends? Then, playing board games is a great way to pass the time and build relationships with your friends.
Think about it. After a long day of work, you want to unwind, right? Board games allow you to get lost in another world and forget about any current stressors in your life.
Many board games are great for family-bonding time too. There are numerous benefits for children to play board games as well.
Board games can help stimulate their cognitive and motor skills. They also help them learn how to focus and be okay with winning or losing. So, if you're ready for some good-ol' fun for all, go ahead and pick up some roll and write board games.
Better Understanding Roll and Write Games
One of the most traditional roll and write games is Yahtzee! Over the last couple of years, it has gained popularity again, and you can see various versions available today.
It was colored dice and boxes that you'd need to check when it first began. You'll have your scoresheet to keep track of the different numbers and plays.
The Most Popular Picks
Here are the most popular picks for roll and write games with more detail.
The Castles of Burgundy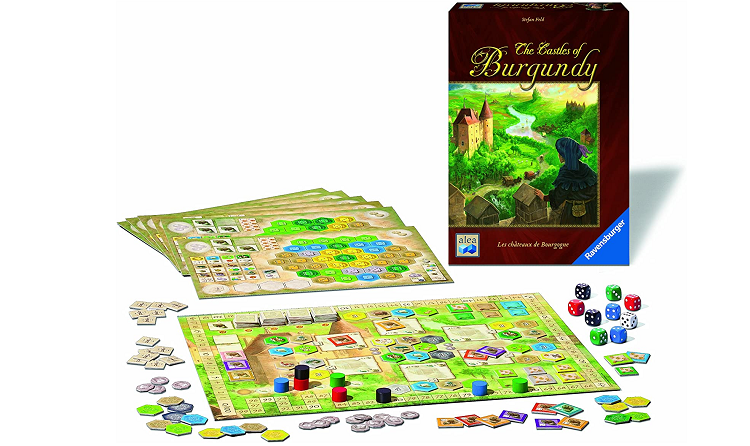 The Castles of Burgundy is a favorite since it attracts many who have played Catan (another fan favorite). In this game, you're located in High Medieval France.
During the game, you're trying to build settlements and castles. You're also using silver mines, practicing the trade, and more.
The goal is to take settlement tiles from the game board and place them in your possession. The game itself has five phases with five rounds.
All players roll their dice to see who goes first. At this point, there will be a goods tile available on the board.
You can perform two actions (out of four options) when it's your turn.
These options include:
Delivering goods with a number that matches one of the dice

Take a settlement title from the staging area.

Take a settlement tile from the numbered depot on the board.

Take worker tokens (they allow you to change the role of the dice)
The game ends when the last player finishes with their turn of the fifth round of the fifth phase. You'll receive victory points for unused workers or money and undelivered goods. In addition, certain settlement tiles will give you victory points as well.
Whoever has the most victory points wins. You can choose from a basic or advanced version to keep it fresh!
Pros
A game that'll keep you entertained

Various options to choose from when it's your turn

Makes you and your friends socialize since you'll be neighbors in the game
Cons
Harder to learn than other games

It's a more expensive option

Not the best choice for the family game night since it's more complex
Qwinto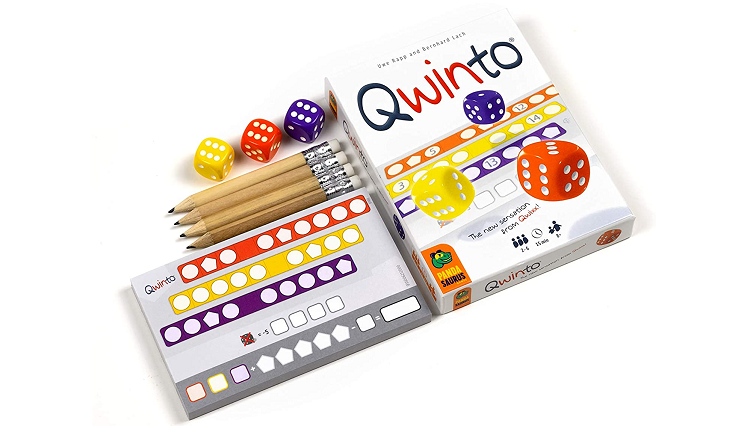 During the fun and fast-paced game of Qwinto, all players will try to write down as many numbers as they can in the three rows provided. Of course, if you can use up all of the fields of a colored row, then you'll receive even more points.
I love how it allows you to pick how the numbers are entered in the colorful rows to make it even more exciting. But, of course, if it's a colored row (from left to right), you have to have the numbers in ascending order.
The good news is that you can use gaps for any size within the entered numbers in a row.
You can't repeat a number for a column that goes from the top to the bottom, so keep that in mind. This applies to two and three field columns as well. Number order doesn't matter here.
Pros
Very affordable

Great for the whole family

Easy to learn

Colorful design
Cons
It's not for younger than eight years old, which could make family game night tricky

A more basic setup
Fleet: The Dice Game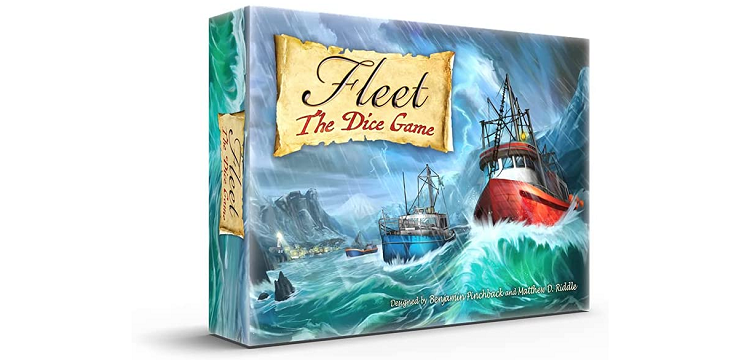 It's incredible how popular this game is since it's a newer one! But, let's be honest; the entire theme is fun and more unique.
Fleet: The Dice Game allows you to score bonus points along the way (more combos) to make it to the top. You have a dice drafting element as well. This has you and the other players chatting as you go.
I also love how affordable this game is. At the time of posting this, you could score a copy for $32.
Remember that this is the dice version; it comes from the creators of Fleet. The scorepad is now updated too. It also comes with ten trophy award cards and five starting captain cards.
Pros
Affordable for many

It's actually one-four players, which gives you plenty of play options

Recently updated for even more fun!
Cons
It's on the pricier side

It's quicker play, so it's not the best if you're looking for a more complex game.
Unique Roll and Write Games
These roll and write games got my attention because they seemed more unique than some of the other ones.
Harvest Dice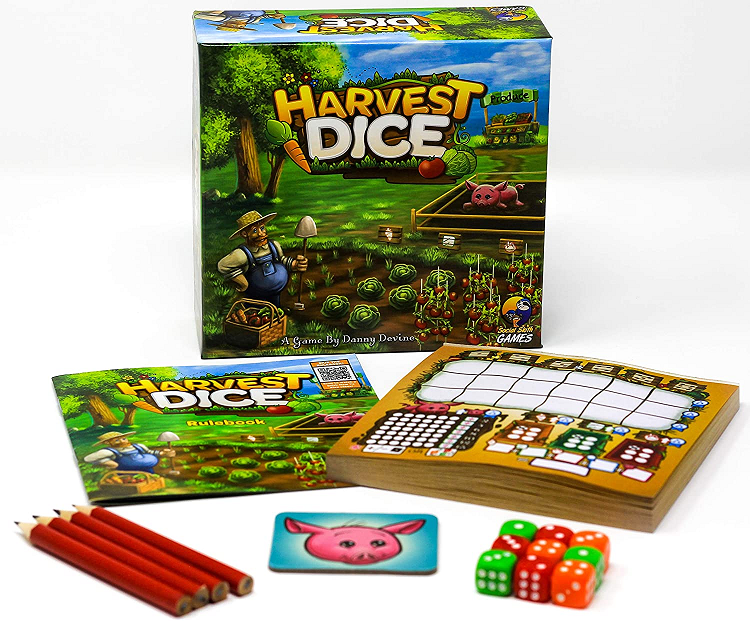 I love how unique and affordable this game is! But, of course, you need to be quick on your feet since you'll need to feed your pigs and keep the matching vegetables together while playing the game.
It's great for the family game night, too, since it's a more straightforward game to learn. I love how at the time of posting this, the price is only $14.99!
The object of the game is to see who has the most desirable garden patch. If you're short on time, it's a quicker game.
Pros
A fun game for the whole family

Easy to learn

Super affordable
Cons
It's a quicker game

It can feel a bit monotonous after a while
Steamrollers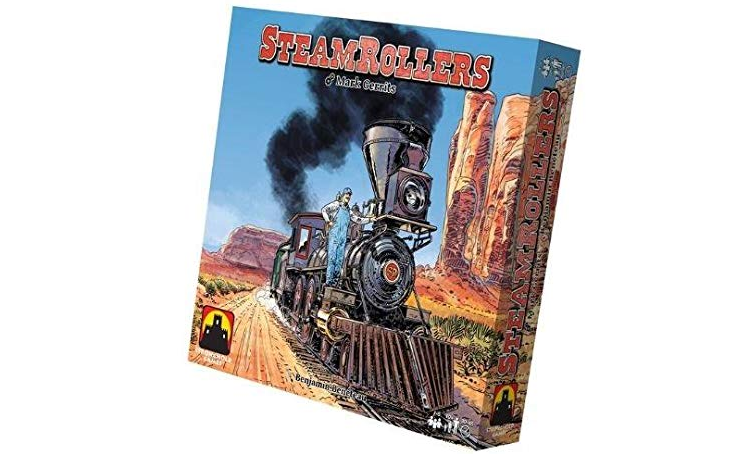 Take a trip back to the United States in 1869. You'll find a booming railroad empire during this time.
You're a railroad tycoon building various tracks and train engines during the game. So naturally, you'll want to have freight delivery contracts before the other players.
You'll have a personal play sheet with a map to draw your rail network. It allows you to keep track of your engine fleet.
As you make deliveries, the goods are then removed from the center of the board. Points are earned for the different towns and cities that you pass.
When three cities on the center of the board have been emptied, the game is over. After that, you can collect points for bonuses, your network, deliveries, and engines.
During play, you roll dice while each player picks one and uses it to improve their engine, draw a rail, make a delivery, or do research. Each player goes one at a time.
Pros
Great for the family game night if your children are a bit older

Quick and easy to learn

A quicker game
Cons
Goes by too quickly

It's really suggested for those ten and up
Lesser-Known Options
Here are some lesser-known roll and write games you should check out.
That's Pretty Clever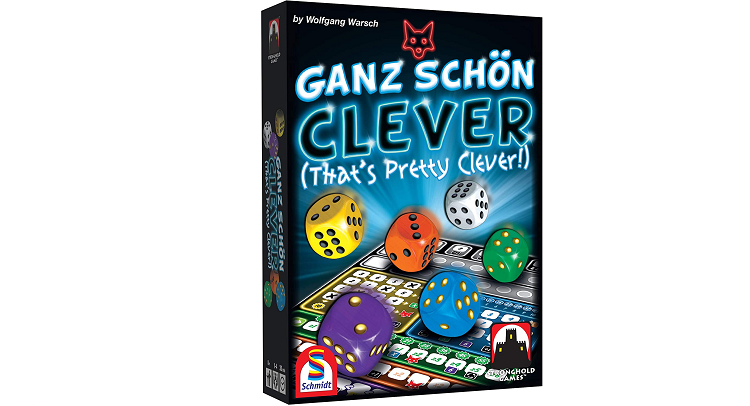 For an affordable price, you can score this roll and write game. I love how colorful this game is to keep everyone in tune with play.
As long as your child is at least eight years old, it's an excellent option for family game night. Plus, it's incredibly affordable and on sale when posting this. It was originally $19.95 but on sale for $18.57.
It comes with:
Four felt tip pens

Six dice

One scoring pad
This game works perfectly for one-four players as well!
Pros
Affordable

Great for family game night

A colorful board to keep younger minds active
Cons
It's a more challenging game to figure out

Not a good option for children under eight years old
BRIKKS Dice Game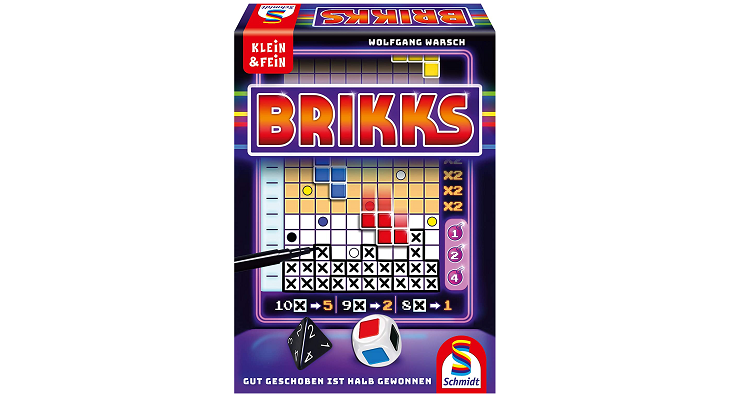 This colorful and fun game comes with pens, a block, and dice. I love how the one die has colors instead of numbers!
It's multi-colored to keep all interested in the game. To play, you'll all enter the dice pieces on your sheet. Then, everyone plays at the same time.
The game itself is a bit shorter.
Pros
Great for family game night

Colorful game to keep everyone interested

Comes with the different necessary pieces
Cons
It's a bit pricier as far as roll and write games go

It's not suitable for children under eight years old
How to Pick Out the Best Roll and Write Games
Since games are varying difficulty and lengths, consider how long you're looking to play a game. For example, you might want to stick with shorter games to keep younger minds focused for family game night.
Of course, you'll want to consider your budget as well. However, don't feel like you have to go over your budget since there are plenty of affordable options, especially when it comes to roll and write games!
FAQs
Question: What is the Number One Board Game in the World?
Answer: Gloomhaven is considered one of the best board games. In this game, you'll want to complete your quest to leave your legacy.
Question: What is a Roll and Write Game?
Answer: This is a board game where you have a scoresheet as you play. As the game progresses, you'll mark something down on your scoresheet.
Question: Is Yahtzee Roll and Write?
Answer: Yes! You look for patterns of numbers as you roll five dice.
Question: Is Yahtzee a Good Family Game?
Answer: It's a fun and easy game to play with various ages.
Exploring Some of the Best Roll and Write Board Games
While there are various options for the best roll and write board games, I hope that this list helped make it easier! At the end of the day, though, I still have to go with the Castles of Burgundy.
While it's not your traditional roll and write game, it encompasses roll and write strategy and history! This is an excellent game for the whole family to play and learn as they go.
If you enjoyed this article, be sure to check out our other articles today.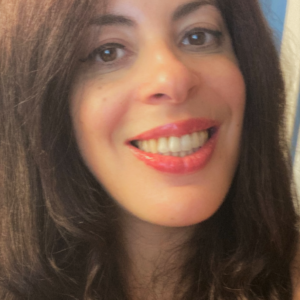 Latest posts by Lindsay Washington
(see all)