The sixties were a fantastic time.
I wasn't there personally, but my mother was there for part of it. Listening to her, it was a technicolor euphoria blended with Elysium and Paradise all at once.
Of course, I don't know about all of that, but I do know one thing: Many of the board games we know and love were first created in the sixties.
My mother, for all her talk of "euphoria," was still a child in the sixties. However, she was a big enough nerd to be a HUGE fan of board games. She grew up in a remote part of the country, after all. Her childhood wasn't on a farm, but it was the closest thing. She lived on the outskirts of a town with all of two-thousand people.
They couldn't afford many trips to the city, and there weren't many other children around for her to play with, so board games became a refuge for her. On nights that there was nothing on the three television channels they got, they could always break out the newest board game. Eventually, my mother moved on to more complicated games.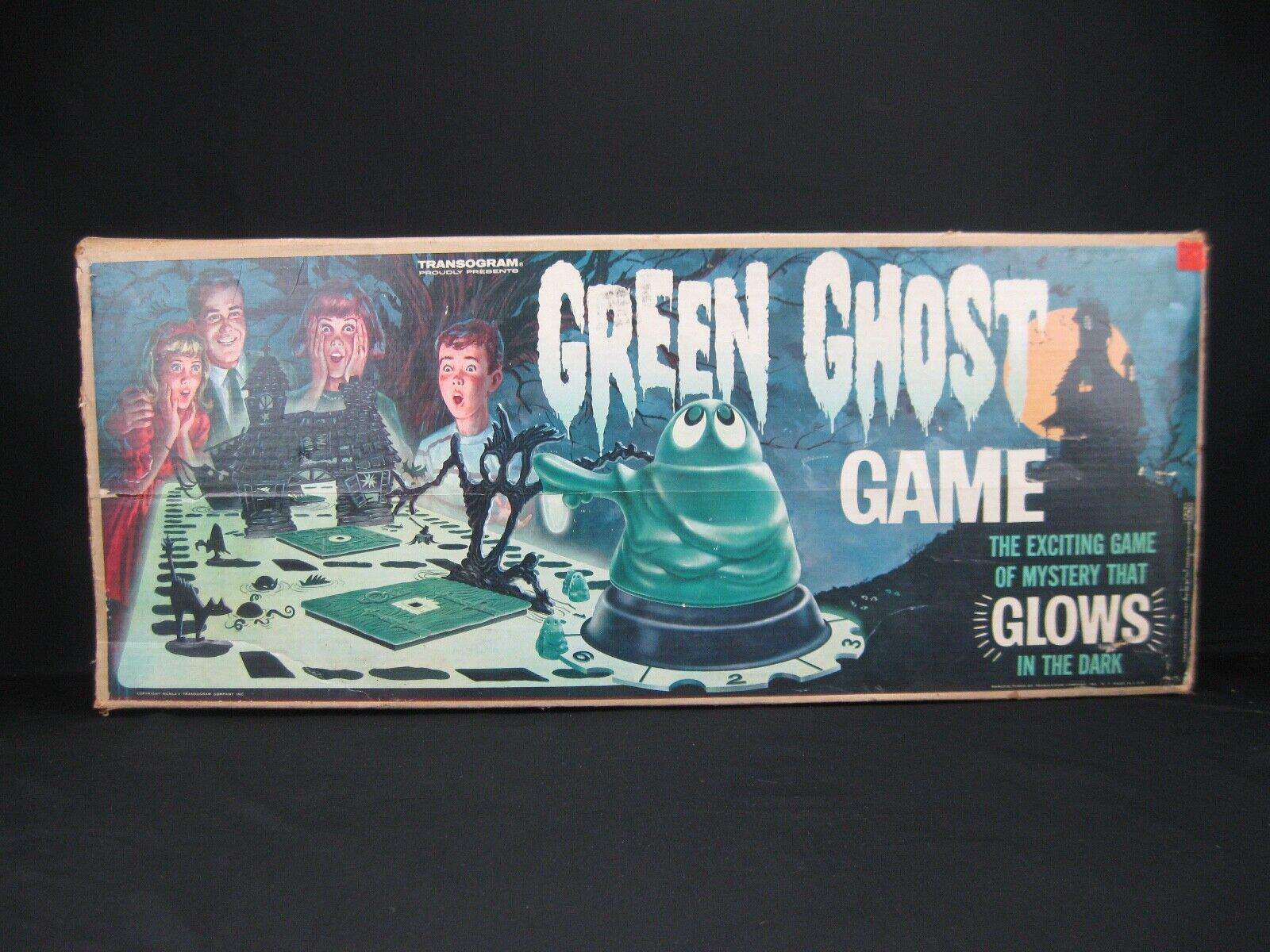 In her late teens, she started playing Dungeons and Dragons with kids in the next town over. So her parents packed those board games away. Then, when I was a child twenty years later, and there was nothing on television, she would break out many of those same board games.
In some cases, they were the same board games she'd had for decades. In other words, many were the boards she and her parents had played on twenty years before. (Eventually, she would pass her D&D books on to me, but that's a different article.)
I got an early start on board games from those aged, browned boxes. I don't have most of these anymore, unfortunately. None of them made the move with me across state lines, but they were a big part of what started me on the path of the Board Game-iac that I am today.
Interestingly, many games we still know and play today began in the sixties. It may not have been a golden era in general, but it was definitely a golden era in board games.
It's been about sixty years since the sixties, so I thought it was past time these games got their due.
Bottom Line up Front: Battleship. It may have started as a much simpler game, but in the sixties, the board game version was released. Easy to learn but challenging to master! It's remained a staple of family game nights ever since, with good reason!
Criteria
So how does one decide which games have stood the test of time better than others? Today, I'm going to use about five criteria.
Longevity – Some of these games are more popular than others. If they've survived the years in the spotlight, they will get rated higher. There's nothing wrong with a sleeper hit or games waxing and waning in popularity, but the ones that have been loud and proud for decades will be recognized for it.
Complexity – The word may be misleading. What I mean by this is that it can be simple or complex, so long as it's well explained. If it's easy to understand, it will get rated much higher.
Time – This isn't about how long a game can last. That's highly dependent on the player. It's more about whether a game can hold your attention for a long time. If it's engaging, it's going to get rated higher.
Value – I'm from a poor background, and that's hard to break. A game with multiple modes of play or more pieces will get a better place on the list.
Fun – This is the hardest to quantify but the most important. If a game isn't fun, what's the point?
19. Modern Chess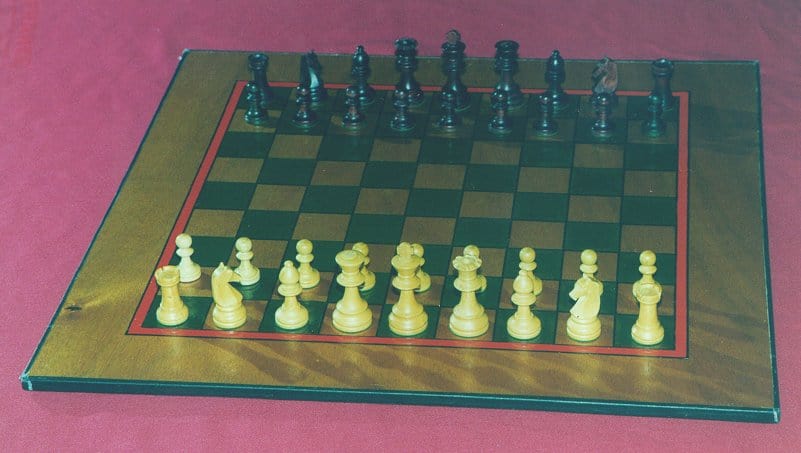 Publisher: Gabriel Vicente Maura
Year Released: 1968
How Many Can Play?: 2
Currently Available?: Not as such.
Age Range: 8+
Approximate Playing Time: 1 hour+
Chess is over a thousand years old.
In its purest form, most people are familiar with the ruleset. It's tried, trustworthy, and hard to change anymore.
However, a few brave souls tried to do just that in the sixties. This variant included a board that was nine squares by nine squares, rather than the traditional eight-by-eight. It had an additional pawn for both sides and even a different piece! The Minister began on the opposite side of the King from the Queen. It also could move like a knight or a bishop (although it couldn't do both in one turn).
The ruleset for this version was published in the 1960s, and various sets were released, including the one my grandfather had. From experience, it's much easier to learn standard chess and try it than to learn with this set and go to traditional chess.
It's fun and easy enough to learn that most chess players will pick it up immediately. That's also why it's so low on the list. You can still find sets with ministers in them, but there's not currently a retail version available.
18. Dynamo Chess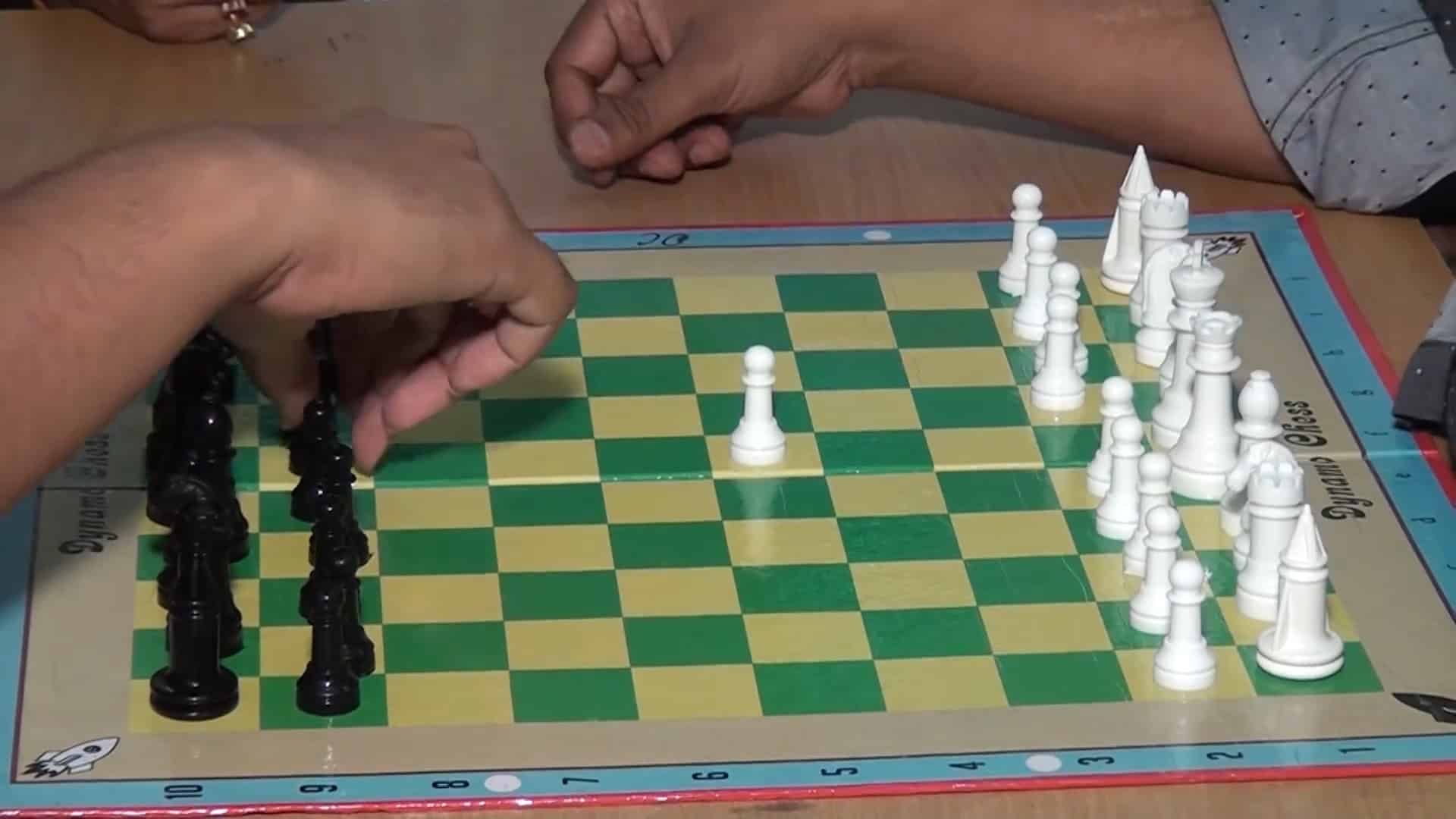 Publisher: Hans Klüver and Peter Kahl
Year Released: 1968
How Many Can Play?: 2
Currently Available?: Technically, Yes
Age Range: 8+
Approximate Playing Time: 1 hour+
I've always loved chess. Part of that is because my grandmother was a big chess player.
Of course, she didn't just know "normal chess." She would have called that "boring." She also learned a bunch of other rulesets, including this one.
This ruleset uses the same board and pieces as standard chess but switches out the rules. Pieces aren't captured anymore, but they get moved. When you move a piece into another piece, that piece could be pushed or pulled in a direction by the same number of spaces as the piece you moved. If a Piece got pushed off the board, it was removed. If a piece moved off the board while pulling a piece, both pieces were removed. The game was won or lost if a king was pushed or pulled off the board.
To my knowledge, no sets were ever released with this ruleset. However, my grandmother was very fond of it, and I wanted to honor how it could make a person think outside the box by changing a few rules. My grandmother used this game to demonstrate that rules only stayed the same if everyone agreed they did. Otherwise, they could be changed at leisure.
Publisher: Avalon Hill
Year Released: 1967
How Many Can Play?:
Currently Available?:
Age Range: 12+
Approximate Playing Time: 1-6 Hours
Avalon Hill has been publishing games for more than seventy years. Many of their products have been war games, both traditional and nontraditional.
This one was created by a fan in response to a previous game they'd released. Jim Dunnigan submitted this to Avalon Hill after he'd published a scathing review of Avalon Hill's The Battle of the Bulge.
Unfortunately, I don't have a lot of great memories of this beyond my grandfather's story about it. He didn't have all the details, but he had heard how it was designed out of pettiness and spite, and I've remembered that.
Technically, this game may have been more accurate than The Battle of the Bulge, but it was also FAR more complicated. We tried to play it several times, but I inevitably got bored. I never finished a single game, but it was worth playing for the story.
16. Dodge the Daleks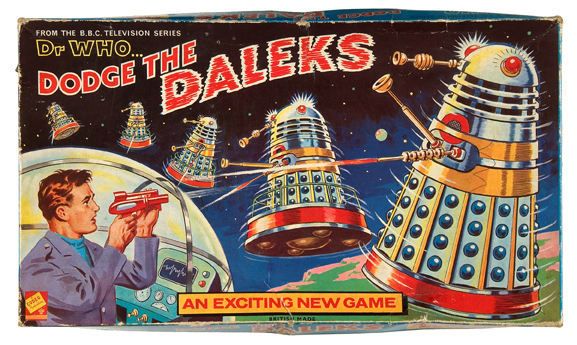 Publisher: Codeg
Year Released: 1965
How Many Can Play?: 4
Currently Available?: No
Age Range: 5+
Approximate Playing Time:  30 min
My mother was a massive Doctor Who fan. This was the first Doctor Who game. I have a powerful feeling that my mother may have gotten this second-hand between the time she graduated and I was born, and she probably paid way too much for it.
However, I can't blame her, as it was pretty fun.
It was strictly a roll-the-dice and then move-your-piece game. It was straightforward, and there was absolutely no skill involved.
The fun came from the fantasy of helping the Doctor escape the Daleks. This was early enough in the show's run that it still featured William Hartnell, the First Doctor, in all the box art and game graphics.
Unfortunately, it was so simple that anyone could win, and it only took luck, so we're moving on.
Publisher: Hasbro
Year Released: 1968
How Many Can Play?: 2-4
Currently Available?: Yes
Age Range: 3+
Approximate Playing Time: 20 minutes
This straightforward game could come with a surprisingly complex thought process.
It's speedy to learn. Set the little polar bear figurine on the center ice block, then take turns individually tapping the ice blocks. The goal is to make the other guy the one to make the polar bear fall. The ice blocks are primarily kept in place by compression, so someone's choice will eventually make the rest of the ice blocks fall.
There was a subtle art to the blocks, and little Logan learned quickly that there was no rule about how swiftly or slowly you could tap the blocks. He also learned that a single, solid blow had less chance of popping the rest of the blocks than a bunch of small ones, as it transferred less kinetic force (especially if you could get a good smooth hit).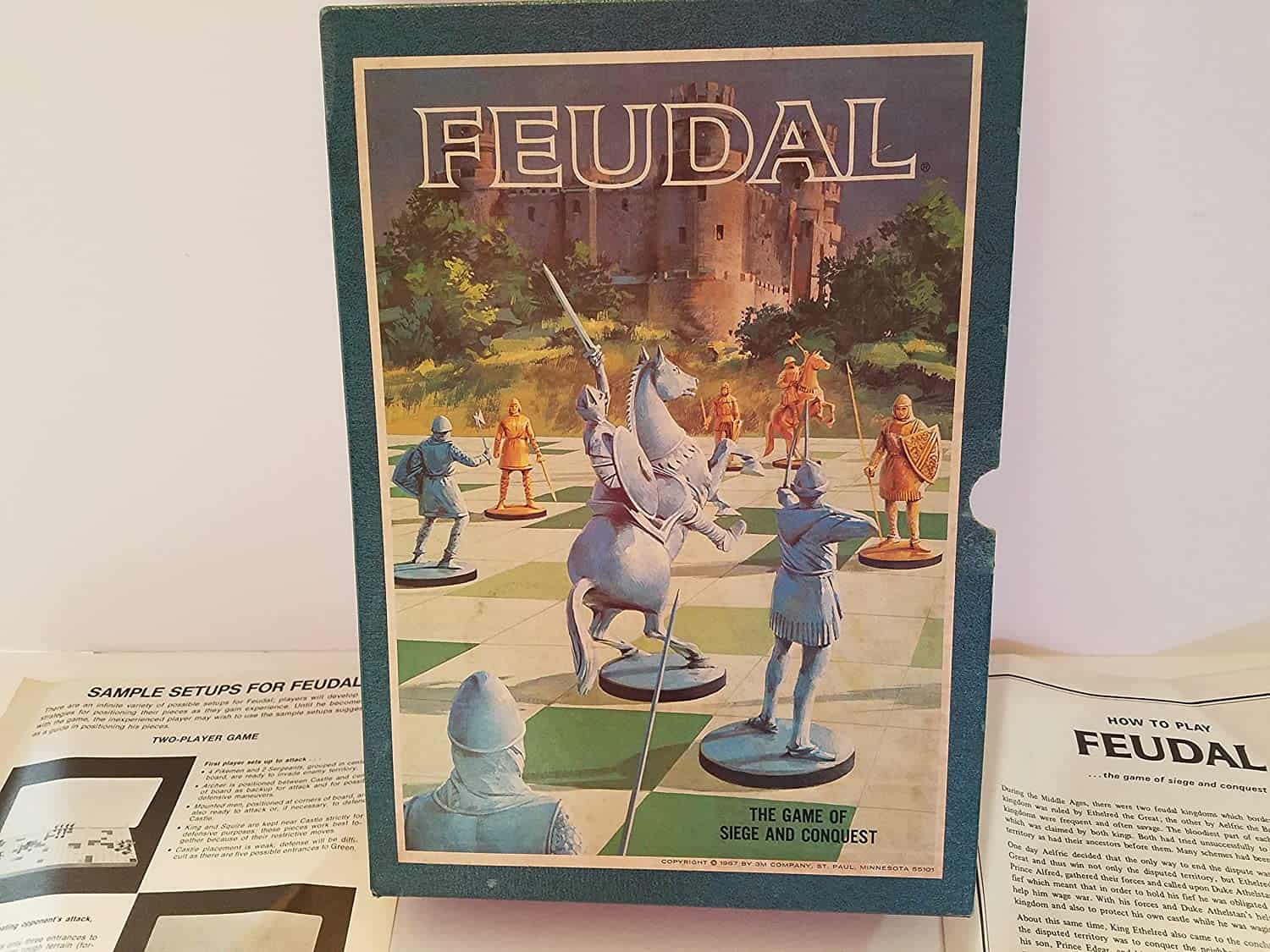 Publisher: 3M, and then Hasbro
Year Released: 1967
How Many Can Play?: 2-6
Currently Available?: No
Age Range: 10+
Approximate Playing Time:  90 minutes
Wargames have always been one of my favorite types of games to play. Chainmail was a popular wargame that later evolved into Dungeons and Dragons. Wargames are a multi-million dollar industry that is flourishing daily and only becoming more popular.
Feudal didn't evolve into a game like that. Instead, it was more of an evolution from Chess.
The different pieces involved in the game show its design DNA. The King, the Knight, the Squire, and the castle piece all show their origins. Players raised a screen and then set up their pieces in secret. The different pieces could all move and attack differently, and play ended when one side lost all their royalty pieces or the opposing player moved one of theirs into the Capture zone of the enemy castle.
This was about perfect as a tutorial wargame. There was just enough mechanical crunch to sink your teeth into and a big enough variance that luck only played a minor factor, and superior strategy could turn the tide of any battle. It might have made number one if it had stood the test of time.
13. Focus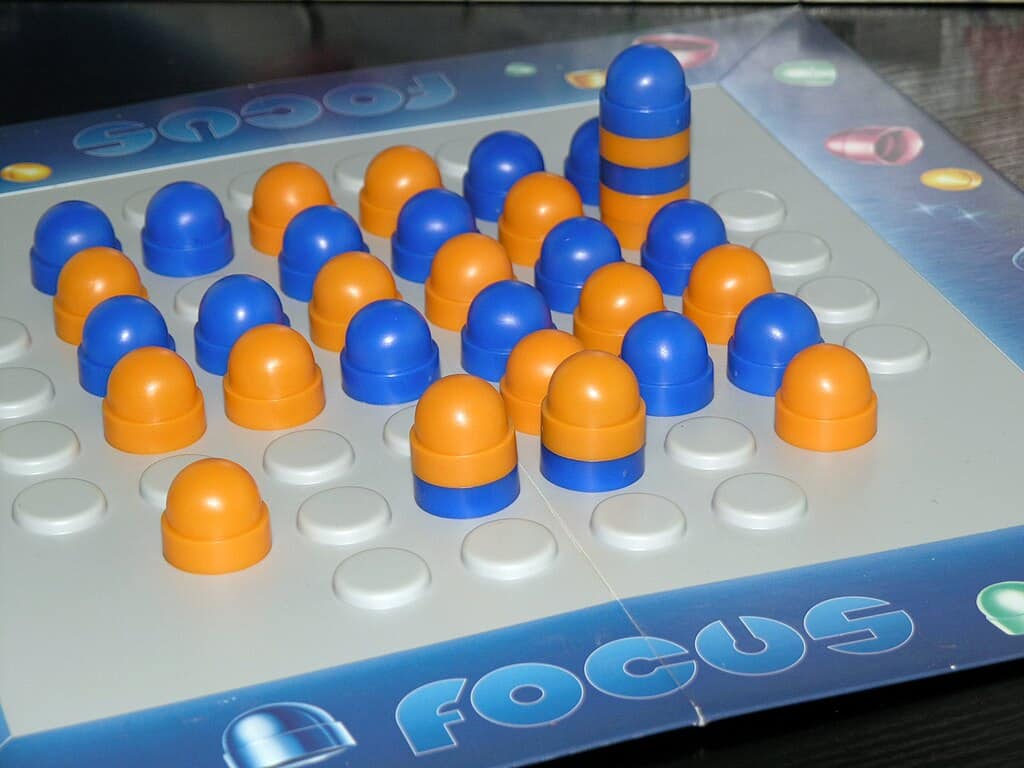 Publisher: KOSMOS
Year Released: 1963
How Many Can Play?:  2-4
Currently Available?: No
Age Range: 10+
Approximate Playing Time: 45 Minutes
This is another game that's very simple to learn but takes a lot of time to know well.
It's another strategy game. I preferred Feudal, but this game stuck around longer and was re-released multiple times in the years since.
Players may move any of their stacks a number of spaces equal to the number of pieces in that stack. A pile of one could be moved one space, while a stack of three pieces could be moved up to three spaces. A player could move any stack that had their piece on top. If a stack grew over five, the bottom was removed. If it was your opponent's, it was removed and captured. If it was yours, it was saved for later.
The last one able to move a stack won. Very simple. A lot of good memories and a lot of fun.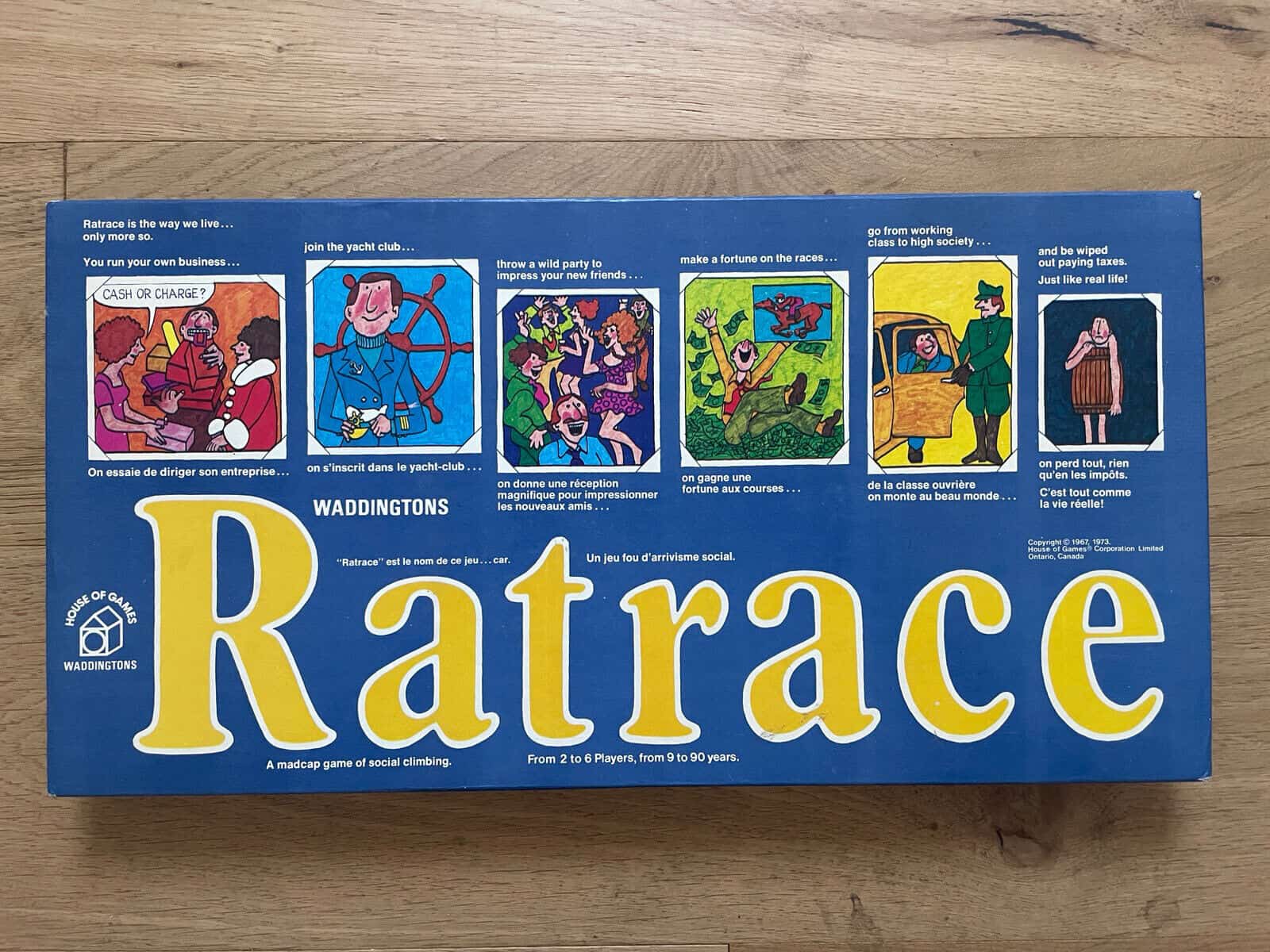 Publisher: Waddingtons
Year Released: 1967
How Many Can Play?: 2-6 Players
Currently Available?: No
Age Range: 9+
Approximate Playing Time: 90 Minutes
Ratrace is an economics board game.
In play, it always reminded me of if The Game of Life and Monopoly had a baby.
The idea was that you were a working individual trying to garner as much money and status as you could. Different status symbols could be bought, and different levels of wealth accrued earned you various perks in-game. You could buy properties with cash or credit, and as you went, you entered other classes of society. As you climbed the social strata, there were different requirements, and the first player to earn $100,000 could retire.
Honestly, it's like a time capsule.
I'm just scratching the surface of the rule's complexity here, and honestly, they were complicated enough that the instruction manual reads like a technical manual.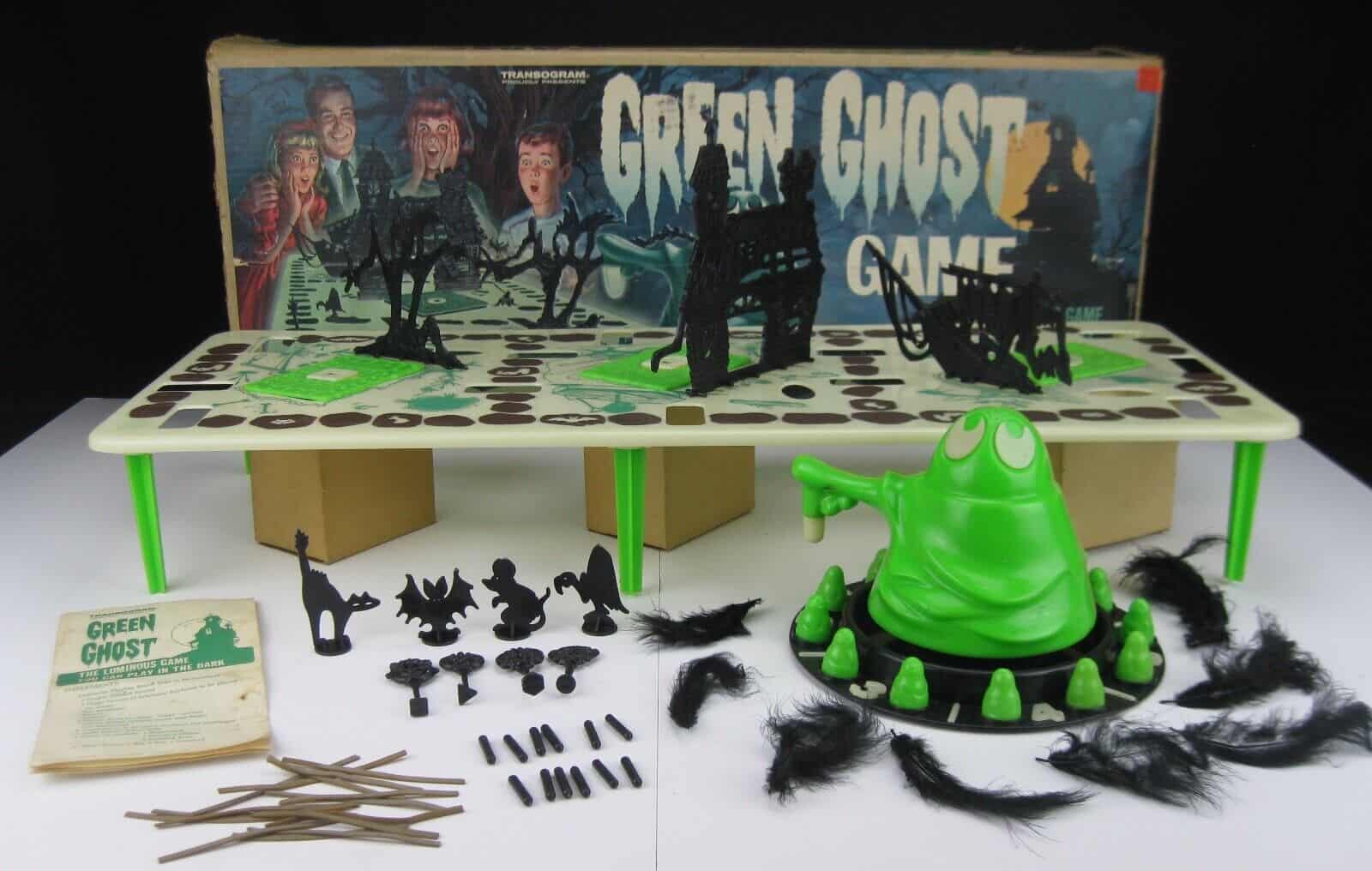 Publisher: Ideal
Year Released: 1965
How Many Can Play?: 2-4
Currently Available?: No
Age Range: N/A
Approximate Playing Time: 30 Minutes
This was a game that was all about style and substance.
Specifically, its style was to make you feel its substance.
This was the "first glow-in-the-dark" game, and that gimmick was the whole point. You turned out the lights and played by the gentle glow of the green ghost itself. It was another luck-based game, except there were a few holes.
Literally, there were holes in the board. If your piece fell through, you'd reach into a box blindly and pull out a ghost token or touch one of the creepy feelies included in the game.
Whoever rolled the highest fastest would win, but it had a few cool twists, and it lasted long enough for Mom to play it with me a few times before it finally gave up the ghost.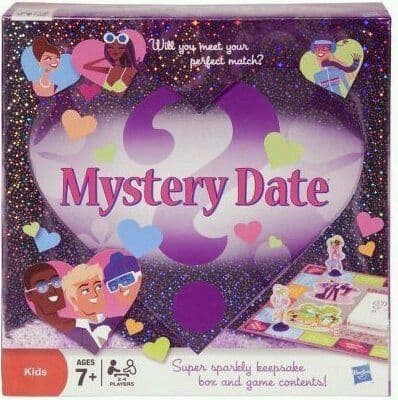 Publisher: Hasbro
Year Released: 1965
How Many Can Play?: 2-4
Currently Available?: No
Age Range: 7+
Approximate Playing Time: 30 Minutes
I didn't play this a lot as a child, but more often than a person might have expected.
The gag with this was the big door in the center of the board. It had five "date" options on the other side (that played to some really interesting sixties stereotypes). You'd pick up cards, get instructions, and open the door as you played. If your cards matched the date, you won. If not, your turn was over, and you got another chance next turn.
If it was the "dud," you lost your cards and started over.
It was nothing but luck, and I wouldn't be talking about it at all except for one thing: This game has remained in the public consciousness almost to this date. You can still find people referencing it on television, and although it baffles me, I wanted to give it its proper dues for that.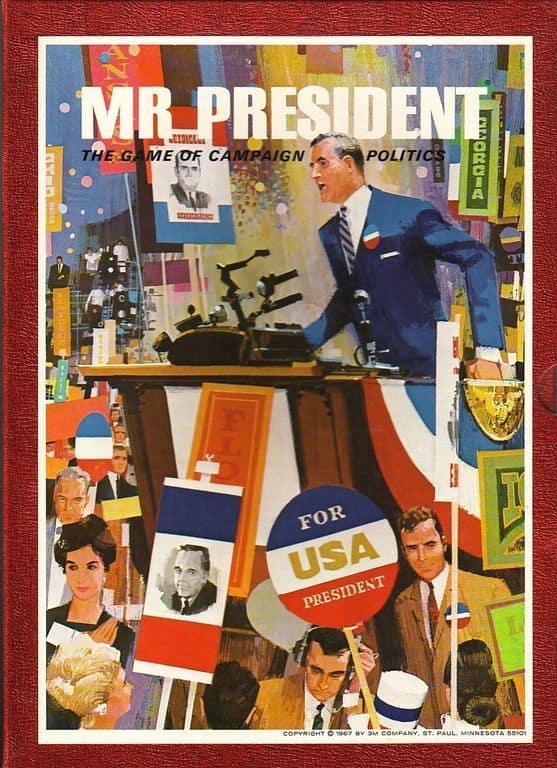 Publisher: 3M
Year Released: 1967
How Many Can Play?: 2-4
Currently Available?: No
Age Range: 12+
Approximate Playing Time: 60 Minutes
Have you ever wanted a rollicking simulation of what it's like to run for office? Well, now you can!
This game had at least four different versions, and I'm going with the one we had.
There were two ways to play, depending on if you had two or four players. It was a cooperative experience with two players where you took on the roles of President and Vice President. With four, two teams raced for the White House.
This game had a decent mix of luck and strategy to it. In the advanced rules, there were additional layers of complexity that I never got to before the pieces degraded from use. You pulled cards and responded to the situation it presented. It was an excellent early roleplaying exercise but could quickly get complicated.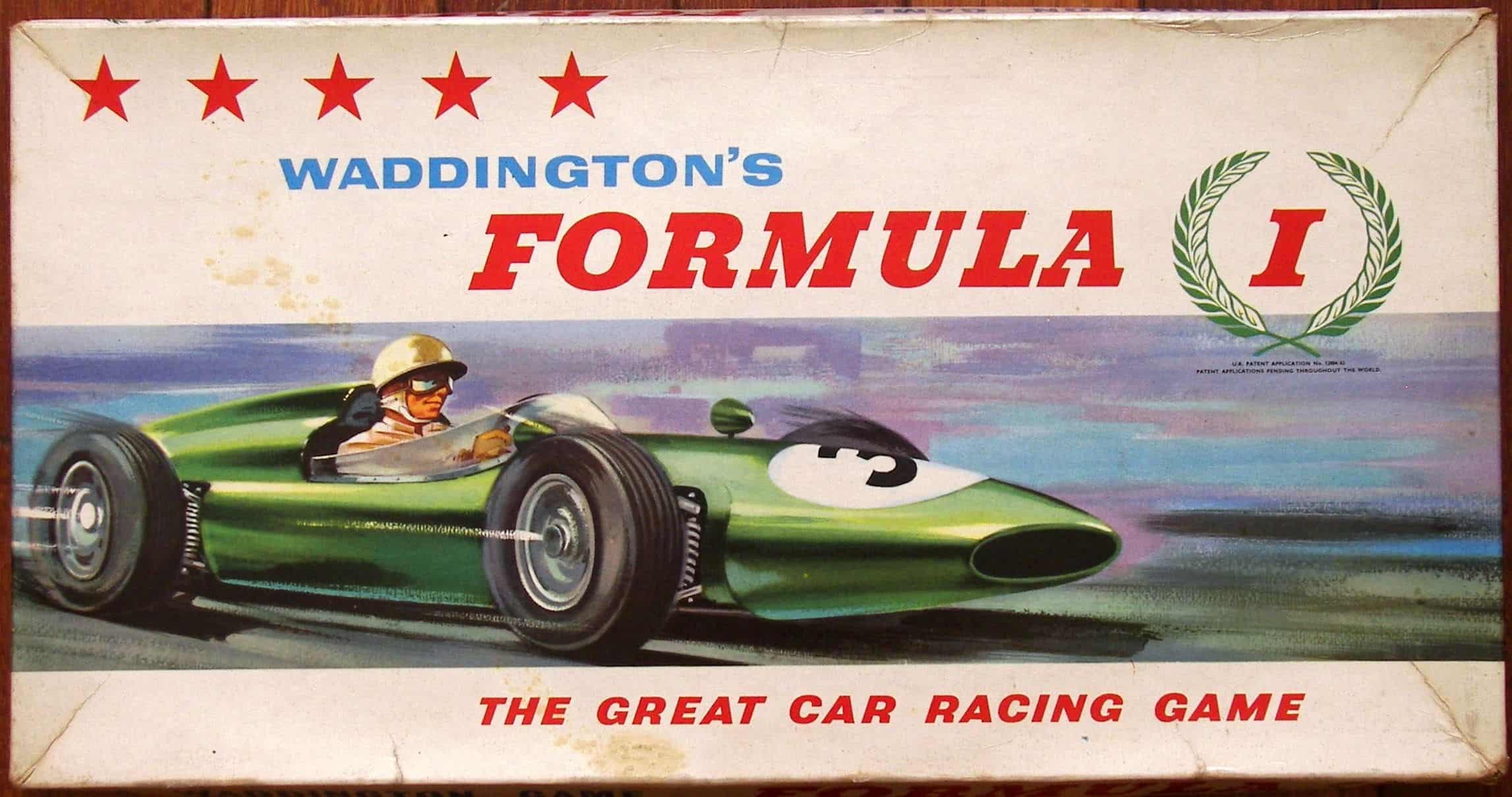 Publisher: Waddingtons
Year Released: 1967
How Many Can Play?:  2-6
Currently Available?: No
Age Range: 10+
Approximate Playing Time: 30-120 Minutes
Now this was a kind of strategy I hadn't seen before.
Players had ten laps to take first place. It was a game that focused on decision-making rather than the dice rolls. Most of the time.
Players picked a dashboard and a token and raced around the track. You drew cards as you could and tried to be the first-place finisher. As you go, your speed would decide the rate at which your breaks would fade, and if you went too fast around a corner, you'd have to roll a die to see if you took a penalty or were eliminated entirely.
You could stop at the Pit for new breaks, but it was another choice. If you weren't lucky, you'd either miss the Pit entirely or be stuck there for an extra turn.
It was fast-paced and enjoyable. I'm honestly sad and sorry it didn't get another iteration after this, but I remember it fondly.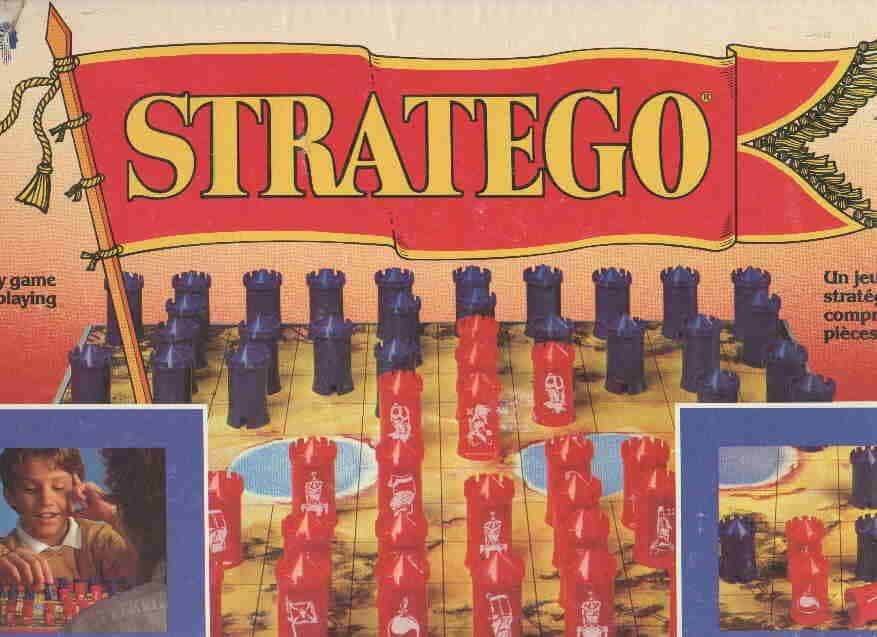 Publisher: Hasbro
Year Released: 1961
How Many Can Play?: 2
Currently Available?: Yes
Age Range: 8+
Approximate Playing Time: 45 Minutes
I'll admit I'm cheating a little on this one (like I usually had to do with this game early on).
Stratego first came out in 1949. It's had countless editions released and re-released from then to now. So what's so special about the edition from 1961?
In short: it was the one we had. It was also my grandfather's favorite game.
This is a very complex game that he used to teach me about forethought. It didn't always work (I was little), but he tried.
Most people are pretty familiar with this game. It's all about capturing the enemy's flag or, if you can't find it, just brute-forcing it and capturing the entire enemy team.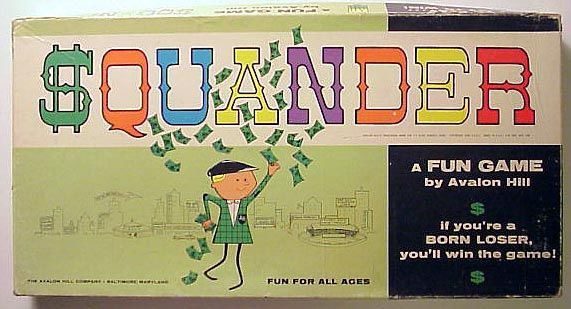 Publisher: Avalon Hill
Year Released: 1965
How Many Can Play?: 2-6
Currently Available?: No
Age Range: 10+
Approximate Playing Time: 120 Minutes
This is basically Anti-Monopoly. You start with a million squander bucks and race around the board, spending it as fast as possible. The first player to go bankrupt is declared the winner.
It's VERY fun.
Also, I hate Monopoly, and this game spits in its face. So I wanted to recognize that. It's very luck-based and not a very serious game. But it knows that, and it revels in it. That makes it unique.
I had this until we moved states, and I wish I could have brought it with me.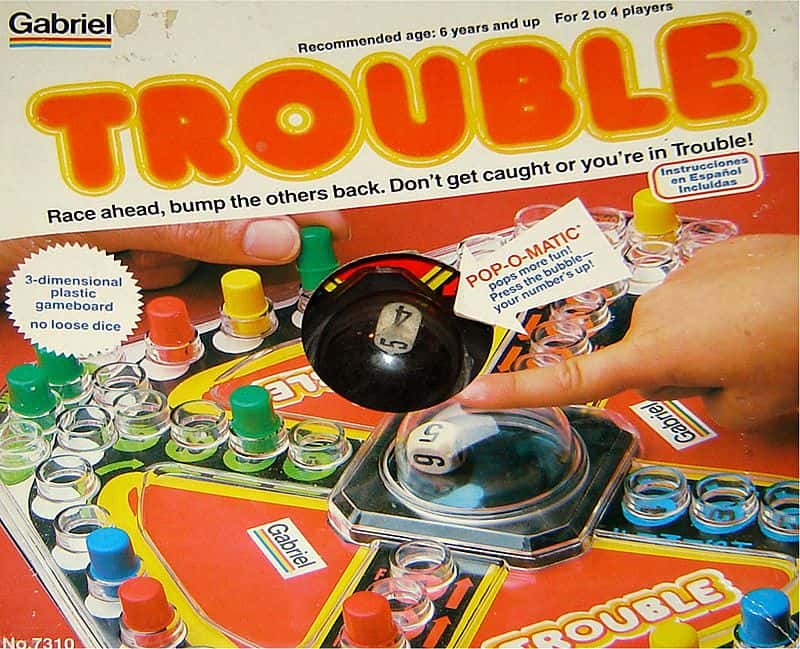 Publisher: The Canadian Group
Year Released: 1965
How Many Can Play?: 2-4
Currently Available?: Yes
Age Range: 4+
Approximate Playing Time: 45 Minutes
This is a simplified, white-washed version of Pachisi. It also has a gimmick of having its singular die sealed inside a poppable vacuum chamber so you can click a dome to roll a die.
Players move their tokens around the board. They have to lap the board and then enter the Finish Lane. A player's pawn can only enter the finish lane if they roll a six. Otherwise, they have to lap the board again. The goal is to avoid having other players' pawns touch yours and be the first to get all six of your pawns into the finish lane.
It's simple, it's fun, and it's luck-based. It may be a modernization of an ancient game, but I can't deny that this version has something special. It's also one that you can still get today!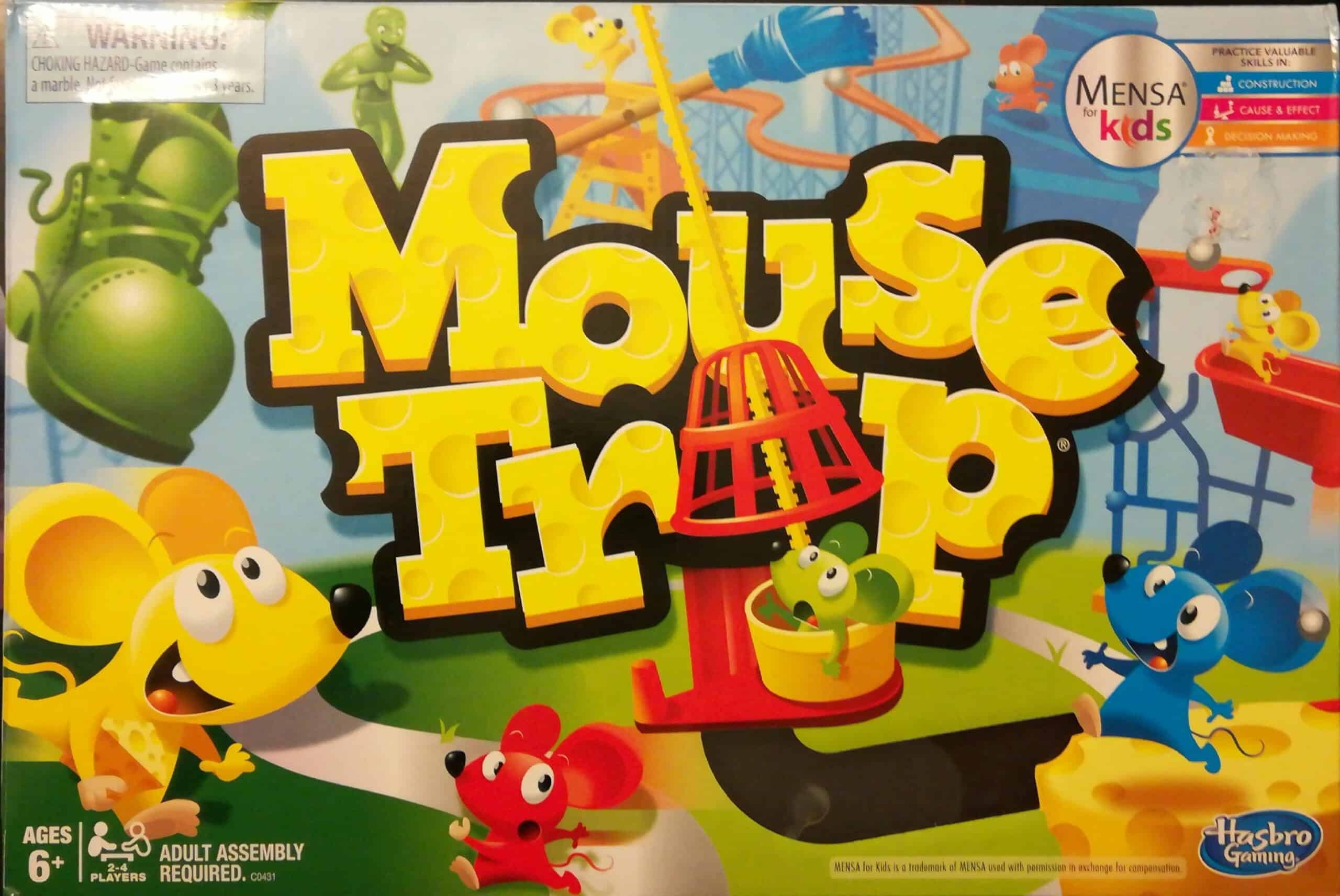 Publisher: Milton-Bradley
Year Released: 1963
How Many Can Play?: 2-4
Currently Available?: Yes
Age Range: 6+
Approximate Playing Time: 30 Minutes
This game has delighted children for sixty years. It's all about building the titular mouse trap. As you play, you'll gain the ability to assemble a Rube Goldberg-inspired monstrosity, and then you compete with the other mice to try to catch them in it. If you've built the trap correctly, you turn the crank, the machine works, and the mouse is eliminated.
If you haven't, the machine fails, and play continues.
The last mouse standing is the victor.
This game encourages so much creativity and pure joy that it was impossible not to put it this high. The only reason it didn't get higher is that the others are slightly better.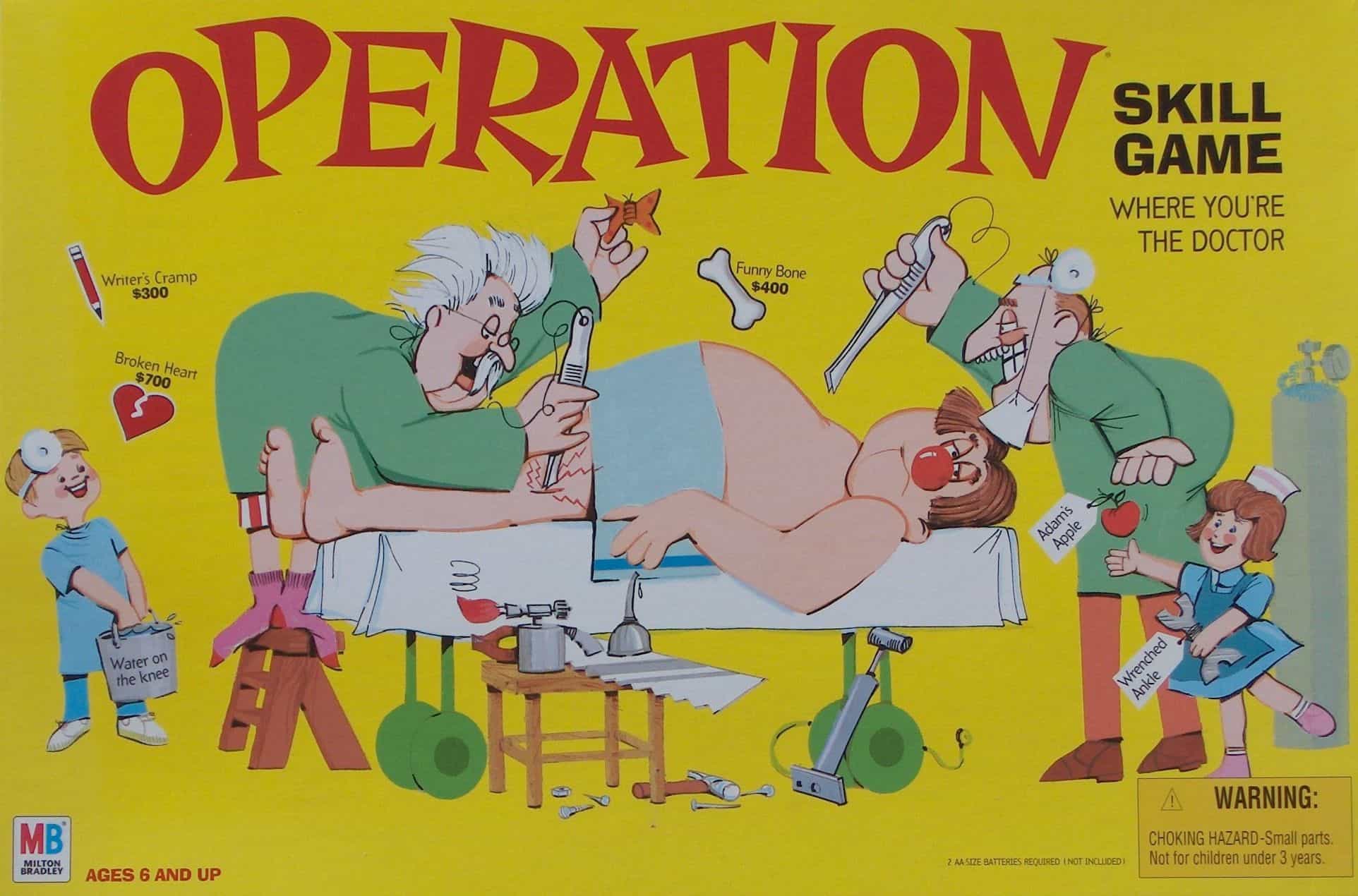 Publisher: Milton-Bradley
Year Released: 1965
How Many Can Play?: 1-6
Currently Available?: Yes
Age Range: 6+
Approximate Playing Time: 10 Minutes
This game is pure skill. It's all about calm hands and hand-eye coordination.
It's straightforward, and most of the time spent is setting up the board. The Board is designed to look like a patient on an operating table. The pieces are either organs or clever puns based on medical terminology. Players take turns using the metal tweezers to pick up the organs.
However, you have to be careful. If your tweezers touch the side, a circuit is complete, the nose turns red, and there's a buzz, and play moves to the next player. One player can win it all if they have steady enough hands. It's also one of the only games on this list that can be played alone.
There's not much more to say about this game that hasn't been noted in the half-century since its creation. If you haven't played it, go out and grab a copy!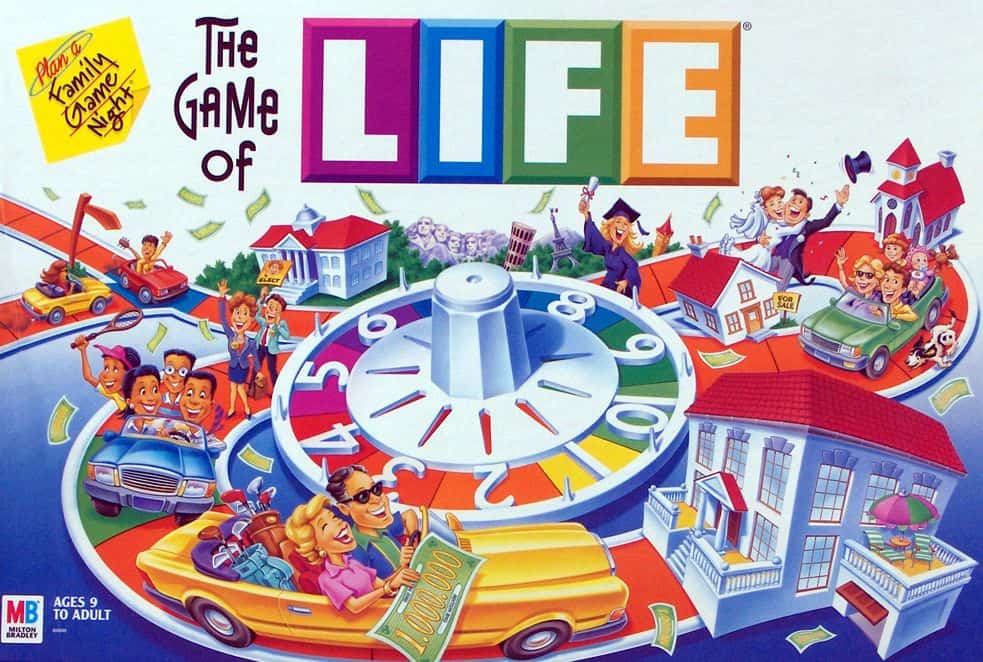 Publisher: Milton-Bradley
Year Released: 1960
How Many Can Play?: 2-6
Currently Available?: Yes
Age Range: 8+
Approximate Playing Time: 60 Minutes
This game is straightforward and is luck-based, but only partially. You make decisions as you go and move around the board, tracking different meters to determine the quality of your life. You try to gain money. You can also focus on experiences, family, or other things.
Regardless of what you choose, eventually, you die.
Different versions change how it happens, but in the original, there was a set point at which you reached "The Day of Reckoning." At that point, all your money, accomplishments, and family are reduced to point totals. The player with the most points wins at Life. I always hated how empty and transactional this game felt.
But, much like life itself, this game will continue until the sun goes out.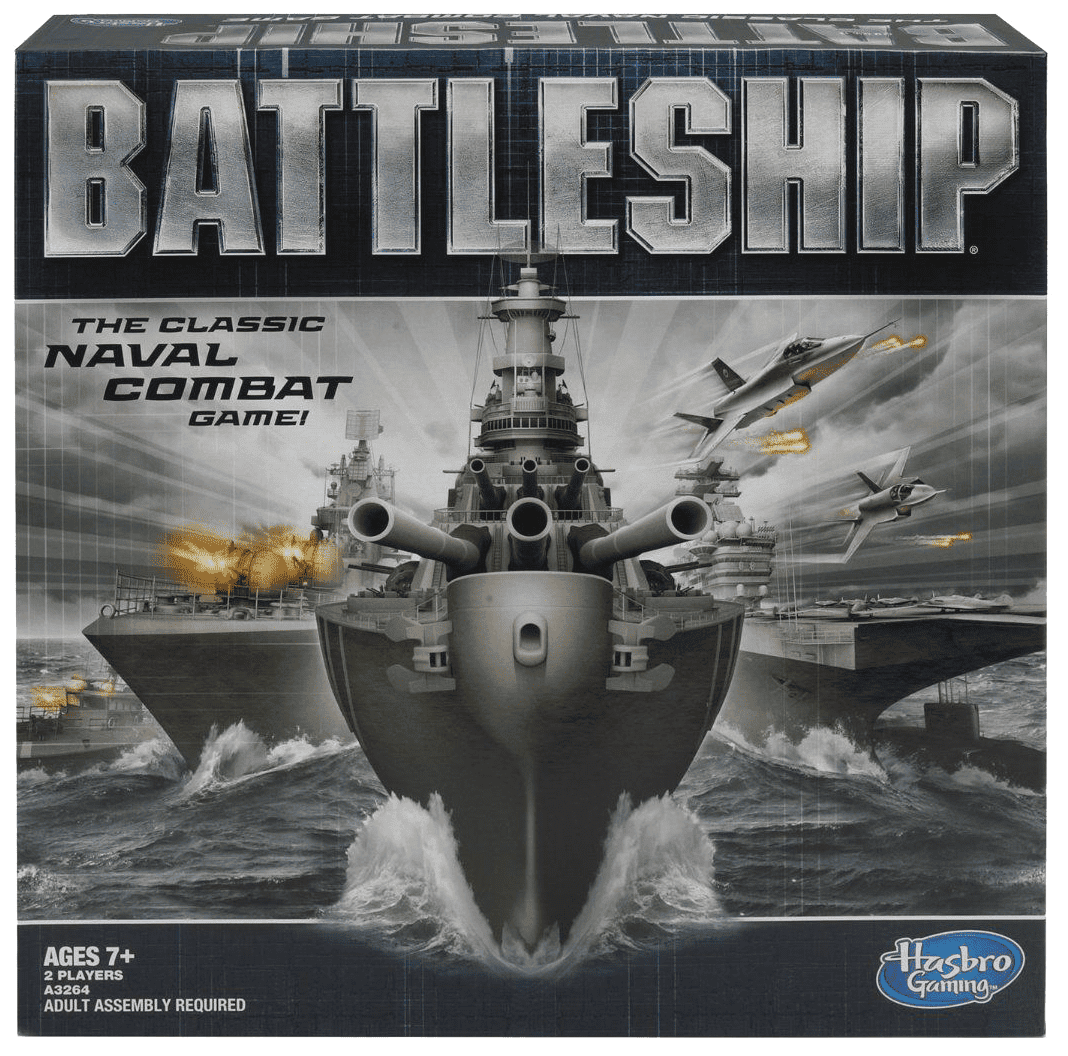 Publisher: Milton-Bradley
Year Released: 1967
How Many Can Play?: 2
Currently Available?: Yes
Age Range: 8+
Approximate Playing Time: 30 Minutes
Who hasn't shouted, "YOU SANK MY BATTLESHIP!" at least once?
This game is top-rated for a reason. It's a game of deduction. Or a game of luck, if you prefer.
Technically, the game predates this copy, as it was initially just a pencil-and-paper game with rules published in different places. However, the first plastic "board game" set of Battleship came out in 1967.
Players take turns choosing where on a numbered grid they have their ships. They then take turns calling out different numbered coordinates. If a ship was on one of the called coordinates, it was a hit. Otherwise, it was a miss. Players would mark their hits and misses, trying to determine where the ships were on the enemy's board. When one side had no more ships, the game was over.
Eventually, more complex rules would emerge that allowed the ships to move and do different things, but they were stuck in place in the early days.
I remember the first time I ever won this game. I was five or six. My grandfather and I were playing and using different configurations suggested in the instruction booklet. When he wasn't looking, I grabbed the book and started looking at the layouts until I figured out which one he was using and started hitting every shot. He yelled a little, but when I was older, he told me he was proud of me for being clever.
Conclusion
The sixties were a momentous time for so many reasons. Paradigms were shifting. The Cold War was threatening to heat up. The advent of video games was still decades away. Board Games were a fantastic way to bring the family together.
That hasn't changed. Many of these have versions that you can still get!
Go out today, and grab yourself a copy, to bring a little of the spirit of the sixties to your family safely and wholesomely.
Frequently Asked Questions
Question: Did you play all of these games?
Answer: I actually did! Board games were a HUGE part of my family life growing up. I have more clear memories of some of these than others, but I played all of these at least once.
Question: Can the games that say "Not Available" still be bought?
Answer: Sometimes! I just mean that you can't buy a new copy in retail stores. You can still find them second-hand. However, many of them are prohibitively expensive.
Question: What is your favorite game from the sixties?
Answer: Battleship! Straight Up! I love this game so much!
For more interesting readings, please check out: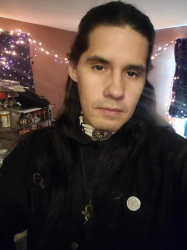 Latest posts by Logan Boese
(see all)