The genres in board games are as broad as the tables we play them on. Franchise-based board games, games that have become household names, and even some cultural and traditional games can be considered board games. There is fun to be had for everyone, and today I will walk you through one style of game that will surely attract those who want a little more predictability to the luck of the draw. 
Deck Building is a genre of game that is more than just collecting cards; it is a controlled way to decrease risk and increase consistency in an otherwise random game. Nowadays, it is more prevalent in video games and virtual card games since collecting the cards is easier to manage in a virtual space. However, today, we will focus on board games and card games that are not Trading Card Games (TCG) or Collectable Card Games (CCG). 
With this in mind, we will be going with one per franchise and explaining the gameplay and why it makes it onto this list. Let's Shuffle up. 
What is Deck Building? 
Deck Building games are an exciting genre to play. Unlike TCGs and CCGs, the goal is not necessarily to collect every card; instead, its core game element is constructing a deck. Think of it as the game's primary focus is to build the deck rather than being able to play the game by creating a deck. That is not to say that these are exclusive genres, but more often than not, people tend to place these categories under the same umbrella. 
Generally, the gameplay of a Deck Building game has you starting with little to no cards and has you earning resources, whether gold, materials, or credits to spend on options, upgrading your deck, or thinning it for efficiency. Then you have your roleplaying actions, such as trading or fighting with the other players as you either compete or help each other complete the mission's objective. 
In short: Deck Building games do not need booster packs or to purchase and bring prebuilt decks to play the game; they build the deck as the game progresses and use the progression to experience the game. As such we will be looking at the base game only.
Criteria
I will be rating them as follows 
Learning Curve 

Game Balance 

Replayability 

Personal Enjoyment
Learning Curve
This applies to both first-time deck builders and long-time card gamers. The learning curve of the game should be reasonable. Explanations for card effects and abilities should be intuitive and quick to understand, even if they are difficult to remember later. A medium amount of special terms or keywords helps simplify the learning process. 
This is important because if a game seems too daunting to learn from the beginning, it will dissuade players from even picking up the game. While there is a niche for people wanting a challenge, in the end, they are a niche rather than most players. (looking at you, Souls-like Genre) Additionally, challenges are meant to be found by the game itself having a difficult situation rather than the mechanics and controls behind it needing to be more intuitive. 
Game Balance
This one is odd to explain to a new player, but essentially, it is the opportunity for all kinds of playstyles to be available without being favored in one way or another. There will always be powerful and weaker cards, but if it is a well-balanced game, there will never be a useless card. I do not aim for perfect game balance because that would mean that there is no reason to release expansions or additional accessories for the game but rather one that has its flaws if you look deeply, yet need to be broken enough to destroy the game. 
Replayability
Games are meant to be enjoyed; some are story driven and cannot be experienced in the same way twice; others are intended to be played over and over. Replayability is how much you can play a game while enjoying the same core gameplay. Whether through expansions or various scenarios or objectives, a game that always has something new to encounter is excellent. 
Personal Enjoyment
This would only be a great list with some bias in it. (I'm kidding) joking aside, it would be odd to rate a game highly if I did not enjoy playing it. This is more of what I found fun about the game and how much fun I had while playing it. 
10. A Few Acres of Snow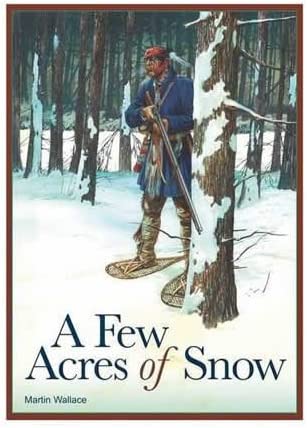 Players:

2

Setup time:

10-15 minutes

Playtime:

1-1.5 hours

Recommended Age:

14+ 

Designer:

Martin Wallace

Type of game:

Cooperative

Learning Curve:

3 out of 5

Game Balance:

4 out of 5

Replayability:

4 out of 5

Personal Enjoyment:

3 out of 5
This is an exciting game as it tells a tale of Britain and France fighting to dominate North America. Amidst the harsh winter warfare and the Native American tribes, you and another player represent these forces against each other to see who comes out on top. 
It is challenging to learn that there are tons of cards available to study, "purchase," and use in your strategies, so it would be difficult for first-time players to understand why you should take up certain cards. Pair this with the concept of "distance" and space in this game, and now you must consider all sorts of factors for those cards right out of the gate. 
As the game progresses, however, you will learn the importance of locations and movement cards. While the distance you need to "move" seems massive, you can plan accordingly; as much as a military strategist, you have to think four to five steps ahead. 
I would have preferred it if my first time playing this game was with someone who already knew how to play it rather than me and my friend slowly figuring out the game ourselves. While it was a novel experience unveiling the game's strategies, it would be better if someone or something helped understand the importance of certain symbols or cards in the game. It's fun once understood, but the learning process can hamper the greatness of this game.
9. Blood Bowl: Team Manager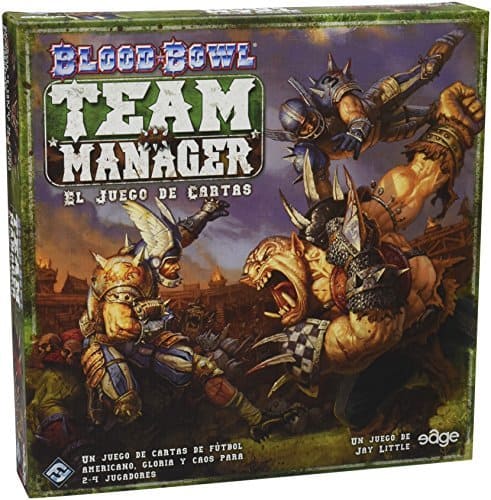 Players:

2-4

Setup time:

10-15 minutes

Playtime:

1-1.5 hours

Recommended Age:

14+ 

Designer:

Games Workshop (Jay Little & Corey Konieczka

Type of game:

Cooperative

Learning Curve:

4 out of 5

Game Balance:

4 out of 5

Replayability:

5 out of 5

Personal Enjoyment:

4 out of 5
So, this game has you playing a manager managing your players in the all-important Blood Bowl throughout the league. You must hire star players, improve your facilities, and expand your business to create the top team in the league.
In Blood Bowl, you compete by using highlights, moments in matches that swoon over the hearts of the fans, the one with the most fans is awarded the manager of the year award and wins the game. Seems simple right? 
Well, the phases are very straightforward to learn for a game that only has five rounds. There are three phases per round, the maintenance (or set up), the matchup phase (action), and the scoreboard phase (Scoring). This makes the game easy to learn and repeat, even after a few rounds of the game. 
The game balances itself through the players as they cannot gang up on any other player. Its control of the card-type system called highlights also encourages players to be strategic with their cards and to "cheat" within the game's restrictions. It feels like a sports simulation game on paper, yet in play, it can come up with unbelievable highlights like drop-kicking a Snotling. 
While sports games are not my type of story to play by, it was and still is an entertaining game to pass the time with. I would love to play it more if my friend brought it along more often. 
8. Legendary: A Marvel Deck Building Game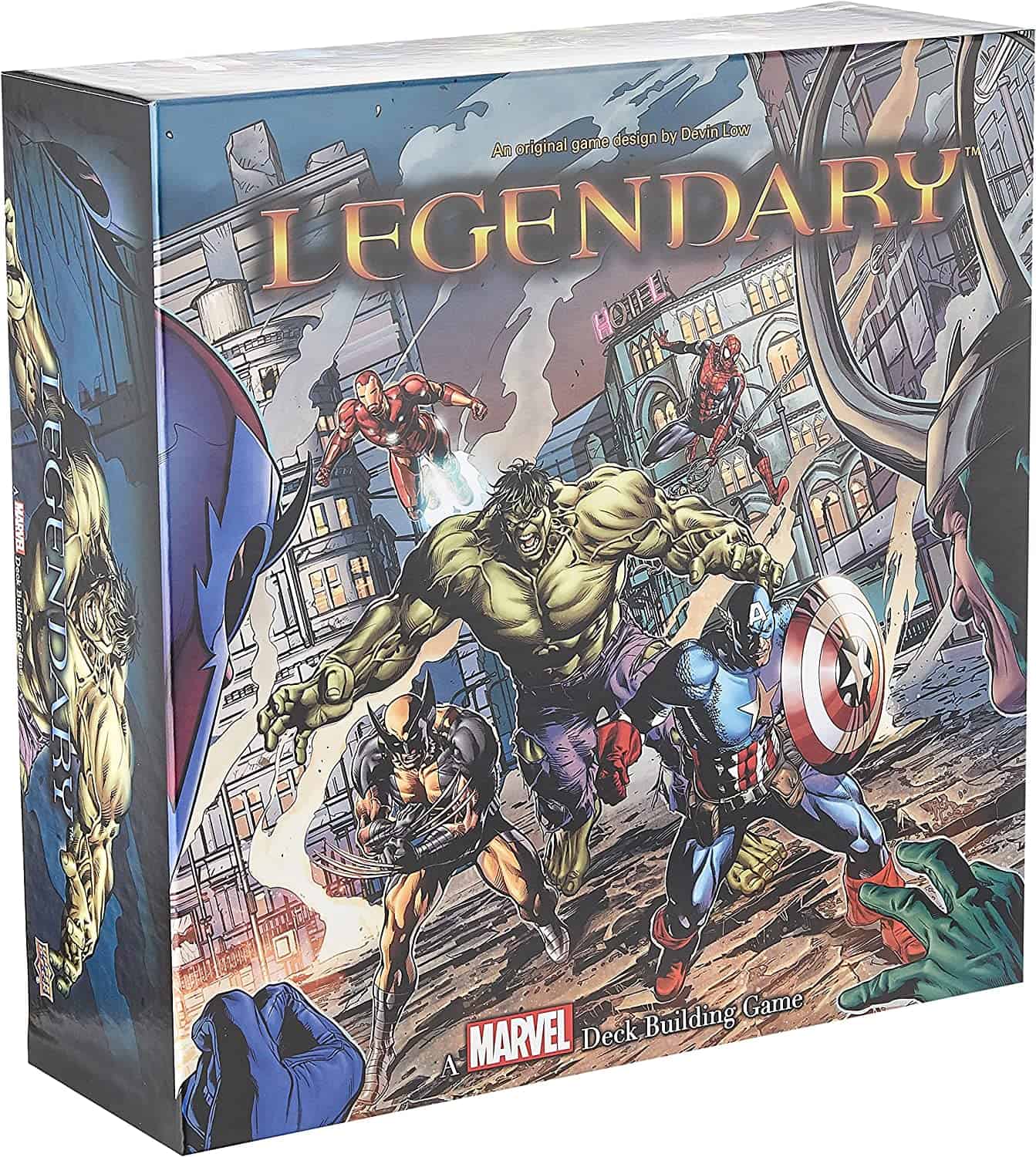 Players:

1-5

Setup time:

5-10 minutes

Playtime:

30-60 minutes

Recommended Age:

14+ 

Designer:

Upperdeck entertainment (Devin Low) 

Type of game:

Cooperative/Competitive 

Learning Curve:

5 out of 5

Game Balance:

5 out of 5

Replayability:

3 out of 5

Personal Enjoyment:

4 out of 5 
Fans of superheroes rejoice because this game has iconic Marvel heroes and villains duking it out in the classic battle of good versus evil. The game is simple to learn as most interactions are "read off the cards played." It is fast but easy to pick up and play once everyone learns how the game goes. 
For new players, all they need to do is read their cards and what they do, then tell their teammates so that they can figure out a strategy against the villain. The villain has his deck, and the players will draw through it as rounds progress, 
There are many variations to the game, with fifteen hero decks and four mastermind villains in the base game. Still, once you have seen what the four mastermind villains can do, it seems less replayable as you can more or less predict what cards are going to come out of the villain deck. 
It is a delightful game if you like the excellent art and playing as heroes teaming up against villains. You can even compete against each other once you are more familiar with the game by earning points by completing tasks. However, it is not the kind of game you play repeatedly but rather a game you pick up every so often to forget what the villains can do. 
7. Ascension, the Deck Building Game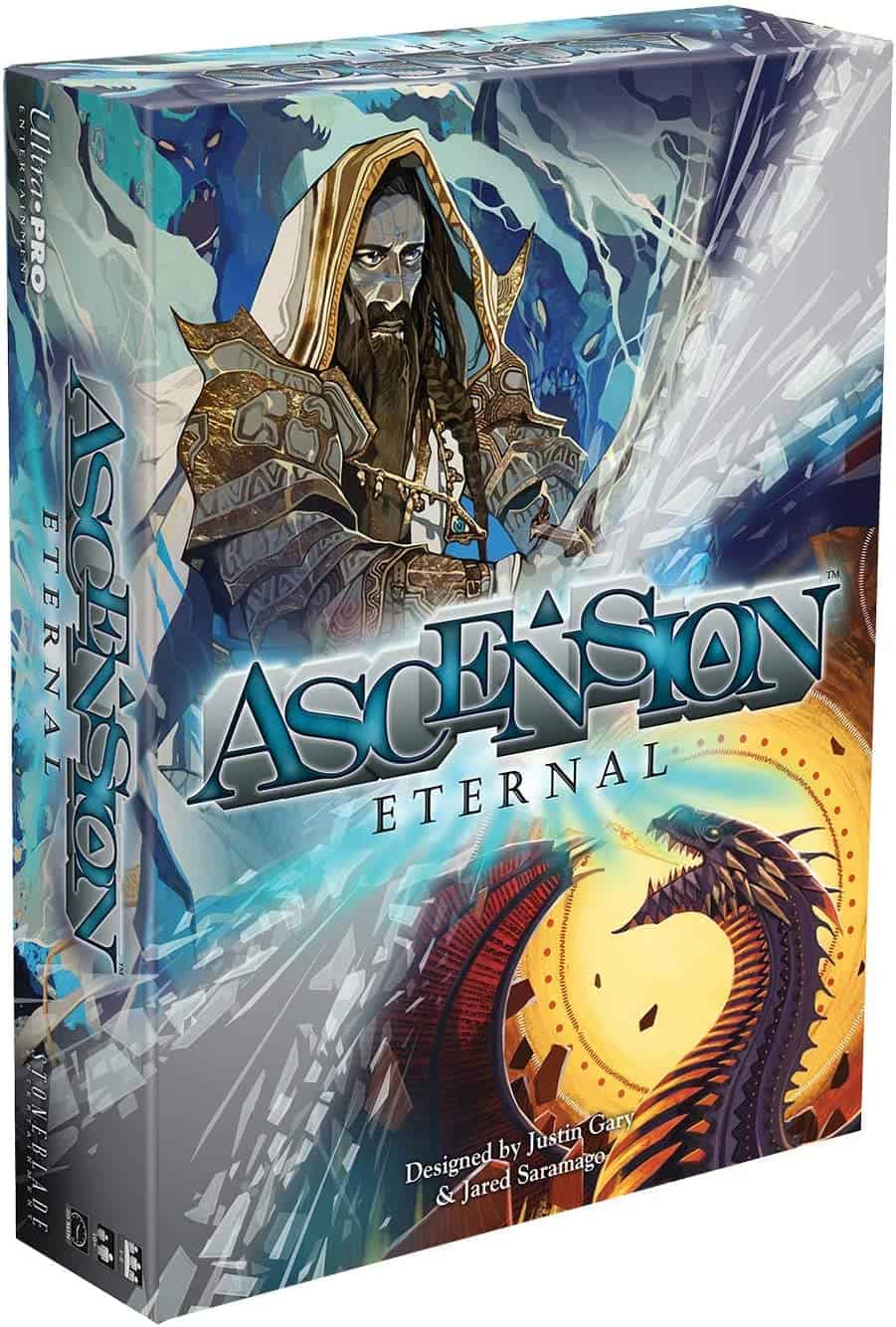 Players:

2-4

Setup time:

5-10 minutes

Playtime:

30-40 minutes

Recommended Age:

13+ 

Designer:

Justin Gary, John Fiorillo, Brian Kibler 

Type of game:

Competitive 

Learning Curve:

5 out of 5

Game Balance:

4 out of 5

Replayability:

5 out of 5

Personal Enjoyment:

4 out of 5
I learned about this game through its app before finding out that it was a physical board game, and while the application was very streamlined, we need to look towards the physical game itself. The goal is to collect Runes and Strength to battle monsters threatening Vigil. Players are warlords who want to gain honor; the winner is the one who earns the most. 
This heroic deck-building game has you going head-to-head with other players while not getting in each other's way (directly, at least). It is simple to set up as there are indications of where everything goes, and the cards are intuitive enough that you can figure out what they do at first glance. Even the rules are straightforward as you play cards from hand until you run out, refresh the hand and continue. 
Since this is PVP, it is a competition on who can perform the best; it feels balanced as you consider strategy, the new cards available to purchase, and the monsters on board. Runes and Strength further balance this; these two forms of currency cycle into each other as you use Runes to buy Strength and Strength to solve problems resulting in Runes and Honor. 
The base game already has four different styles of play represented by the four decks, and given that all the cards aside from these are randomized, each time you play the game results in a brand new scenario to tackle. A really fun game for those who inherently want to seek out combos and synergies. 
6. Dune: Imperium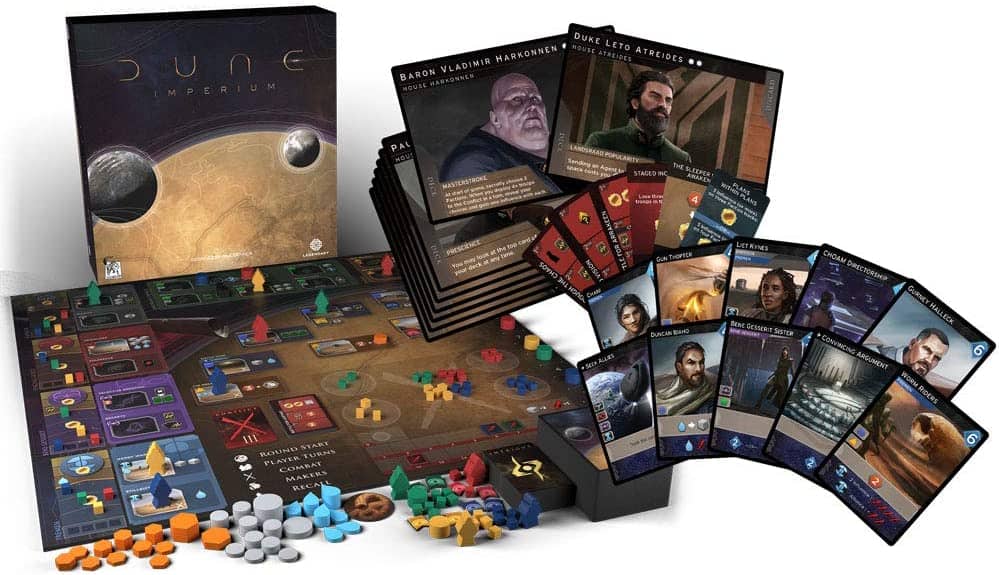 Players:

1-4

Setup time:

10-20 minutes

Playtime:

1-2 Hours 

Recommended Age:

14+ 

Designer:

Dire Wolf (Paul Dennen) 

Type of game:

Competitive 

Learning Curve:

4 out of 5

Game Balance:

5 out of 5

Replayability:

5 out of 5

Personal Enjoyment:

4 out of 5 
If you have seen the 2021 or 1984 Film Dune or, even better, read the novels by Frank Herbert and found them excellent Based on those stories, this board game has you surviving in the galaxy as you manage your ever-growing empire in the cutthroat competition that Frank Herbert created. 
It is a race to 10 points between leaders of the Great House as you resolve conflicts together while plotting for each other's downfall. Manipulate the flow of Spice, recruit and rally your forces as this game of persuasion and persecution perpetuates the competition of the Great Houses of Landsraad. 
This game uses deck building to create an atmosphere of actual political strife. Each player is given a unique leader and a deck of cards equal to each other player; following that, they must slowly build up their deck against each other as they compete for resources, agents, and locations. 
While it may seem daunting initially, this game is simple to pick up once you have read some of the guide booklet. The gameplay is easy to learn, from building a deck throughout the game to managing your resources and abilities to gain VP. The complexity is how you can form strategies based on what cards are available during play and which of them you can access at a given time. 
This game is also remarkably balanced; with so many types of resources, actions, and abilities, everyone is kept in check by one another and by the stifling of resources. With combat, intrigue cards, and limited resources, the situation is constantly changing and needs constant adaptation. 
This game is excellent; while I am not a massive fan of the Dune series, You could play this game without knowing any context to the story. It is too complicated for me since, depending on the number of players, the game's rules change from slight differences to an entirely different game mode. I prefer micro-managing only some stages of the game, from resources to calculating the possibilities of your opponents and the bonuses from controlling areas. Overall still a great game to play! 
5. Shards of Infinity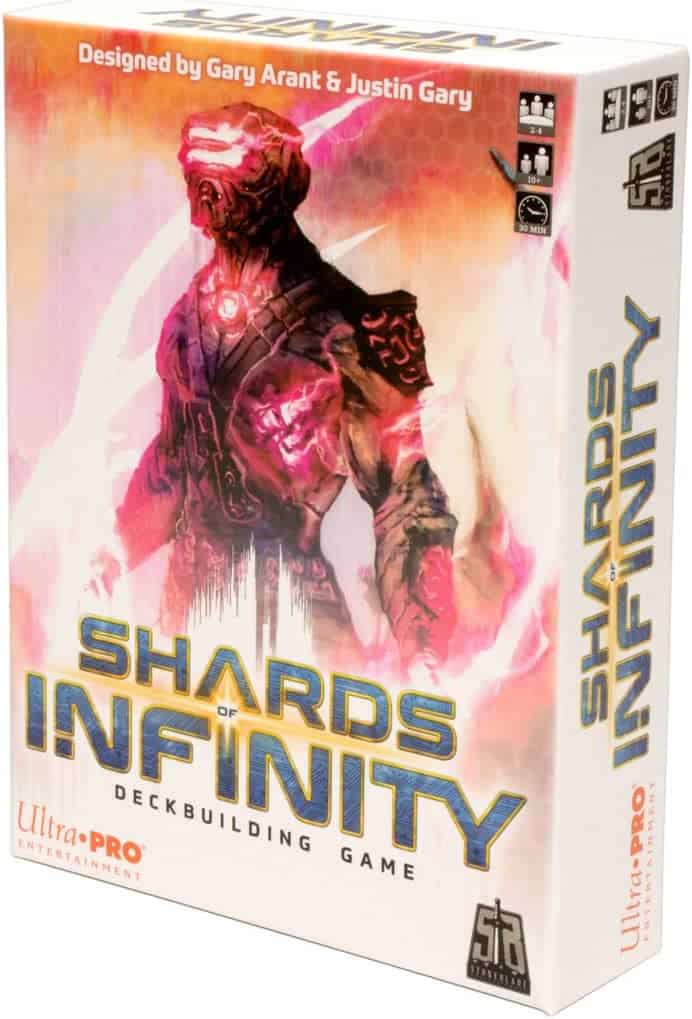 Players:

2-4

Setup time:

1-3 minutes

Playtime:

20-40 minutes

Recommended Age:

10+ 

Designer:

Gary Arant, Justin Gary

Type of game:

Competitive 

Learning Curve:

5 out of 5

Game Balance:

4 out of 5

Replayability:

4 out of 5

Personal Enjoyment:

4 out of 5 
This game has you and the other players going head-to-head in a PVP deck building battle. Try to control the Shard of infinity, as you must reduce the other player's health from 50 to 0. Starting weak with a basic deck of cards, you can upgrade your deck from the collective pool in the middle or enhance your mastery to make your cards more effective. From allies and champions to equipment and abilities, this game pushes an aggressive playstyle that keeps everyone engaged. 
The game is very intuitive play cards to gain what is written on the card to buy more cards and mastery. Since the goal is to defeat the other players, it is a mix of an arms race while making sure to talk with other players not to get attacked or team up. While there are no cards that counter another directly, there are combinations that can be used to shut down other cards. It is balanced since all the cards are on the field and known before being shuffled into decks. 
This was a great game; the first time my friends and I tried it, we played it for hours longer than intended. 
4. Aeon's End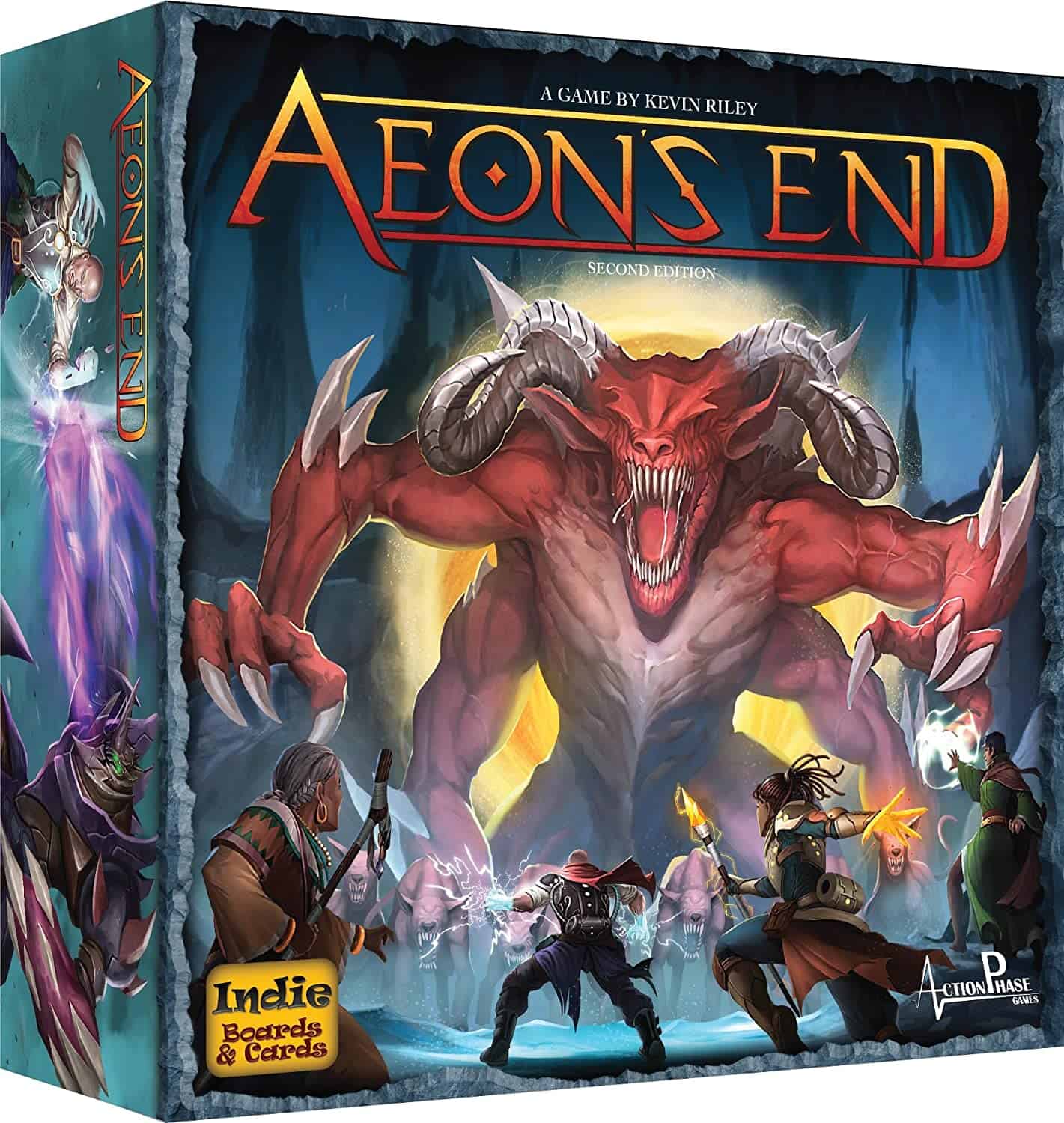 Players:

1-4

Setup time:

10-20 minutes

Playtime:

1-1.5 hours

Recommended Age:

14+ 

Designer:

Kevin Riley

Type of game:

Cooperative

Learning Curve:

5 out of 5

Game Balance:

4 out of 5

Replayability:

3 out of 5

Personal Enjoyment:

5 out of 5 
So this is a cooperative deck building game that has you working with other players to manage your resources and defend Gravehold from the monsters that threaten it. Unlike traditional deck building games, this adds a twist of making each discard matter as it does not reshuffle after a certain amount of time. 
It considers the skill gap between veteran card players and newbies by randomizing the turn order, and once you run out of cards, your discard pile is flipped over to form your new deck. It incentivizes coordination since you will know what cards are coming up next. 
I recommend this game to those who are looking to play a board game with a little bit of action and suspense in it. While the enemy monsters are few, they are distinct from each other and have to be handled with various priorities rather than just throwing cards with massive damage. Each time you play lets, you try out a new strategy with your friends, as there are many ways to solve a problem in this game. 
3. Mage Knight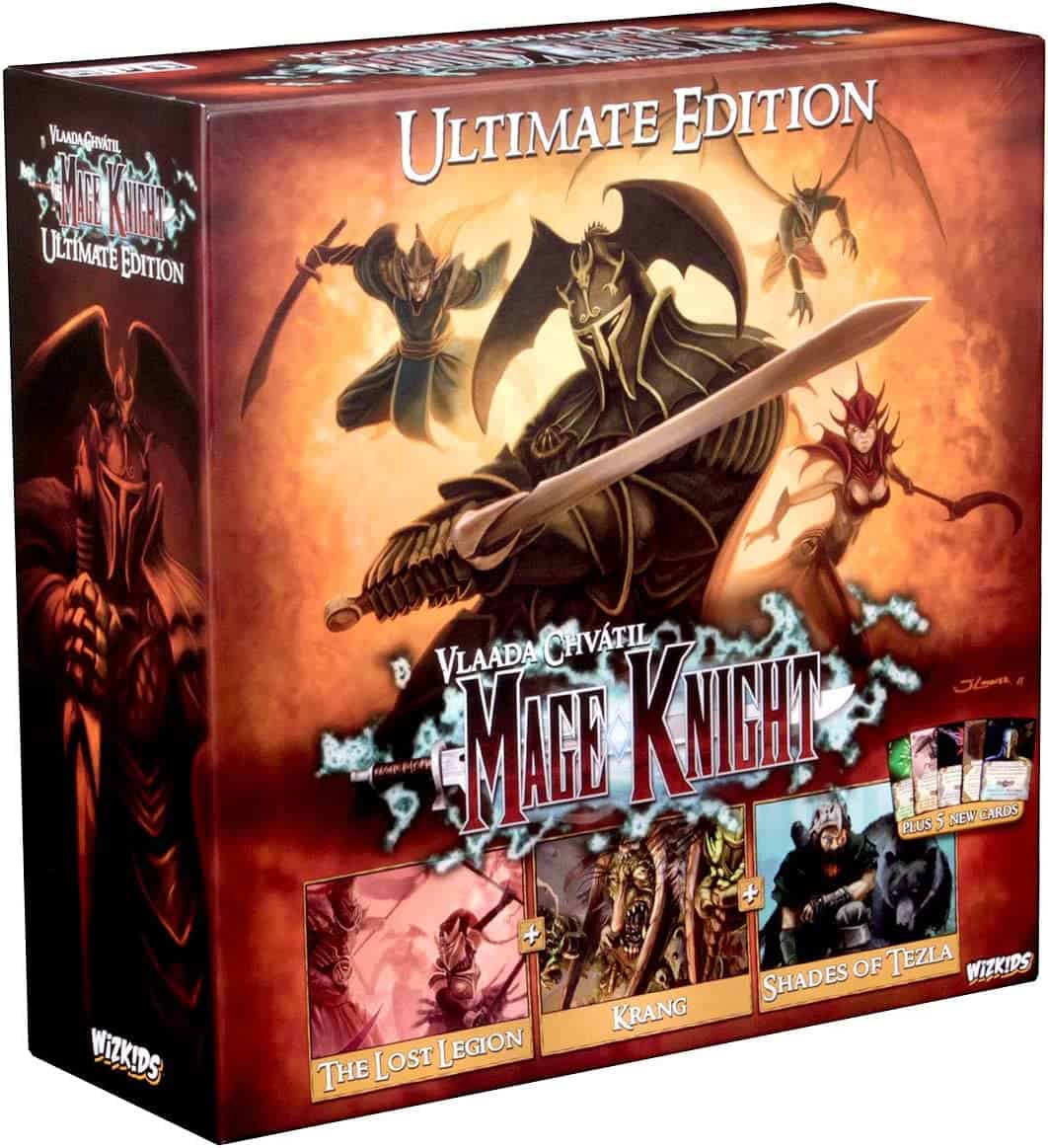 Players:

1-4

Setup time:

15-25 minutes

Playtime:

1-4 hours

Recommended Age:

14+ 

Designer:

Vlaada Chvatil

Type of game:

Cooperative/Competitive 

Learning Curve:

3 out of 5

Game Balance:

5 out of 5

Replayability:

5 out of 5

Personal Enjoyment:

5 out of 5 
This game is the whole kit and kaboodle; while most deck building games add one or two boards, this one adds everything, from dungeons to maps to narrative and, of course, cards! Each player represents a Hero who starts with a deck containing heroic abilities, yet as the game progresses, the deck will grow to include spells, followers, and treasure. Scenarios could have you going head to head with other mage knights or assisting one another to complete a greater goal. 
Given the massive undertaking that this game succeeded at, it is daunting for new players to get into and learn. There are dozens of things that need to be tracked, and since even the maps are randomized, there are very few mechanics to rely on. 
This game is fantastic to play, especially after seeing how much thought went into the game design, while it is complicated. Even after hours of playing it, the game keeps on giving. It is great to play with friends, especially after that initial confusion with the number of things that reside in the box of this game. 
2. Tyrant of the Underdark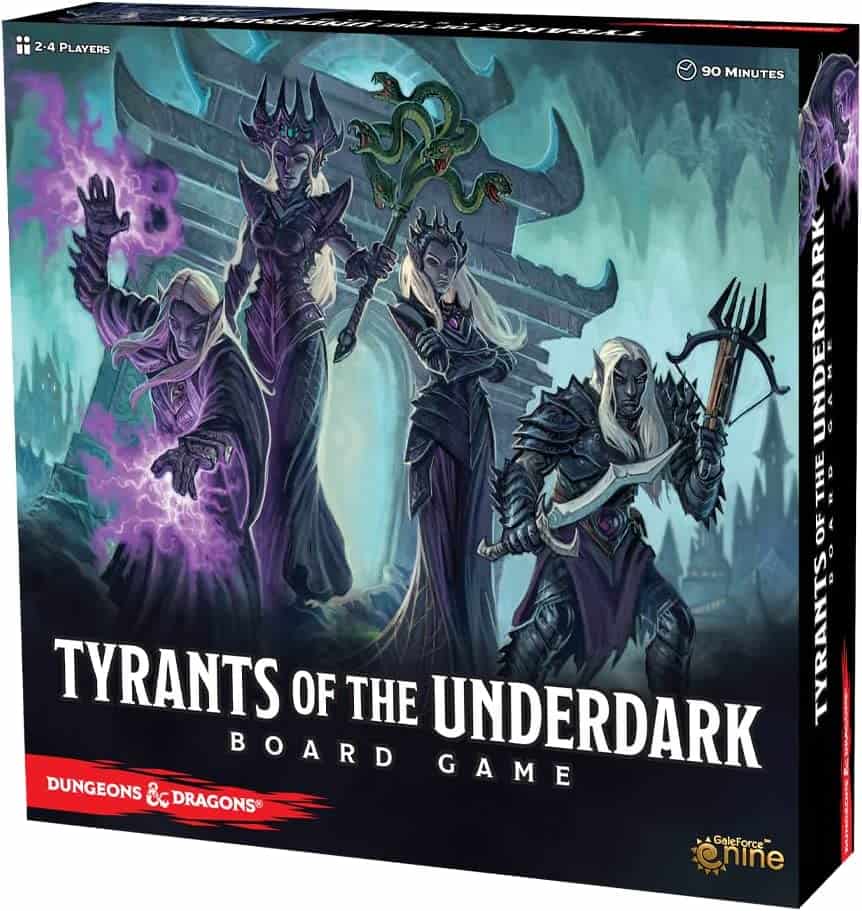 Players:

2-4

Setup time:

10-20 minutes

Playtime:

1-1.5 hours

Recommended Age:

14+ 

Designer:

Peter Lee, Rodney Thompson, Andrew Veen

Type of game:

Competitive 

Learning Curve:

4 out of 5

Game Balance:

5 out of 5

Replayability:

4 out of 5

Personal Enjoyment:

5 out of 5 
Here in the Underdark, each player leads a house of Drow to victory over one another. A deck of cards represents these houses for each house. Draw minions with different abilities, from recruiting more minions to assassinating opposing ones, to empowering one another. The goal is to have the most points; to do that, you either earn them or make sure that your opponents lose them all. 
It combines drawing the right cards and controlling territories using those cards. The players must also learn to manage their influence and power to recruit minions and control areas. Combine card effects to monopolize the board and snatch victory from the other players. 
I recommend playing the game over and over each time you develop strategies and learn how the cards interact with each other, especially since the game seems short while playing, even though it actually takes an hour.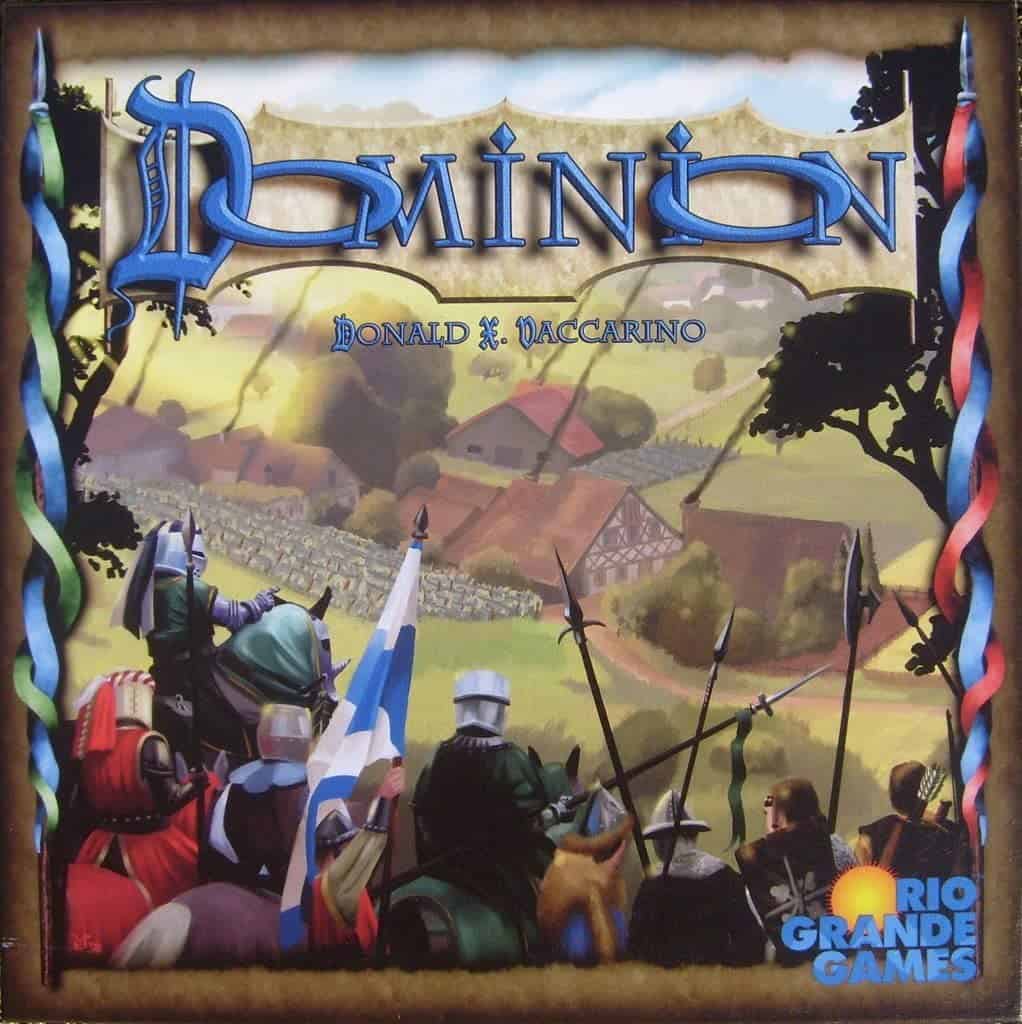 Players:

2-4

Setup time:

5-10 minutes

Playtime:

30-45 minutes

Recommended Age:

14+ 

Designer:

Donald Baccarino

Type of game:

Competitive 

Learning Curve:

5 out of 5

Game Balance:

5 out of 5

Replayability:

5 out of 5

Personal Enjoyment:

5 out of 5 
This could be considered a classic, the father of the deck-building board game genre; without its success, this genre could have died off years ago. This is a mercantile competition between players, wherein you pull cards from a fixed market; these cards represent resources you can use to purchase cards further and earn victory points. 
After setup, it is easy to figure out what cards give points and what cards are resource-based; the most complex the game is that certain cards have multiple purposes and that the better cards are more limited in number. Each player takes turns purchasing around the board so it's best to know what resources you want to target so that you can keep yourself ahead of the game. 
It may be because this is my go-to nostalgic game to play with friends, but I do thoroughly enjoy this game (and its expansions). It always feels like a fresh experience since your strategy is always flexible throughout the game. 
FAQ
Question: How many cards are needed to be considered a "deck building" game?
Answer: Generally, the core game must have 250- 500 cards and have its main mechanics revolve around building a deck. However, the variety and uniqueness of cards must also be considered. I would say roughly 70 unique cards is a good number to consider deck building.
Question: What is the first deck building game?
Answer: Dominion is widely considered the first of the genre and kickstarted deck building into becoming a genre.
Question: What are Deck Archetypes?
Answer: This applies less to Board games and more to Card games, but in general, there are four types of decks: Aggro, Control, Combo, and Midrange. Aggro is a fast pace deck that focuses on early power. Control attempts to control the board state throughout the game by destroying or countering cards. Combo is as the name suggests, it has a core combo that usually ends the game in their favor once it gets started. Lastly Midrange is one that aims to end the game around the middle of the game, gathering advantages early on to defeat the opponent in the middle of the match soundly. While it can apply to deck building board games this is more of a loose guideline rather than solid archetypes.
In Conclusion
In the end, this list is my opinion based on the games I have played so far. There may have been a few that slipped from the list. Hopefully, these short recommendations help you decide if there is a game that you want to try out or have seen in stores near you.
Recommended reads: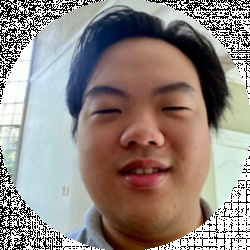 Latest posts by Conrad Chan
(see all)