People don't like endings.
It doesn't matter what it is. A good book. An excellent game. Life itself. If a thing is good, people usually want more of it. Sometimes, that can be bad, like if you were trapped in a dark fantasy setting, cursed to live again and again until you brought the gift of death back to the world. Or, it could also lead to great things, like expansions for a beloved board game that allowed you to explore new lands, even as it smoothed over a few rough patches in the game's design.
The Dark Souls board game was first published in 2017 after a massively successful Kickstarter campaign. The good people at Steamforged Games weren't content to rest on their laurels. They've been hard at work, crafting expansions to the board game ever since.
In the five years since the first Core Set was published, Steamforged has released fifteen additional products in their Dark Souls line. However, as any fan of Dark Souls knows, the game requires a heavy commitment of time and money. Every Expansion is impressive in its own way, but people should prioritize some more than others to add to their collection.
Selection Criteria:
How am I deciding the rankings for these expansions? It comes down to about four factors:
Completeness – 

Not every Expansion is created equal. If I think it feels incomplete, it will get a worse ranking.

Price – 

I love games. However, they love my money. If an expansion takes less of my money to acquire, it will probably get a better spot on the list.

Substance – 

Some expansions have more cardboard and paper accessories. Some of them have more plastic miniatures. I LOVE miniatures! If an Expansion has more miniatures, the box's weight and my love will drag it toward the bottom of a descending list.

Versatility –

 This one is the most important to me. If an expansion can be used with more than just the Core Set in mind, it's gonna get a better ranking.
Bottom Line Up Front:
If you're only gonna get ONE Expansion for your Dark Souls Board game, make it The Character Expansion. This Expansion includes more characters to play and is compatible with every other core and expansion set. It expands the games in ways that no other does.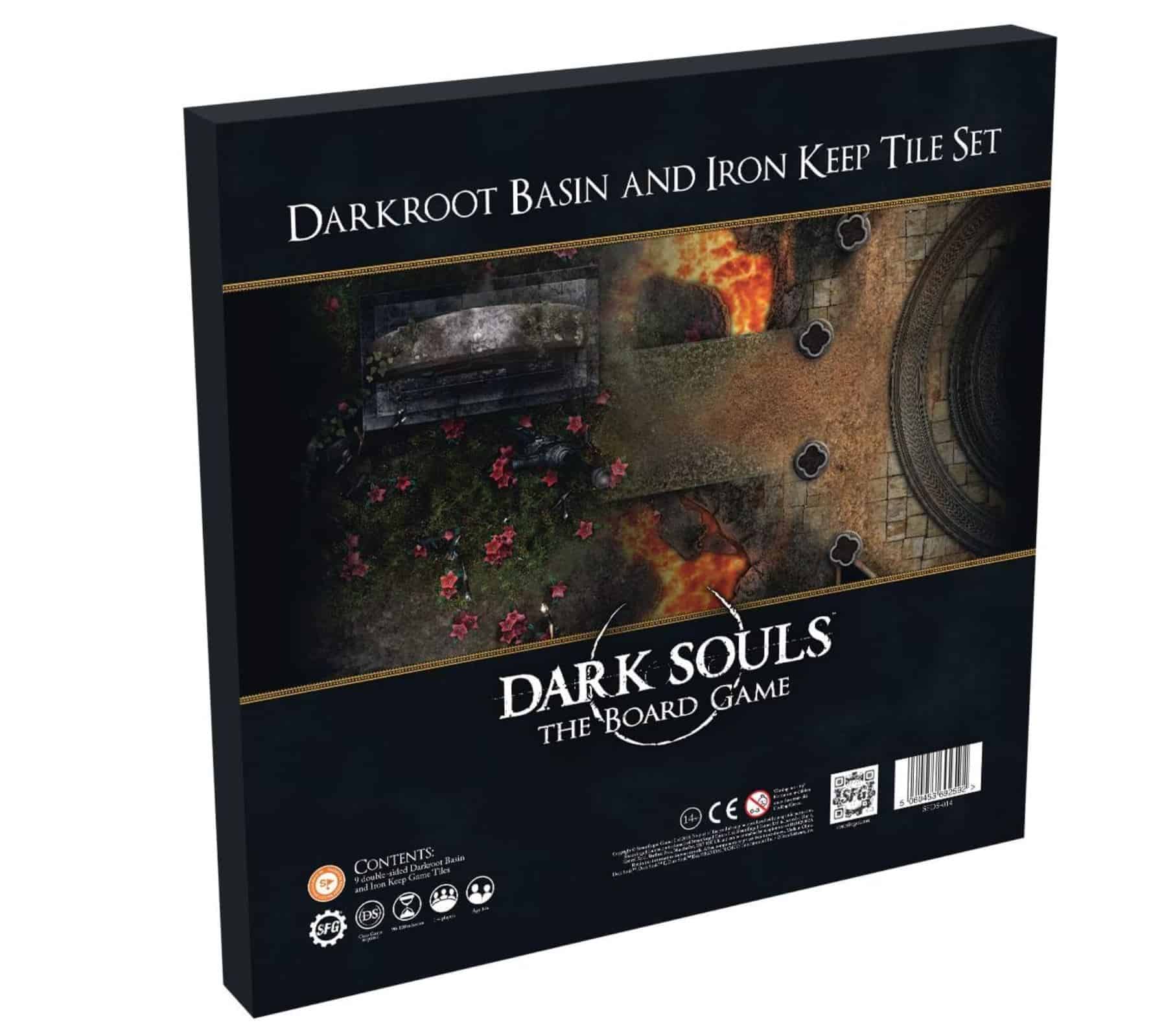 Miniatures:

 0

Tiles:

 9

Price: 

$29.95
This "Expansion" is literally just a handful of exploration tiles. One side has artwork that goes along with Darkroot Basin, while the other has Iron Keep printed. It has no other effect on the game, no miniatures, additional rules, campaigns, or story contributions. It literally just adds to the Darkroot Basin, and Iron Keep expansions by giving them more potential landmass.
In essence, this is an "Expansion" that expands upon other expansions that should have already had these things within them.
I know that people enjoy the ability for games like Dark Souls to run longer, and this will absolutely accomplish that. However, if any of these could be considered a "bad" expansion, I think this one comes closest.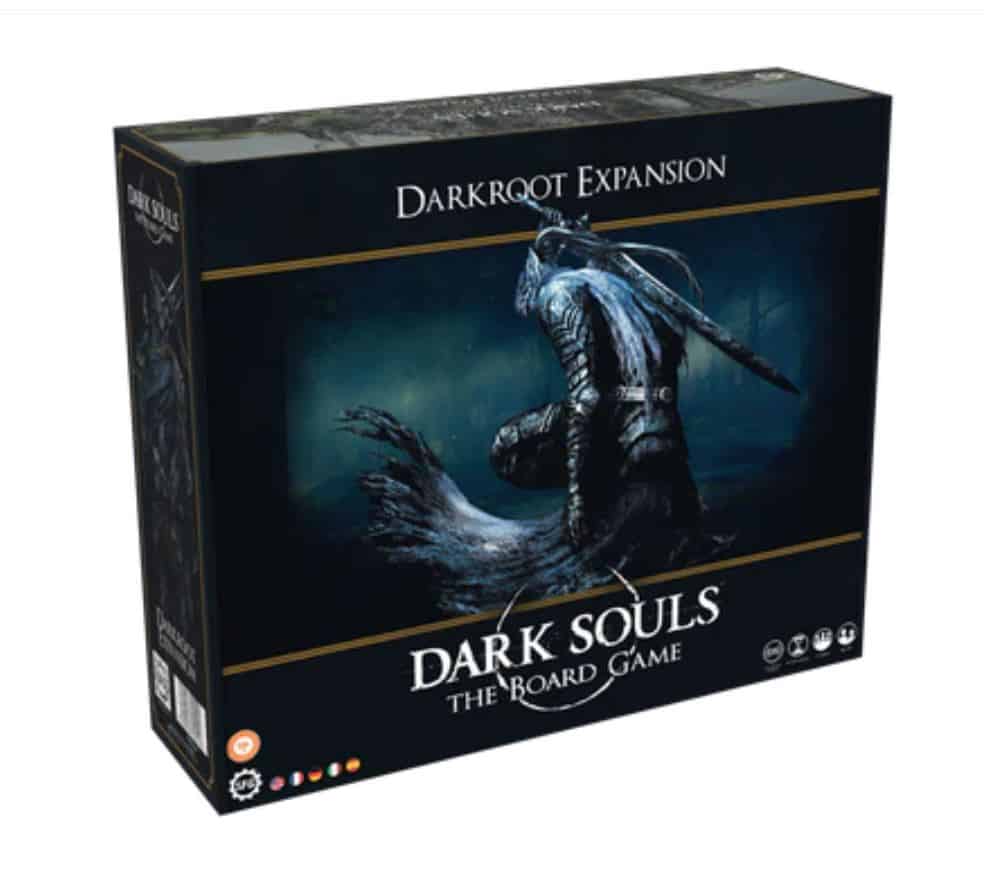 Miniatures:

 16

Tiles:

 0

Price: 

$69.95
Behold, the grave of Sir Artorias. Here lies one of the realm's finest swordsmen and greatest champions. His loyal canine friend, The Great Grey Wolf, Sif, still guards his remains. 
…At least, that's what I would say if this Expansion included any territory. 
Alas, this Expansion does not, in fact, have any tiles that add to the game's world. Instead, a person needed to buy the "Darkroot Basin and Iron Keep Expansion Tileset" above to get the battlegrounds appropriate to this Expansion. So, the price for this Expansion is more like $84.95. 
I'll admit, that cost it a lot of points. I am not a fan of microtransactions or incomplete products, and this particular Expansion (and the next one) smacks of both. 
In fact, this one got rated slightly lower than the other because it disappointed me. I utterly loved Sir Artorias and Fenrir in the game. Their story of companionship, loyalty, and duty that extended beyond the grave thrilled my little goth heart. 
The bosses and enemies involved are fine, and they do an admirable job recreating the battles from the game. However, that disappointment stings me deeply enough that I can barely look at my copy.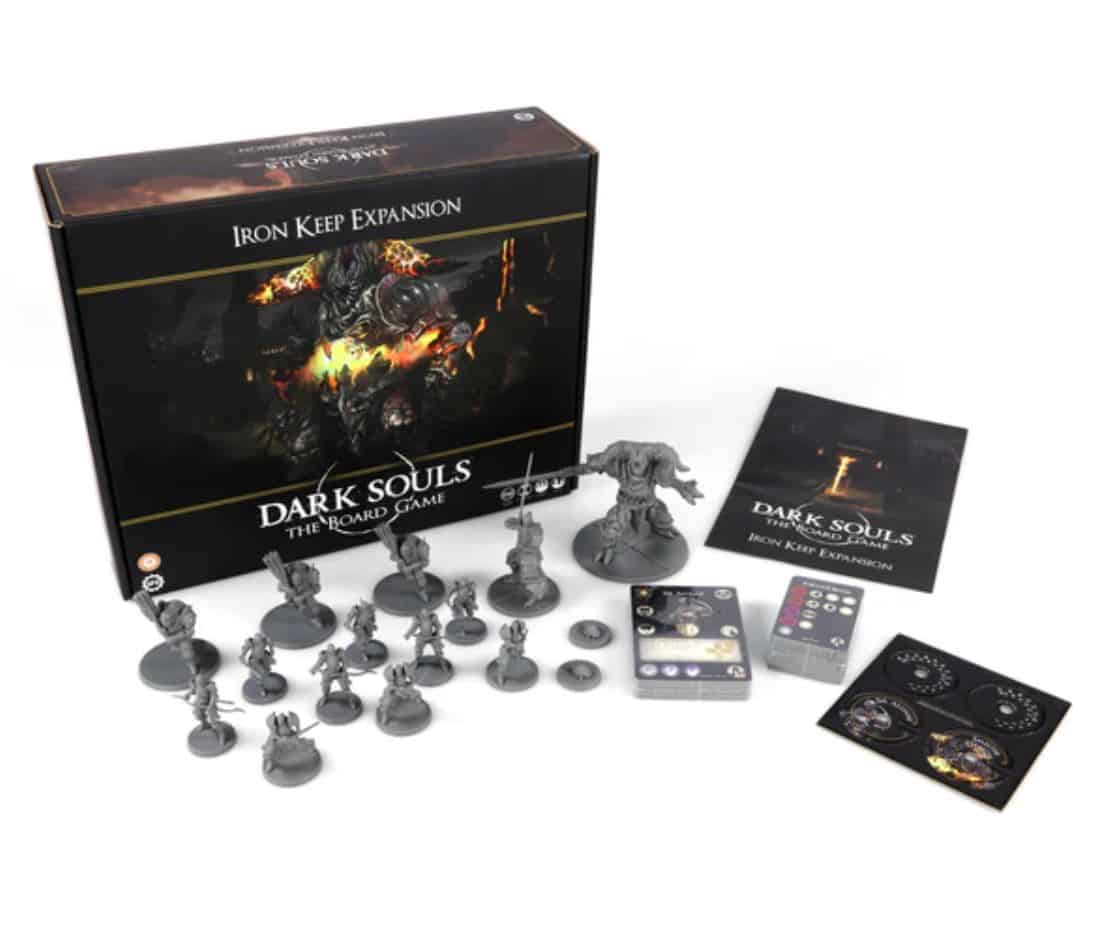 Miniatures:

 19

Tiles:

 0

Price: 

$69.95
Beware, Chosen Undead! For you now enter the Iron Keep. A ruined fortress of metal slag and broken dreams sat atop a boiling lake of lava. Can you survive the perilous Ironclad Soldiers and Alonne Knights? Or will you fall to your demise in the lava below? 
Either way, you'll have to use your imagination. 
Much like the entry above, this one did not initially come with any tiles to represent the land itself, meaning it was really more of an "enemy pack" for Dark Souls: The Board Game. That's not a problem in and of itself, but when you're changing people for an expansion, I have a wild notion that they should get a complete Expansion. Therefore, a "complete" Iron Keep Expansion is also $84.95. The only reason this got ranked higher is that I am less emotionally invested in any of the storytelling of Iron Keep. 
The battles with the enemies are enjoyable. There are slightly more miniatures than the ones above. All of the miniatures are reasonably high quality.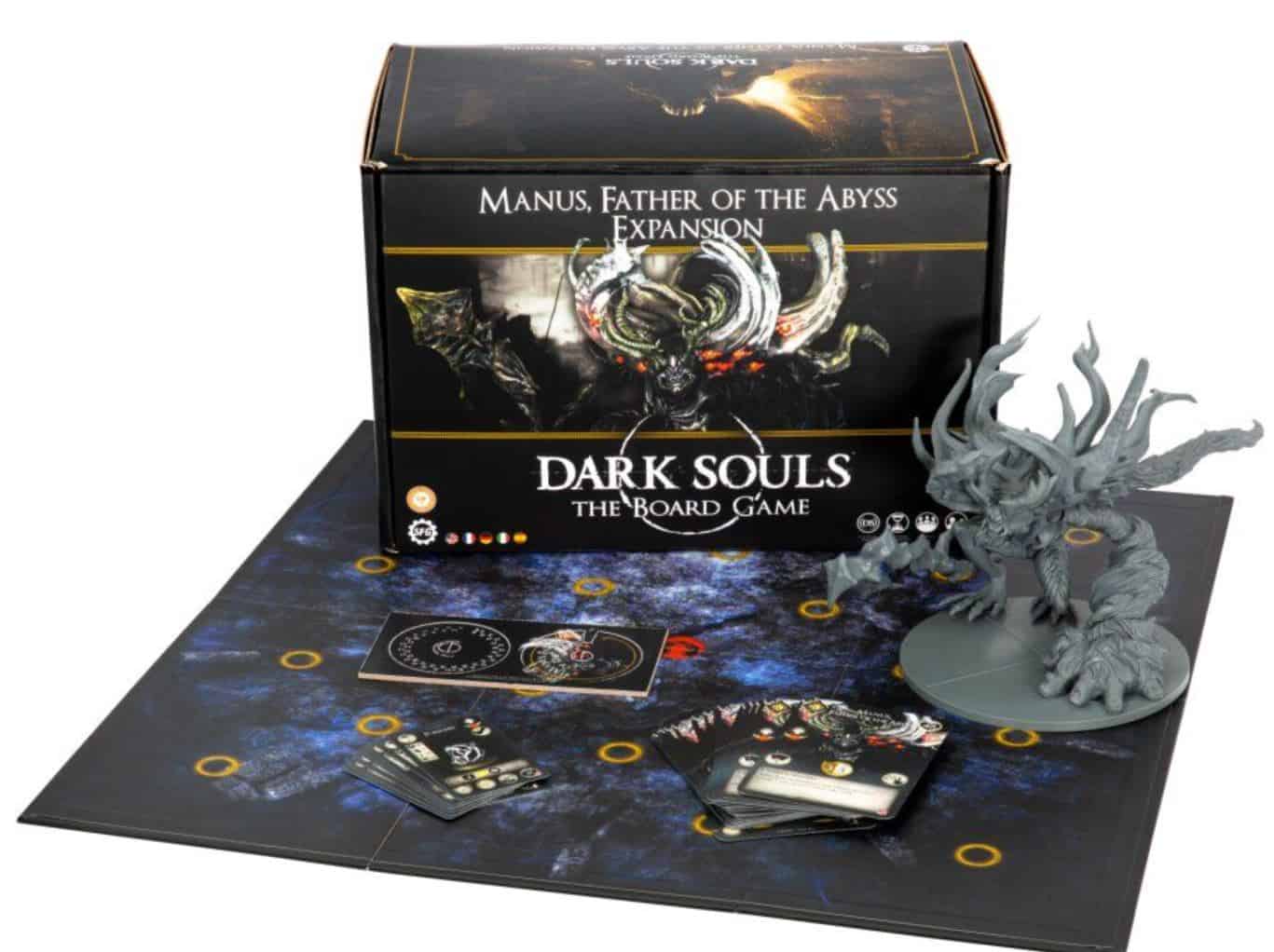 Miniatures:

 1

Tiles:

 1

Price: 

$69.95
Ah! Now we come to a new concept introduced by the Expansions: The Megaboss. 
Megabosses are very similar to Mini-Bosses and Main Bosses in how they work. They just tend to be a whole lot tougher to fight. Likewise, the battle arena is technically a single tile. However, it is much larger than the ordinary tiles, making up for more dynamic boss fights than others in the Board Game. 
It also includes several encounter cards necessary to face off against enemies within the game before you take on this challenge. 
The "Mini" for Manus is gargantuan. It's a solid, well-made miniature in the shape of the classic enemy from the Artorias of the Abyss DLC of the Dark Souls game. 
I wasn't very fond of this part of the original game, but the price really lost the most points with me. This is one that I personally have yet to purchase (though I have played it with friends), as it's unnecessarily pricy for what you get.
However, it DOES Give you what it promises, so bonus points there!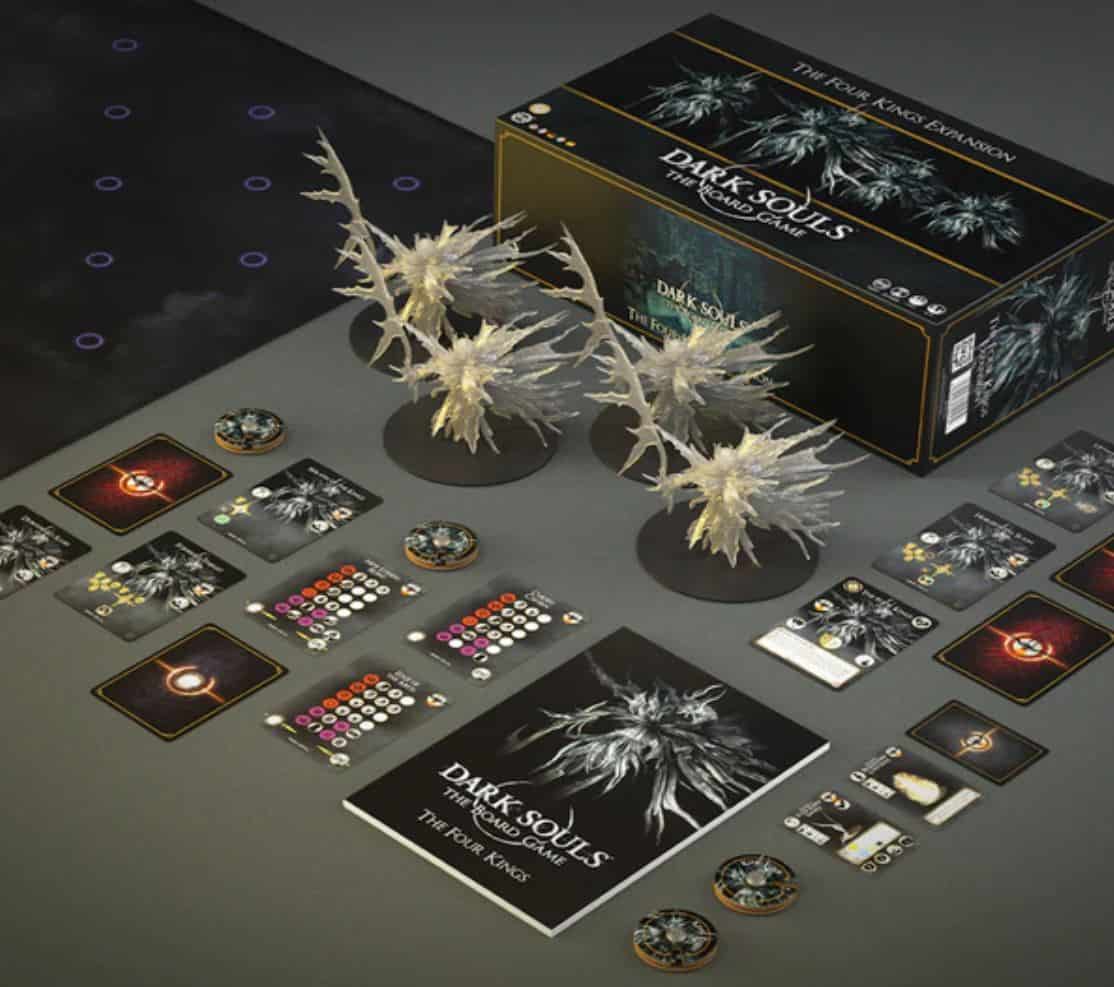 Miniatures:

 1

Tiles:

 1, Probably

Price: 

$89.95
Here's a rare one! The Four Kings is one of the Kickstarter Exclusive expansions from back in the day. Prospective players have a limited-time chance to pick up a second-run copy before April 28th, 2023.
This doesn't technically exist right now (the first printing does, but this edition promises some changes), so I will keep it brief. It'll be another Megaboss with some extras. However, this one is pricier than the other two, and I'm not a big fan of how the models look. 
However, no matter how badly this second-printing, changed product turns out, it's better than giving people half an expansion or a big pile of tiles!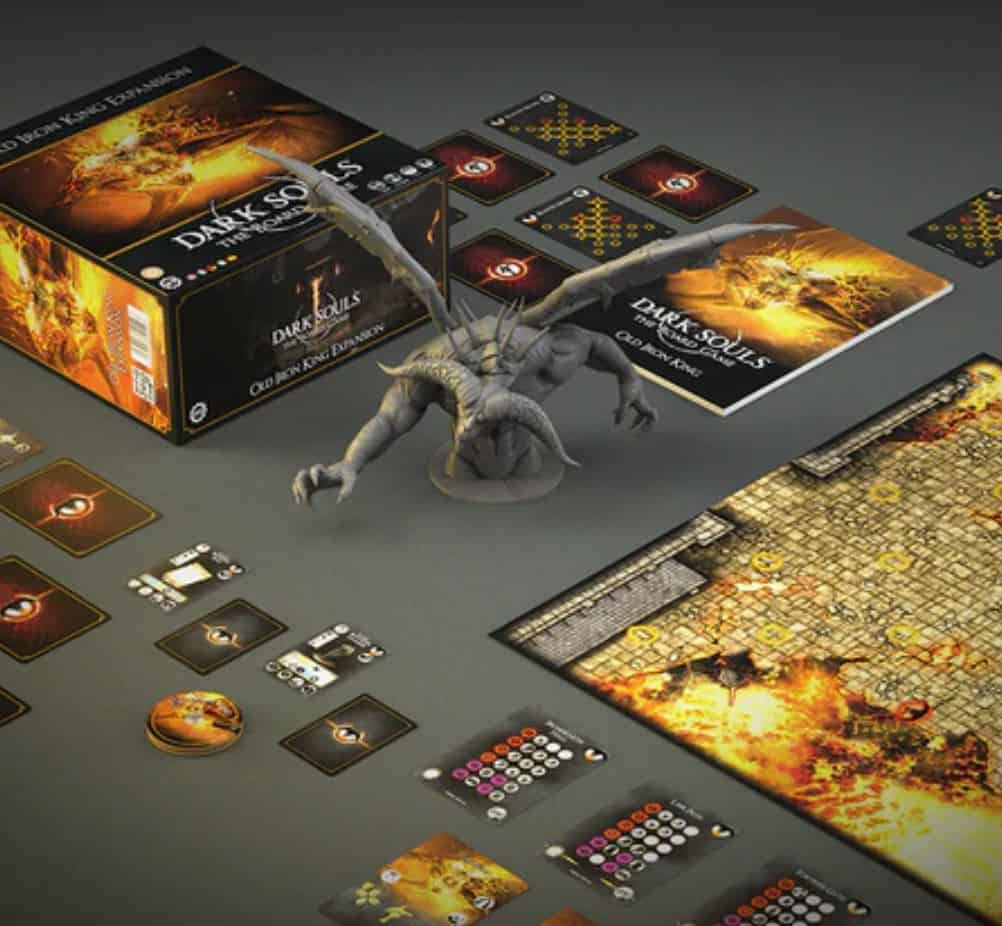 Miniatures:

 1 a piece,

Tiles:

 1, likely

Price: 

$69.95
This is the same deal as the one above, and most of what I said for it applies here. 
It's a second run of an earlier limited edition and is only available until April 28th, 2023, so act fast!
This gets rated higher because I like the model better!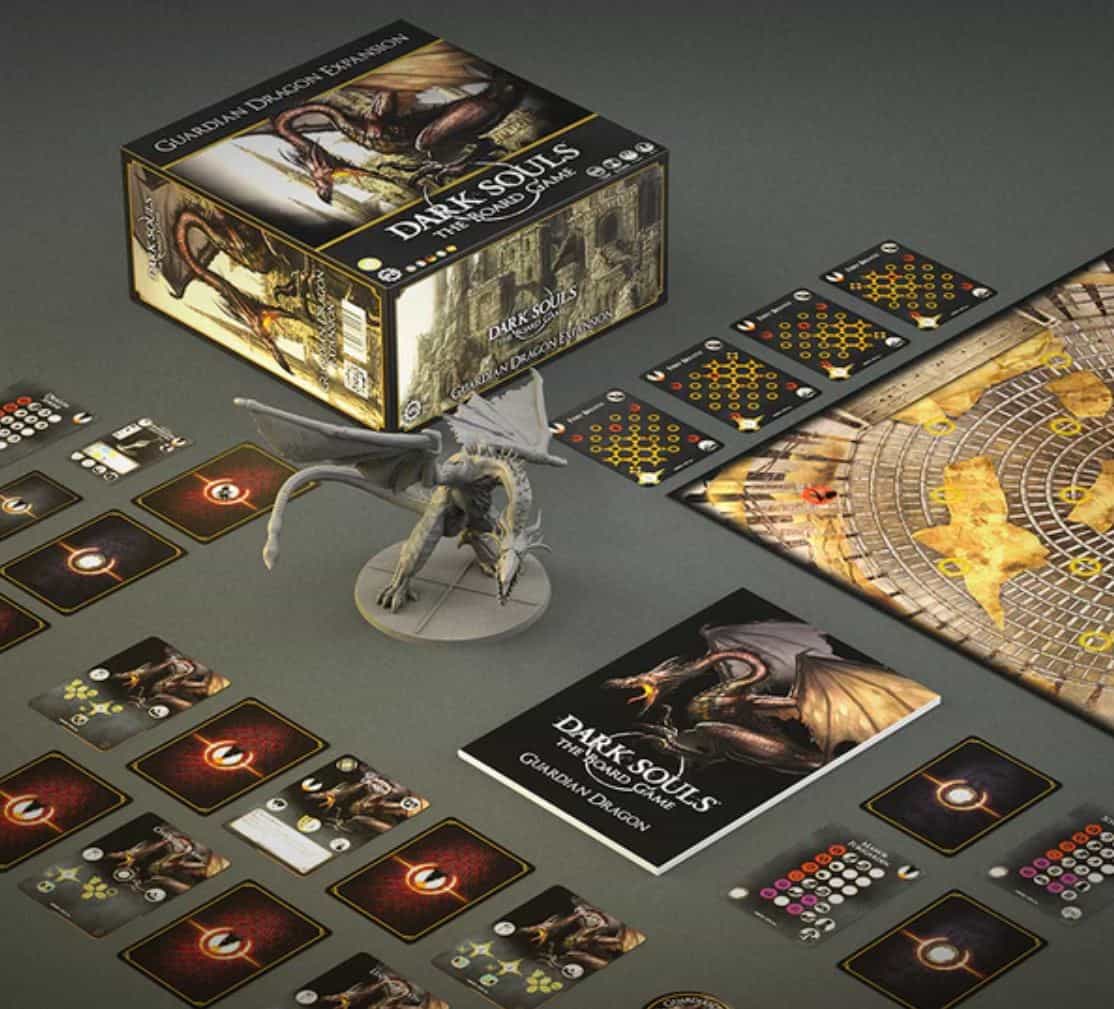 Miniatures:

 1 a piece,

Tiles:

 1, likely

Price: 

$69.95
Oh, the Guardian. 
It and I have a long history, but not in Board Game form. This is another second-run item that I still need to get my hands on, so I can only judge from how it looks and sounds. 
I love the model, and the Guardian Dragon gave me hours of "fun" back in the day. If you want a copy to test yourself, you've got until April 28th to pre-order yours!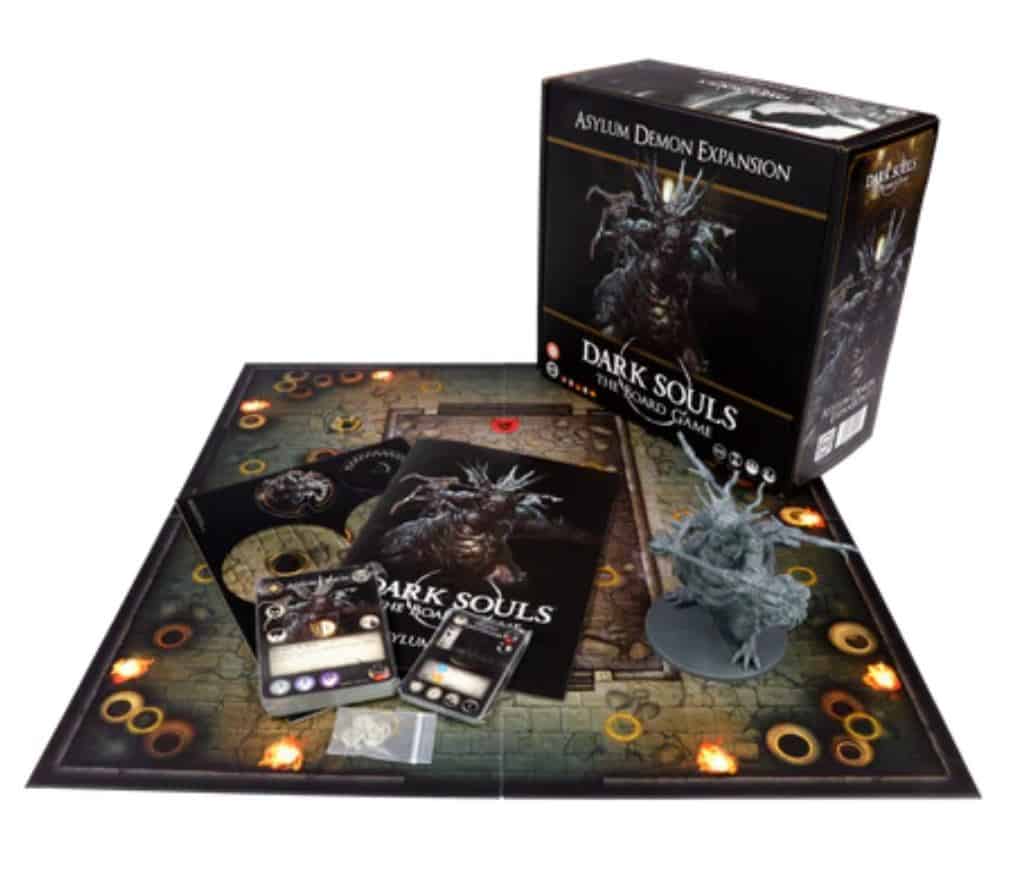 Miniatures: 

1 

Tiles:

 "1"

Price: 

$35.97
So, cards on the table here. This boss isn't exactly getting a fair shake. 
Asylums have long been a staple of the horror genre, and Dark Souls isn't unique in using it as an in-game location. However, it never sits right with me these days to deepen that connection. Is that the Asylum Demon's fault? Of course not. 
The more important question is: Is this my list? The answer is yes!
However, all that aside, the Asylum Demon is an excellent addition to your copy of Dark Souls. The model is well-made, the behavior deck leads to an exciting boss fight, and the tile is smaller than others but still larger than a standard tile. The price is pretty for what you get. If I were fairer, it would probably be at number seven.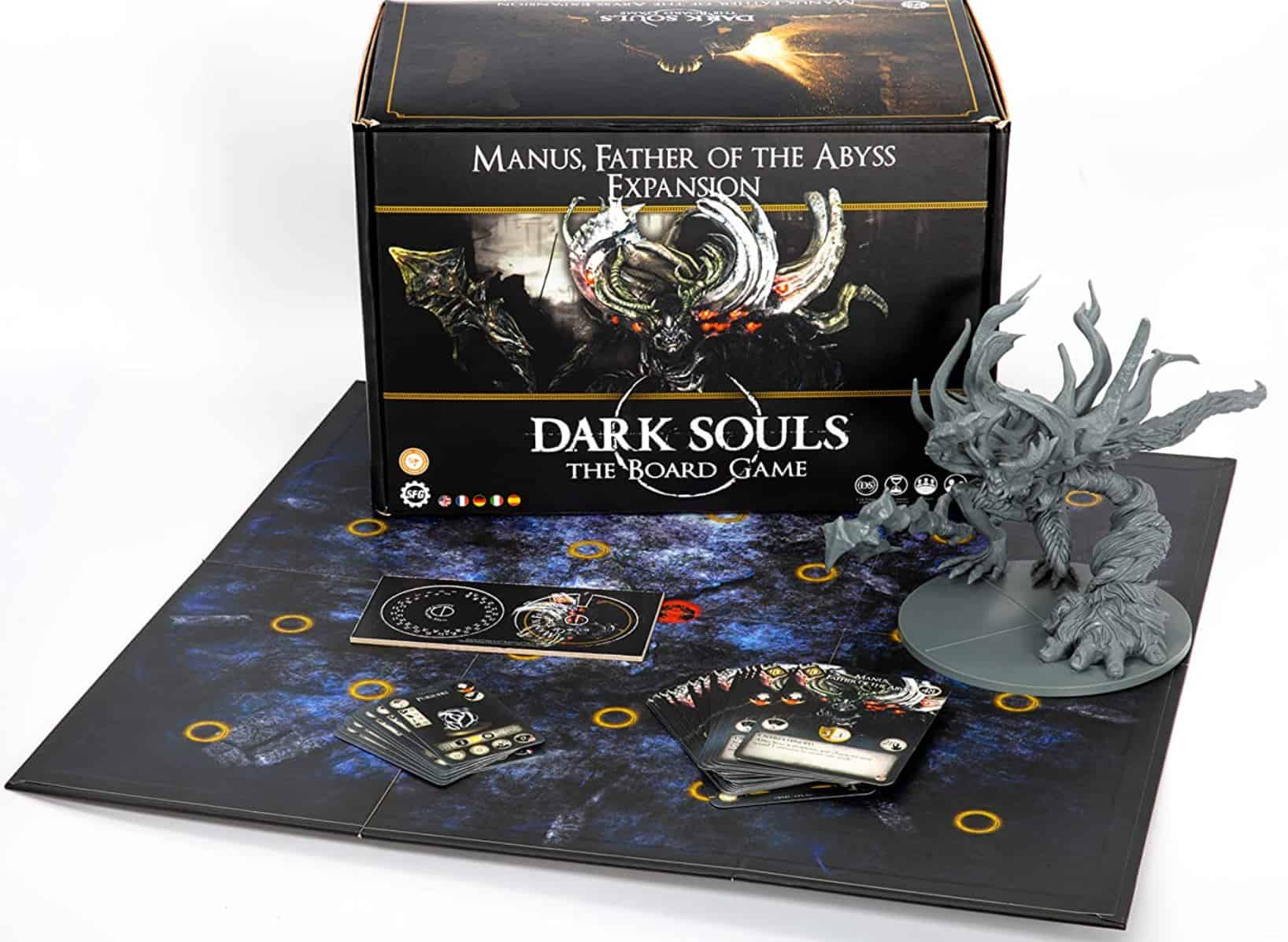 Miniatures:

 1

Tiles:

 "1"

Price: 

$41.97
Another Megaboss!
The Gaping Dragon fight still haunts my memories as surely as the dragon itself haunts the Depths.
Now, you can brave it with your friends to battle this hulking monstrosity. This one would likely be a bit higher-ranked. However, the Gaping Dragon miniature is one of the few Dark Souls miniatures I've seen break for multiple people.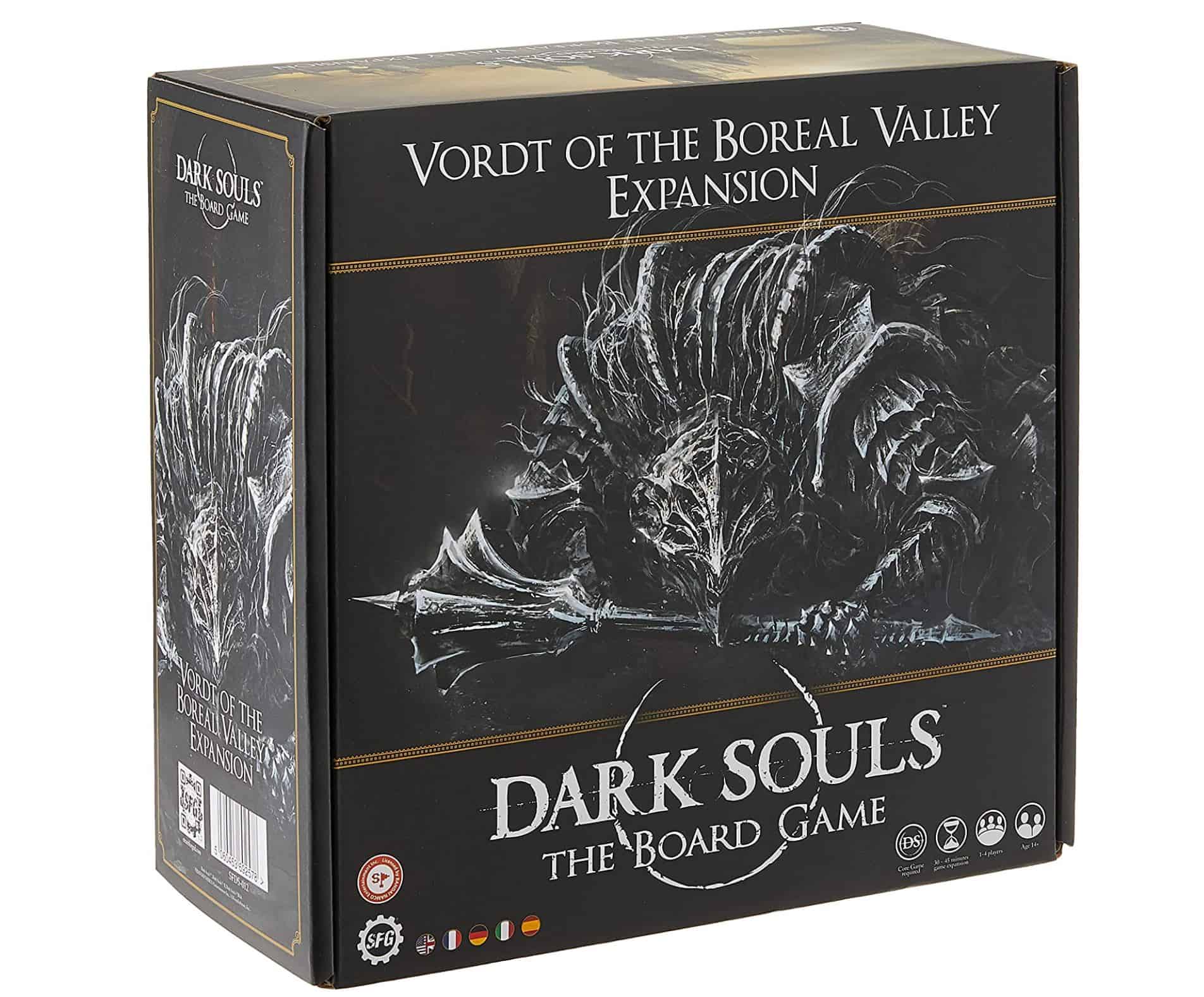 Miniatures:

 1

Tiles:

 "1"

Price: 

$35.97
This is one of the biggest fights we've had yet! 
The Boss Fight Tile for this Expansion clocks in at a foot-and-a-half long! Vordt also looks absolutely stunning in his miniatures form, and the deck he brings to the table will leave you breathless on the ground in no time. 
This is another one that I was incredibly excited about as Vordt sits on that same love of "duty beyond death" that Artorias and Fenrir occupy. However, this Expansion gives me that feeling at a much smaller price, and by including everything one might expect in an expansion pack! 
(No. I will not let that go.)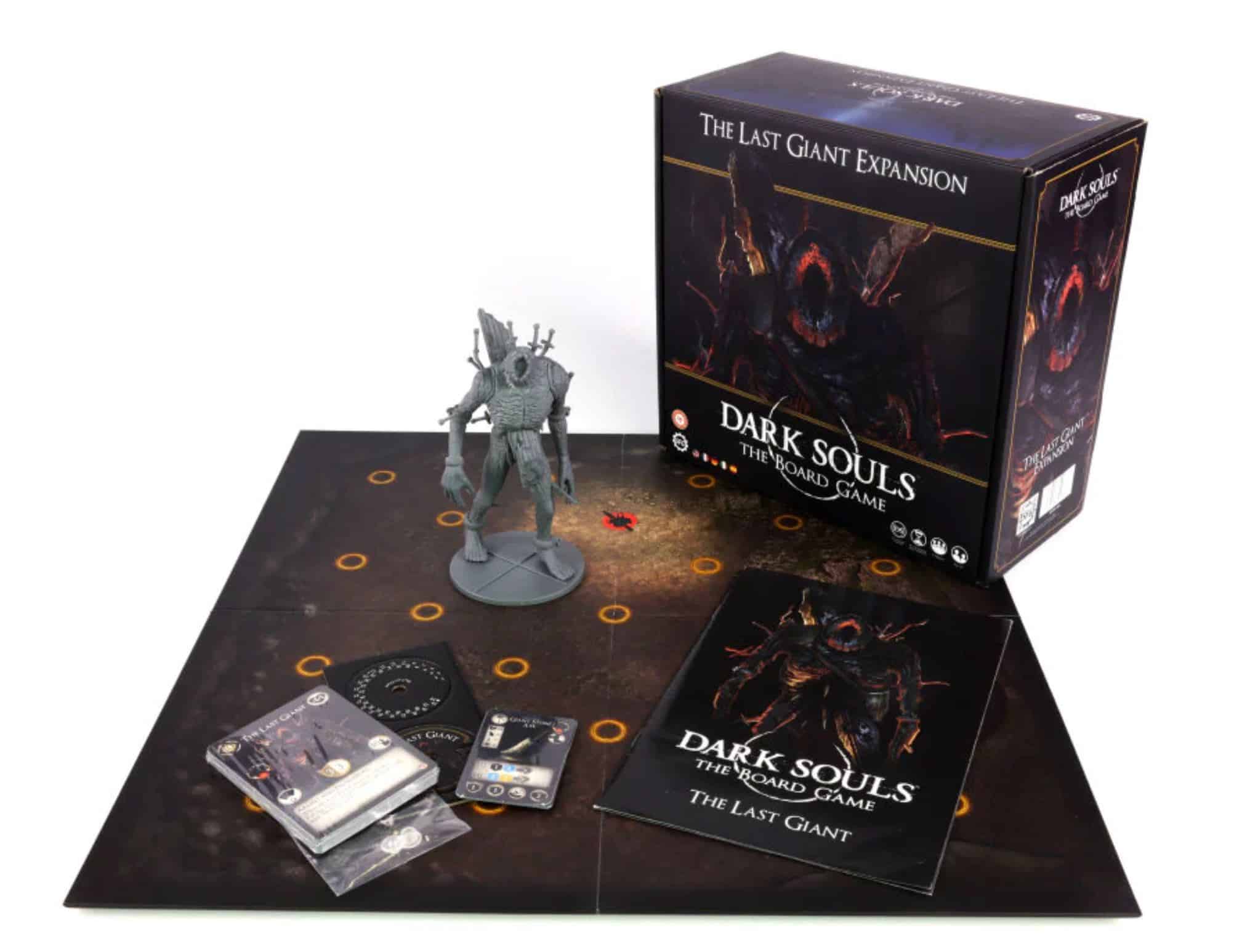 Miniatures:

 1

Tiles:

 "1"

Price: 

$35.97
A sad, mournful wailing whistles through the area, followed by the shifting of earth. At last, a mighty giant burst free of imprisonment and turned its attention to our waiting heroes. 
The lore of the Last Giant is absolutely chilling, and it always brings an extra level of excitement for me whenever I play through this particular Expansion. The encounter cards included in this specific Expansion are also fun. 
However, I wonder if I've been spoiled by other expansions, but this particular one seems much smaller than I expected. I think it's almost the same size as other tiles in the base game, and for a fight this big, that seems almost disappointing.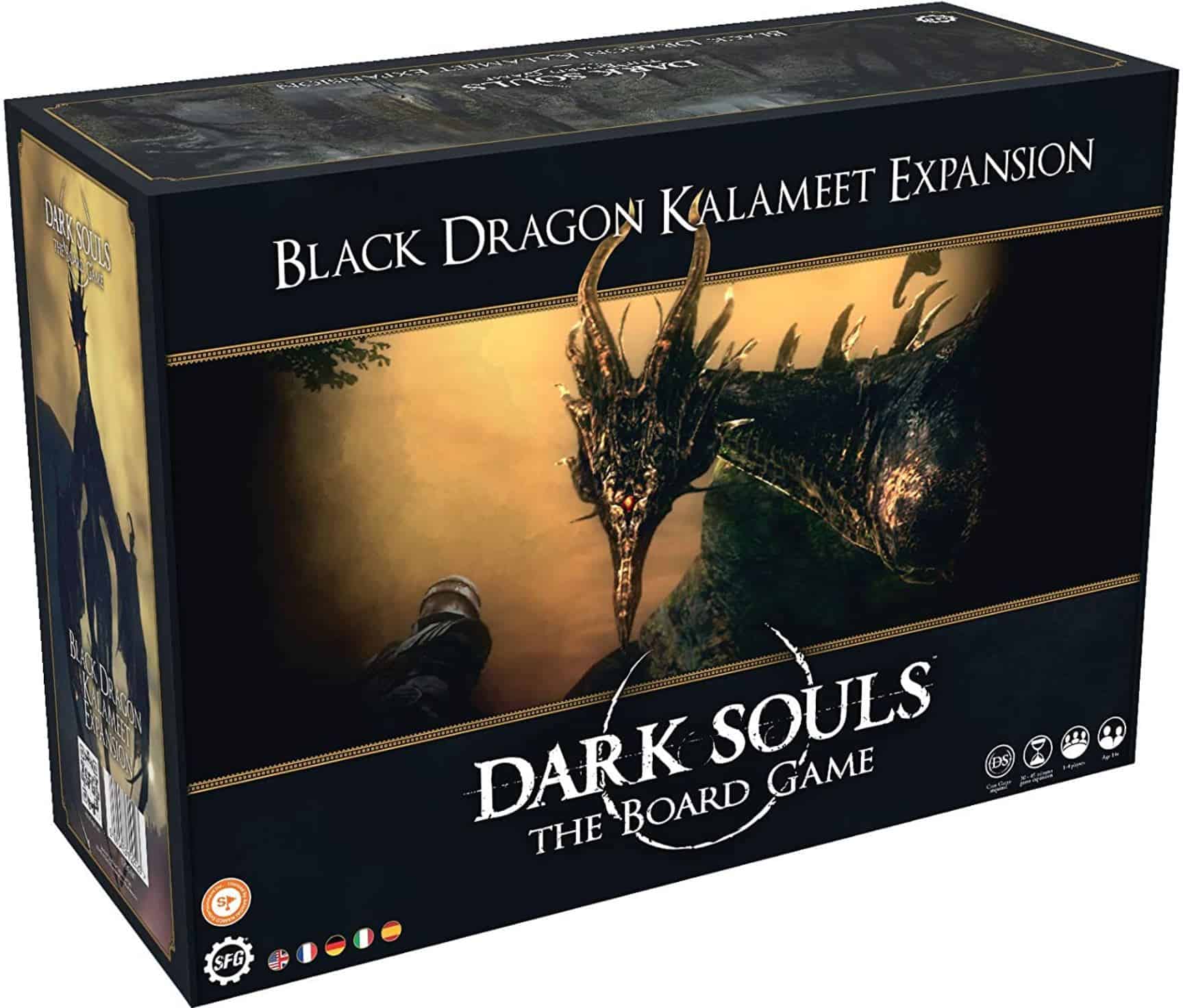 Miniatures:

 1

Tiles:

 "6"

Price: 

$41.95
Have you ever wanted to fight Smaug but in Dark Souls form? That's what Kalameet is. 
In the original game, he could only be fought after an archer with a mysterious past shot him down for you. It always struck me that it was very similar to the story from The Hobbit, but with a coat of grey paint over everything. 
Now that's not a problem at all! This is some classic dragon-slaying fun in both versions of the game. He might have taken the number 3 spot if he was priced more reasonably. The miniature is well-made, and his behavior deck makes the fight challenging. Mind his wings, however! I almost pulled them off by grabbing the wrong spot while unboxing the Expansion.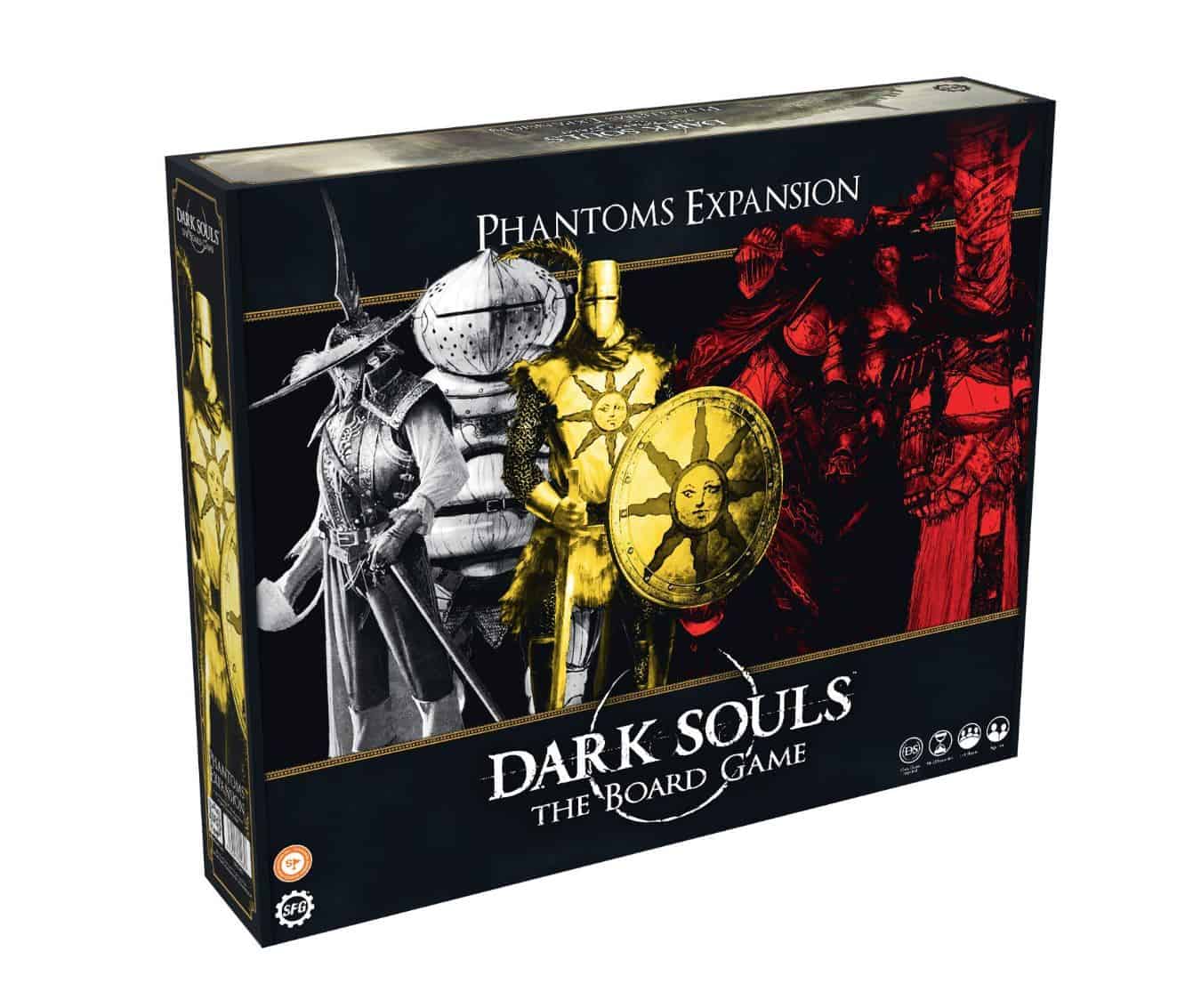 Miniatures:

 21

Tiles:

 0

Price: 

$59.95
This Expansion is clearly for players who love the multiplayer aspect of Dark Souls but can't get any of their friends together. 
This Expansion was released late in 2020, well into some of the worst parts of that year. I remember ordering this game expansion because I desperately wanted to feel like I was playing with others. 
It doesn't disappoint! The white phantoms make for excellent allies, if not quite the same as having other people playing the game with you, while the red phantoms offer challenging changes to the battles they participate in. 
If I had one complaint with this Expansion, some of the models have weapons that can be delicate, but it's not too bad if you're careful. There are no more tiles to explore with this one, but this Expansion was to add a mechanic to the game, not a location, so I consider that a good thing this time.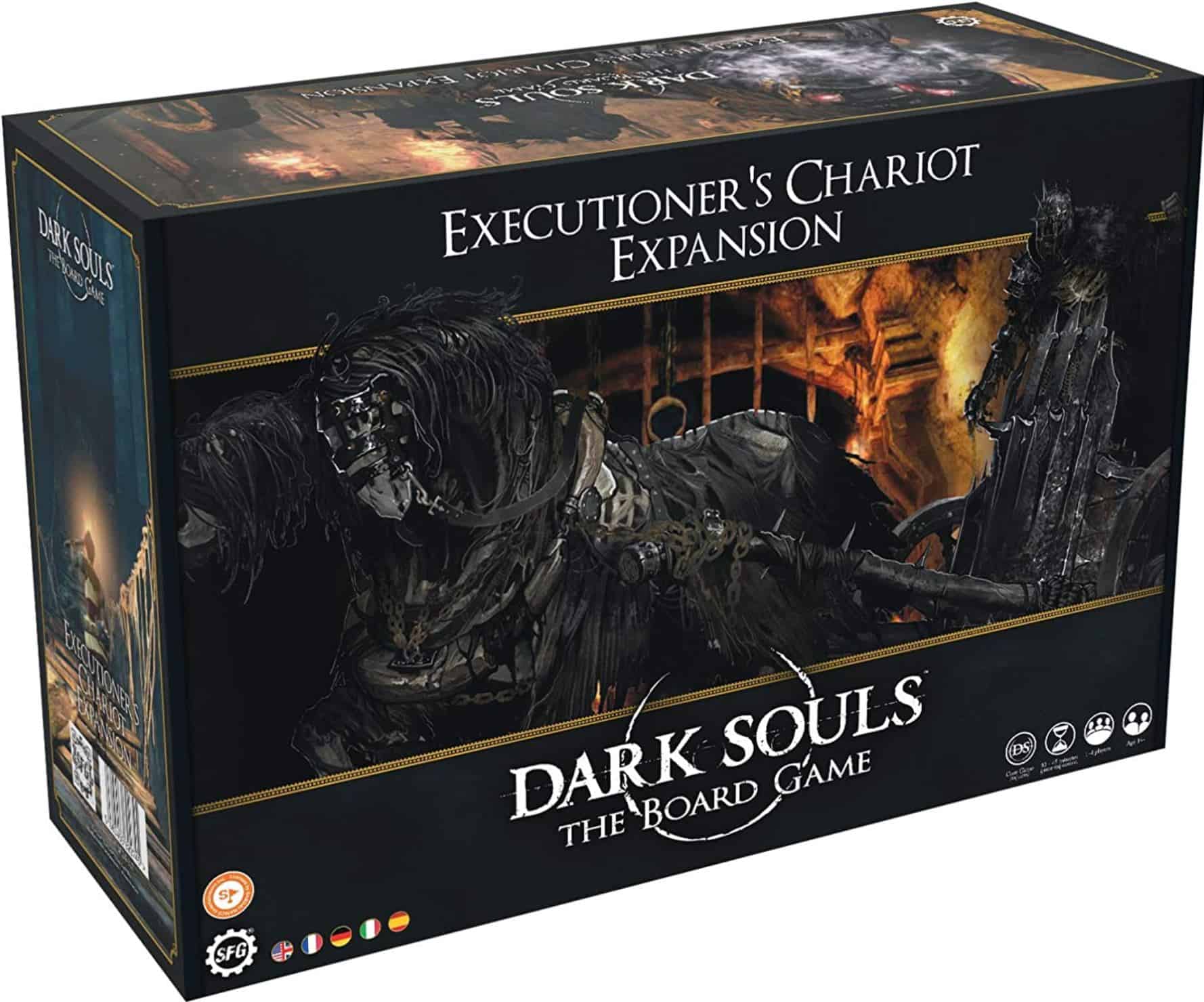 Miniatures:

 8

Tiles:

 "4"

Price: 

$41.97
The Executioner is a relic of a bygone age of bloodshed and despair. 
But good luck telling him that! This is an absolutely colossal expansion! It includes absolutely everything that one would want and expect in an Expansion. It has new enemies to face, as well as a new mega boss that must be fought in phases! It also has henchmen mini-bosses that will give you grief before and after the mega-boss is slain. 
However, long before you see the Executioner's Chariot, your group must cut through encounters of all 4 levels. What's more, the board tile for this battle is four times the size of the average tile. 
If that wasn't enough, it also includes notes to give you a whole new campaign for your game!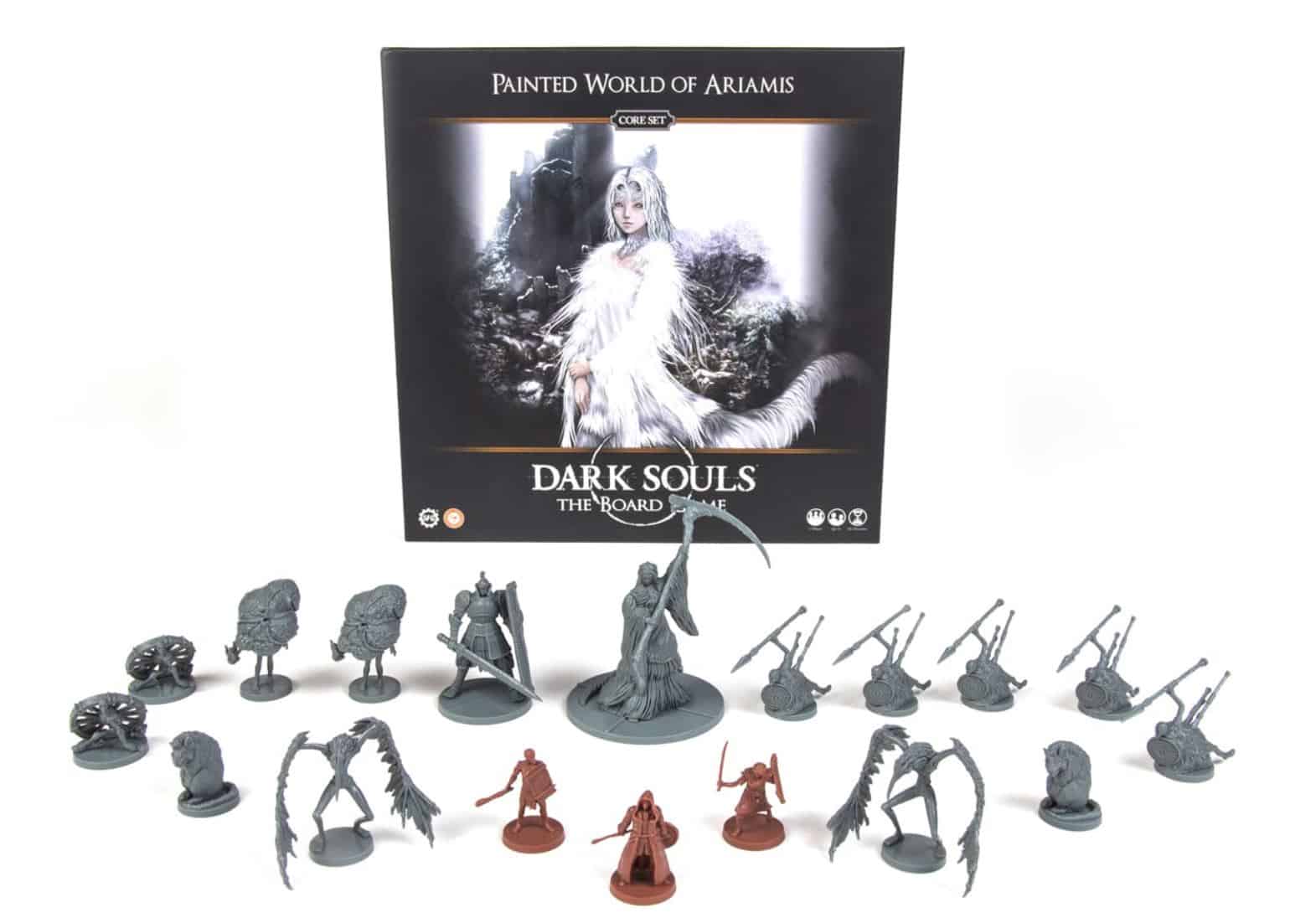 Miniatures:

 18

Tiles:

 4

Price: 

$109.95
I might be cheating a bit here. The following two entries are additional Dark Souls Board Game core sets. 
What's the difference? Until this game was released, an expansion needed the original Dark Souls core set to be playable. However, this is a separate Core Set. Not only can this be played by itself without any additional products, but it can also function as a core set for other expansions to attach to. If you want to do battle with the Gaping Dragon, Kalameet, or Vordt here? You can.
If you want to pay three times for two different Expansions and use them with this Core Set? You can! (I'd rather play fetch with the Great Grey Wolf, personally.) 
However, this Core Set is backward-compatible with all former Dark Souls Board Game merchandise, including the original Board Game Core Set. So, technically, it's also an expansion and counts for this list. 
However, one of the great things about this Core Set is that it includes new characters to play as. The magical Sorcerer, the ruthless Mercenary, and the determined Deprived are all fully-statted characters ready to be used against the forces of Undeath. 
This game also includes updated rules that made some much-needed tweaks to specific mechanics! 
So why did this one get ranked below the other?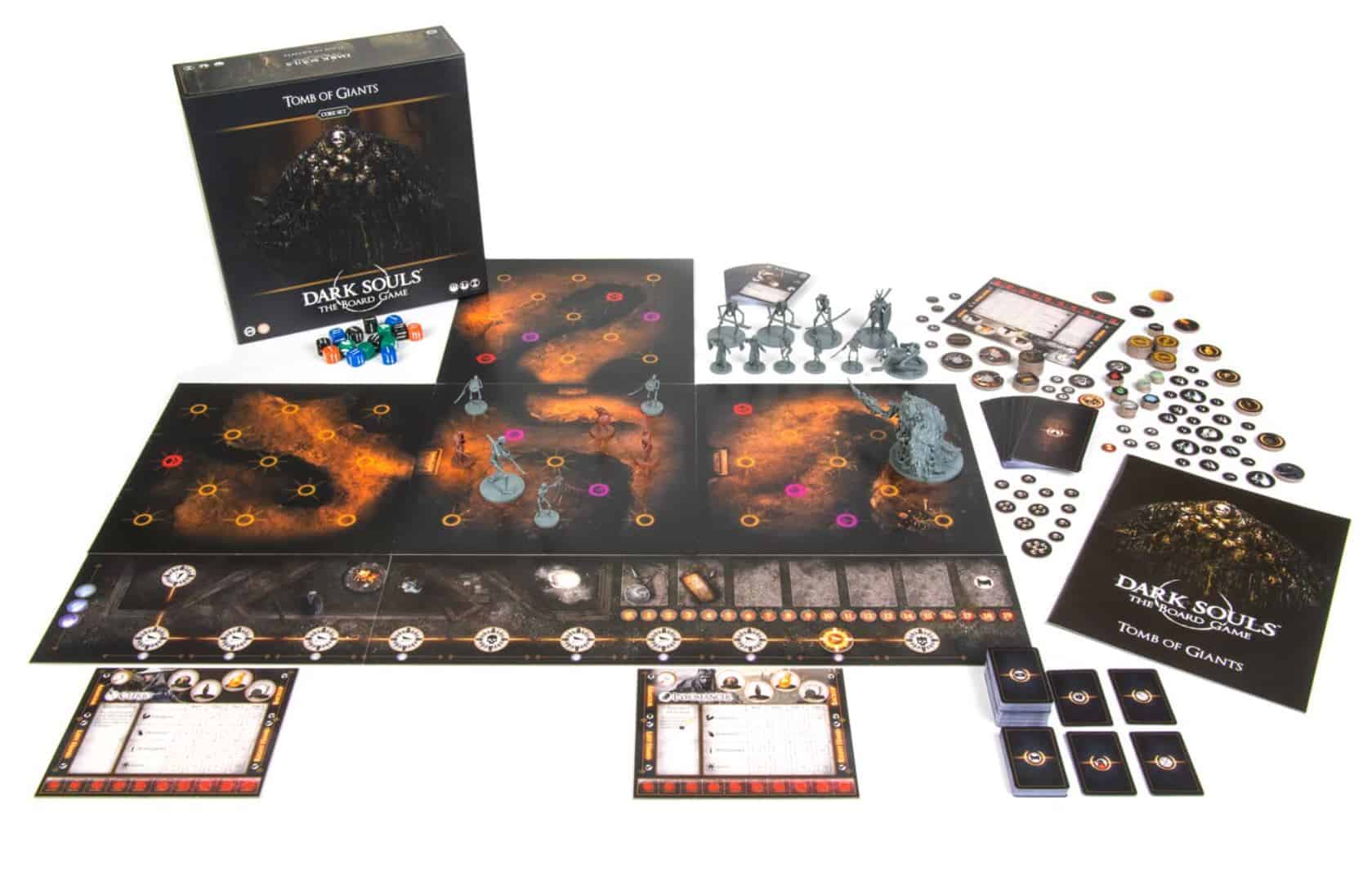 Miniatures:

 18

Tiles:

 4

Price: 

$109.95
The door to the catacombs yawns wide, and the stench of the death of ages wafts forth, enveloping you with a hint of the foul miasma that waits within. 
The Tomb of Giants is another Core Set. At the time of writing, it is also the most recently released Core Set of Dark Souls. This Expansion features another updated set of rules for the game and four more tiles to explore. A veritable horde of undead legions lays in wait for the players, as well as the fearsome Black Knight. 
Fear not, however! Three new champions are available for players to control in this Core Set. The Pyromancer burns his foes to ash with wicked glee. The Thief is stealthy enough that even death will have trouble catching him. However, the Cleric is always my pick for this set, as his power brings healing to himself and his compatriots.  
Their power will be necessary, for at the end of this dungeon waits the first of the dead: Gravelord Nito. The Lord of Undeath will not go down quickly and will do his best to take at least one of your number to his realm with him. 
Miniatures:

 27

Tiles:

 0

Price: $

69.95
When I think of a complete expansion pack, I think of one that includes characters, campaigns, and tiles. However, a more honest interpretation is just something that expands upon the game itself. 
The Explorer's Expansion offers two new enemies that introduce new mechanics and upgraded miniatures for terrain features to replace the cardboard tokens used in the first Core Set. The reason that it doesn't irritate me here is that the original Core Set included the tokens. The plastic terrain miniatures are nice, but they feel like upgrades rather than necessary components of the game. It felt like a complete product. 
The enemies are also very different from anything we've seen. They are the relentless Pursuer, who has risen from the dead to hunt the players. It, too, suffers from the curse of Undeath, and it wants to make that everyone else's problem. 
The Mimic, on the other hand, is an ambush predator to the Pursuer's pursuit-predator. The Mimic waits, looking like a regular treasure chest, until one of the players tries to open it. 
This Expansion takes your game to another level, but it can't reasonably claim the top spot. One other Expansion filled the first hole I thought of when playing Dark Souls and compiling this list.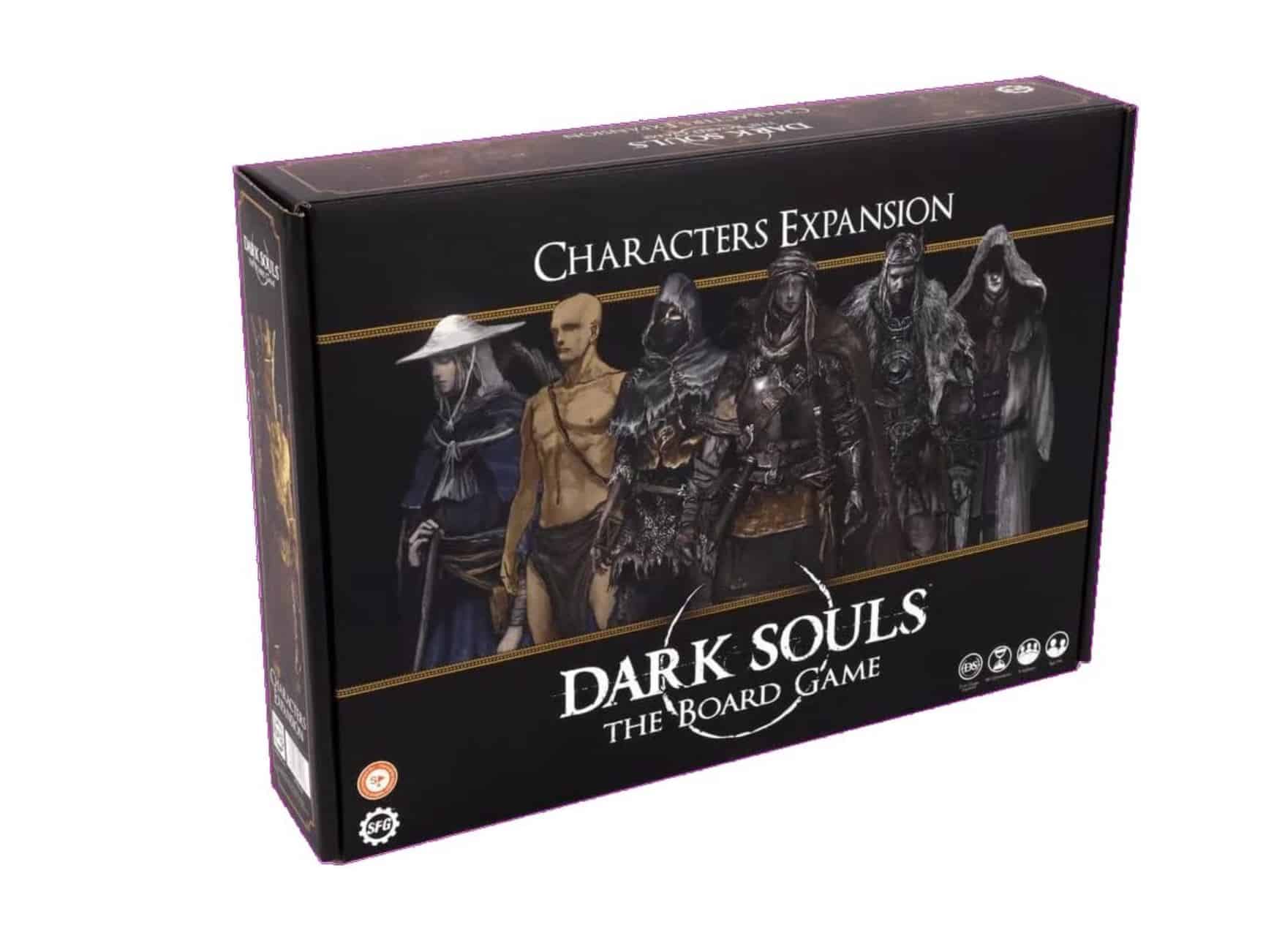 Miniatures:

 16

Tiles:

 0

Price: 

$59.95
When I first played Dark Souls, I asked myself: "Will they ever add more characters to play as?" Then, they introduced the other Core Sets, and the answer was a resounding "Yes!" Of course, my next question was, "So Do I have to buy the Core Sets to use those characters?" Fortunately, as it turns out, the answer is "No." 
This set includes everything you need to play as one of the six characters introduced in the later two Core Sets. It also contains minis of Iconic armor for your heroes to equip as they find it in-game. It also does it at half the price of even a single copy of one of the Core Sets.  
This Expansion is my pick for the top spot because it does exactly what an expansion should: It opens up a whole new way to play the game, much like the Explorer's Expansion above. It accomplishes this by adding more dimension to the game rather than updating accessories and adding enemies. It does it for less than the Explorer's Expansion. 
In short: it enhances and expands the game without being necessary at the time of release. It can also be useful for almost any Dark Soul game that doesn't include all three Core Sets. That's really all I want out of any Expansion. 
Conclusion:
The Dark Souls Board Game is well into its sixth year of life and doesn't show any sign of slowing down. There are three games and a host of DLC to draw inspiration from for these expansions, and the folks at Steamforged are clearly huge fans of the franchise. It's possible that, so long as we keep showing them there's an interest in it, they'll keep making these Expansions forever. 
In a way, that's fitting for a game about resurrection. 
Let's hope they learned their lesson about releasing an Expansion about a new location that doesn't actually include that location. 
Frequently Asked Questions:
Question: What's the difference between a Core Set and an Expansion?
Answer: A fundamental difference is that an Expansion needs another product before it can be used. A Core Set is a standalone product that can be played without something else. For Dark Souls specifically, a Core Set needs tiles to explore, enemies to fight, characters to play as bosses to conquer, and all the necessary accessories.  
Question: What should they make for the next Expansion?
Answer: I want to eventually be able to fight all four of the Lords. It only makes sense that since the last one was Tomb of the Giants, they give us an Expansion that lets us explore Izalith or take on Lord Gwyn.
Question: What's your favorite character from the game?
Answer: While I usually prefer Knights to almost anything else, I like playing as the Herald. I'm a big fan of Support-type characters and halberds, and the Herald has me covered on both.
Looking for more interesting readings? Check out: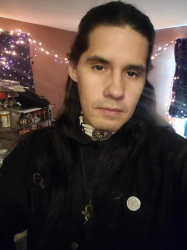 Latest posts by Logan Boese
(see all)